Hipther, a well-known event brand in the gaming sector, has just unveiled its newest event of GamingTech CEE 2023. A premier conference exploring new technological developments in Central and Eastern Europe (CEE) that revolves around the gaming niche.
The summit is scheduled to take place in Budapest from September 26 to 27, 2023, and it will focus on all the recent news updates and feature a huge roster of business leaders. The event has been specifically organized for tech enthusiasts, compliance specialists, and anyone looking to enter the gaming industry.
About GamingTech CEE 2023
With having a seven-year of experience, the GamingTech CEE, formerly known as the CEEGC, has established itself as one of the premier events in Central and Eastern Europe. It has developed a reputation for bringing together influential business people and gamers.
Focusing on this year, GamingTech CEE 2023 will offer a wealth of useful information while also presenting the best chances for excellent networking.
In addition to all of that, the GamingTech CEE event will also feature an awards presentation to highlight both upcoming and experienced industry talent. The CEE region's most creative and prosperous businesses will be honored at this award ceremony.
🏨 Venue: The Ritz Carlton Budapest will serve as the venue for this year's GamingTech CEE event. This is one of the region's most opulent hotels.
Who should attend GamingTech CEE?
People should absolutely attend this upcoming event by Hipther if they wish to learn more or want to be exposed to the most recent information regarding the gambling industry. The event will include more than gambling-related topics that are now trending. It will have talks about blockchain, fintech, and artificial intelligence too.
You are undoubtedly in for a treat with the impressive lineup of speakers. Learn about news, updates, and everything else related to the gaming industry. If you are from Central or Eastern Europe, in particular, you are going to have the time of your life at GamingTech CEE 2023.
The gaming event will even feature an ExhibiMeet section where you may have countless back-to-back personal meetings in addition to the typical expo experience. Attend the Budapest-based GamingTech CEE Summit to network with both current and future clients.
Speakers list: GamingTech CEE 2023
The September Gaming event has been designed with a variety of sectors in mind to provide guests with as much information as possible. Additionally, as we previously stated, this is a multi-industry event that features several well-known figures.
Beginning with Urim Bajrami, a partner at "Stadler Volkel" and an attorney at law, the event will also feature a number of guest speakers who will enhance the overall experience of GamingTech CEE 2023.
Among the further 30 speakers will be Alex Antsyferov, Chief Business Officer at Trueplay, Dr. Daniel Endre Nagy, Senior Associate, Head of Budapest TMT and Firmwide Co-Head of Data and Cybersecurity at Kinstellar, and Ilia Udalov, Business Development Manager at LeonGaming International.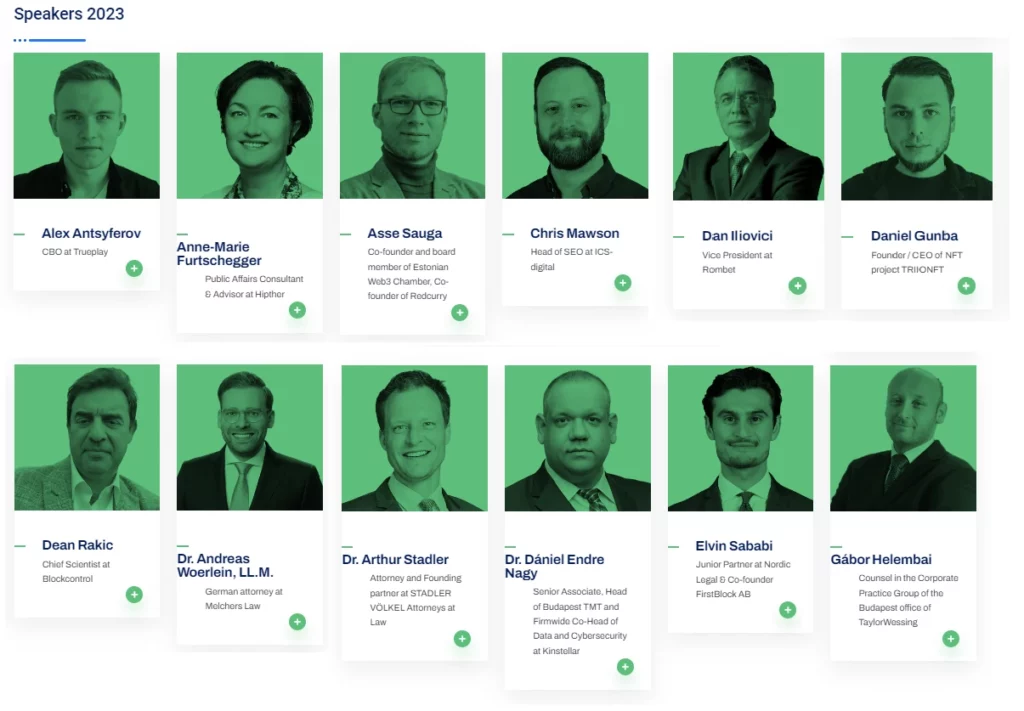 Event Schedule: GamingTech CEE 2023
Even though the event is only supposed to last for one day, there will be lots of other things going on in the area.
A welcoming drinks party has been planned for September 25th prior to the main event. Additionally, there will be a registration desk at this pre-party where you can immediately add your name to the guest list. A welcome reception with early registration will start at 18:30 and go until 22:00.
On September 26, registration will once again begin at 8:00 am and last until 9:15 am. You can pick up your badge here and begin networking during the event.
A panel discussion led by Dan Illiovici will start at 8:30 in the morning and focus on Compliance Challenges and Opportunities in the Eastern European Gambling Industry: Romania, Bulgaria, and Ukraine. A panel discussion on important updates from the Nordic and DACH areas will follow a morning networking session that will freshen up the mood and the event's overall setting. Dr. Arthur Stadler, Dr. Andreas Woerlein, and Elvin Sababi will participate in this conversation.
Dan Iliovici, Paula Murphy, William Pascrell, and Alex Antsyferov will lead an informative debate on the subject of balancing play and responsibilities around midday.
A one-hour lunch break is available at the hotel restaurant beginning at 13:00, which will also allow guests to expand their networks.
In their presentations, Merti Leib, William Pascrell, and Viktoria Soltesz will discuss the gaming and financial technology industries.
Pal Boza, Dr. Daniel Endre Nagy, and Paula Murphy will present the day's closing remarks on the topic of AI and machine learning in the CEE region following a number of panel discussions and speeches.
On the second day of the event, the morning networking and running sessions start at 8 am, while the conferences and panel discussions start at a later time.
The networking boat cruise and luncheon on the Danube will take place in Budapest and start at 14:00 and end at 16:00.
Exhibimeet
This section of the GamingTech CEE Summit will be unique. You will have a great opportunity to go beyond the atmosphere the event will hold. Have several in-person conversations to stay ahead of the typical show experience.
Here, you can effectively generate excellent relationships and create space for an amazing network. Here, you can engage in some up-close-and-personal conversations with the business leaders present at and around the event. At GamingTech CEE, talk about new opportunities and start reestablishing touch with former clients.
The event's handmade stands will offer a relaxing and pleasant setting for conversations about your forthcoming commercial operations. You can even try to establish deeper relationships with your partners, industry influencers, and new and current clients. This is your chance to grow your company to new heights.
The shortlist for GamingTECH Awards 2023
Recently, Hipther has finalized the list of GamingTECH Awards 2023. Gaming Innovation Group (GiG), BetConstruct, Playtech, Evoplay, Tom Horn Gaming, Nsoft, Wazdan, and Unibo are among the companies on the published list of the nominees. The list then also includes the names of new and well-known companies such as Lion Gaming (5 nominations) and TRIIONFT (3 nominations).
In addition to all of this, well-known and famous companies such as 888, Bet365, Kaizen Gaming's Betano, Unibet, and Betfair are also included in the Operator Categories.
Tickets for GamingTech CEE 2023
There are two tickets available for the event, each of which will grant you access to a variety of events taking place at GamingTech CEE 2023.
Purchase your tickets for the most effective networking event for Central and Eastern Europe, which will be held in Budapest. You should attend GamingTech CEE 2023 if you want to create a better future for your company and realize your huge aspirations.