Have you ever been to the Chandni Chowk in Delhi or tasted the most favorite dishes of India? If not, then its time you do. But the main reason why we want you to come to Delhi is not about its food or place but along with attend the most essential and extravagant India Affiliate conference and party organized by the team of Moscow Affiliate 2018 Conference and Party.
In a consecutive series of Affiliate events organized routinely all across the globe by affiliateconf.com , this time the team have organized it in India and the place chosen for this event is Delhi, the capital and the most amazing city in India.
This time they have put their best efforts to gather the best speakers and affiliates in their next event at India Affiliate Conference.
The credit for organizing this event goes to the leading CPA network Leadbit.com and Traffic Cardinal, without the humble support from them it wouldn't have been possible to organize this event.
India Affiliate Conference is a unique platform where young and dynamic affiliates get exposure and a chance to meet amazing & brilliant people from international companies. You can discuss the key points face to face and get a solution right there.
Leadbit is an international affiliate network with latest GEOs and awesome offers for affiliates and publishers. Traffic Cardinal helps in bringing more affiliate traffic every year in Russia and also around the world.
Working with Leadbit is pretty simple, just choose any offer from any field, use resources for promoting and generating tsunami of traffic and on each action completed you get your income increased.

What's their at India Affiliate conference & Party 2018?
Who knows one might find the secret sauce to success and become a pro in affiliate marketing. So, don't miss this opportunity and start your new year by rocking a grand floor full of enthusiasm and opportunity around the clock.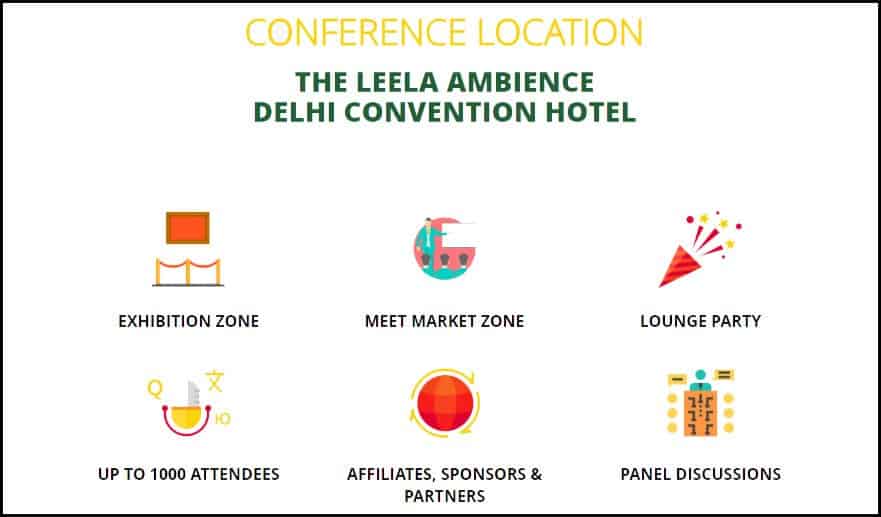 The key highlights of the conference are as mentioned below:
Over 1000+ like-minded people
Experienced speakers with vast affiliate knowledge
International brands ready to share their success stories
Hundreds of Affiliates & Digital Marketers
Rock the dance floor with after party
Exhibition zone for affiliates to engage with Affiliate Networks & companies
Panel Discussions zone.
To attend this conference register yourself by visiting this official conference page: http://india.affiliateconf.com/
All prices, promotions and conditions will be available in your personal account.
Some of the sponsors and partners of this conference include admitad.com which is leading CPA affiliate networks with best payouts and Poweradspy which helps you to spy on your competitor's best profitable Ads.
Please enter your details in below Giveaway form to register and do not forget to click on confirmation link in your Email instantly to confirm your entry for the event. Also you need to register a Free account on india.affiliateconf.com
Winners Announced:
The Giveaway for VIP & GOLD passes to India Affiliate Conrence & Party ended on 3rd February 2018
There was total 187+ participants in the contest and four winners were randomly selected via the Giveaway plugin.
Below is the list of winners, They have been contacted via Email for the pass.. (Congratulations )
Yash Deshmukh
Abizer Ezzy
Raj Agrawal
Farid Bandhukiya
We heartily congratulate to all the winners, and see you on 9th of February in new Delhi..
Stay tuned with BloggingEclipse for more Premium Giveaways.
Join us! Participate in the best!Become a part of the most ambitious event in the field of affiliate marketing.
Contact us:
Its always better to attend stunning affiliate conferences to gather more knowledge and trends about this industry. For me attending Affiliate meetups & conferences is one of the best worthiest investments.
The India Affiliate Conference and Party on 9th February 2018 is one of the best event of the year in heart of India where you can learn the new market trends, strategies, meet renowned digital marketers and enhance your strength in this beautiful Industry. See you at Delhi on 9th Feb 2018! Stay blessed and Take care!