The Grand Fintech Investment Expo, Bangkok will take the stage on December 02 and will give you a great platform that will target the global forex companies as well as the investment institutions. At this event, a number of financial leading companies will be present and will showcase their corporate images while also talking you into their brand. Get inspired and influenced by these big firms, who are present at the Fintech Investment Expo 2023 promoting their financial tacts.
This event will also help you expand your market and also learn about it. This is the place where you will have an opportunity to build investment and trust amongst the services and platforms on a global scale. Get in touch with the investors and also connect with new resources for your business.
About The Fintech Investment Expo Bangkok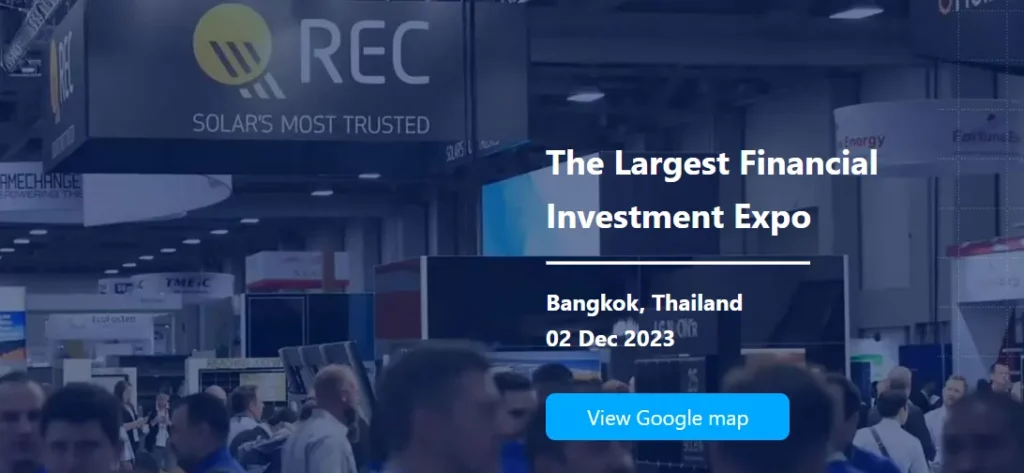 Attendees will get to interact with traditional financial institutions as well as hear about the most recent developments in the fintech industry's integration of cutting-edge business models.
The Financial Investment Expo this year will focus on Bitcoin and foreign exchange in addition to payment and other finance-related industry presentations. In the meantime, the eagerly anticipated event and most educational exhibition will cover themes including blockchain, Meta, NFT, DeFi, Artificial Intelligence, Web 3.0, and more.
The financial summit will get you started with top-notch educational information as well as industry insights because it will be sharing resources and exchanging ideas on a large scale, with the help of a number of businesses, institutions, guest teachers, and speakers from the tech industry.
Additionally, it is reported to advertise 3000 financial institutions and brokers throughout all markets. The TFIEXPO event can assist registrants in establishing their brand as financial company representatives and connecting with the greatest business executives and decision-makers.
TFIEXPO is one of the biggest businesses in China that organizes financial and FX events, fairs, and expos. Since 2015, the event has gained popularity on a global scale and has interacted with over 200,000 investors as well as financial investors, bankers, dealers, and businessmen.
Why should you attend the Fintech Investment Expo?
As you will be meeting the top brokers in the financial industry, this is your chance to have more effective communication. You'll also get a treat as you will meet the affiliates and B2B technology suppliers, in addition to Forex traders and other dignitaries from the same sector. These are the people who have complied with the strict requirements of the market authority and have also provided the financial sector with their best services.
The goal of this event is to increase the credibility of your brand. It is worthwhile to spend your time attending this premier financial exhibition. The most well-known cryptocurrency companies, payment companies, and Forex brands in the world will all be showcasing their goods and services for attendees.
Your time will be better spent because you will learn more about the financial investment market and have many possibilities to network with professionals and investors. Additionally, you will receive updates on the most recent developments in the payments industry, the forex industry, and the cryptocurrency market. As you interact with outstanding businessmen who are renowned for their investments in the market. You will even get a chance to learn about the most recent trends.
What can you expect from The Fintech Investment Expo, Bangkok?
Along with meeting the pioneers and key suppliers of the cryptocurrency sector, you can gain knowledge about the most cutting-edge online forex trading firms. Get to learn about the newest cryptocurrency exchanges, solution providers, and technology. You should also gather the most recent market value data. With all of this also learn about the management of cryptocurrency businesses, what it takes to rule this market, and how to start investing as these are the topics you can study at the event.
Executive interactions will be a major topic of discussion at the event, which will also feature a number of Forex industry chain firms, Forex brokers, Forex liquidity suppliers, Forex builders, and Forex CRM system operators.
In addition to all of this, you can hear about the experiences of financial technology firms, wealth management firms, trust firms, and asset management firms. Learn more about how asset allocation, financial audits, legal firms, and those involved in the finance industry's responsible payment practices operate.
The financial expo will feature payment companies that will discuss international payments and payment solutions in addition to all of these notable guests. Even the big names in the industry, such as small and micro banks, providers of payment technology solutions, and cryptocurrency investors, can be found there.
Schedule of The Fintech Investment Expo, Bangkok
The first thing the event will have is the opening remark which will be followed by 2023 Logic and Trend analysis of Global Asset allocation. The next talk would be on How to strengthen the supervision of the forex investment industry, The importance of strengthening forex regulation and investor capital safety, and The impact of the global energy crisis on foreign exchange investment.
After a panel discussion, you can also listen to Opportunities and risks brought by blockchain to traditional financial markets, and How to seize the opportunities in digital asset investment.
Moving towards the end of the event you can Learn about Payment industry convergence – Case analysis and development trend interpretation of alternative payment solutions, Global cross-border payment innovation, and the use of fintech, then Digital asset Investment the Ultimate Choice for financial Development, and Explore the next investment opportunity of Web3 around Meta and NFT.
Speakers at The Fintech Investment Expo, Bangkok
The event has always been a promising stage with a number of great speakers who have been intriguing the attendees and those who listen to their talks. And looking at the previous lineup of speakers it is sure that this year as well the event will have a great and extravagant series of speakers.
Let's look at the intriguing list from the previous year. You can meet Peter Karsten, CEO of STARTRADER, Warrick Palmer, Radex Markets' Head of Business Development, Christopher Gore, Advisory Services at Derivatives, and Aeby Samuel, CEO and founder of FYNXT, once you've met Christopher Gore.
You can also hear the inspiring remarks of Benjamin Bilski, the founder of NAGA, Eslam Ramzi, marketing manager at CoinEx, Farah Mourad, senior market analyst at XTB, and Ahmed Zaman, CEO of TNFX, in addition to these outstanding speakers.
How to register for The Fintech Investment Expo, Bangkok?
Become a part of this epic event by registering yourself on the official website of The Fintech Investment Expo. You will have to register yourself by giving your information and simply submitting it and thats it you will be a part of this event for good.
Quick Links: