Check out our WeCanTrack review for an honest look at whether this affiliate marketing software is right for you. Here, we'll go through an in-depth look at WeCanTrack, which is a commonly used click tracking API that helps marketers improve their conversion rates. It's gotten harder for affiliate marketers to earn commissions from their affiliates.
In order to earn steady money in affiliate marketing, you will need to attract a particular audience that advertisers cannot reach as well. This gives your competitors and yourself a lot of competition, but it has its perks.
WeCanTrack's traffic tracking software creates detailed data from processing affiliate shopping links and allows you to use this data to improve your conversion rates.
---
Exclusive WeCanTrack Discount Coupon (💯 Verified)
---
Detailed WeCanTrack Review
WeCanTrack is an affiliate click tracking platform designed to enable affiliates to track their conversions and traffic using a single interface across multiple platforms. It enables marketers to focus on promoting products rather than managing different tools for each channel.
Let's dig deeper into our WeCanTrack review to see if it can actually track your affiliate sales.
WeCanTrack is a tool used to connect various data sources and combine them into one easy-to-read overview dashboard. WeCanTrack can help you with:
Combining data from multiple traffic sources with your sales figures from affiliate networks. You can track which channels lead to clicks and ultimately result in revenue for affiliates. You import your Sales/Commission data into either Google Analytics or Google Data Studio.
Advertisements get increasingly effective. You can bid accordingly if you track how valuable each visitor is to you.
You can actually keep tabs on the performance of each funnel. You can use these tools to optimize, A/B Test your Funnel to get the most from your campaigns. Marketing automation tools are something affiliate marketers who use them will definitely appreciate.
Cloak affiliate links automatically. Your affiliate links don't need to belong anymore because they're automatically cloaked, so they appear more credible.
---
How does WeCanTrack work?
Collect affiliate conversion data:
First off, WeCanTrack collects all your affiliate conversions via API, Scrape, Postback and even Google Sheets file uploads. With WeCanTrack and its 160+ different integrated affiliate programs, there's no way you won't be able to automate the collection of data!
If you want to use Excel to import data from an advertiser, you can upload files using Google Sheets or download them via CSV exports.
Data processing:
After collecting the data, WeCanTrack connects the various data sources from its affiliate network, and your Google Analytics account for analysis. You can view these connected data sources in a single dashboard.
Data integrations:
When the data has been collected and processed, it'll be sent to the account that you want. For instance, you could decide to store the data in your Google Analytics account. If you turn on e-commerce tracking for your Google Analytics account, you'll be able to view all your sales data there. You can track each source/media channel for sales leads and clicks back to their respective pages.
By doing so, you can actually see which pages of your site bring visitors back for repeat visits. Apart from Google Analytics, WeCanTrack provides data integration with Data Studio (paid version required), Google Ads, FaceBook pixel and Zapier!
---
Benefits of the WeCanTrack Data Aggregation Affiliate Dashboard
WeCanTrack provides you with an all-in-1 solution for tracking, aggregating, and managing your data from various sources within one organized affiliate dashboard. Here are five major benefits you'll receive from using the WeCanTrack affiliate dashboard.
One dashboard for everything related to conversions & traffic.
A single place where you could easily access all of your affiliate data from multiple networks would allow you to keep track of your performance across different programs without logging in to each individual account separately.
Data relating to your affiliate network accounts and websites can be automatically collected by its system and displayed in one sophisticated dashboard. It will allow you to monitor the effectiveness of all available measurement tools very easily. Look at the data from every angle.
Affiliate Network Accounts
A single currency & time zone
To change your preferred currency and timezone, tap "Settings"> "Account." Then all transactions and dates will be converted from their original currencies and times zones to your desired ones.
Affiliate conversion attribution
Using the WeCanTrack system allows for automatic tracking of affiliate conversions within their affiliate dashboard. It will help you understand which traffic sources, websites, landing pages, etc., are working well for you so you can improve them further.
To get started, you'll first need to add their script or plugin to your site so they can track conversions from your links. They will then place sub-IDs into your affiliate links by redirecting them through one of their own systems using the redirection capabilities of cloaking plugins that you may be currently using, such as PrettyLinks, ThirstyAffiliates or Redirections.
Customization of your affiliate dashboard
Their affiliate dashboard allows for easy modification. Let them know exactly what changes you need to be made to your dashboard, and they'll get right back to you.
Download & Export your data into Excel or Google Sheets
You'll be able to export all the data from the affiliate dashboard into one file so you can use it later. You can access these options by clicking on the three dots at the top right corner of the screen. From there, select "Download" if you'd rather save the file locally; otherwise, choose "Export."
WeCanTrack has an easy-to-follow installation guide. If your websites are built on WordPress, you need to install their WordPress plugin. Installation usually involves going through these steps:
Create your WeCanTrack account
Connect one or more networks as a data source
Add your website's analytics code to WeCanTrack
Connect your website to the WeCanTrack (WP plugin)
In Google Analytics, enable eCommerce tracking.
WeCanTrack has a comprehensive guide that explains every step in the installation process.
---
Integration Features Offered by WeCanTrack
Facebook Ads & Pixel Integration
You need to feed Facebook with conversion data in order for your Facebook campaigns to be profitable. You need to target the right audience so that everyone who is concerned about your product can find you.
Google Ads Integration
Now you can leverage your conversion data to optimize your Google Ads campaigns, automate bid adjustments and set up relevant audiences for your campaigns with our Google Ads conversion tracking tool.
Microsoft Ads Integration
Microsoft Ads can automatically integrate with your affiliate conversion data and properly optimize your campaigns & audiences to increase your overall sales.
Data Studio Integration
Set up a custom dashboard and reports with all your traffic & conversion data in one dataset within Data Studio to always keep you up to date.
TikTok Ads Integration
With all your data in TikTok Ads, you will be able to optimize your campaigns based on ROAS. Let the data do the hard work for you!
Outbrain Integration
Analytics and optimization are very important for your advertised campaigns. Outbrain enables you to integrate your account with data that can help both sides.
Taboola Integration
If you're looking to optimize your Taboola ads to increase sales and lead conversions, then we recommend integrating all of your data in one place. This includes affiliate conversion and sale data as well as tracking information within the Taboola system under campaign management.
Snapchat Ads Integration
Track & integrate your affiliate sale, conversion and Snapchat data to automatically optimize your campaigns.
---
What can you do with WeCanTrack (Is it Legit?)
There are a lot of things that can be done with all your data. Here are a few instances to give you more examples of what you can do with WeCanTrack:
You can use these numbers for advertising since you can actually calculate how valuable each click from an ad campaign. Let's say a visitor to your site has an average value of $0.15. With this in mind, you might want to set up a Google Search Campaign and bid up to $0.10 for a click. Theoretically, you'll make $0.05 for every visitor through Google Ads.
You can now fully integrate all your data and use it in one dashboard. This is possible on Data Studio through the import feature that lets you access Google Analytics, Ahrefs, Supermetrics and more all into the tool. All without any data loss.
WeCanTrack is a great way to keep track of the sales or commissions from your website. Not only does it show you who is approving and rejecting sales, but it also tells you how much money everything is making, including your web portfolio! It's one dashboard with all the information you need to make wise business decisions.
If you want to sell your affiliate website, your buyer would want to see a lot of information about how many sales the site has made. You can automatically put that on a data report with WeCanTrack and get it all set up to be complete in minutes. When you want to sell a website, you have to send the dashboard. All the data needed is right on your dashboard, and it will save you the time and effort of having to gather & consolidate all of your data.
---
Why should you try WeCanTrack?
It's not necessary to log into ten different network and website analytics accounts, as this would take a lot of time and effort that you'd rather not spend. WeCanTrack's system provides all your data from one dashboard. WeCanTrack is an incredibly capable and easy-to-use software. Companies can easily improve their affiliate conversion rates and traffic efforts with it.
Here are a few reasons as to why you should give WeCanTrack a try.
Assign your affiliate conversion data to your traffic & website data to see the performance of their impacts on website traffic.
WeCanTrack compiles all your affiliate data into the best possible summary of your networks' conversions to give you a comprehensive understanding of how well they're doing. Get all your affiliate network data in one dashboard – this will save you a lot of time, as you won't need to log in to each one separately. It generates a number of reports that compile your data and help you determine what you're doing well, what to change, and which tactics may be worth reconsidering.
In addition to providing reports and overall stats, the Partner Dashboard provides an updated update of status changes. At WeCanTrack, get your historical sales data for the last 2 months with just a few clicks. And if you have a network account, pull in the data from previous weeks and months as well. If you'd like to get more specific details about your company's sales history, though, feel free to contact them.
Comparing your sales data with the previous 7 days can be done quickly and easily. For ease of analyzing your data, you can group the measurable metrics by column. This display includes the names of the metric, their new placement and the cumulative value found in that specific row.
The server gathers the data as close to real-time as possible, so you will always have the most current information.
WeCanTrack lets you know when declines are coming in and gives a summary of the rate of declines. Be notified when advertisers report large drops in their performance. If they're reporting significant declines, be sure to check out why. As it typically takes statuses months to change, many people who are running affiliate marketing campaigns don't keep track of their decline and approval rates.
---
WeCanTrack Pricing Plans
WeCanTrack has one free plan and three paid plans. Let's have a closer look at all of them: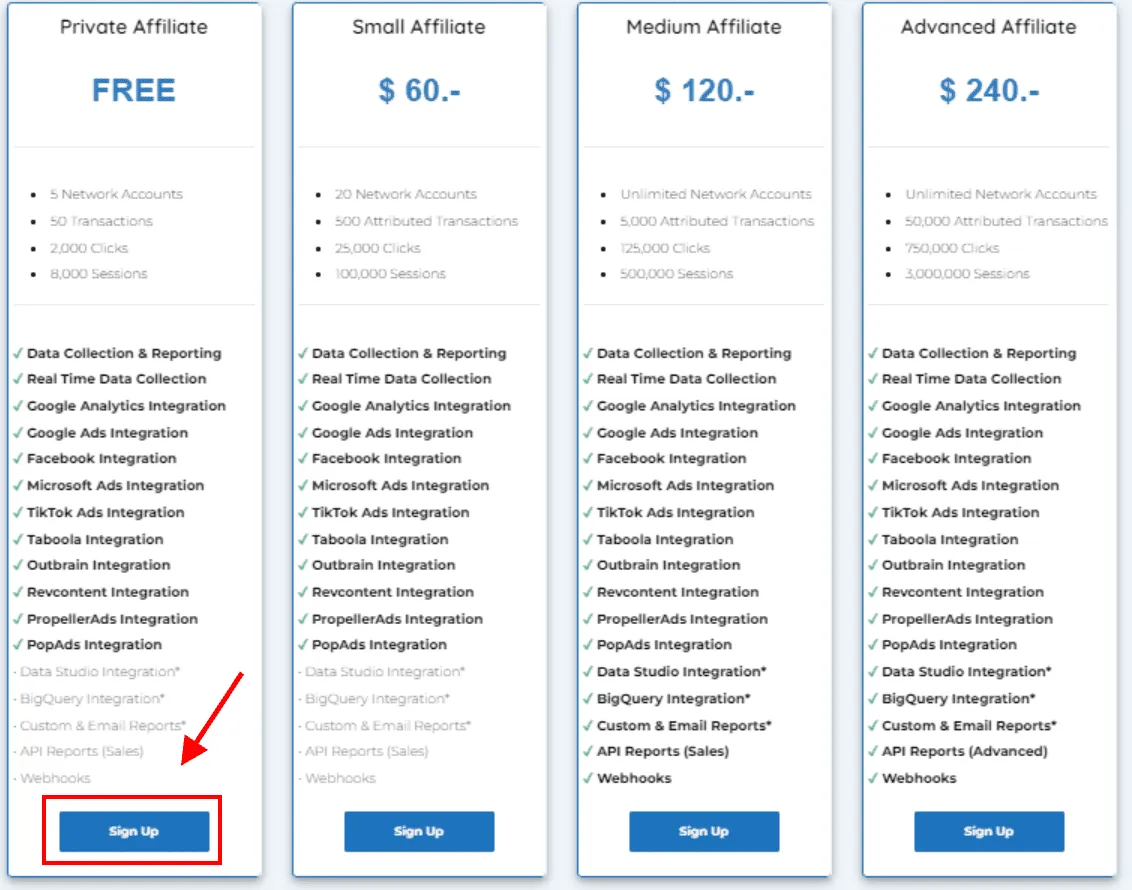 Free Plan
The free plan known as the Private Affiliate Plan offers connections with up to 5 network accounts, 50 conversions, 2,000 clicks and 8,000 sessions.
Affiliate Plan
The Small Affiliate plan starts at $60 per month and offers connections with up to 20 network accounts, 500 conversions, 25,000 clicks and 100,000 sessions.
Medium Affiliate Plan
The Medium Affiliate plan starts at $120 per month and offers connections with unlimited network accounts, up to 5,000 conversions, 125,000 clicks and 500,000 sessions. Get extra integrations with BigQuery and Data Studio. Along with custom email reports, API reports & sales reports that aren't accessible in lower plans.
Advanced Affiliate Plan
The Advanced Affiliate plan starts at $240 per month and offers connections with unlimited network accounts, up to 50,000 conversions, 750,000 clicks and 3,000,000 sessions. All the features in the Mediumn Affiliate plan are available in this plan as well.
You can try our service for free for 30 days, during which time you'll be automatically moved to one of your packages based on your performance. If needed, you can switch plans anytime, so please log in and make sure your data is updated.
---
🌟 FAQ related to WeCanTrack
🤔What is WeCanTrack?
WeCanTrack is the powerful affiliate tracking platform designed for affiliates and publishers to help them link their traffic data and affiliate conversion in one single dashboard. WeCanTrack enables you to optimize your marketing outcomes.
🌐How many websites does WeCanTrack allow me to connect?
WeCanTrack enables their user to connect to as many websites as they want. Connecting multiple websites to WeCanTrack does not affect your pricing.
🔎How many campaigns can I track with WeCanTrack?
You can track unlimited campaigns with WeCanTrack as their is no limit. On the other hand, tracking many campaigns with WeCanTrack will not affect your pricing. The WeCanTrack automatically track all the affiliate link that does not allow you to create any campaigns within its system.
🔥Can I try WeCanTrack for free?
Yes, WeCanTrack offers a 30-day free trial to all its new users that help them test this powerful affiliate tracking system for free. But the free trial of WeCanTrack does not allow you to test its BigQuery and Data Studio Integration features.
💲Is WeCanTrack worth the money?
Yes, By using WeCanTrack, you can easily track your affiliate revenue and income easily, analyze trends, find the best deals and connect with affiliates. Get real-time analytics to stay on top of your payments & sales. The WeCanTrack product will give companies the efficiency that drives revenue and profits without manually tracking every conversion and revenue source as it will keep your data in one place.
💻What are the other best alternatives to WeCanTrack?
If you are looking for the WeCanTrack alternatives, then you can go for Strackr & Affilae.
---
WeCanTrack Twitter Group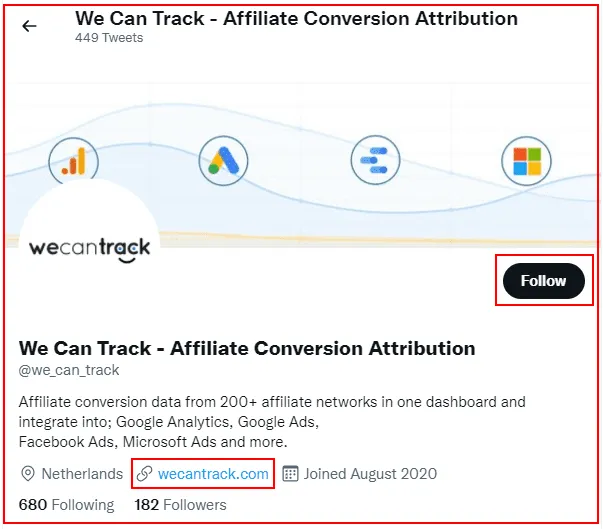 ---
Conclusion: WeCanTrack Review 2023 | Should you go for this platform?
WeCanTrack is an excellent tool for affiliates looking to track their performance. You can even use WeCanTrack to generate customized reports for you at an inexpensive rate. You can get a lot of value from WeCanTrack, which is the best affiliate network out there. They provide lots of information for you at the lowest cost, so it's evident that choosing this company is the best option.
WeCanTrack is the essential toolbox for affiliate marketers of all types. It has been designed and built with a clear understanding of its target audience, which is a must-have product if you want to succeed in today's competitive marketplace.🤞🤞
WeCanTrack Review – Boost your marketing performance!!
WeCanTrack is the #1 affiliate tracking tool that can be used by affiliates. It provides you with the most sophisticated tracking and reporting and enables you to see exactly how traffic, sales, and commissions are being generated. Without an intermediary, you can now track the traffic. It integrates with over 200 affiliate networks and helps you track your traffic and convert clicks without any effort on your part. Scale up your marketing performance with WeCanTrack.🚀
Pros
It offers 30 days free trial.
Integrations 200+ affiliate networks.
Excellent customer support.
Real-time data collection.
WeCanTrack – #1 Affiliate Tracking Platform
Start WeCanTrack 30 day free trial [No CC Required]