Adsterra 10th Anniversary Giveaway just knocked on your doors!! On its 10th anniversary, Adsterra has got grand mystery gifts, gift cards, mystery boxes, and much more for beloved affiliates, publishers, and advertisers!!
Adsterra is a global advertising and CPA affiliate network that offers a range of online advertising services for both publishers and advertisers. Founded in 2013, the network has grown to serve over 30 billion ad impressions per month across 248 GEOs and has partnered with more than 33,000 partners.
No worries about the targets, results, or any difficult goals, just remain engaged and execute your ads campaigns, and you are good to go.
And this time things even got better with a new exciting giveaway! Sign up now for Adsterra Giveaway!!
Adsterra 10th Anniversary Giveaway: Win Prizes through Active Engagement!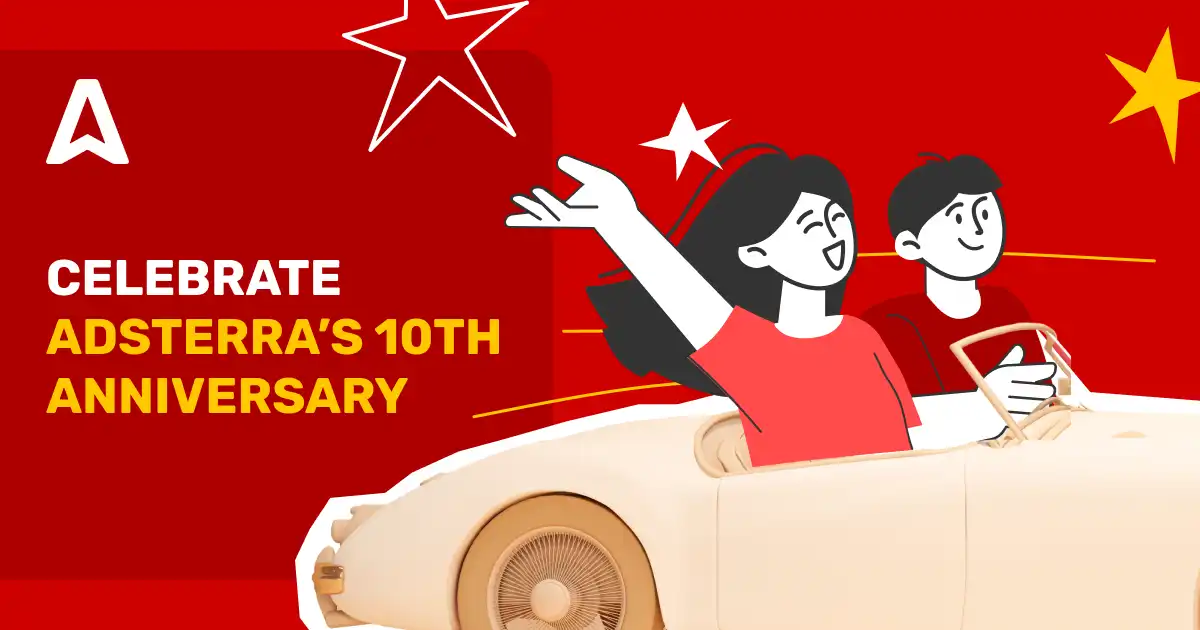 Adsterra Marks a Decade with Exciting Giveaway: Win Prizes through Active Engagement!
Commemorating ten years of achievements, Adsterra unveils an exceptional Anniversary Giveaway, promising thrilling rewards to fortunate participants who maintain their involvement for a minimum of 15 days until August 31st.
Participating is as simple as following these three steps:
Establish an account as a publisher, advertiser, or affiliate.
Enter the Giveaway by providing your login credentials on Adsterra's dedicated anniversary landing page.
Remain engaged by either executing ad campaigns or effectively monetizing traffic within the designated period.
Over the past decade, Adsterra has served as a pillar of support for aspiring individuals and businesses, aiding them in surmounting challenges and reaching extraordinary milestones. The Adsterra network has been instrumental in propelling numerous startups toward success by offering elevated exposure and lucrative revenue avenues. Empowering publishers and affiliates, Adsterra's Self-Serve tools have played a pivotal role in propelling them to newfound heights of achievement.
Adsterra places immense value on its partnerships with adept and dedicated publishers, affiliates, and advertisers. Their unwavering commitment has translated into remarkable revenue generation and conversions. While the figures of 28,000 publishers earning an impressive $65 million annually and 13,000 advertisers contributing to 1.34 billion conversions each year are certainly noteworthy, Adsterra views its partners beyond mere statistics.
In the perspective of Adsterra, partners signify valued companions on a shared journey towards the expansion of profitability. The company has fostered robust connections through distinctive Partner Care Standards and a mutual dedication to growth.
As the curtain rises on the 10th-anniversary festivities, Adsterra is committed to transcending the realm of mere traffic and offers. This celebration stands as a testament to the company's commitment to recognizing partners' fundamental role in Adsterra's narrative of success.
Time is of the essence—don't let the opportunity slip away! Seize the chance to join Adsterra's 10th Anniversary Giveaway NOW!
Things to Know about Adsterra
Adsterra provides a unique Partner Care approach, helping advertisers meet their KPIs and grow ROI, while publishers can maximize their eCPM with easy-to-use, advanced traffic solutions and a dedicated team. The ad network is known for its diverse range of ad formats, advanced targeting options, real-time bidding, and robust monetization solutions for both advertisers and publishers.
Things that set Adsterra apart from Other Ad Networks
Multiple ad formats: Adsterra offers various ad formats, including Popunder, Social Bar, Push Ads, Banner Ads, Native Ads, Video pre-roll (VAST), and Direct Links.
Advanced targeting options: Adsterra allows advertisers to target ads based on criteria such as country, language, operating system, and device type.
Real-time bidding: Advertisers can bid on ad placements in real-time, ensuring the best possible ad placements and pricing.
Monetization solutions: Publishers can monetize their website traffic by displaying ads from Adsterra's network, with a 100% fill rate and global coverage.
User-friendly interface: Adsterra's platform is easy to use and navigate, allowing users to quickly set up and manage their ad campaigns.
Dedicated account managers: Adsterra provides personalized support and optimization to help users achieve their desired results.
Adsterra Target Audience
Adsterra delivers its services across a wide range of target audiences, including publishers looking to monetize their website traffic and advertisers seeking to promote their products or services to a broader online audience. The network works with various verticals, both mainstream and non-mainstream.
FAQs on Adsterra Giveaway
What is the Adsterra 10th Anniversary Giveaway?
To mark its 10th anniversary, Adsterra is hosting an exciting giveaway. Participants can win prizes by actively engaging for at least 15 days until August 31st.
What is the duration of the giveaway?
The giveaway requires participants to remain active for a minimum of 15 days until August 31st.
How can I participate in the Adsterra Giveaway?
Participation involves three simple steps:
a. Create an account as a publisher, advertiser, or affiliate.
b. Enter the giveaway by providing your login details on Adsterra's anniversary landing page.
c. Stay active by running ad campaigns or monetizing traffic within the specified period.
What are the prizes that you could win in the Adsterra 10th anniversary giveaway?
The Adsterra 10th anniversary giveaway will include mystery boxes, gift cards, and a Mystery Grand Prize.
Don't miss this opportunity to celebrate Adsterra's 10th anniversary and potentially win some fantastic prizes. The Adsterra giveaway will include some excellent results like Gift Cards, Giveaways, and the Mystery Grand Prize.
So guys!! What are you waiting for? Join the Adsterra 10th Anniversary Giveaway and stay active to increase your chances of winning!
Connective dots to Adsterra: