Your search for the best ads spy tool of 2023 ends here! Yes, we heard you, and here's a compilation of our best picks you must check out now. These ads spy tools have the best features to track your competitors' sneaky actions from free to paid ones.
Do you often wish to know where you stand in the market? What are your competitors' marketing strategies? And how do their ads perform so well, unlike yours? It's not just you.
Every business now is under pressure to give their best because of the cutthroat competition out there. But the good news is, you can find answers to all these questions by taking advantage of just an ad spy tool.
Let's Explore The Ultimate Benefits Of Best Ads Spy Tools In 2023
So, you may be wondering now, is spying ads a fair marketing technique? Well, let's get into numbers then. An average individual sees upto 10,000+ ads in a day. From video ads, streaming ads, social media ads, in-game ads to digital banners, businesses are doing so much more to get attention from their target audience.
It might sound illegal to snoop on your competitors' strategies, but the fact is when in competition, you have to try everything. Having said this, ad spy tools are designed to help businesses with databases that are updated daily or sometimes hourly. These tools let you check how your competitors are performing in the market. By following proper strategies, one can even explore how much money your competitors spend on ads.
Most of the ad spy tools give businesses access to market trends. By following these trends, one can precisely comprehend the strategies of constantly changing practices and thus target their customers. In short, any business can grab an excellent competitive edge by using ad intelligence tools in a short time. So, does this sound good for your thriving business? If yes, let's explore some of the best ads spy tools of 2023 and grab one for yourself now!
---
9+ Best Ads Spy Tools to Use in 2023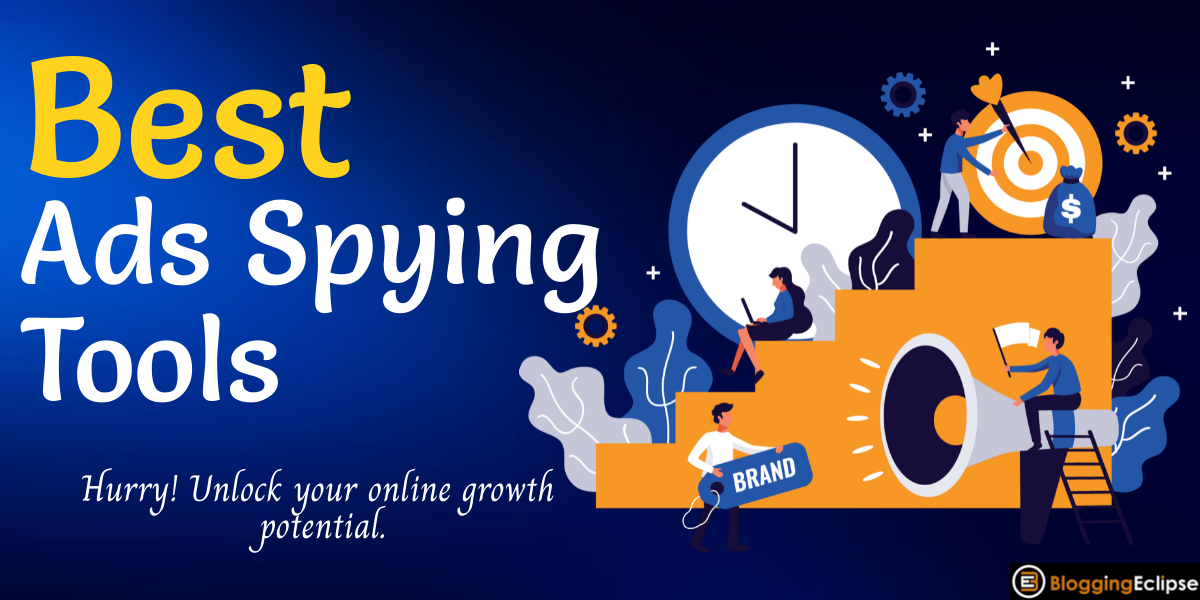 AdSpy is our number one choice for the best spy tools in the market. It's best in all sense, be it the affordability or the features the tool offers. AdSpy has competitive data from a global database that helps users track and identify the best ads within a quick period. Also, we consider this tool as a goldmine for affiliates, because why not?
Searching gets a lot easier with AdSpy; users can search by keywords, geolocation, domain, niche, and advertisers' name. And let's not forget the best feature of AdSpy, that is, the highest database of 90 million+ ads just from Facebook itself. Moreover, AdSpy is known to locate cloaked apps from Instagram as well as Facebook. Through the advanced search filters of AdSpy, users can quickly narrow down the results and sort out exactly what they want.
Also read: AdSpy Review: $150+ $75 OFF Coupon [Best FB Ads Spy Tool]
Some of the best filters are site type, daily likes, total likes, technologies, countries, language, site type, and much more. The tool even gives accurate predictions of any particular ad so that users don't waste their time.
AdSpy Pros & Cons
Pros
Round the clock customer support available
Filters available to search ads through keywords, location, device type, affiliate IDs, and trends
Highlights trends and ads from across the globe to make quick decisions
Best for small and medium-sized businesses
Cons
Lacks few features as compared to its competitors
AdSpy Pricing
One more reason to go for AdSpy is its highly simplified pricing plan. Just $149, and users will access all the premium features followed by the best customer support.
---
BigSpy gets a big mention in our best ads spy tool list just because of its legit statistics. Yes, you heard that right; the tool has a big database covering many ads followed by a lot of analysis. Users can grab the best of ideas for their next ad campaign within minutes. Also, as compared to the rivals, this tool can be mentioned to be the best one because of the value it serves to its customers.
The UI of the BigSpy tool is highly straightforward, for example, the 'SEARCH NOW' feature, through which one can explore anything and everything. Users can simply log in either through their Google account or by signing up with their email id and a password. Also, if you want to explore some ad ideas for your ads, you can use the filters and search through specific keywords.
Also read: BigSpy Review + 15% OFF Lifetime Discount(#1 Ads Spy Tool)
Some of the latest features of the BigSpy tool include featured ads, people tracked, and my tracked. These all help users search ads that perform very well and are liked by the target customers.
BigSpy Pros & Cons
Pros
Powerful search options to cut off unnecessary time
Landing analysis (still in beta mode)
Excellent customer support
Huge ad database
Detailed ads analysis
Cons
Even though the tool offers a free plan, access to the features is highly limited. Users must consider buying paid ones to try out the tool well.
BigSpy Pricing
BigSpy offers a free plan through which users can explore ads but just on Facebook. The basic plan of BigSpy starts from $9 per month, Pro for $99 per month, and Elite for $399 per month.
---
Being used over the years now by billions of customers, Anstrex is a popular intelligence tool with many features a user will need to spy on its competitor's actions. The tool offers in-depth knowledge of any selected ad campaign and push notifications as well. Users even get permission to take screenshots of any landing page they found attractive throughout their search. Additionally, Anstrex offers three different packages (products) to its users to choose their business needs the most!
Also read: (Updated) Anstrex Review + Discount Coupon | (Upto 30% OFF)
This particular product by Anstrex covers 10 million ads from 27 networks within 64 countries. The product even gives access to multiple powerful features all at once to help customers spy on their competitors quickly. We liked most of the filtering options, details, and availability of popular landing tools, searching capability, and many more.
If you want detailed information about what is performing well in the push advertising network, this particular tool by Anstrex will help you get it all. You can get information about the advertiser's CPC history and bids quickly. Talking about numbers, this product covers data from more than 38 networks and 92 countries.
If you are into dropshipping and looking forward to a tool that can help you start your business quickly, this product by Anstrex is available for free. The tool covers more than 6 million products from across 92 countries. Moreover, there are a lot of integration options available. Anstrex gives users 50% commission for new sign up and 25% commission for the rest of the life.
Anstrex Pros & Cons
Pros
The largest amount of networks available for spying ads
Money return policy
Simplified navigation because of the user-friendly dashboard
Spot top advertisers within a few minutes
Three different products providing different values
Cons
Sometimes the tool takes more time to compile data which gets difficult for beginners to understand
Anstrex Pricing
The anstrex push package is available for $79.99 for a month. The native-only package is available for $59.99 for a month. The combo (push+native) plan is priced at $124.99 per month.
---
Similar to all other best ads spy tools mentioned in this list, Visto offers users access to millions of ad data all under a roof. Even though the tool is not so popular compared to others, it works wonders for small businesses and entrepreneurs. The tool offers a 1 click filtering option to help users extract complete data of any competitor's data.
Also read: Visto Review | 30% OFF Discount Coupon (Free Trial)
More advanced filters like type, demographics, keywords and locations are the only reason why Visto is in our top 5 list. The tool discovers ads from across 50 countries by using its advanced AI technology. Users can even find the best affiliate offers by spying on competitor's ads through Visto.
Visto Pros & Cons
Pros
It gives users access to the latest trends in the market
Offers direct access to competitors' work
Users can save valuable time with its filters
Industry-specific database available to save time
1 click assistance is available
Cons
Visto's features and pricing plans are highly transparent; hence there weren't any such downsides of the tool we have observed.
Visto Pricing
Apart from paid plans, Visto offers a free plan that we highly recommend users test at least once before buying any plan. Either way, the pro plan is for $99 per month, the premium plan for $179 per month, and the Elite plan for $329 per month.
---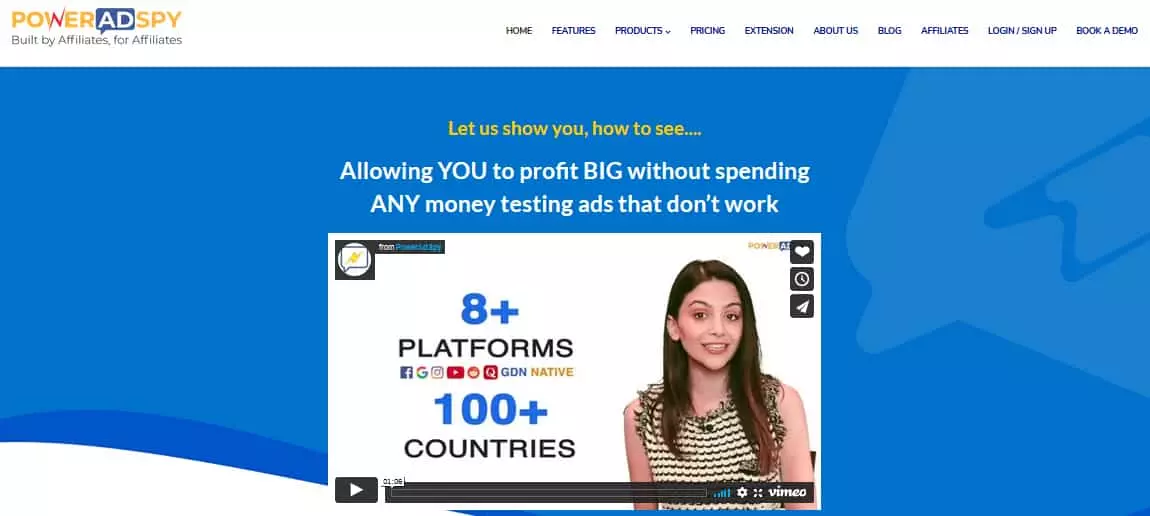 From oldest to newest, PowerAdSpy has detailed data of ADA from across various sources, all under a roof. If users wish to replicate strategies of competitors, the tool even helps you with the same. We would say that this tool is not just another ad testing service.
Instead, users even learn to understand strategies and businesses very quickly. Users can search ads through domain names, winning ads, fan pages, with the filter option available on the website. PowerAdSpy is a popular tool having approximately 50 million ads displayed on its website from across 20 countries. If users are on a quest for growing their business, PowerAdSpy even offers integrations with popular stores like Shopify, WooCommerce, and much more.
60% OFF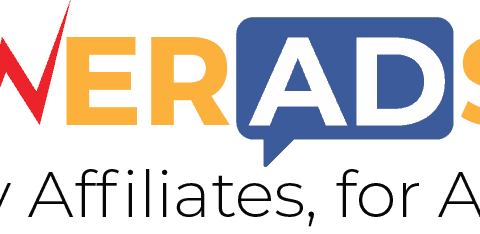 PowerAdSpy Black Friday Deal - 60% OFF on all Yearly Packages
Also read: (Updated) PowerAdSpy Review + Coupon Code (10 Days FREE)
The tool even displays exact funnels that can help businesses target their target audience instantaneously with bare minimum efforts.
PowerAdSpy Pros & Cons
Pros
Easiest tool for beginners to get started with, within a few time period
The tool acquires information from 15+ countries
Free trial available
Users can spy data on multiple platforms easily
Cons
No proper reference available to use the tool from the developers
A bit overpriced as compared to all other tools
PowerAdSpy Pricing
In all, PowerAdSpy gives users access to a major chunk of its features in the premium package itself. But since the demand of users differs according to their business, the tool offers six different pricing plans, and they are as follows:
Basic plan for $49 per month only
Standard plan for $99 per month only
Premium plan for $149 per month only
Platinum plan for $249 per month only
Titanium plan for $299 per month only
Palladium plan for $349 per month only (preferable for large enterprises only).
---
You ask for Facebook, Instagram ads, influencer product placements, placement, and Snapchat ads (soon to be launched, Minea has it all. In short, Minea is one tool, all network platform, and that's the reason why it's in our best ads spy tools list. The tool scans all networks every second to ensure that its users just get updated data and won't miss out on any winning products.
Also read: Minea Review: An Advanced Product Research Tool (Truth)
Moreover, Minea is currently working on features like adding multiple advertising channels under a roof to help users easily access winning products. There are more than 10 million ads available from all over the world.
Minea Pros & Cons
Pros
Updated ad lists are available all the time
More than 10 million ads just under a roof
Speedy filter system and dozens of criteria available
Highly intuitive tool
Free version available
Cons
There aren't any specific downsides we observed to date.
Minea Pricing
The lite offer by Minea is available for free to every new customer. The starter pack is priced at €49 per month, and the premium pack is at €99 per month.
---
You might not find Adheart.ru much in many best ads spy tool lists, but trust us, the tool does unbelievable things at a bare minimum price. It keeps users updated with the latest ad trends and products through its extensively attracted data from more than 30 countries. There are over 675 million creatives available from all platforms and in all formats.
Adheart.ru has millions of ready-made base of creatives available in any vertical and niche. Users can even find fresh ideas to promote any product from competitors' with just a click.
Adheart.ru Pros & Cons
Pros
Creative statistics available to understand ads
Ads can be sorted according to first and last appearance
Deep search filters are available
Demo mode available for free
Cons
Since Adheart.ru is a new tool, improvements can be made according to competitors' actions and features.
Adheart.ru Pricing
The tool offers a demo mode to all its users, which is available immediately after registration. But even the paid plans by Adheart.ru are not so expensive. One can get monthly access to all the functionalities for just RUB 3000 (around $40).
---
Adplexity is a leading spy tool in the market, and undoubtedly it has a larger user base than all other tools. The tool allows users to find nitty-gritty details of higher-performing ads within seconds. Moreover, the data available here are from across 70 countries. Users can even download landing pages to simplify their work.
The best part about the adplexity tool is its products themselves. That is, the tool provides different tools according to the plans and goals of the users. Some high-performing adplexity products include Adplexity Native, Adplexity Desktop, Adplexity API, Adplexity Push, Adplexity eCommerce. Users can choose any of these products to hunt profitable ad campaigns.
Adplexity Pros & Cons
Pros
Highly accessible user interface
Ad campaigns accessible from across 75 countries
Powerful filter options available like search through keywords, publisher names, and advertisers
All the adplexity packages pull up comprehensive data from a huge range of sources.
Provides real-time data
Cons
It doesn't offer any free trial
Pricing plans are a bit confusing
Not a clear guide available for beginners to explore ads in detail
Adplexity Pricing
Since adplexity offers many products all under an umbrella, you have to go through their website to understand your needs. Most of the products range between $149 to $199 per month.
---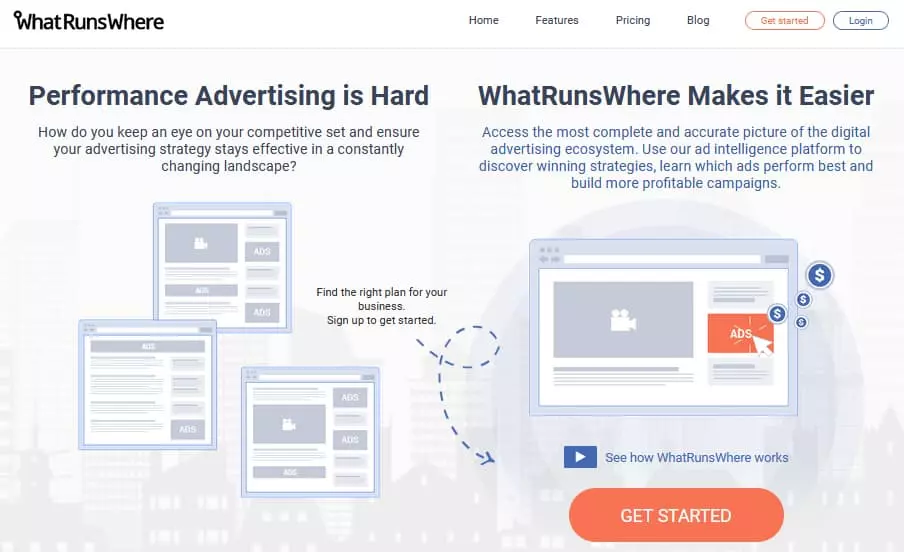 With the ever-changing market demands, WhatRunsWhere ensures that its customers get just what their business requires the most. The tool gives users access to the digital advertising ecosystem just by a click. We can easily say by experience that one can build their professional profile and create profitable digital strategies easily with the proper use of the tool.
The tool even helps users pick up the best pictures and high-ranking texts to earn easy dollars. Apart from all these benefits, WhatRunsWhere has data from over 5 countries and across 500 networks, including Australia, Canada, the US, the UK, and many more.
WhatRunsWhere Pros & Cons
Pros
User-friendly dashboard
Filters available to make the search process easier
Demo videos available for beginners
Filters available for affiliate marketers to run ads successfully
Cons
Expensive service as compared to other tools
The tool covers detailed information about 5 countries.
WhatRunsWhere Pricing
WhatRunsWhere offers different pricing plans all according to the Businesses needs. Rest users can choose the basic package for $299 per month or a complete coverage plan for $399. But if you own a large enterprise, you have to contact the customer care team to entail you with a package tailored according to your necessities.
---
🌟 Ads Spy Tools FAQ
✅What is an ad spy tool?
Ad spy tool is designed to spy on your competitors, what exactly they are doing on the social media platform. With an ad spy tool, one can spy on their competitor's profitable ads and products and build the best marketing strategies to get the best results.
✅What is the best ad spy tool?
If you are looking to drive your marketing campaign successfully, it becomes crucial to use the top ads spy tool that gives you complete insights into your competitor's strategies. Check the above-mentioned list if you want to buy the best ads spy tool.
✅Is there any tool to spy on FB ads?
✅Can I spy ads on Facebook for free?
Yes, there are various free Facebook ads spy tools, for example, PowerAdSpy, BigSpy, Boost2Pro, etc., that one can use to make their Facebook ads journey successful. 
---
Conclusion: Are these the spy tools you'll need in 2023?
All the ad spy tools mentioned above have the best features to help you discover your competitors' bare minimum strategies. But not every tool will work for everyone. Hence you need to understand your needs at first, pick up your budget and then choose a tool accordingly. So, have you tried any of these ad spy tools yet? If yes, do let us know how your experience was!
Happy Spying❗❗