Similarweb review, well, coming here makes it pretty sure that you were looking for one?
As a digital marketer and someone who owns an online business/website, you can totally relate to how important it is to make the right marketing strategies. Similarweb is a great tool to analyze data related to the audience, industry, competitors, and much more.
In this article, I'll be writing about some of the key features offered by Similarweb; in addition to that, I'll also be discussing what these key features do and how they can help you make better marketing strategies.
But before diving into the in-depth analysis of Similarweb, let's quickly take a glance at what is Similarweb?
---
Detailed Similarweb Review
Similarweb is a tool that helps manage and analyze the performance delivered by your website. These analyses basically involve factors such as audience analysis, traffic sources, website content, traffic analytics, and much more (I'll be getting to it later in the article).
Similarweb was founded in 2007 in Israel and delivered its services along with the top eCommerce players like Amazon, eBay, PayPal, etc. Similarweb can be used as a management and service tool that can be used to make your way around different parameters such as Digital Research, Digital Marketing, eCommerce, Investing, and even Sales.
PREMIUM DEAL
Activate this special Similarweb coupon code that helps you to enjoy a flat 16% discount on all annual plans. [100% Working Similarweb Discount Coupon]
Access to all features
SPECIAL OFFER
Want to boost your website traffic? Use this exclusive Similarweb promo code to get started with Similarweb for free and win your market online.
Limited access to historical data.
A quick review on how these different parameters will help:
Digital Research: Audience research, Industry audience, Website & App analysis, Benchmarking, and much more.
Digital Marketing: Affiliate marketing, PPC and SEO, Competitive Analysis, and much more.
Sales: Lead generation and enrichment with Fraud detection and much more.
Investing: Investment Ideation, monitoring, etc.
eCommerce: Customer journey, Brand identification, etc. (better analytics and overview)
As per my experience around different tools that dealt with SEO and websites (similar to Similarweb), Similarweb can be considered an excellent tool.
Similarweb offers its services around different aspects such as:
Website Analysis (Website Overview)
Website Audience (Traffic & engagement, Geography, Demographics, and Audience interests)
Traffic Sources (Marketing mix, referrals, search, social, etc.)
Traffic Destination (Outgoing links and Ads)
Website Contents (Subdomains, Leading folders, Popular pages, and much more)
Competitors (Similar sites and keyword competitors)
Mobile App Analysis, Well, it can be said that Similarweb has spent pretty much significant amount of money and effort on its Mobile app analysis. At the same time, some of the features are limited to Andriod.
The Mobile App Analysis enables you to get along with different aspects such as engagement, store page analysis, keywords, search analysis, and much more. The Mobile App Analysis also enables you to overview the App, category, number of installs, publisher, ranking, and much more.
As I have already mentioned, the features are pretty different from what's available in the market, and you can also get along with the top-ranking apps section, which lets you explore the Apple App Store and Google Play Store. Therefore an excellent overall review on how the App is performing.
---
Features Offered by Similarweb | Similarweb Reviews
Similarweb offers some options to choose from Workspace, Research, and Dashboard.
1: Workspace
The Workspace enables you to get alongside, getting your first Arena; the Arena section basically has three different steps, the first one involving the main website; here you enter the main website that you are operating and or you are primarily focusing on, the second section includes counting your competitors, the option enables you to insert the competitor websites that you might be dealing with.
As a result, you get a complete overview of how your website performs. The tool enables you to get an overview in terms of strategic overview, organic overview, and referral overviews. The strategic overview gives you analytics and different aspects such as Domain, traffic share, total visits, average visit duration, pages per visit, and bounce rate.
Organic search overview lets you get along with organic searches being performed over the website. All this data can be used as a great tool to overview how your website was performing compared to other competitor websites.
2: Research
The following section is Research and is quite an important one; this research tab lets you explore different parameters such as Website Analysis, Web Category Analysis, Search Keyword Analysis, and much more. I'll explain more about this section later in this article; So let's explore what the features/functions offered by this research tab are:
The website analysis lets you explore data and analytics such as website visits, engagement rates, traffic sources and some other important metrics that might be needed. For example, You search for bloggingeclipse.com on the website analysis, and the analysis will show you different data such as Global rank, Country rank, Category rank, Visit Duration, Bounce Rate, etc.
You can also explore some other pieces of information such as Traffic & engagement (visits, devices, visits over time, etc.), Geography, Marketing channels, etc. The few essential factors that you can consider alongside the above-given data is its search (organic or paid).
The website analysis also enables you to compare your website with any different website/competitor in the same category. You can compare 3-4 other websites with your main website and compare the analytics and data as mentioned above.
I guess you might have got an idea about how this feature will help; the google play analysis can help your App get along better in terms of optimization. This feature will let you optimize and understand the right keywords and the traffic share of that keyword. As a result, you can understand how your product performs under a keyword. (not available during the trial period)
This feature enables you in getting along with a better overview as well as in-depth research in terms of keyword searches that any website might be using, well this enables you to understand how much that keyword is performing over a specific website (both organically and paid one).
The features offered in Search keyword analysis can be counted as a similar option to the Keyword magic tool offered from other tools in the market.
Well, I might have given you an idea of what are the features served by App analysis, well as a quick overview; the App analysis lets you monitor the app ranking, retention, traffic sources and even the user interests. (Real deal from my perspective)
Well, you might be able to recall about the sales part that I mentioned above, well this is one of the main reasons due to which sales data and everything related to that, the funnel analysis lets you explore along with the conversions and performance metrics for some of the top tier players in a particular industry.
This feature can be counted under understanding how the top tier players are performing under a specific category, well, kind of a competitor spying tool to some extent. You can explore dozens of categories and understand how a particular website is performing under that category (keeping an eye over the top players and comparing your website likewise in that category).
In addition to that, web category analysis also lets you explore more data in terms of top websites, device distribution and total visits. When I mentioned the categories, Similarweb gives you an overview of the top 100 websites (can go up to 10,000 domains) performing under that category (categories like arts and entertainment, music, books & literature, etc.) In addition to all the categories I have mentioned, you might need to get a better overview of pieces of information such as:
These all features can help analyze how your website is performing while also understanding how much market share the top players have.
Like the features mentioned in web category analysis, the App category analysis gives you an overview of how certain apps (top tier players) perform under a category.
Website Segment Analysis:
This can be useful when considering a whole segment of web pages, or we can analyze the web pages collectively (not available/locked during the trial period). All the metrics mentioned above can be used in different ways, and as a digital marketer or a website who wants to explore and get an in-depth analysis of how your webiste is performing.
After considering all the features and tools offered in the research tab, the last one is the Dashboard tab. As per my experience over Similarweb, the research tool consists of some of the powerful tools needed to understand how you overcome with better marketing and content strategies.
3: Dashboard
The dashboard tab lets you explore different templates such as Mobile app monitoring, daily competitive analysis, SEO monitoring and much more.

Some of the templates offered in the Dashboard tab are as follow:
In addition to all the features and tools offered, you can also create a template from scratch by selecting the " Create from scratch" option and making a template as per your need/objective.
4: Data Reliability
The data is everything; well, the data used in these analytic tools is one of the important factors that has helped in delivering the best products possible.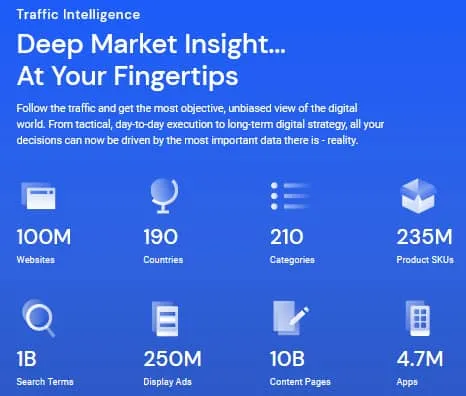 Similarweb is a company that depends on different data sources, most notably their global user panel, to determine its intelligence. The accuracy of these data sources is the critical factor in their reliability. Well, you might be clear with the thought that no data is 100% perfect, but the accuracy and chase to deliver perfection is something Similarweb believes in.
Similarweb uses 4 different data types/sources, which are as follow:
Public data
The data that is collected from Similarweb's in-house indexing engines. Well, this data can be considered as another important segment in data delivery and using that data.
Contributory data
The data used here is extracted from anonymous data sources; the data here is extracted from the site level and not from the individual level lacking the PII (Personal Identifiable Information).
External data providers
The data provided here comes from different external websites and sources that have partnered with Similarweb, basically the websites with a large customer base and data. The data extracted from different sources combined gives excellent results, which might not be 100% perfect but have some excellent accuracy with minor errors in it. The better the data, the better the results are.
The data provided here comes from different external websites and sources that have partnered with Similarweb, basically the websites with a large customer base and data. The data extracted from different sources combined gives excellent results, which might not be 100% perfect but have some excellent accuracy with minor errors in it. The better the data, the better the results are.
---
Similarweb Pricing Plans
I have wandered around several SEO/Analyzing tools, but the pricing plans offered by Similarweb are pretty good. The prices start from around $249/month, well this plan is counted among one of the popular and primarily used plans offered by Similarweb. The advanced plan costs around $449/month, and just in case you are not satisfied with the features offered by the plans, and you can even ask them for a custom plan.
Each of these plans offers features such as competitive analysis, keyword research, keyword tracking, Ad creative research tool, media buying research tools and much more. In addition to all these features and tools, you can also access other features such as Website results, Ad Creatives, Historical data, GeoData, etc. These features and tools are limited depending upon the plan you go for.
Similarweb Chrome extension is the ultimate free browser extension for anyone looking for insights on website analytics and performance, as well as real-time information about changes in site performance.
The Similarweb Chrome extension monitors all website activity, with detailed data on server-side requests, response times, and more. With the SimilarWeb Chrome Extension, you will get detailed insights about any website that helps you make winning strategies.
---
Alternatives for Similarweb
From my experience in SEO tools, Semrush can be considered as one of the alternatives to Similarweb, but still, you might experience several differences; the tools and Semrush traffic analytics are different from what Similarweb delivers.
Well, some of the factors due to which Similarweb has been developing a better impact on customers are; its organic keyword search updates performed weekly, app metrics, segment analysis, conversion insights and much more. But, the thing that gained my attention was its dashboard tab, predesigned templates available with a single click are among some of the best things that I encountered on Similarweb.
Some of the other popular options include Google Analytics. As per my experience around Google Analytics and Similarweb, both might be delivering the same key product, but the details and in-depth analysis may vary.
Google Analytics also offers some great free-of-cost features, but as you get along with Similarweb, you can understand the in-depth analysis with more advanced features might be lacking in Google Analytics; I'm basically neutral between both of them as they are made with keeping different objectives in mind. In simple words, Google analytics serves its features and functions as an analytics tool. In contrast, Similarweb and Semrush can be considered more of the SEO-based analytics tools with more advanced features.
---
🌟 Top FAQs on Similarweb
🤔What is Similarweb?
Similarweb is the leading platform for website data and analytics that help you make better decisions, increase your competitive edge and drive more traffic to your website. Similarweb is the best place to search and analyze traffic–giving you insights into your competitors, customers, and market share.
🔎Why use Similarweb?
Similarweb is the mush have SEO tool that helps users win their market online. This one tool is used by the biggest digital brands, small companies, e-commerce sites owners, etc., to enhance their website ranking and reach more customers. Following are the main reasons why one should use Similarweb than others which are available in the market.
1. You will get 100% accurate data, and you will be able to detect global trends and more investment opportunities.
2. The tool is available with a host of features that you can use to gain more granular information about your competitors.
3. Use Similarweb.com to generate complete traffic insights & analyze your competitors and find new ways to increase your brand online presence.
4. One can even build winning lead generation strategies by analyzing their competitor's site.
🔥How accurate is Similarweb?
Similarweb is a powerful SEO tool that helps you understand your site's rank and rank position across search engines, with the ability to visualize your key engagement metrics. Similarweb allows you to dig into your competitors' websites and track all the data you need. The Similarweb collects 10B of digital signal, analyses 2TB of website data daily, and generates 10K+ traffic reports.
🙄Is Similarweb free?
Yes, Similarweb offers 7 days free trial with limited features that one can use to develop their digital strategy.
💲Is Similarweb worth the money?
If you want to attract more investors or enhance your website monetization, get started with Similarweb. It gives you a real-time view of what people are buying, where they went, and how much they spent. The advanced technology lets you see where your competitors are spending money – and track your competitor's performance. It's a one-stop-shop for all your online research needs.
💸What payment methods does Similarweb support?
If you are looking to purchase its paid plan, you can make payment through a credit card that is Visa, AMEX, Mastercard, and Discover.
🏅Which is better, Similarweb Vs. Semrush?
Similarweb and Semrush are great SEO tools that offer the same accuracy. Onc can use Similarweb and Semrush to evaluate competitors, leads, and traffic. For medium-sized websites, you will get accurate data from Semrush. On the other hand, Similarweb allows you to discover your competitors' traffic sources. The comprehensive, real-time traffic data provided by Similarweb gives you a powerful insight into the performance of your sites.
💻What are the other best Similarweb alternatives?
If you are looking for the best Similarweb competitors, then check the following list:
Semrush
Ahrefs
Moz Pro
SpyFu
SE Ranking
Serpstat
🔥Is there any active Similarweb coupon code?
If you are looking to save some bucks on this amazing platform, then grab the above-mentioned Similarweb discount coupon.
🚀How much will I save by using the Similarweb discount coupon?
By using our exclusive Similarweb coupon code, the user will save upto a 16% discount on all annual plans of Digital Marketing Intelligence.
---
Conclusion: Similarweb Review 2023 | Why Similarweb is a powerful tool for analysis?
As per my experience, alongside the features and tools offered by Similarweb, the parameters you can explore with its help are excellent. The exploration, along with different aspects such as Social media platforms, Keyword searches, audience insight, etc., makes Similarweb an excellent choice to go ahead with.
As per my experience in different tools such as Semrush and ahrefs, getting along with Similarweb was not difficult for me. Well, things were pretty similar in some of the aspects with Semrush traffic analytics; kind of similar but different at the same time; you might be wondering what does this mean?
The features and the end product for traffic analytics can be similar. Still, the interface and the presentation with some data (additional data) are different, therefore revolving around the same essential product but with some tweaks (good ones from Similarweb).
So overall, Similarweb is one of my favorite options for keyword tracking, analyzing geographic traffic, organic traffic, and much more.🤞🤞
Similarweb is the leading website traffic analysis tool that tracks your website's unique visitors and searches history. Using Similarweb's analytics, you will be able to see what visitors are coming to your site, where they came from, how long users stayed on your site, and much more. Similarweb supports all the required features that allow its users to track, analyze and measure their web traffic. They provide a real-time view of your real-world traffic. Try Similarweb for free today & get more out of your traffic.
Affiliate Disclosure: This post may contain some affiliate links, which means we may receive a commission if you purchase something that we recommend at no additional cost for you (none whatsoever!)