GISEC Global Recap 2023: The three day event of GISEC Global that had the leading businessmen from various sectors, including the ones belonging to the regional and global digital security area had a conference to discuss the best strategies to protect against cyber threats. As a part of GISEC Global 2023 the top digital security officers had discussed creating a 'community of action' and its strategies, which will help the digital business grow.
The event was held in Dubai on 14, 15 and 16 of March 2023, where on the second day the CISO Circle agreed that it is important to have a collaboration along with information sharing to tackle the cybersecurity threats faced by this generation. Let's read about it more in this GISEC Global recap.
Renowned Speakers at GISEC Global Summit | GISEC Global Recap
The CISO Circle is a firm which was recently launched but has brought together a number of security experts, who belong to various fields. These experts have since been continually discussing their critical priorities over cybersecurity, business, national agendas and a lot of unearthed topics.
Similarly, this year CISO Circle had prominent panelists like H.E. Dr. Mohamed Al-Kuwaiti, Head of the UAE Cybersecurity Council; Dr. Aloysius Cheang, CSO, Huawei Middle East & Central Asia; and Hadi Anwar, Chief Cyber Defence Officer, CPX. While addressing the audience at GISEC and talking about the National Security Operations Centre (NSOC) Dr. Al-Kuwaiti stated "We cannot control what we cannot measure and we cannot measure without having that visibility, and the NSOC brings us that visibility." He further spoke of connecting all the SOC's of all the sectors to have UAE leading the cybersecurity visibility in the whole world.
Dr. Al-Kuwaiti also spoke of the importance of having a partnership and to have a collaboration on the basis of trust, values and transparency. This will definitely lead to a common goal of having a better cyber resilience. Adding to his words, Hadi Anwar stated "CISOs are faced with many cybersecurity challenges in today's rapidly changing world. Having a trusted advisor to counsel on best practices is crucial to fight against cybercrime, and now more than ever, it is important to collaborate. A platform such as the CISO Circle enables us to join forces and discuss ways to combat cyber threats and protect the UAE's cyber landscape."
Discussing how to turn Dubai into a safer place, Amer Sharaf, Director, Compliance, Support and Alliances, Dubai Electronic Security Center, shared his thoughts, "It is no surprise that cyber threats are evolving at the same pace as emerging technologies." He further stressed that the private and government sectors should work together, hand in hand to tackle the upsurging wave of cyber security threats.
The event also had a chance to hear the words from one of the greatest hardware hackers, and tech wizard, Joe 'Kingpin' Grand. He demonstrated the unknown techniques of hacking and also informed that the cyberattacks are continually evolving.
"Complex attacks such as Fault Injections and Side-Channel Analysis, which were earlier limited to mostly those with knowledge in engineering, are now more common. And hence it is the need of the hour for organizations to have a structured mitigation ready, in ways to tackle the security attacks" said Grand. He further stated that this will not only help the companies to play on a safer side but will also get to know the mindset of an attacker and have their products secured.
Upsurging Cybersecurity Threats Discussed | GISEC Global Recap
As per a survey of a recently released Global Threat Report, eCrime actors have been on a continuous search to find the latest way of increasing their revenue. These people are also known to seek and have novel techniques, and are well trained with the tools which helps them expand their target reach and to have a greater impact.
In the past year, cyber security intelligence have observed two new adversaries, which have come to light for the first time. These adversaries Slippy Spider and Scattered Spider are known to have been pushing operational limits. The mentioned tools targets the high profile victim, while also impacting a large group of associated employees, customers as well as business partners.
It was observed that Slippy Spider targeted technology giants while when we speak of Scattered Spider it had a very well studied list of targeted social engineering campaigns. These targets were also the ones who primarily belonged to the customer relationship management and are the ones who had a business process outsourcing.
Awards Function at GISEC Global
During the awards function, H.E. Dr. Al-Kuwaiti was recognized by hundreds of cyber leaders for his excellence and contribution towards global cybersecurity and digital transformation.
The Head of Cyber Security for the UAE Government, Dr. Al-Kuwaiti was presented with the Cybersecurity Excellence Awards' Global Leadership Award on the mainstage of GISEC Global. He was also given recognition for his bold mission to spread cyber awareness and culture. Meanwhile, Dr. Kuwaiti was also appreciated for the development of cyber talent, empowering cross-border collaboration, and for having the UAE at the forefront of international cyber resilience.
More about GISEC Global
The GISEC Global, which is the largest and most impactful cybersecurity event in the whole Middle East, has been growing tremendously since its inception. It is well known to have grown in size by more than 50 percent year by year. This year the GISEC Global was held at the Dubai World Trade Centre (DWTC).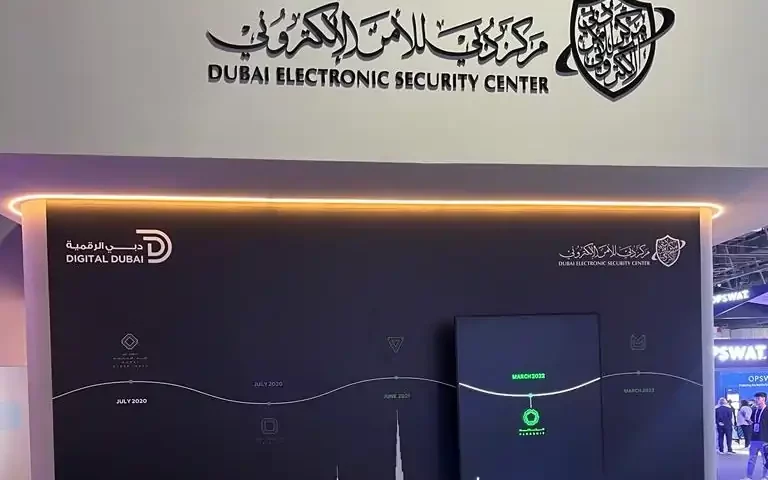 Talking about the grand event, this year it broke all the records and hosted 500 exhibiting brands from 53 different countries, and at the same time had 300 leading InfoSec and cybersecurity speakers. The event had 1000 of the greatest hackers from around the world, who were called to dismantle and explain the top digital threats in the world.
According to the reports by analysts Frost & Sullivan, it is believed that the annual three day super connector will grow in value further in future. It is said that from having a value of US $7.5 billion in the year 2022, it might gain the heights of having a value of US $31 billion by the year 2030. This will be a huge leap with a 20 percent annual growth.
Amongst the Infosec giants who were present during the cybersecurity event was Crowdstrike. They are well known to have a large and still growing base in the Middle East. The company has played a huge role in contribution and development in the cloud-native platform. Crowdstrike, the security company is well known to provide protection in the most critical manner and enterprise assets.
With having a great recognition for their intelligence suite against the cybersecurity threats, they have also covered a wide range of financial and government entities. Their software indicates real time attacks, and are well adapted in the adversary tradecraft. They are enriched in telemetry and are well known to give hyper accurate detections.
Being a media partner, we at BloggingEclipse feel proud to be part of this global cyber security event, GISEC Global. We have had a chance, which we are more than thankful for, to meet the great businessmen and discuss a lot of the latest developments in the security sector. We are more than excited to meet the hackers again who explained the cyber threats in the simplest way possible.
Affiliate Disclosure: This post may contain some affiliate links, which means we may receive a commission if you purchase something that we recommend at no additional cost for you (none whatsoever!)