Almost every entrepreneur wants to register their Company in united states. It's a big challenge for many international entrepreneurs for incorporating in the USA. Nowadays incorporating a firm in united states is not a difficult job, Actually it's pretty simple straight forward process.
In this article I will show you how easily you can get your company incorporated in U.S without even visiting united states physically. Even if you are a foreigner for united states, it does not have an effect on the company incorporation process. The process would be same for U.S.A resident as it is for you.
The fees are not so higher in United states for incorporating a company. It just costs few hundreds dollars to Incorporate a company in US depending on the states where you choose. Delaware is the most loved state by Entrepreneur to register their online company in U.S, however there are other states and method too.
Let's look in brief ❗❗
Why Should You Incorporate a Company in US?
If you are an entrepreneur, professional blogger, Digital marketer or any tech start-up, you should know the benefits of registering and doing business in U.S, united states have been biggest market for Online business since past several years and there are lots of benefits and ease of doing business from United States.
You can open Bank account in U.S by sitting in any corner of the world and collect payments in United states when you have incorporated company in USA.
Benefits for Online Entrepreneur:
Almost all online entrepreneurs are formyl blogger or Digital marketer, while maximum of the affiliate networks, Marketing companies are incorporated in U.S hence it is easier for online entrepreneur to get payments with an ease and save tax when they setup their own company in the same country.
Hence U.S is largest marketplace & heaven for E Entrepreneur to expand their business. However, Tax rates in U.S are not the lowest but in some states of united states such as "Wyoming" There is no corporate income tax for companies.
There are some countries like Singapore which gives more ease in taxation to Foreign nationals for business and I will soon write a different article for incorporating a company in Singapore for foreign nationals.
Incorporating a Company in U.S.A – CheckList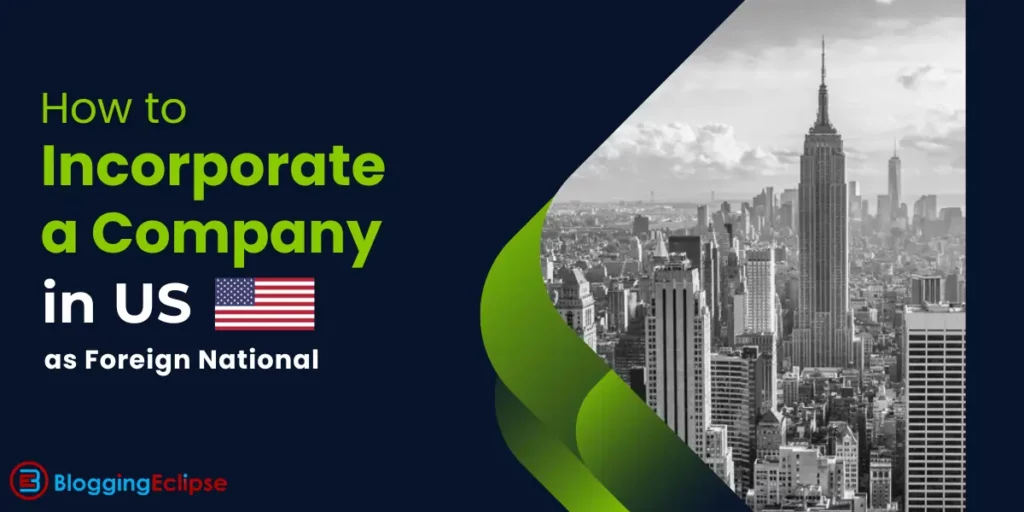 There are some checklist & small requires for registering your online business in U.S A legally.
There are even numerous of Agent companies which helps foreign nationals to register their business in U.SA and makes a lot of paperwork ease but they charge heavy consultant fees which might be not OK for some initial stage Entrepreneurs.
These checklists below cover the critical steps that must be addressed before a business can be launched in U.S.
What type of company is being set up?
In Which State the company is being incorporated?
Are there any options available to minimize your TAX burdens?
Your need for protecting your intellectual property
Will you require to obtain any special licenses?
Your need for visas or other immigration needs
Your need to access the capital markets in the US
Deciding which state to Form Incorporate Company
There are many states in U.S like Wyoming, Delaware, Nevada, etc. which have been found easiest for Registering Business in US by foreign nationals. Many of Indian & Asian Entrepreneurs have already registered their company in U.S.
🏅 Wyoming
Wyoming state have cheapest incorporating fees and this state doesn't charge any corporate income tax from companies, there is also very low yearly fees and no franchise fees. Wyoming is becoming great choice for international entrepreneurs.
You can get your company incorporated in Wyoming in total $189 which is the cheapest of all. Visit Incparadise.net for detailed information as it is Wyoming incorporation & registered agent.
🏅 Delaware
Delaware is another highly popular state for international startups. Because of great corporate structure in this state, many entrepreneurs are seeking to do business in Delaware for venture capital.
This state has franchise taxis is slightly bit expensive than Wyoming as more than half of all fortune 500 companies are incorporated in Delaware.
You may Visit delawareinc.com for more detailed info about registering your Company in Delaware.
🏅 Nevada
Nevada is another state to incorporate Company in US. It has no corporate income tax nor any franchise tax but registration fees in Nevada is drastically increased The fee for this is $500 for C-Corporations and $200 for LLCs.
However, Nevada is also known as business friendly state by many International entrepreneur and if high fees is not an issue for you, then it is great choice for incorporating as well.
C-Corporation or LLC ?
Most common company types in the US are C-Corporation and LLCs. The major difference between both of them is taxation. "You can have LLC taxed as a C-corporation and vice versa, you choose these options when asking for EIN (Employer Identification Number) which is used for tax purposes".
LLCs are pass-through entities; their owners are taxed on individual income taxes from their revenue. however, there are no taxes at the corporate level in limited liability company registrations.
Why should you Incorporate your company in US through registered Agent?
A registered agent costs around $100 a year. When your company is formed & registered agents receive all kind of documents form the court and they will forward you. Each Company which is incorporated by7 a foreign national must have a registered agent.
Taxation
Companies need to Pay Federal &state level tax in United States. These taxes are not significant while your income remains low (under $100.000). Federal taxes vary form 15% you 39% depending on your revenue and it is same for all the states.
States level taxes are controlled by the states, some are having high state level taxes and some states like Wyoming have no corporate income tax at all.
What's the Process for Opening a Bank Account in the U.S.?
There are many ways to get your U.S virtual bank account opened completely before or after your incorporation registration.
Payoneer is a great service which offers free virtual U.S bank account for ACXH direct deposits and they don't even charge any setup fees. You can get your virtual U.S bank account number, routing code by registering on Payoneer global payment service.
For detailed tutorial you may read my earlier article: How to open Virtual bank account in U.S using Payoneer.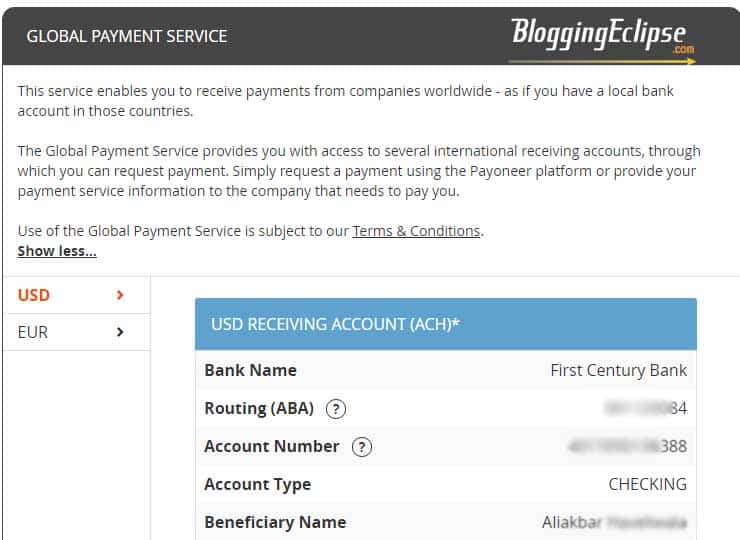 However, to open a fully functional bank account in U.S from abroad is quite difficult and sometime you also need to have good contacts in the Bank. The best solution to this is personally travel to U.S and open a bank account by carrying your documents such as Company Incorporation article with you.
But if you don't want to travel to US now then you may open Business Bank account through Stripe: Atlas which offers US bank account in Silicon Valley Bank, payment gateway & even incorporation services in cost effective rates.
After going ahead with Stripe: Atlas program, you can even create a U.S based PayPal account for your company to do internet business efficiently.
Virtual Office in United States
You will require a virtual office in U.S or mail forwarding service can be right choice for you. There are numerous of U.S mail forwarding service like bongoU.S, MyUS.com, USglobalmail and Shipto.
I will recommend to go with Shipto for getting a Virtual office in U.S as it offers virtual address in Wyoming, Nevada and Delaware. The mail forwarding service provider will collect your Mails, scan it and upload it in your account, so you can view it from any corner of the world.
Their plans start from $99 for a year and you can even provide your virtual address in U.S bank account as it is more stable address than just a P.O number.
U.S.A phone number
This is pretty easy, Even skype allows you to get a U.S number of your choice of state code, the virtual number forwards all calls to your mobile number of your country and also gives you the ability to call people in U.S and display the virtual number to them in Caller ID.
Apart from Skype there are dozens of Virtual number providers but Skype is more authentic and trusted for me.
How much time does it take to incorporate in the U.S.?
The incorporation process in the United States typically takes between two days to two weeks, depending on various factors. The time frame can be influenced by the state where the business is being incorporated by either speeding up the processing chosen or the current workload of the Secretary of State offices. It's essential for businesses to consult the State Processing Times page for specific details, as heavy filing volumes at certain times of the year may cause delays. Efficiency in handling the necessary steps, such as filing articles of incorporation and choosing a unique corporate name, can also affect the amount of time required to finish up the incorporation process.
Is a Visa Legally Required to Own and Operate a Business in the United States?
Owning a business in the United States does not necessitate citizenship or even a physical presence in the country. However, if you intend to work actively within the business you own, obtaining a valid visa is mandatory. Several visa options are available, including the E-1 Treaty Trader Visa, E-2 Treaty Investor Visa, EB-5 Job Creation Visa, L-1 Multi-National Transfer Visas, and H-1B Visa, each with specific requirements and conditions. For example, the E-2 visa allows travel and legal work in the primary investment vehicle, while the EB-5 visa requires an investment of at least $1,800,000 and the creation of 10 jobs for US workers. Understanding the right visa for your situation is very crucial for legal operation within the U.S. business entity.
Is it necessary to have a US address in order to start a business in the US?
Incorporating a business in the United States does not require a U.S. address. Companies like Active Filings offer registered agent services that allow you to form an LLC or incorporate without a local address. However, it's essential to note that a U.S. mailing address is needed to open a bank account or obtain an EIN (Tax ID). Some service providers offer packages that include unlimited mail forwarding, making the process even more accessible for international business owners
FAQs on Incorporating a Company in US
What are the necessary documents required to start a business in the United States?
In the United States, forming a Business Corporation or Limited Liability Company (LLC) needs you to have specific legal documents. For large business corporations, the Certificate or Articles of Incorporation is essential but LLCs need Articles of Formation or Organization. Both structures must provide Organizational Minutes, Bylaws, and IRS Form SS4 for an Employer Identification Number (EIN). Optional documents include Shareholder Agreements for corporations and Operating Agreements for LLCs. These documents establish the company's legal identity, governance, and compliance with federal law
Can someone who's not from the US have or be part of a business there?
Yes, foreign citizens can own or participate in a U.S. business without being U.S. citizens or green card holders. There are generally no restrictions on foreign ownership, and the procedure for forming a company in the U.S. is the same for both U.S. residents and non-residents. Whether it's a corporation or a Limited Liability Company (LLC), the ownership and participation process does not discriminate based on citizenship, making the U.S. an attractive destination for international business investors and entrepreneurs.
Is it possible for active filings to assist in the setup of a checking account?
Active Filings, a company that assists with business incorporation and related services, cannot help you open a checking account or handle other banking-related issues. If you want to open a checking account you must visit the nearby bank and provide them with all the documents required to proceed with the procedure. Necessary documents to be provided to the bank are as follows – ID Proof, a copy of the article of incorporation or the organization, and Companies Tax ID Number (EIN). However, Active Filings does offer a Tax ID service to help you obtain an EIN, especially if the directors or owners are not U.S. Citizens. This process can take up to 30 days, and an additional $200 is charged if you do not have a social security number (SSN) due to the increase in the paperwork.
Is It possible to use the registered agent's address as my Company's address?
Absolutely not, the registered agent's address is solely created for receiving official documents like legal notices. A company's legal address must be a real physical location, such as a home or office. Misusing these addresses can lead to legal issues. It's essential for businesses to understand these distinctions and comply with state regulations to avoid complications.
Can I create a branch of my company in the US?
Yes, a foreign company can definitely create a US branch or subsidiary. It is suggested that if you want to create a branch in the US, you must approach to either form a corporation or an LLC, as both these entities provide robust liability protection against potential bankruptcies or lawsuits. The process involves selecting a state within the United States to establish the business and submitting the necessary paperwork for the formation that typically goes to an office referred to as the Secretary of State. This procedure ensures compliance with local regulations and lays the foundation for a successful business expansion into the US market.
Final Words
Many foreign small scale companies in the field of BPO, KPO, RPO, Affiliate marketing, Digital marketing, Web Design, SEO, etc. have registered their business ethically in US which have helped them to do business with U.S clients and vendors more easily and get paid in their U.S bank account which is benefits for both (Payer & Sender)
If you want to expand your Business and U.S is the main country of virtual operations of your internet business, then it is highly recommended to Incorporate a company in US as there are several benefits which will open all the resources for gaining venture capital and more.
In this guide I have tried my best to mention all the basic steps to Incorporate a Company in US being a foreign national. For those who were thinking it is a difficult job, It's certainly not.
Share us your experience and suggestion ins comments box below to make this post more beneficial for readers and Stay tuned with BloggingEclipse by liking us on our Facebook page for more updates.