When it comes to withdrawing money earned form Blogging or Affiliate marketing, then PayPal and Payoneer are most used payment processors to send money globally with ease. All companies are using these payment processing systems to send funds or payments to their publishers/employees globally.
Here in this post, we are gonna review the Payoneer services for India and how it helps thousands of affiliate marketers, bloggers, freelancers, digital entrepreneurs to receive cross-border payments easily.
Payoneer only helps in withdrawing funds in local currency but also offers you, individual; business virtual bank account for most of the countries like U.S.A, Australia, Europe, U.K, etc. so you can tell your, clients, to send you money locally in your virtual bank account and that money deposited automatically gets transfer to your Indian bank account in local currency.
Payoneer Global Bank Transfer India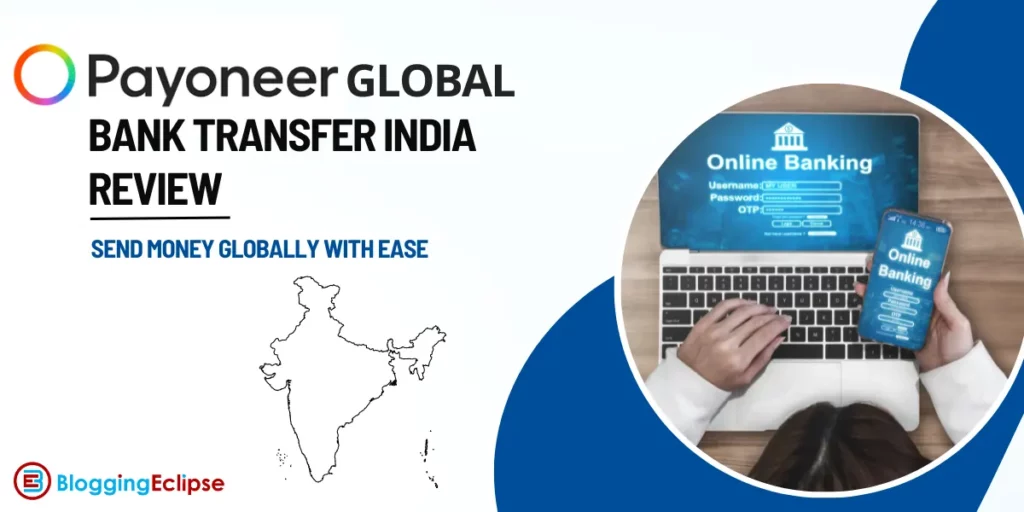 Indian bloggers and freelancers use Paypal as it is most command and widely spread. Earlier in 2011 Payoneer master card was also being used in India to withdraw freelancing payments but RBI (Reserve bank of India) stopped Payoneer from continuing its services in India and later on in 2013 Payoneer again resumed its services by allowing Global Bank transfer (GBT) legally in India with better innovative Idea.
Now coming to the point, Indian publishers, Bloggers, Affiliate marketers, Freelancers earn online and to withdraw payments they use Paypal as Wire transfer is costly, and checks need a lot of time to reach.
However many companies have also enabled Direct Bank transfer service for Indian users which is an easy and better than all the payment processing systems.
Getting Paid through PayPal
PayPal is the most accepted way to get your hard earned money into your bank account. As per the RBI guidelines, Indian users can not shop online with Paypal balance, they can only withdraw it. Here are some of the Pros and Cons of Paypal for Indian Publishers.
Easy to manage without any limitations

Users can shop online using their credit card with Paypal

No Fees on mass payments received

Email invoicing and web front system to collect payment.

Telephonic Support + superior email support

Stronger Security
Dollar to INR convert rates is lower as compared to the actual rate going on.

Paypal takes 3-5 working days to get funds transfers in the bank account

You will get a low conversion rate but no fees would be detected.

Paypal account can get limited anytime if even one Un-ethical practice found by their automatic system.
Now coming to the conclusion, Paypal is one of the best, but only disadvantages are that conversion rates are not good as compared to Payoneer. So you will receive slightly fewer funds in Paypal as compared to Payoneer GBT Service and now let's see benefits of using Payoneer in India.
Using Payoneer Global bank transfer to receive funds in India
Payoneer helps you to reduce your payment fees by 42% and collect freelance or blogging income directly to your Indian bank account in INR currency.
Most companies which are paying with Paypal also have Payoneer as their payment method. For Example, a freelancer can get paid through Elance or Odesk using Payoneer in India or a Blogger can get paid by Infolinks or CPALEAD or etc.. through Payoneer instead of Paypal.
For other Countries where Payoneer prepaid MasterCard is allowed, One can directly withdraw from the Payoneer prepaid debit card but Payoner also has its own Global Bank Transfer service which enables you to receive funds directly in your bank account in local currency easily.
How does the Payoneer Global Bank Transfer Works?
You need to sign up on Payoneer Global Bank transfer India service through any of Payoneer Partners. So visit the advertising, Affiliate network or freelancing portal from where you are getting paid,
It takes 2-3 Days initially to get your account activated. Once you have your funding sources in Payoneer, It will get automatically withdrawn to your account same day.
Better convert Rates then Paypal (The best)

Automatically funds get withdraw to your bank account instantly when they are received.

Money gets reflected in the bank account same day or next. (Paypal takes 3-5 days)

Much easier to manage and hassle-free.

Superb Support for Phone, Email, and Community.
Cons
You can't send payments to your friends from your Payoneer account.

The bank account can not be changed directly, you will need to contact support for editing Bank account.
Exclusive Offer: You will Get free $25 in your Payoneer account once you start receiving payments.
Payoneer & Affiliate Marketing (Perfect payment setup)
If you are an affiliate marketer and want to get paid faster with better forex conversions rates, then it is the best decision to switch to Payoneer now. Almost all Affiliate Marketing companies like peerFly, ShareaSale, CJ, MaxBounty, ClickDealer, CPALead, etc, etc. have Payoneer integrated with them. One can instantly connect their Payoneer local bank transfer account to get paid faster.
However, if you are working with a company or CPA Network which does not have Payoneer or PayPal as their payment options and only pays via Wire or ACH direct deposit in the U.S or other countries, then you may use Payoneer bank account details and get paid to your local bank account via them.
Payoneer's Currency Conversion Rates and Fees
When it comes to cross-border payments, Payoneer has emerged as a world-class solution for bloggers and internet marketers. But what makes it so appealing? Let's dive into Payoneer's currency conversion rates and fees.
Payoneer's currency conversion is known for its simplicity and affordability. From dollars and euros to pounds and yen, converting currency with Payoneer is not only simple but also cheap. The conversion process is fast, with funds appearing in your Payoneer balance in mere minutes. The best part? Payoneer offers a low, fixed rate and zero hidden fees for currency conversions.
The conversion fee is calculated based on the applicable market rate, and a nominal 0.5% fee is deducted from the transferred amount. This transparent approach ensures that users know exactly how much of the new currency they will receive. For those who are tired of hidden charges and complex fee structures, Payoneer's straightforward and inexpensive conversion service is a breath of fresh air.
Payoneer's Compliance with RBI Guidelines
In the rapidly evolving world of digital finance, compliance with regulatory guidelines is paramount. Payoneer, a global financial services company, has been at the forefront of adhering to the Reserve Bank of India's (RBI) guidelines, ensuring a seamless experience for bloggers and internet marketers in India.
Understanding RBI's Guidelines
The RBI has stringent regulations governing foreign income and digital payment platforms operating in India. These include the 'Storage of Payment System Data' directive issued on April 6, 2018, which mandates the local storage of payment data within the country. The guidelines aim to provide unfettered access to data stored with service providers and prevent misuse of payment data.
Payoneer's Adherence to RBI Rules
Payoneer has been proactive in aligning its operations with RBI's guidelines. As a multi-jurisdictional licensee, Payoneer ensures that payments processed through its platform are fully compliant, secure, and audited. The company's core obligation is to protect funds and prevent money laundering, and it has implemented measures to comply with the Bank Secrecy Act (BSA) and other relevant Anti-Money Laundering (AML) laws and regulations.
Payoneer's commitment to compliance is further demonstrated by its regular filing of Suspicious Activity Reports (SARs) to improve security and safety. An audit conducted by FinCEN (Financial Crimes Enforcement Network) resulted in zero findings, indicating that Payoneer's compliance program meets high standards.
Impact on Indian Bloggers and Internet Marketers
For Indian bloggers and internet marketers looking for easy cross-border payment solutions, Payoneer's compliance with RBI guidelines offers peace of mind. The platform's adherence to local regulations ensures that funds are protected, transactions are transparent, and the entire process is hassle-free.
Payoneer's compliance also extends to the Goods and Services Tax (GST) requirements in India. The company's understanding of the complexities related to GST and Paypal/Payoneer payments has led to streamlined processes that benefit freelancers and small companies in India.
Payoneer's Impact on Cross-Border Business Operations
Payoneer's impact on cross-border business operations is nothing short of revolutionary. It has become a preferred choice for SMEs, self-employed professionals, online retailers, and cross-border business operations. The reason? Payoneer brings together local bank details in different countries with cheap international payments.
The platform offers a wide range of payment services and solutions, allowing speedy processing of payments from anywhere in the world. The currency exchange fees are reasonably priced, and there are no surprises, just simple and swift currency conversions.
For businesses operating across borders, Payoneer provides a top-notch business account platform that reduces the high fees often associated with international money transfers. By offering local bank accounts in nine countries and a fully-functional Mastercard debit card, Payoneer has made international transfers more accessible and cost-effective.
In a world where employers, employees, and independent contractors are increasingly working across borders, Payoneer's innovative solutions are not just a convenience; they are a necessity. By facilitating easy and affordable cross-border transactions, Payoneer is reshaping the way businesses operate globally.
FAQs on Payoneer Global Bank Transfer India
Is Payoneer legit in India?
Yes, Payoneer is a legitimate and trusted financial service provider in India. It offers a wide range of services, including international payments, receiving funds, and managing digital businesses. Payoneer has partnered with major banks like IndusInd Bank and complies with RBI guidelines, making it a reliable choice for cross-border transactions.
Is Payoneer approved by RBI?
Payoneer operates in compliance with the Reserve Bank of India's (RBI) guidelines. It adheres to the 'Storage of Payment System Data' directive and other relevant regulations. Payoneer's commitment to following RBI's rules ensures the protection of funds and transparent transactions, making it a secure option for Indian users.
What are the benefits of using Payoneer over PayPal in India?
Payoneer offers several advantages over PayPal in India, including:
·   Lower currency conversion fees (around 2% compared to PayPal's higher rates).
·   Faster payment processing within 2-4 working days.
·   Local receiving accounts in multiple currencies, enabling easy bank transfers.
·   Innovative solutions like digital FIRC (Foreign Inward Remittance Certificate) within one day.
·   Strong customer support and a focus on small businesses, freelancers, and e-commerce sellers.
How does Payoneer's Global Bank Transfer work for Indian users?
Payoneer's Global Bank Transfer service allows Indian users to receive funds in multiple currencies directly into their local bank accounts. Users can get global receiving accounts in currencies like USD, EUR, GBP, and more. The funds are automatically transferred to the Indian bank account in INR, providing a hassle-free and cost-effective solution for cross-border payments.
Can I transfer money from Payoneer to my bank account in India?
Yes, you can transfer money from Payoneer to your bank account in India. Payoneer provides local bank transfer services, enabling users to receive funds in their Payoneer account and have them sent to their local bank account within 24 hours. The process is simple, secure, and designed to meet the needs of Indian professionals and businesses.
Your Turn
I am also a blogger and Affiliate marker, since two years I was using Paypal and I am still using it as without PayPal blogging is incomplete But I have opted Payoneer in some companies over Paypal as they are fast and rates are reasonable.
Money always matters.. and who don't want to get more money😜😜
Try Payoneer for Withdrawing Funds as it deposits the money in the same day, so you receive till evening or next business day.
I am excited to hear your views on PayPal and Payoneer and what experience you have with both. Share with us in the comments section below.
Happy Monetizing!!