Were you looking for a free video editor tool and video creation tool?
If yes, then Moovly is just the right video editing tool for you. Moovly is the best in the business, for tons of easy-to-use features, accessible and easy for anyone. It permits you to upload your content, manipulate your video editing timeline, and access many editing tools. Moovly is a pretty impressive web-based idea creator.
In this article, we have featured our updated ✅Moovly Review 2023, which includes detailed information such as features, benefits, pricing, etc. Also, do not forget to use our exclusive Moovly discount coupon that allows you to save some bucks.
Although it doesn't match your professional video editing programs, it's an excellent choice for short video clip-making and marketing videos. It offers editing tools, free graphics and sounds to use in your videos, collaborative sharing features, and for this, you don't have to download anything.
The platform seems to be loaded up for marketing, Facebook, or internal use videos for enterprise users. Moovly also provides excellent features for students and educators well, as it has a wealth of resources to create videos of your need.
---
In-Depth Moovly Review
Moovly lets everyone easily create their videos in any style without being an expert. It allows the users to animate videos, whiteboard videos, footage-based content, or any mix of video content to create. Suppose you know how to work with the tools like PowerPoint. Similarly, it's the same case with Moovly that you can work. Moovly is a video-making solution designed to help businesses of all sizes and educational institutions create their tutorials or promotional videos.
With their multiple options of in-built pictures, videos, text, and voice, customizable templates, as well as a library of stock images, etc. with a drag-and-drop interface, the system lets you create videos, which you can download and publish the curated videos across various platforms, which includes YouTube, Vimeo, and Moovly's Gallery.
As already said, with Moovly's, you can drag-and-drop interfaces that let you combine media objects from the extensive libraries with your uploaded media like pictures, sounds, videos. You can also animate, synchronize and time all things in a user-friendly manner.
Export your content in any video format to publish online, social media, projection, television, smartphone, or tablet. Moovly also includes more than a million royalty-free media objects free to use and create your videos: stock photos, illustrations, motion graphics, stock videos, sounds, and music.
Moovly doesn't require any software application to install. As it is cloud-based, so you only need a browser. If you are a self-employed professional, student, teacher, small business owner, or corporate user, it provides different plans for every sector to meet your needs.
Check their Free Trial version, which includes the majority of the available features. Moovly is best for corporate enterprises, small-medium businesses, individual professionals, students, and teachers. It is also a very customizable and secure online platform that can be fully adapted to create a corporate video tool for enterprises, including integrating brand libraries, custom colors, fonts, and templates. Their integration partners also offer their white-labeled version of Moovly to their audiences.
---
Key Features of Moovly
Animations and transitions
Collaboration and workflow
Customizable video templates
Mobile app
Chroma keying
Green screen removal
Webcam recording
Screen recording
Form-based video creation
Automated video generation
Subtitling (closed captions)
Group and user management
---
Major Benefits of Moovly
With Moovly, you can create the most convenient, powerful videos without any need for specialized software. Moovly's benefits are the following:
🎥 Create videos anytime, anywhere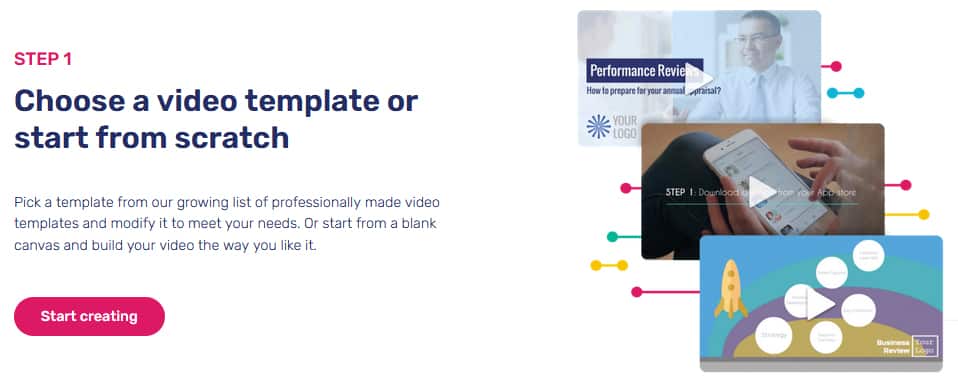 Moovly can be used anytime, anywhere by simply logging into the website, as it is a web-based software. Access to works in progress is available whenever needed, as your project files are saved over the cloud. It also provides a mobile app which is a more convenient way to open and edit video projects on the go.
💻 Intuitive & easy-to-use interface
In Moovly, users can split/trim videos, resize, rotate, crop, adjust the volume, customize playback speed, loop segments, add overlay tracks, etc. They also provide advanced features such as remove color, add subtitles, and apply text-to-speech for better editing options. All these features make users know how to create their video-making without worrying about running the software. It has advanced features, intuitive controls to make it a more straightforward, more enjoyable process.
Choose from whiteboard videos like hand drawing and writing, cartoon filters, footage-based documentary styles, animated illustrations, or mix and match different types. It also provides a drag-and-drop user interface to help users easily create video content.
🏅 Templates & media library
With this, you can customize your video endlessly, with a combination of designs, images, music, and videos. Moovly's library promotes over 1.3 million royalty-free media, including photos, illustrations, stock videos, motion graphics, music, and sound loops which can be used repeatedly.
They have animated clips which is editable which can be used to add a custom touch. More media objects are available, which are accessible directly via iStock Getty Images. For a more detailed video, combine private videos and clips to items from the library and make a highly customized video.
🚀 Share videos seamlessly
Once the video is finished, upload it directly to YouTube, Vimeo, Facebook, or any video platform. Videos can be saved in the user gallery of Moovly and generate a link to share with audiences. They provide a WordPress plugin to embed videos to posts. If users prefer to save their videos locally, they can do it in MP4 format in Standard, High, or Full definition.
👥 Users & Groups
With this, Provide access to a shared library so members can use templates, media, fonts, colors, and objects. You can also create groups with specific members and assign subscriptions with Moovly. Also, you can give a group admin to add and delete users and monitor usage statistics. Share resources and videos by collaborating via user groups.
---
How does Moovly Works?
First things first, you'll need two things to use Moovly:
An internet connection
An internet browser
When you open the program, a simple dashboard appears on your screen to manage your projects. There's also a menu bar with a pink color 'create project' button with the following tabs :
'My Projects'
'Shared With Me'
'My Gallery'
'Archived'
'Templates'
These buttons let you select when you want to launch or want to create a new project. If it's your first time on Moovly, you can watch a quick intro video on using the software, and it is worth consuming.
As already mentioned, Moovly provides a decent-sized library of accessible assets. To access these goodies, head to the panel on the left-hand side and click 'Graphics' then 'Illustrations.' Then, you will see several categories to help narrow down your search with a bit of digging around to find the best image to meet your needs. Also, you can arrange the media along the timeline. This feature comes in handy for adjusting the timing of your audio effects to complement your visuals.
To add your audio, click the "Upload Media" option, and select upload the file. Once completed, this shows in your 'Personal Libraries.' Moovly also allows you to upload files from cloud storage solutions like Google Drive and Dropbox. If you opt for Moovly's paid-for version, you can download your video onto your device or share it online directly from Moovly's dashboard. Once you are done and happy with your video work, export and share your video.
---
Moovly Pricing Plans
Moovly pricing starts at $49.00 per feature, per month, $24.92 per month when billed annually.
Moovly Max: $99 per month billed monthly or $49.90 per month when billed annually.
Moovly Enterprise: $50 per month billed annually with a minimum of five users Special plans for Education. It offers a detailed pricing structure that features Regular Subscription and Education plans. With this, you can have an enterprise plan with custom pricing.
Free
Create videos with Moovly Studio
Get access to over 1 million free stock assets
Direct uploads to YouTube, Vimeo, Facebook, etc.
Edu Free
Create videos up to 3 minutes
Upload up to 20 personal media to the library
Download completed videos
Pro ($49.00/month; $299/year)
Download videos in HD quality
Unlimited personal media uploads
You can remove the watermark/outro in videos of Moovly
Edu Pro ($24.95 per month; $99.00 per year)
You can remove the watermark/outro in videos of Moovly
Unlimited uploads
Unlimited video length
Download videos in HD 720p
Max ($99.00/month; $592.00/year)
Personalized fonts, colors.
With advanced features, add subtitles, remove color, apply text-to-speech
Edu Max ($49.95 per month; $249.00 per year)
Personalized fonts and colors

Capture video via screen and webcam recording
Advanced features: add subtitles, remove color, apply text-to-speech
Download in HD 1080p
Enterprise
Share libraries, templates, and content with group members
Back office user management
White Label option
---
🌟 Moovly FAQ
✅What is Moovly?
Moovly is the online video editor that offers customizable templates that help you create promo videos, training videos, explainer videos, etc. Use our exclusive Moovly coupon code that helps you to purchase Moovly's subscription plan at the lowest price.
✅Does Moovly offer a free plan?
Yes, one can easily start free with Moovly Free Plan to test this amazing video creator tool. The free program of Moovly offers limited features, and you need to purchase its subscription plan to enjoy all its features.
✅Are there any working Moovly Coupons and discounts?
Use our exclusive Moovly coupon code that helps you to enjoy a flat 20% off. You can even create a free account on Moovly by subscribing to its free plan.
✅Is Moovly worth the money?
Moovly is one of the best video creation tools available in the market if you are looking for a free video editor. Moovly offers dozens of features that make it easy for everyone to create a professional and original video.
---
Conclusion: Moovly Review 2023 | Should you go for it?
Moovly is one of the best in the business with a free video editor and video creation tool and gives access to tons of easy-to-use features that create original videos. When you decide to buy video editing software, it's essential to see how experts evaluate it and determine if the real people and companies that buy it are satisfied with the product or not.
But with Moovly, it's an overall pretty impressive web-based video creator. It offers more than most of its competitors, especially if you are looking for a free video editor and video creation tool. Although it doesn't match professional video editing programs, it's still an excellent choice for short video clip-making and marketing videos.🙂