A leading platform in the cryptocurrency space, ArbitrageScanner.io, is thrilled to announce the "Arbitrage Scanner Bangkok 2023" event. This invitation-only event is scheduled to take place the day after Affiliate World Asia. The Premier Affiliate event is set to take place on December 9, 2023, starting from 9 P.M. at Char Bangkok, 81 Wireless Road Pathuwan, Bangkok.
About the Arbitrage Scanner Bangkok 2023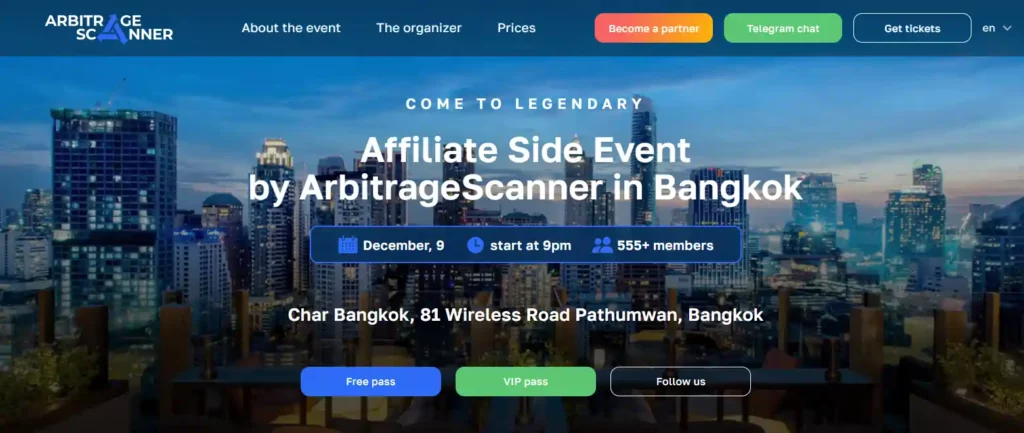 The purpose of Arbitrage Scanner Bangkok 2023 is to bring together affiliates from all around the world in a sophisticated, confidential environment. Guests can relax, enjoy cocktails, sample delicious food, and have conversations about different types of traffic. This event is one of several side events that ArbitrageScanner.io is hosting all around the world. It provides a special forum for networking and discussion of hot themes in the cryptocurrency market between top specialists in the sector and the service's clients.
Venue of the Event
The event will take place at CHAR Bangkok, a sophisticated venue situated at 81 Wireless Road, Pathumwan, Bangkok. Nestled on the 25th and 26th floors of the Hotel Indigo Bangkok, CHAR Bangkok is renowned for its blend of elegance and comfort. The venue is celebrated for its succulent cuts of meat served straight from the grill and its passion for crafting storied dishes. It also boasts a rooftop bar that offers breathtaking views of the Bangkok skyline, where guests can enjoy timeless vintage cocktails crafted by skilled bartenders.
Agenda of the Event
Arbitrage Scanner Bangkok 2023 will center on fostering discussions on insider trading, blockchain data analysis, wallet analysis, cryptocurrency arbitrage, and the future trajectory of the crypto market. The event will offer a unique opportunity for participants to gain valuable experience, work tips, and knowledge that they will not find on the internet or in media articles. In addition to the discussions, attendees will have the opportunity to enjoy cocktails, savor delicious food, and network with like-minded individuals in a relaxed and upscale atmosphere.
Attendees of the Arbitrage Scanner Bangkok 2023
The Arbitrage Scanner Bangkok 2023 event is set to attract a diverse group of affiliates from various verticals, including Gambling, Crypto, Nutra, Dating, Finance, and e-commerce. With over 500 affiliates expected to attend, the event will provide a unique opportunity for professionals from these industries to network, share insights, and discuss the latest trends in their respective fields. This gathering of affiliates will foster collaboration and knowledge exchange, further strengthening the global affiliate community.
Ticket Pricing
There are three types of passes available for the Arbitrage Scanner Bangkok 2023 event:
Free Pass (only for affiliates): $0
VIP Pass (for stories on social media): $99 (original price $400)
VIP Pass: $199 (original price $400)1
Words from the Organizer
Alex Khitrov, CEO of ArbitrageScanner.io, expressed his enthusiasm about the upcoming event. He said, "We are organizing a luxurious event for affiliates, reserving two floors of one of the best restaurants in Bangkok. We have partnered with several companies, granting them the privilege to reserve tables and invite affiliates for networking. This event is a testament to our commitment to fostering a strong community of affiliates and providing them with an environment where they can relax, network, and discuss various traffic sources. We look forward to welcoming our guests and providing them with an unforgettable experience".
About ArbitrageScanner.io
A prominent tool in the cryptocurrency space, ArbitrageScanner.io provides a number of tools for blockchain data research and cryptocurrency arbitrage. The site offers a variety of features, such as Arbitrage Wallets, Arbitrage Messages, and Arbitrage Scanner and Screener, to assist clients in unwinding in a casual setting following hectic conference days. Customers have expressed gratitude for the platform's strong functionality and ease of use.
You may also read:
Affiliate Disclosure: This post may contain some affiliate links, which means we may receive a commission if you purchase something that we recommend at no additional cost for you (none whatsoever!)