CPA Club Connect Meetup is all set to make things better this year, the Connect meetup Dubai on March 12, 2023, will be one of those events that you might not wanna lose. A complete combination of better networking opportunities and gaining more experience/knowledge with lots and lots of fun.
Venue: SKY 2.0
Date: 12th March 2023
Concept behind CPA Club Connect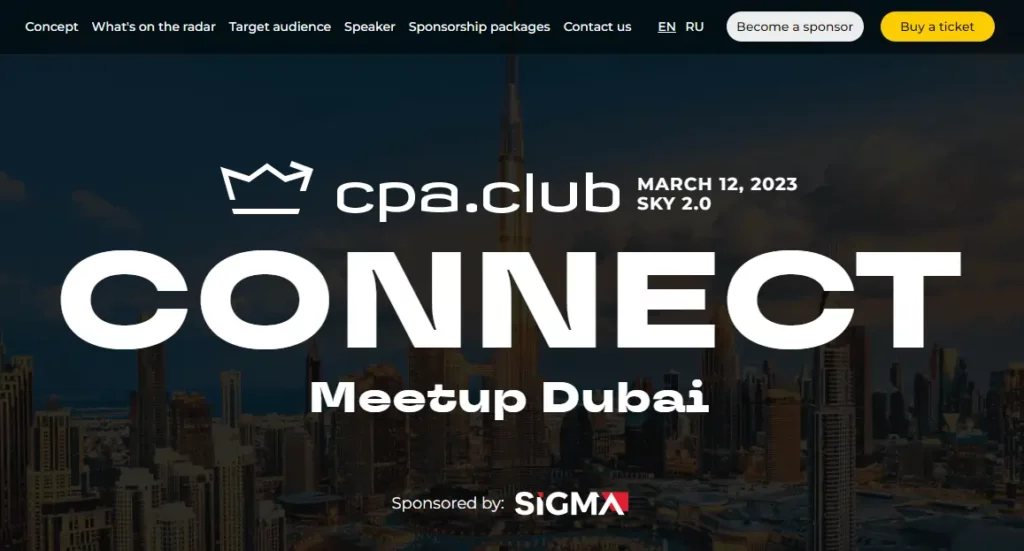 CPA Club Connect is an international forum's official meetup, organized in partnership with SIGMA. The event is designed to bring together business professionals and industry experts to expand their circle of contacts, seek potential partners, and develop their sales skills.
Various exceptional speakers, including the renowned Wolf of Wall Street Jordan Belfort, will provide insights on successful sales tactics and enhancing business results. Attendees can also participate in a Q&A session after the talks. The after-party will be hosted at Sky2.0 nightclub. Get ready for a captivating dance show and a world-class DJ performance.
Use our exclusive coupon code and get 10 % discount on purchase of any ticket. Hurry up!
Attendees in the spotlight for CPA Club Connect
At this meetup, attendees will have the chance to connect with industry leaders, build business relationships, and explore potential collaborations with international advertisers. It's an opportunity to explore current marketing trends, learn about successful sales techniques, swap stories with peers, and gain insights for SIGMA 2023.
The attendees of the event will have:
Entrepreneurs and Investors in affiliate marketing
Business owners
C-Level management
Media Buyers
Key Speaker of the Event
Jordan Belfort, nicknamed The Wolf of Wall Street, is an American speaker, author, and former broker. In the 1990s, his name became renowned in the financial circles of New York City. Belfort founded Stratton Oakmont, a company that specialized in trading penny stocks over the phone and achieved a billion-dollar financial turnover. His expertise in sales technology and mastery of classic and modern marketing strategies enabled him to become a master salesman.
Who can attend the CPA Club Connect Meetup 2023?
The CPA Club Connect Meetup Dubai is open to everyone! Jordan's speech will focus on a successful marketing strategy that could help boost profits. Regardless of your position, the presentation will be beneficial. After the session, join us at Sky2.0 nightclub for a night of dancing, music, and entertainment provided by a renowned DJ.
No matter what our educational background is, being involved in marketing in one form or another makes CPA Club Connect an absolute must for all of us. Examples include selling traffic in order to secure better conditions on offers, advertising partner programs and offers to initiate a launch, promoting our own personal brand when entering into a deal, and talking about our skills and experience in interviews.
All of these activities come down to one thing: selling! That's why it's essential for everyone, regardless of their job or field of expertise, to hear the insights of our keynote speaker, a master of the art of sales.
Don't miss out on this amazing opportunity!
Meet the Sponsors of the Event
Diamond meetup sponsor: Pin-up Partners
Afterparty Diamond, Bar & DJ Sponsor: Alpha Affiliates
Entertainment Sponsor: DepLab
Gold Sponsor: Boomerang partners
Golden tables sponsors: Leon
Silver tables sponsor: Jim Partners
Classic tables sponsor: Marlerino
Tickets available for CPA Club Meetup
CPA Club Connect 2023 will have 5 different options which offer different services in the package.
Classic Ticket (€150): Afterparty + Classic Table + Bar
Meetup Ticket (€250): Meetup Visit + Coffee Break
Silver Ticket (€300): Meetup + Afterparty + Silver Table + Bar
Golden Ticket (€350): Meetup + Afterparty + Golden table + Bar
VIP Ticket (€ 500): Meetup + Afterpaty + VIP table + Bar