High CPMs, Less Instusive Ads and Better Revenue, this is what the suitable native ad network can do for you. Let's online journey of making money more bourgeoning.
As a marketer who has been dealing with several advertising formats and strategies, the hunt for the highest rewarding ad strategies is always ON. Well, native advertising is something that has turned out to be quite helpful for publishers like you and me to gain better revenue without intruding on the user experience of the readers on our site.
One of the key reasons that make Native ads a popular choice is due to its non-intrusive nature and the native ad networks mentioned below offer some excellent high CPMs on your traffic. Rather than being limited to Google Adsense, there are better Native ad networks offering higher CPM.
The list of best native ad networks mentioned below offers some excellent features along with better opportunities for higher revenue. Now, without any further adieu let's get started with the list of best native ad networks.
10 Best Native Ad Networks in 2023 to Reach Wider Audience
Below mentioned list of best Native ad networks is curated across different parameters like technology used, advanced targeting, AI algorithms, etc. Let's check them out and make your revenue skyrocket.
| Native Ad Networks | USP of the Ad Network |
| --- | --- |
| Adsterra | Uses AI algorithms |
| JuicyAds | Provides advanced targeting options |
| Ad.Style | Low payout threshold |
| Evadav | 150 Million+ daily impressions |
| AdPushUp | 100% viewability of ads |
| Outbrain | 10 million page views traffic required |
| Media.net | 87.5+ billion ad impressions |
| EngageYa | Charges only for positive ROI |
| MGID | 40B+ Impressions with 4000 websites |
| Adsense | Minimum payout $100 |
Adsterra is a leading ad network that has been connecting brands and marketing professionals with top-tier advertising and monetization solutions since 2013. As a publisher or affiliate marketer, you can maximize your eCPM with relevant ad feed, while advertisers can meet their KPIs and enhance ROI.
What makes Adsterra an excellent choice among other ad networks is its intelligent algorithms that align your offers with website content and user interests, making the native banners more engaging and less likely to be blocked.
To further optimize your advertising efforts, Adsterra allows advertisers to conduct A/B testing on up to 15 different creatives and headings. This enables you to identify the most effective ad designs and messages, thereby increasing the potential for higher sales volumes. All of this stuff combined with the key features mentioned below, the Adsterra can be an excellent choice among some of the best native ad networks in the ecosystem.
Highlights of Adsterra Ad Network
Over 20 targeting settings for delivering ads to the best-matching audiences.
High-quality CPM, CPC, and CPA traffic from 28K+ direct publishers.
AI algorithms are fine-tuned to send the most relevant CPM rates and ad feeds.
A 3-level security system that prevents malware, ad fraud, and bot traffic.
Enhanced security with third-party and in-house fraud detection systems.
Innovative Anti-Adblock Solution that increases publisher revenue by 20%.
Mobile Native advertising including the iOS and Android platforms.
Offers 10+ verticals for native advertising operations.
---
JuicyAds is a self-serve adult advertising network that specializes in native advertising, among other formats like banner ads and popunders. The platform is known for its high-quality, targeted adult traffic, making it a valuable tool for marketers aiming to reach specific audiences.
Moreover, JuicyAds offers a unique feature called SexyTechnology, introduced in 2014, which aims to improve the performance of campaigns and engagement with offers. This technology, combined with the platform's commitment to ethical standards, sets JuicyAds apart from other networks.
JuicyAds provides a complete platform for native advertising, offering advertisers a blend of quality, targeted traffic, advanced targeting tools, and innovative technology to optimize campaign performance.
Highlights of JuicyAds for Native Advertising
JuicyAds is known for its premium adult traffic, catering to a wide range of niches.
Seamlessly blend with the content on a site, enhancing user experience and engagement.
JuicyAds provides advanced targeting options.
Got Ethical Standards and Anti-Fraud Systems.
JuicyAds introduced SexyTechnology in 2014 to improve campaign performance.
---
The Ad.Style native ad network strives hard to find the precise and ideal match for publishers with advertisers' requirements. This is beneficial for both and delivers guaranteed growth. Along with this, the network offers high-quality, better-converting native display ads without burdening the page. It installs widgets through Javascript code and is processed in parallel with the page.
Founded in Florida in the year 2015, and since then, Ad.Style has partnered with over 200 websites and server ads in over 30+ languages globally. This network also works with leading brands, advertisers, and marketers all over the world.
Publishers get an intuitive dashboard that contains all the key insights that are required to make the right decisions. It also displays the adverts which deliver the most revenue. What's better compared with other native ad networks is that it offers average CPM rates ranging from $4 to $11.
Highlights of Ad.Style Ad Network
Offers an easy-to-use interface.
Great CPM offers.
Offers a variety of international audiences.
Fantastic 24/7 support team.
Quick installation of widgets to help publishers get up and running in no time.
Robust security measures to ensure brand safety.
Low payout threshold, which makes it a great option for publishers.
---
Securing the #4 position across the best native ad networks, Evadav has over 11 years of experience in evolving and incorporating advertising products. This technically advanced network is paying attention to the benefitting market of push notifications and native ads. It also offers the most accessible way to boost the publisher's revenue.
Evadav connects your visitors to your website through its simple mechanism of push messaging. It offers 100% approved traffic along with full safety to the publisher. With the highest conversion rate, Evadav focuses on users by providing them with the most relevant ads based on in-house investigation tools. At present, they have 14,000+ publishers, and 8000+ advertisers with over 8000+ active campaigns on a daily basis.
Highlights of the Evadav Ad Network
Worldwide geo-locations covered.
Tier 1 and tier 2 publishers, ad networks, ad exchanges, and SSPs.
5% referral commission.
150 Million+ daily impressions on Native Ads alone.
Have 10s of thousands of campaigns, publishers, and advertisers added to the network.
Configuration of Adzones, and SubIds with quick registration done.
---
Made for intermediate to large-scale publishers, AdPushUp is a profit maximization platform for publishers where ads are created with A/B testing. The original features help in decreasing page loading time and setting up high-profit ad formats along with premium demand building, Adblock revenue recovery, header bidding, and detailed reports. Its Ad mediation assists in enhancing ad income between impenetrable networks. They offer a custom application of Google's Accelerated Mobile Pages (AMP) for web publishers.
Highlights of AdPushUps Ad Network
Criteria- Monthly ad revenue from display> $1000.
AMP-optimized pages.
Low bounce rate.
Improved eCPM.
CTR for display ads stands at 0.35%.
100% viewability of ads.
Balanced UX.
Dedicated account manager.
Eligibility- at least $1000 in monthly ad revenue.
33% average revenue uplift.
---
Outbrain is a popular native advertising platform that gets you discovered on one-off publisher websites. Their exclusive publisher network includes Fortune, ABC News, CNN, People, Wired, and Time. You can target your ideal customer by the simple process of Outbrain. With Outbrain, you can track, scrutinize, and boost campaigns directly from the dashboard.
World's top media corporations and brands rely on Outbrain for their ad networking. Its technology fuels the fundamental tech load of publishers who want to manage, work, and monetize their web content by customizing their editorial encounters for customers.
Outbrain gives you high RPMs and smart feeds for personalized audience engagement to fulfill monetization goals.
All users can promote through high-quality articles, sponsored content, videos, infographics, and other kinds of earned media. It is indeed an affordable, self-serve, and the best native platform for monetizing the US traffic.
Highlights of Outbrain Ad Network
Customer support in ten languages.
Thousands of publisher partners, including leading news, sports, and entertainment websites.
Uses Outbrain Pixel that tracks the actions that customers take after clicking on an Outbrain ad.
Uses the Outbrain Interest Graph and data from vendor partners.
Offers native video advertising as well for better reach.
10 million page views traffic required.
Even uses feeds of platforms like Facebook and Twitter(X) to reach more.
---
Media.net stands as a global leader in the native advertising landscape, managing high-quality ad supply on over 500,000 websites. Renowned for its proprietary ad format, and contextual ads, Media.net taps into vast advertising search budgets, delivering finely targeted ads and significantly boosting revenues.
Licensed by major publishers and ad tech companies worldwide, Media.net ranks as the second-largest contextual advertising business by revenue. The platform offers easy access to premium display ads, connecting with all major buyer networks and efficiently managing operational overheads.
With traffic generating over 70 million paid ad clicks monthly, Media.net leverages vast data volumes for self-optimization, ensuring high-quality matching, ROI for advertisers, and increased revenue for publishers.
Highlights of Media.net Ad Network
Global demand for your inventory
70 million plus ad campaigns.
87.5+ billion ad impressions.
60,000+ active ad campaigns.
Multiple programmatic options.
It usually requires traffic of 2,000 views daily.
Payment schedule NET 30.
Minimum payout $100.
Payment methods- Payoneer, PayPal, Wire, and Bank transfer.
---
EngageYa is a leading global native advertising and content discovery platform. It serves over 40 billion monthly impressions across more than 5,000 websites, reaching users in new and fast-growing markets. The platform offers personalized content recommendations and native advertising in users' native languages, targeting a wide range of verticals such as Lifestyle, Entertainment, Fashion, Food, Sports, News, Parenting, Technology, Business, and more.
EngageYa operates on a risk-free payment model, only charging for positive ROI. It also provides a real-time dashboard for tracking campaign performance. The platform is particularly focused on user retention and non-English territories, working with premium publishers and top media houses.
Highlights of EngageYa Ad Network
Targets a variety of sectors.
Offers personalized content recommendations.
Provides native advertising in various languages.
Charges only for positive ROI.
Offers a dashboard for real-time campaign tracking.
---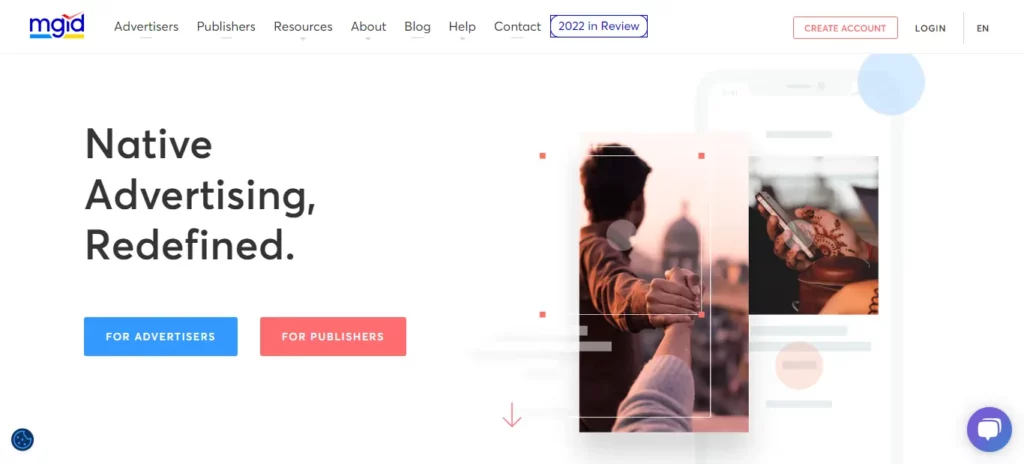 MGID is a global native advertising platform that connects audiences with top-tier, verifiable publishers. It is designed to engage users with content and sponsored advertisements in a positive way, blending ads into the surrounding environment to enhance user experience. This approach, known as native advertising, ensures that ads are cohesive with the page content, assimilated with the website design, and consistent with how the platform behaves.
MGID offers the most interesting solutions coherent with your publisher's platform performance. In this way, publishers will be able to either monetize traffic or rotate the viewers. MGID is one cohesive platform where all associates of the native advertising network come across and reach others and find solutions for their exact needs.
It has an easy turn-key application with just a copy-paste code. The well-defined and projecting representation works across different devices, platforms, and websites. It is also compatible with third-party DFP.
Highlights of MGID Ad Network
CPL, CPA, and CPC pricing model.
Reach in 2 European nations.
High CTR on news and viral websites.
Have 40B+ Impressions with 4000 websites.
CPM rates range from 30 cents to $2.
Minimum payout $100.
Payment Frequency NET 30.
Payment methods include PayPal, WebMoney, and Wire Transfers.
---
Adsense is indeed the oldest, biggest, and best Ad network used by small, medium, and big-size firms. Their CPM rates are quite challenging to beat, and the setup is quite easy and quick. These ads are managed, sorted, and sustained by Google. The preferred pricing models are CPI and CPC. AdSense has a global reach, and some of its top publishers are eBay, Times Network, HubPages, and Mashable.
The publishers have full control over the website deciding all the factors of an ad (where, when, and how to display). Native ads of AdSense offer top-notch user experience, a great look and feel on all screen types, and ease of use. You can use in-feed or in-article ads and match content to display your ads. The ads use high-quality advertising components and offer a great reading experience to your visitors.
Highlight of Using Adsense for Native Ads
Google Ad Manager can take the native ad components across different layouts.
API can be utilized while allowing for the creation and management of native ads programmatically.
Have Google Mobile Ads SDK responsible for loading native ads.
Native ads can run both in traditional banner slots and a new, responsive flexible ad slot in the Google Publisher Tag and the Google Mobile Ads SDK.
Payment on a NET 30 basis.
Minimum payout $100.
Important Stats to Show the Real Potential of Native Ads
Native advertising spending in the US is expected to reach $98.59 billion in 2024.
Native ads have 20-60% higher engagement rates than display ads.
75% of customers trust editorial sites, while only 54% trust social media for native ads.
Native ads are viewed 53% more frequently than display ads.
Native ads can increase purchase intent by 18%.
86% of Facebook Audience Network impressions come from native ads.
Native ads are considered the least intrusive form of advertising.
32% of respondents said they would share native ads with their friends or family, compared to 19% for display ads.
The click-through rate (CTR) for native ads is 0.16% on desktop and 0.38% on mobile, significantly higher than 0.11% for traditional banner ads.
Native ad spending is expected to account for 74% of total US display ad revenue by 2024.
Role of Native Ad Networks for Publishers
Now you might get a little confused as to which type of ad network will work for your website. Well, it all depends on the kind of users you have and the niche you are working on. Another form of Ad networks might be obtrusive for some online publishers, unlike native ads. Native ad networks offer you the inobtrusive kind of advertisements that unsurprisingly jibe with the web content, thus getting more attention.
The primary role of native ad networks is to make ads look less like advertisements by merging them in the most relevant content type. Native Ad networks make the ads look like provocative and pertinent anecdotes or bulletin items, generally at the end of the web page.
For instance, on the technology page of the Forbes website, you will find an ad related to "Best 5 Noise-Cancelling Headphones", which is sponsored by Amazon.
Key Benefits of Joining the Native Ad Networks
Native ads merge with the content immaculately without appearing like an ad.
They are less disruptive as they look like information, editorials, and stories.
Promote brand awareness better than any other form of digital media.
They can circumvent security measures by holding the line.
They have better click-through rates especially, especially on mobiles.
Most Common FAQs for Native Ads and Ad Networks
Why should businesses consider using native ad networks?
Native ad networks can help businesses reach a broader audience without disrupting their online activities, potentially leading to higher engagement rates and improved brand perception.
How can businesses effectively target audiences using native ad networks?
Businesses can use various targeting options provided by native ad networks, such as demographic, geographic, behavioral, and contextual targeting, to reach the right people.
What are the key metrics to track in native advertising?
Key metrics to track in native advertising include click-through rate, conversion rates, viewable impressions, and bounce rate, which can provide insights into campaign performance.
What are the potential challenges of using native ad networks?
Challenges may include higher costs compared to traditional ads, ethical issues related to blurring the line between editorial and commercial content, and ad fatigue over time.
Concluding on the Best Native Ads Networks
There are many other Native ad networks for publishers like VDO.AI, Revcontent, Taboola, etc. but we found the above ones to be the best in the market.
So, if you sell any products or services online, then native ads can be a constructive marketing strategy. However, this deception will not be beneficial if you are selling your product and service because it will be a diverting element for your users.
A report on 18 billion native ads disclosed that these ads are much more prospective than usual display ads to get clicks. These ads are particularly successful through mobile marketing as native ads on smartphones get double clicks compared to native ads on desktops.
Professionals expect that 63% of smartphone display ads will be native by the year 2023, approximately $53 billion in ad revenue.
Well, if you also think that native ad networks will prove to be beneficial for you, then why wait. You need to sign up with a simple process and get going. No doubt that native ad networks will render more proceeds than expected.
If you, too, have tried any other native ads network with more effective results, then do let us know in the comment section.
Affiliate Disclosure: This post may contain some affiliate links, which means we may receive a commission if you purchase something that we recommend at no additional cost for you (none whatsoever!)