Are you looking for a reliable residential IP's or private proxy provider which has its own exclusive network of business proxies? Here we are with Infatica Review with detailed feature overview and pricing for private proxies
Infatica offers different kinds of proxies and is not a reseller but the owner of its own network. Therefore, this provider must have high-quality and secure proxies suitable for various uses. It's a very young vendor as it started to operate at the beginning of 2019. Still, Infatica already has an impressive range of customers.
In this Infatica review, we will take a look at all the features and nuances of Infatica to understand if it's really that reliable and multipurpose as it seems from the first glance.
Infatica Main features to consider
Pros:
Over 2.5 million residential SOCKS5 proxies
Real IP addresses
Unlimited bandwidth
New IP address with each request
Different types of proxies
24/7 support team
Cons:
No information on the number of mobile and datacenter proxies
No information on available locations of IP addresses
Limited authentication methods
---
Number of IP addresses and countries
In general, Infatica has a pool of 2.500.000 residential IP addresses, which is fairly impressive. It's even more appealing that all these proxies belong to the provider. Infatica owns every IP it has in its pool and doesn't resell any of them. This allows the vendor to offer better connection quality and higher security.
Of course, you won't have access to all the 2.5 million proxies. The largest pool you can get, according to subscription plans, is 20.000 proxies. However, Infatica will give you more by the request. Then you need to contact the provider, and the tech team will calculate the costs for you. Still, having 20 thousand IP addresses seems to be rather sufficient in most cases.
The vendor doesn't tell us the number of mobile and datacenter proxies. Although we can expect Infatica to have quite a lot of them since there are so many residential proxies. Also, there is no information about the locations of IP addresses. Perhaps, they will uncover this secret once you apply for a suitable plan.
Types of proxies
Infatica offers three types of proxies at the moment:
Residential
Datacenter
Mobile
---
Datacenter proxies are IP addresses that belong to the remote servers. Such proxies are shared which means there are many users that are connected to one server. Datacenter proxies are less reliable than residential ones, still, they're rather useful if you know how to implement them correctly.
If you want more security and less headache, you should opt for Infatica's residential proxies. These are IP addresses issued by real Internet Service Providers and that belong to existing devices. Such proxies are extremely reliable, and Infatica has an incredible 2.5 million of them.
Mobile proxies can be useful when you need to test the mobile version of your product, for example, or in any other case when the mobile IP address is needed. It is a very specific type of proxies, and it's a huge advantage that Infatica offers mobile IPs.
---
Is Infatica secure?
That's the thing we can be absolutely confident about – Infatica is safe to use. This provider owns its proxies and doesn't resell any of them. Thus, it has complete control over all IP addresses and can make proxies as protected as possible. Infatica uses end-to-end encryption to protect your connection and data from malefactors. Therefore, no one can get their hands nor on your network neither on your target servers.
Since all the proxies are paid, Infatica can monitor the usage to protect them from users with malicious intentions. This decreases the chances that IP addresses will get blacklisted and harm your work. Additionally, users get new proxies with each request, which also helps customers to stay anonymous and safeguarded.
---
Ease of usage
Infatica is fairly easy to use. It's simple to get started, and the user dashboard where you can manage your proxies and account is very intuitive and clean. You will have all the information you need on a single screen, and even the least tech-savvy person won't feel frustrated with the dashboard. All the features are organized neatly, and it's easy to find what you're looking for.

The only kind of downside is the authentication method. To secure your account Infatica uses IP authentication which means that only two IP addresses per subscription will have access to the dashboard. Perhaps, they will add other secure ways of like two-step authentication. But for now, you will be restricted to two IP addresses per account.
---
What information does Infatica gather?
Many proxy and VPN providers brag about their "no-logs policy". But the truth is that the vendor needs to collect some data merely to function properly and maintain the proxies clean. Thus, Infatica gathers anonymous information like the use of proxies, approximate location, specifications of the equipment, and other similar data. You can proceed to the Privacy page on the Infatica's website.
The provider gathers this information to improve its service, to keep it secure, and for personal marketing goals. Infatica doesn't use this data to identify the user and doesn't share the collected information with any third parties or authorities. Therefore, even though it might feel uncomfortable that any of your data is being collected, it's a completely normal process. Infatica is just being honest about it. And since the provider doesn't share this data with anyone, you can have peace of mind.
---
Infatica Prices and plans
Infatica offers users a free trial that you can cancel at any moment. The provider won't even ask you for your credit card information. Therefore, we advise you to try Infatica's proxies for free first, if you're not sure whether it's a good fit for you. Although this provider will fit most users thanks to the variety and quality of proxies.
For now, Infatica offers three plans:
3000 proxies/500 streams for $199 per month
8000 proxies/500 streams for $399 per month
20000 proxies/1000 streams for $1299 per month
All plans offer a rotating proxy pool. If you need more IP addresses and streams, you can contact Infatica, tell them about your requirements, and they will create a personal plan for you.
---
Infatica Customer support
There is no live chat on the website, but you can send the support team an email or create a ticket on the dashboard. Also, you can have a call with specialists phoning the number you can find in the footer section of the website. Usually, the staff replies very quickly, and you can expect to get help within a couple of hours if you're sending an email or creating a ticket.
---
Tutorial for using Private Proxies[INFOGRAPHICS]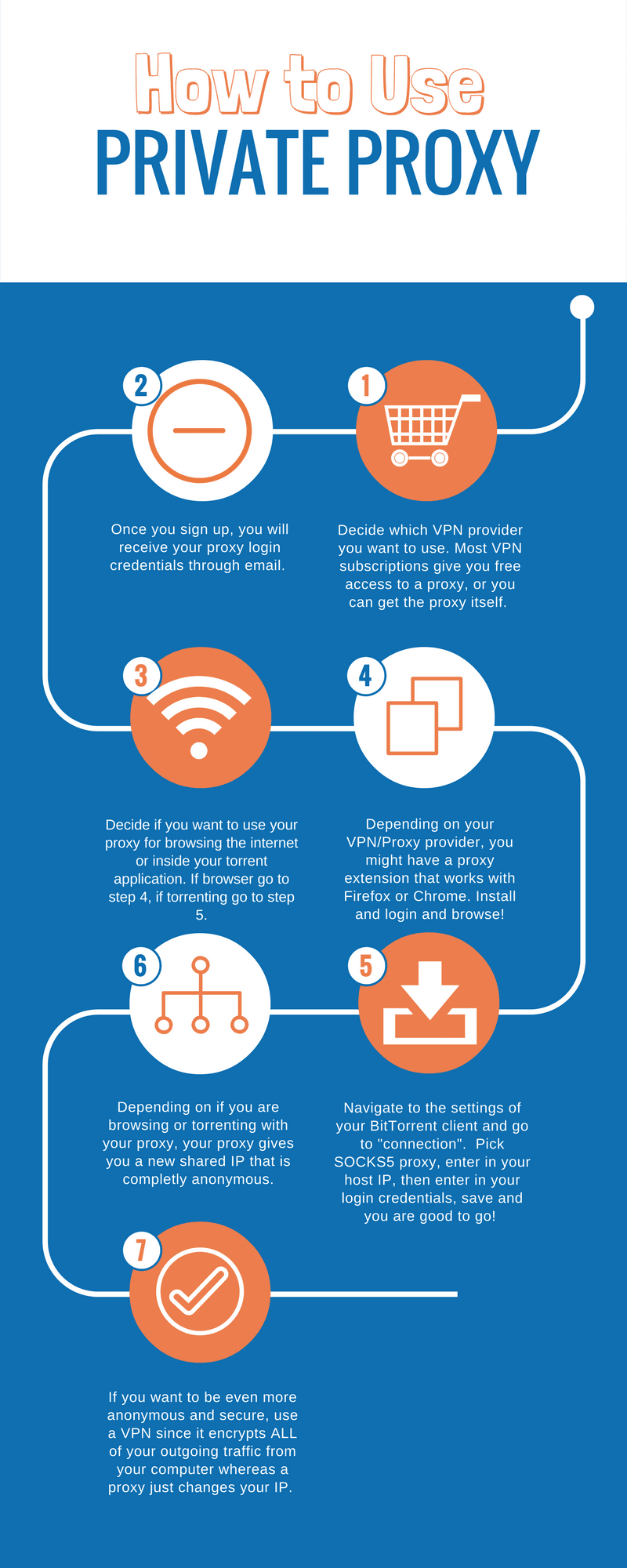 ---
Bottom Line
Infatica is a young yet solid proxy provider. It has an impressive pool of residential proxies, and, most importantly, this vendor owns all the IP addresses it offers. Thus, users can be sure they're absolutely safe connecting through Infatica's proxies.
Looking at this provider now, when it existed for only a year, we can expect it to become better and better over time. And we believe that very soon all the proxy providers that keep leading positions, for now, will have to fight for their place with Infatica.
You can trust this provider merely because it keeps all the policies honest and clear. Infatica doesn't try to fool you to sell you the services. You can learn all the rules before you sign up for these proxes. Thus, you can be confident you're doing the right thing.
It is the leading proxy network that offers ethical proxies. Infatica provides you with the best possible way to protect your business with the most ethical and powerful proxies in the market. Infatica offers premium proxies services to all its users and can use with any applications that support HTTP/HTTPS.
Affiliate Disclosure: This post may contain some affiliate links, which means we may receive a commission if you purchase something that we recommend at no additional cost for you (none whatsoever!)