Have you been trying to reach your desired website but unable to do so?
The reason is quite clear! Your desired website might have been blocked by the Government of your country.
But since you have the desire to reach the site you might be looking for a solution that could help you surf freely to any unrestricted site.
The solution is to have a private proxy server that establishes a connection between your PC and the site you want to visit like a secure tunnel.
Your desired site is just one step away from you. When you try to reach a site with normal IP address, you are blocked by the server but that doesn't happen if you use a proxy server.
A proxy server establishes a connection between your computer and the server on which the desired site is running. So, basically, it acts as a mediator between you and the restricted site.
---
Advantages of Proxy Server
The proxy server does help you connect to the restricted sites but along with that, it has other advantages too.
Proxy server changes your IP address as it does not connect the blocked sites using your normal IP.
By using another IP you stay anonymous and surf anonymously.
Usually, ISPs keep a track of your site visits and history. By using proxy servers stay anonymous by surfing with a different IP. With different IP addresses you can unblock restricted sites in a particular country easily and surf, download anything you want.
---
Types of Proxy Servers:
Proxy servers are classified into Public and Private Proxy Servers.
A public proxy server is prone to security issues and is accessible to anyone. It has speed and bandwidth issues. These kinds of servers are used by many users and thus are monitored continuously.
Whereas, a private proxy server is a dedicated IP server that is used only by a single user. It offers large bandwidth and fast speed eliminating the drawbacks of a public proxy server.
---
Some more advantages of Private Proxy Server
Easy configuration: A public proxy server requires you to set up, again and again, every time you log in to your system. But the public proxy server has to be set up only once and the same settings can be used every time you log in to your system.
Highly Secured: A public proxy server can be used by anyone that increases the chances of hacking. You never know who is spying on your internet activity and one day you wake with an email blackmailing you for your private information.
Private proxy servers are highly secured as only you are the authorized person using a dedicated private IP address. This is why you are not prone to hackers or government agencies.
You never know if the public proxy server you are using is a trap by the hackers to dig your information and blackmail you later. Hence, a private proxy server is more trusted and keeps the bad guys at bay.
Increase SEO: If you own a blog or website then your SEO will improve a lot. This is a grey hat SEO technique which is followed by very few to index your site in Google search on the first page.
---
List of Ultimate Cheap Private Proxy Servers – 2022
There are hundreds of Premium Proxy providers offering great services at budget Friday price. We have listed a few of them which are rated as best from multiple users and general opinions.
Luminati is the world's largest proxy service provider with no cloaking or blocking. It serves Fortune 500 companies and because of its ethical proxy network, it has been named the global leader in the Enterprise IP Proxy networks (IPPN), 2019.
Reasons to choose Luminati:
It offers flexibility and scalability to switch between different IPs. You can switch between Shared, Private data-center, residential and mobile IPs.
You can choose IPs in any country, city, ASN, and carrier.
99.99% network uptime guaranteed with real-time network status monitoring.
Get round the clock support from experts.
The network is 100% compliant and uses its own data-center private proxies.
Luminati Datacenter Private Proxies plan & pricing:
Pay as you go plan starts at $0.10 per IP with no monthly commitments. This plan includes a 400k IPs. The production plan is the most recommended plan and starts at $0.50 per IP with a monthly commitment of $1000/month. This plan includes 2000 IPs.
All the plans include unlimited concurrent sessions, GEO location, 100% compliant and Patented, Luminati proxy manager, and 24/7 professional network.
Luminati is an undoubted #1 proxy provider globally that offers elite proxy services for business. It provides all in one proxy in one place. All their proxies come with the best professional support and 100% compliance assured. Start a free trial today to test it.
---
High Proxies is specialized in providing different proxy servers to SEO agencies, webmasters and companies.
At High Proxies you can choose between multiple proxies including Private Proxies, Shared Proxies, Social Media Proxies, Classified Ad Proxies, Ticketing Proxies, Private VPN and Shared VPN.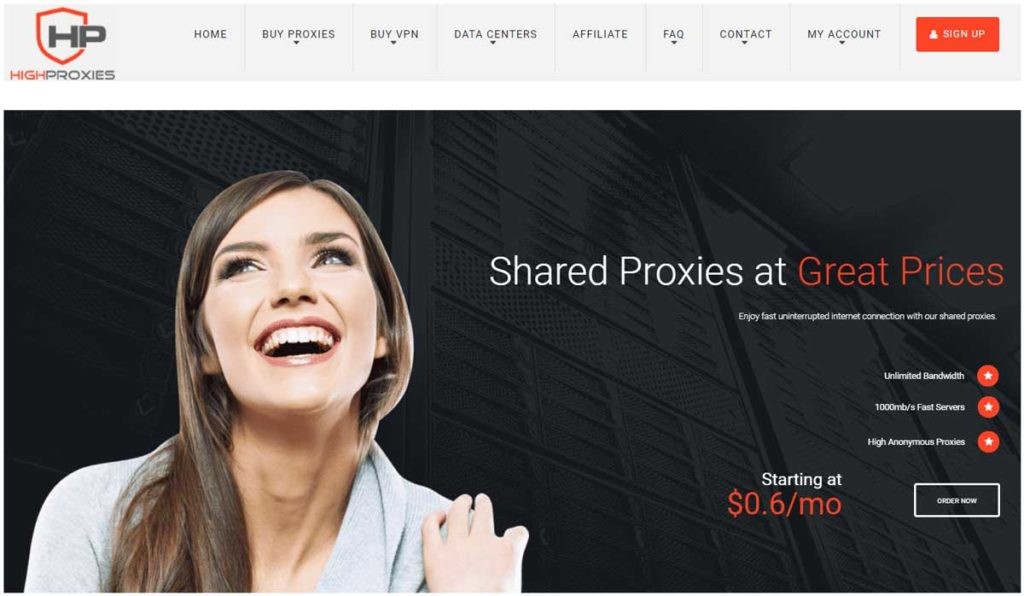 It has a global reach by offering cheap proxy servers in Dallas, TX; Phoenix, AZ; Miami, FL; New York, NY; Portland, OR; New Jersey, NJ; Buffalo, NY; Los Angeles, CA; Chicago, IL; San Jose, CA; Washington, DC; Charlotte, NC; Las Vegas, NV; Seattle, WA, and Atlanta, GA.
It also offers services in Europe also: London, UK, and Frankfurt, DE.
Private Proxies Plans & Pricing
Private Proxies doesn't work for social media networks and sneakers site.
The basic plan starts at $2.30/month.
This plan doesn't support multiple cities and subnets. It includes features such as monthly randomize, dedicated proxies, high anonymous proxies and has no setup fees.
If you want multiple cities supported private proxy server then you need to upgrade your plan and pay more.
High proxies offer premium servers and shared proxies at a great price. It starts to form $0.40 per month. The company adds new servers each week to create the largest private proxies network in the world.
---
Squid Proxies provide private and shared proxies for any business use. It works on almost every website.
Once you have completed your payment and is received successfully in the Squid proxies account, your proxy will be set up instantly.
If the proxy server you purchased doesn't work for your website then you get a full refund. You don't need any password or username as proxies are locked to your IP.
You can also request for new proxies after paying your renewal fees every month. All proxies are 100% compatible with all the browsers and all bots support http/https proxies.
Why choose Squid Proxies?
It offers the fastest servers with 1000+ Mbps dedicated speeds.
You get access to unlimited bandwidth, multiple IP subnets.
No need for any configuration settings, just by specifying the IP and PORT in your browser you are good to go.
No restrictions with guaranteed access to your proxies 24/7/365.
Get any proxy at affordable prices as compared to other proxies providers
Squid Private Proxies plans & pricing:
The basic plan starts at $24/month.
This plan offers 10 proxies so approx. cost of one proxy would be $2.40
With this plan, you get 2 multiple cities, 4 multiple subnets and instant setup.
If you are looking for another premium Proxy provider, Squid Proxy provides high anonymous all-purpose proxies with guaranteed quality. Try it risk-free today!
---
Do you need a proxy for Twitter or any other social media platforms?
SSL private proxies offer premium dedicated proxies to create and manage your Twitter account without any connectivity issues or IP blockage.
You can choose between cheap shared proxies or premium private proxies hosted on high-performance servers without any bandwidth limitation.
SSL Private Proxies offer only 3 users per shared proxy to avoid crowded servers which don't slow down your connection.
Cheap proxies are provided across the US and Europe with full anonymity and ideal for web crawling and data mining.
Why choose SSL Private Proxies?
Supports both HTTP and HTTPS protocols with authentication required so only you have access to your own proxies.
It offers unlimited bandwidth of up to 1Gbps and ready for operation round the clock.
By using the latest firewall technology, your proxies are ensured to be secure and private.
All servers are run on green energy using wind power. In future servers will also be running on solar energy to keep the planet green and save.
For any assistance, you can check out the knowledge base and videos. If you want to talk to customer support you can reach them by phone 24/7/365.
SSL Private Proxies Plan & Pricing;
SPP-5 is the basic private proxies plan that starts at $15/month if billed monthly.
This plan includes 5 proxies that are highly anonymous, supports multiple cities and subnets, and a free setup.
If you want to save more then choose annual billing and the total price will be $12/month.
SSL private proxies are committed to offering the best dedicated private proxies in the budget. All services come with powerful hardware and a 100% safe environment.
---
Blazing SEO has been offering super-fast proxies and servers over the past 7 years. It was started by one person but now has evolved as a team of over 40 people.
Along with proxies, Blazing SEO also provides virgin IPs, VPNs, Shopify proxies and SERPGRAB.
Customer support is their top priority and so the support team is ready to assist you 24/7 with any issues or concerns.
Why choose Blazing SEO?
High speed and unlimited bandwidth with up to 1 Gbps.
Automatic proxy replacements are supported every month.
Multiple subnets are available to choose from.
Supports all three protocols http/https/socks.
Proxies can be chosen from 9 countries including the USA, Germany, Brazil, the UK, India, Canada, Australia, Vietnam, and Japan.
Affiliates can earn a recurring commission of up to 15%.
Private Proxies Plan & Pricing;
Blazing SEO pricing for private proxies is based on the country you choose.
Suppose you chose the USA then you have three plans to choose from.
The semi-dedicated plan starts at $2.50/month.
The dedicated plan starts at $6/month.
The rotating plan starts at $11/month.
Most of the countries have only one plan i.e. Dedicated plan with little difference in pricing. But the features remain the same.
Blazing SEO Proxies comes with unlimited bandwidth with all protocols support. With automatic and instant delivery and virgins IPs, blazing SEO proxies have been in the top list for a long time. All their plans come under their iron-clad money-back guarantee.
---
How SEO Proxies Help Internet Marketers?
Affiliate and internet marketing need numerous tools and smart services to dominate the competition. private SEO proxies play a vital role in marketing and help to scale new levels in less span of time,.
Guest posting using SEO/Private procies is one of the most used methods for SEOs and marketers. Looking for guest post opportunities through SEO proxy is an easy task. It is proven guest posts via SEO proxies only help improve search rankings but also bring extra traffic.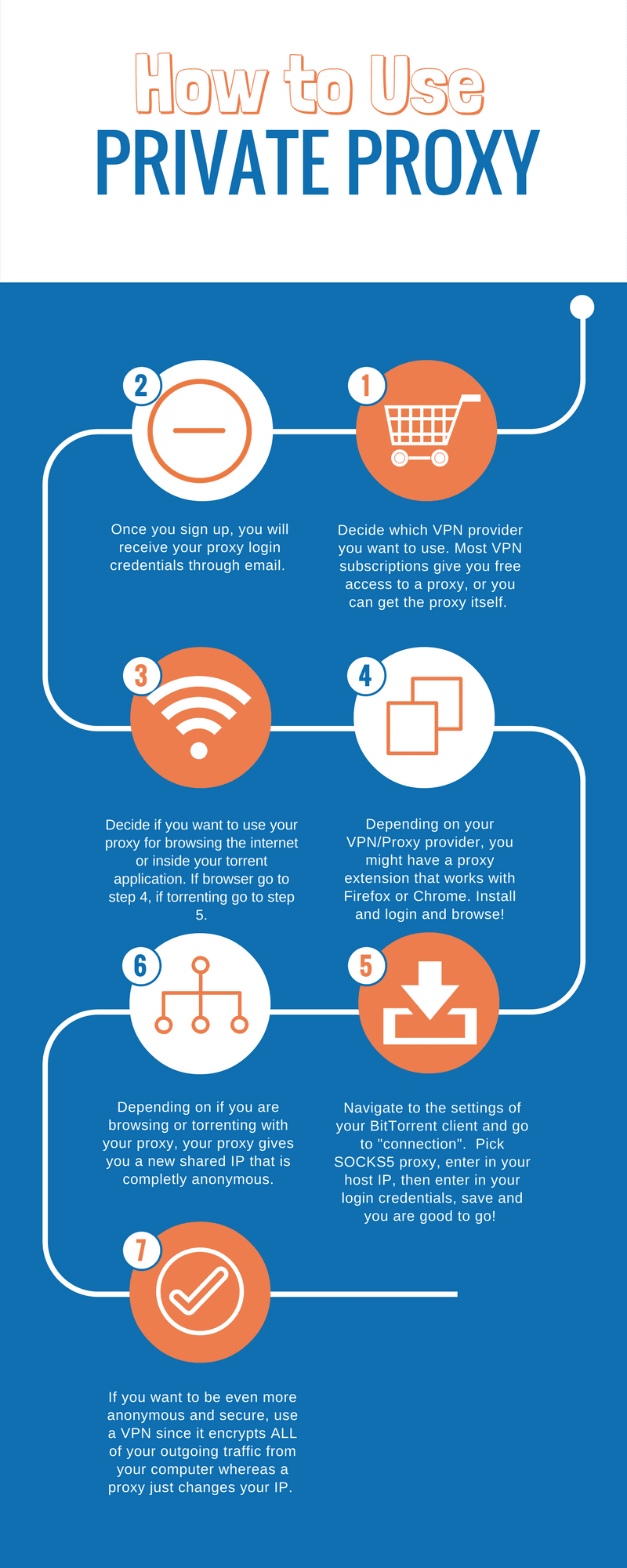 Private proxies are used for more stuff like Social media posting through proxies, Youtube commenting through proxies, Reviews through private proxies, blogging and content distribution through private proxies and posting classified ads via Proxies,
If you are looking to enhance your marketing workflow and increase your ranking, Private SEO proxies help a lot. They are better than VPN's and even more cost-effective.
---
Final Words: Top Private Proxy Providers
If you want to surf anonymously and reach your targeted websites then leave public IPs and choose private proxies.
There are many more private proxies providers but the topmost companies mentioned in this article are proven ones.