Ready for SPiCE Series Bangladesh? Recent progress in sports betting and gaming has created the perfect opportunity for businesses to establish their presence in South Asia. The SPiCE Series is following the increased popularity of iGaming and is now looking to expand its operations to Bangladesh.
Providing a unique business opportunity, especially in the field of the iGaming industry, SPiCE Bangladesh will be taking place from 8 to 10 November 2023. This will be the third edition of the SPiCE series, which will begin in Sri Lanka. This Bangladesh edition will be taking place in Dhaka, and will be organized by Eventus International.
This three day event will bring together a group of reputed stakeholders, as well as professionals from various industries across South Asia. The prime niche these guests will belong to will be iGaming, cryptocurrency as well as sports betting, and more.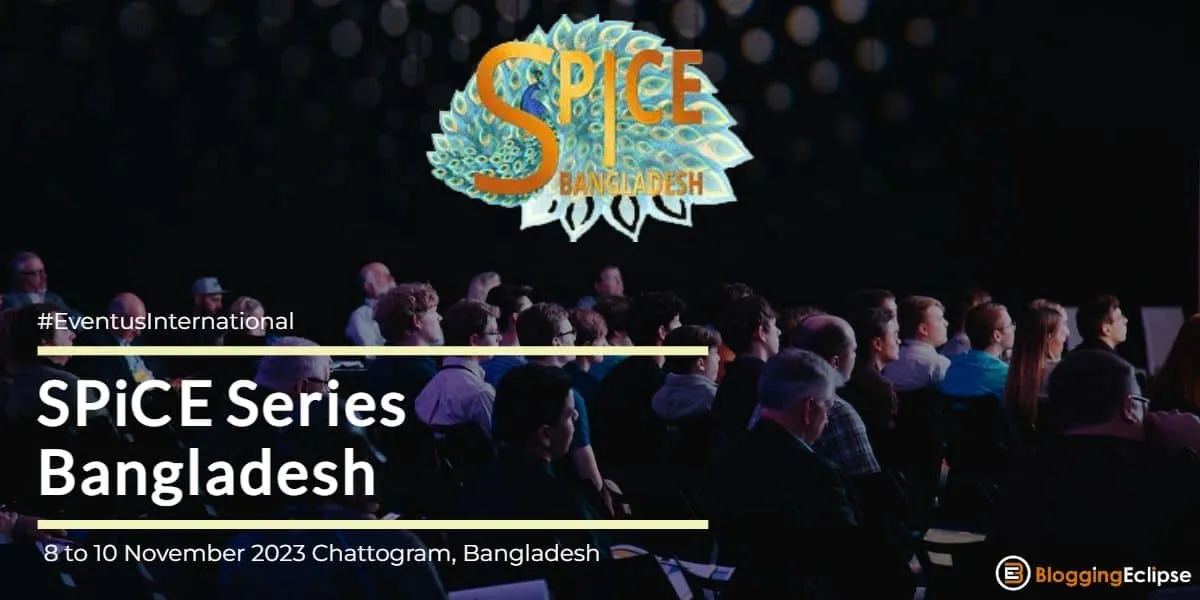 Last year, the sports betting industry in Bangladesh witnessed a record-breaking surge in revenue, making it a great opportunity for new players to join the market. At the moment, there are close to 50 online gaming companies in operation and over four million people partaking in bets.
The rise of sports such as cricket, football, and kabaddi is linked to the growth of online sports betting in Bangladesh. With the government taking steps to make sports betting legal and online betting websites available, it is expected that betting in the area will continue to increase rapidly in the coming years.
About SPiCE Bangladesh 2023
Covering the Asiatic division, the SPiCE event began with the Indian subcontinent where they got a huge response. So now they have begun to expand this idea into the prime Asian subcontinents, beginning their journey with Sri Lanka.
While completing their journey the Strategic Platform for iGaming Conference & Exhibition (SPiCE) series will even touch the grounds of the Philippines and visit Dhaka, Bangladesh later during their tour. This will be a perfect place for someone who wants to get the updates regarding iGaming industry covering all the latest insights of the whole South Asian region.
The agenda of this Bangladesh edition will be to talk about what the future of regulated cryptocurrencies holds within the country. The other topics that will be covered during the SPiCE event in Dhaka would be, updates on the government and religious intervention with gaming laws, the booming economy sparked by the online sports, betting, and other aspects.
SPiCE Bangladesh edition will also provide the opportunity to engage with stakeholders and businesses during the networking hours provided at the event. One can meet and introduce their business to the industry leaders and also build contacts and networks with these industry giants over a few drinks, in a relaxed and calming atmosphere.
Who can join SPiCE Bangladesh 2023?
Currently, the website has an update on who has already signed up for the upcoming and fabulous event. If you are someone who is into operations of iGaming technology or someone who supplies the technology you should definitely take part and be an attendee of this event.
Then looking at the segment SPiCE Asiatic series would cover, the affiliates should also be the prime attendees of the event.
At present, the event has got a list of attendees where 35% are operators, 25% are suppliers, 20% are affiliates and the remaining are regulators. These attendees are from more than 4 continents and are regarded as the great decision makers, with experience in various fields.
If you wish to become a speaker at the event of SPiCE Bangladesh 2023, you can register yourself on the website. This will definitely benefit you in many ways, especially if you want to grow your networks.
Similarly, if you want to sponsor or exhibit at the event, visit the official website of SPiCE Bangladesh 2023, and contact the organizers.
Tickets for SPiCE Bangladesh 2023
The tickets for SPiCE Bangladesh 2023 are available on the website and with a range of variations. You can buy these tickets depending on your schedule and interests.
Other SPiCE Series Destinations for 2023 and 2024
The first SPiCE Series event will be in Sri Lanka in July.
Following it will be the second edition of SPiCE series taking place in the Philippines in the month of September.
The last and final segment of the SPiCE series will happen in Goa, India in February 2024.
The SPiCE series provides the ideal framework for the Asian iGaming business to come together and interact, with a reach across all parts of the continent.
Eager to find out what SPiCE 2023 has in store for you? BOOK YOUR SPOT NOW!
How does Attending an iGaming Affiliate Event help you?
Attending an iGaming affiliate marketing event is an ideal way to stay up-to-date with the latest trends, learn about new strategies, network with industry experts, and gain insights into the business. Whether you're an experienced affiliate marketer or just getting started, attending an iGaming affiliate marketing event can benefit you in a variety of ways.
By attending an iGaming affiliate marketing event, you'll gain access to a wealth of resources. From workshops and seminars to networking events and industry conferences, there are plenty of ways to stay informed and gain knowledge. You'll have the chance to discuss different strategies and tactics with other affiliate marketers and even get advice from experts in the field. Additionally, you'll be able to develop relationships with other industry professionals and make valuable connections.
So, attending the iGaming event will help you in terms of gaining more knowledge, getting to know the latest trends, better networking, and much more. So, what are you waiting for? SPiCE Bangladesh is going to be that one event you might be waiting for.
Eventus International: Organization Behind Successful Events
Contact Eventus International's Marketing Director, Lou-Mari Burnett:
Lou-Mari Burnett
Marketing Director
Eventus International
Email: [email protected]
Phone: +27829075850
For more than ten years, Eventus International has been in the business of joining together industries. The methods of networking, industry knowledge and sharing of data bring the sector closer together and help them reach common objectives.
Eventus takes pride in providing personalized sponsorship and exhibition possibilities that enable brands to get in front of a particular group of experts and gain a great ROI.
The biggest focus is on quality, not quantity – Eventus International ensure that the right people make the right connections, meaning that C-level delegates can network with other professionals, broadening their businesses and international linkages.
The accomplishments achieved at events such as SPiCE India, Analytics & AI In Gaming, GAME (Gaming & Affiliate Marketing Expo), Sports Betting East Africa+, iGG (iGaming Germany), RiSE (Russia iGaming Summit & Expo), All-In Gaming Ukraine Summit, SPiCE Sri Lanka, Sports Betting West Africa+, Fantasy eSports Summit, Scandinavian Gaming Show, All American Sports Betting Summit, Cyprus Gaming Show, iGaming Central America, International Lottery Play Summit, International eSports Business Forum, and Chile iGaming are the result of our high standards of excellence.
Affiliate Disclosure: This post may contain some affiliate links, which means we may receive a commission if you purchase something that we recommend at no additional cost for you (none whatsoever!)