Are you interested in the latest market trends and the future of Web3? Then mark your calendars for Coinlive Web3 Trends & Forecast 2023 – VC Edition! This event promises to be an exciting platform for investors, entrepreneurs, and all those interested in the Web3 ecosystem.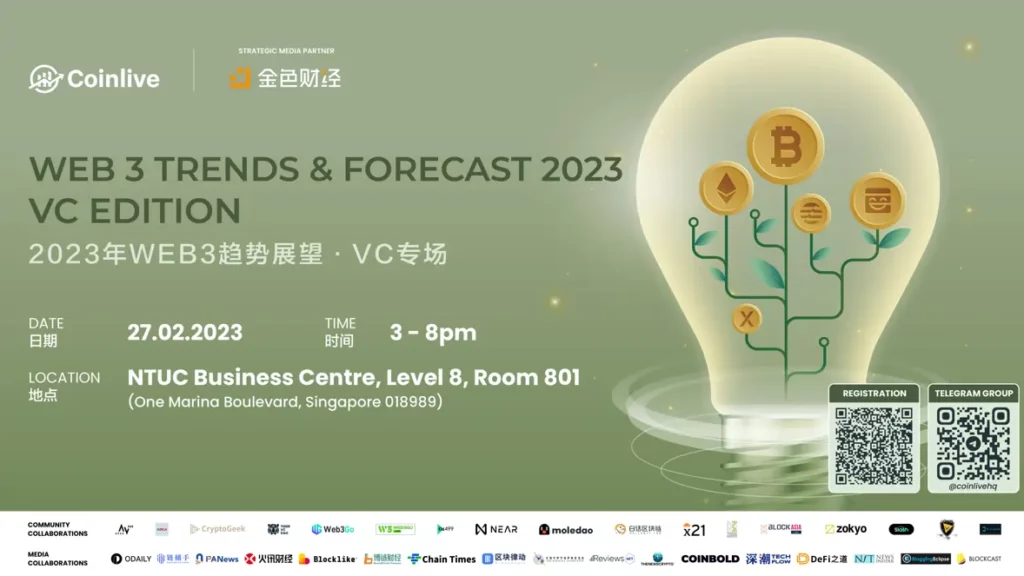 At the event, you will have the chance to hear from venture capitalists (VCs) who will share their thoughts on the current market trends and give a glimpse into what they forecast for 2023. You will learn valuable industry insights and gain a better understanding of what the future holds for all of us involved in Web3.
The event will cover a range of topics, including the accelerating shift towards digitalization and the rapid adoption of new technologies such as blockchain, artificial intelligence, and the Internet of Things. VCs are seeking investment opportunities in companies that are using these technologies to solve real-world problems, and you will have the chance to learn more about these opportunities.
You will also hear about the increasing interest in decentralized finance (DeFi) and non-fungible tokens (NFTs), which has driven the growth of the Web3 ecosystem. VCs are seeking out projects that are building decentralized applications (dApps) and protocols that enable decentralized finance and NFTs, and you will learn about the latest developments in this area.
Moreover, sustainability and environmental concerns are becoming increasingly important to investors, and you will have the chance to hear about projects that are using blockchain technology to promote sustainability and reduce carbon emissions.
The event will also cover regulatory developments that will continue to shape the investment landscape in 2023. You will gain insights into how VCs are staying up-to-date with regulatory changes in various jurisdictions to ensure that their investments are compliant with relevant laws and regulations.
Coinlive Web3 Trends & Forecast 2023 – VC Edition promises to be an exciting event with attractive networking opportunities with VCs, investors, and entrepreneurs to take your journey in Web3 to the next level. You cannot afford to miss this opportunity!
The event will be held on February 27, 2023, at the NTUC Business Centre, Level 8, Room 801, One Marina Boulevard, Singapore. Registration starts at 3:00 PM, and the event will run until 8:00 PM.
For more information and to register, please visit our website from button below:
About Coinlive Web3 Trends & Forecast
Coinlive is a leading news source and independent data portal for the Asian market. With a focus on timely, comprehensive, professional, and accurate information and data, Coinlive has become a go-to resource for blockchain entrepreneurs and digital currency investors. Coinlive's team of expert journalists and analysts provides in-depth coverage of the latest developments in the cryptocurrency space and insights into market trends and investment opportunities.
In addition, Coinlive offers a range of products and services designed to help blockchain entrepreneurs and digital currency investors succeed, including data analysis tools, market research reports, and investment advisory services. With a commitment to excellence and innovation, Coinlive is poised to play a significant role in shaping the future of the cryptocurrency industry.
Get ready for an exciting event that promises to be a game-changer for your Web3 journey!