Anyone in today's world can choose to sell items online.
Entrepreneurs and amateurs are making use of this possibility to earn some extra cash or perhaps a full-time job now more than ever before!
Online marketplaces such as Amazon and eBay have made selling extremely popular.
As more individuals hop on board, more tools are developed to make the selling process easier and more productive.
Sellbrite is one of many programs designed to make running an Amazon FBA business easier.
In this ✅Sellbrite review, we'll go over the software in greater detail and discuss whether we believe it's the ideal FBA product for your company.
---
Detailed Sellbrite Review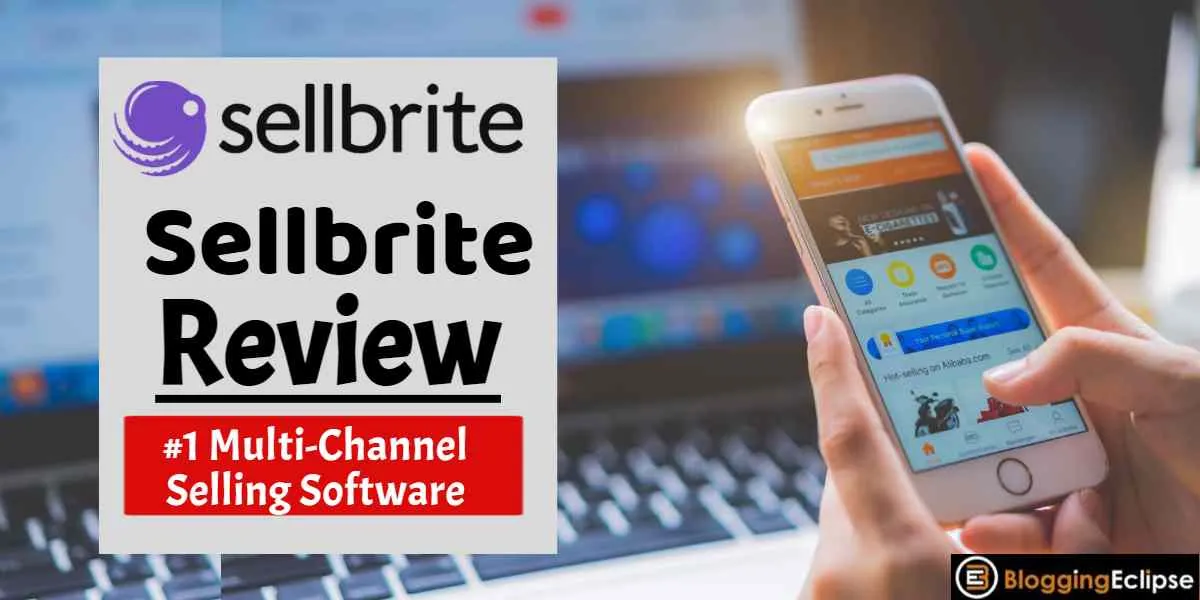 Sellbrite is an online platform created in 2011 to assist shops with listing their products on some of the top online marketplaces.
This program offers brands and merchants a one-stop shop for all their listing and selling needs, eliminating the need for managing several accounts for each platform.
This tool enables businesses to sell on various platforms while controlling everything from a single site – it streamlines the process and speeds up sales across all platforms.
Sellers can reach a broader audience of potential purchasers than ever before by using this type of service!
You can now submit a product in one place and have it advertised to customers across multiple online marketplaces – efficiency and productivity are essential benefits that Sellbrite provides.
Suppose you are a store or brand that sells your products on Amazon, eBay, Etsy, or any other comparable online marketplace. In that case, you should look into the tools and functionalities that Sellbrite can offer!
---
Benefits of Sellbrite
To begin this Sellbrite review, we will go over some of this website's primary benefits and drawbacks.
#1. Simple to use
Who doesn't appreciate a program that's simple to use and gets the job done?
Sellbrite is designed to make things easier for you, as evidenced by the site's user-friendly features.
The first step to using this tool is to connect all of your internet stores.
Whether you are running an Amazon FBA, an eBay store, or a personalized Etsy shop, you must ensure that your products are listed and accounted for through this site.
You may rapidly link your accounts by following easy steps in the "settings" tab so that all of your stores are shown immediately in your Sellbrite account!
Then you'll want to import all of the products you have for sale. Then, you'll be able to sync your inventory to update when you sell items continuously in your store.
After you've imported all of your products, you'll be able to manage your listings, which means you'll be able to alter or change them whenever you want with just a few clicks.
Sellbrite was primarily created to simplify some of the more time-consuming aspects of online shopping. Thus it is no surprise that the program is so user-friendly.
#2. Orders can be filled more efficiently
Another fantastic feature provided by Sellbrite is the ability for sellers and retailers to fulfill orders much more efficiently than ever before.
With all of your products and listings in one location and your accounts synced up through this software, you will be notified as soon as an order is due for fulfillment.
Instead of returning to the individual site to fulfill a purchase, you can do it directly from the Sellbrite application!
#3. Filter & personalize your listings
The ability to filter and customize all of your listings is a vital tool that will assist you in making your online stores stand out.
If you plan on listing things separately on Sellbrite, you will realize that the procedure takes a long time. Fortunately, Sellbrite eliminates such time-consuming chores!
You can store product and listing templates for later use and apply them to new postings as needed.
This feature is exclusive to the Sellbrite application and is guaranteed to save you a significant amount of time.
Also, you will be able to get your products out there and onto the market much faster than if you had to go through each one and post it separately.
#4. Simple-to-use listing options
Following on from the personalized filter features, Sellbrite provides a plethora of other simple-to-use listing tools.
By uploading a large number of products to your store at once, you may swiftly post listings in bulk.
Again, because your accounts are all linked, the products will appear instantly in all of the marketplaces where you sell!
You no longer have to waste time establishing individual listings for each site, nor do you have to learn how to use all of the varied features and interfaces.
Sellbrite makes it simple for you to succeed by utilizing these simple-to-use tools designed with the seller's best interests in mind.
#5. Reach a broader audience
You will reach a broader and more diverse audience if you list your products on many online marketplaces simultaneously.
This is listed as a pro for a variety of reasons. To begin with, the more people who interact with your product listings or business, the better.
Because increased foot traffic is almost always associated with increased sales, you are more likely to observe positive changes in your sales simply by using Sellbrite.
Furthermore, you are more likely to reach a diverse audience. You might wonder why this is relevant in an online environment, but the truth is that online consumer behavior isn't all that different from offline consumer behavior.
You want to reach out to a wide range of people since your products may strike a chord with someone who isn't in your target demographic.
Sites like Etsy attract a different type of customer than sites like eBay, yet marketing your products for both kinds of shoppers is beneficial.
Using Sellbrite increases your chances of contracting the correct buyer on the right platform, increasing overall sales.
#6. Have all of your products in one location
This benefit is significant for a variety of reasons. The apparent advantage is that you will see all that you are listing in one place.
This is excellent for organizing and can help you stay focused on the products performing the best in the market.
Another advantage of having all of your products in one location is having a constantly updated inventory!
Sellbrite updates in real-time will prevent overselling a product because of Sellbrite updates in real-time.
This means that when one of your products sells on any marketplace, your online inventory will immediately update with the proper amount of products still available.
This simplifies the vendor and ensures that you aren't overfilling orders with a low inventory. You'll be pleased, and your customers will be happy — a win-win situation!
---
Drawbacks of Sellbrite
#1. Short-lived trial period
If you want to use Sellbrite but aren't convinced, you can try out all of the services for free for a limited time.
While this is wonderful for individuals who want to try out all of the features, the free trial is only available for thirty days before you have to pay for the subscription.
Furthermore, the Sellbrite trial is only accessible if you sell less than 30 orders every month.
If you are a tiny retailer just starting, you generally won't have to worry too much about this constraint.
However, if you are a larger store wishing to ease your responsibilities by using this software, you may exhaust the free trial sooner simply because you sold more things in a shorter period.
#2. A significant investment for smaller retailers
While the pricing packages for the various app levels are reasonably priced in the grand scheme of things, it may be a significant commitment for those smaller merchants.
If you sell your products on one or two websites or specialize in a small, specialized market, you may find the software to be a little pricey for your needs.
The features can still be helpful, but it is up to you to decide whether the price is worth it for your particular business.
#3. Smaller retailers may face difficulties
Following what was discussed previously, Sellbrite may not be the most excellent fit for some smaller companies.
If you conduct any research on this application, you will most likely discover that this is one of the most common complaints.
This is primarily because the features are most effective when many product listings are in play.
Small stores may only have one or two of the same items, and they will not restock those items once they have been sold.
Because your products are constantly changing, employing those specific listing styles and sorting tools can be challenging.
Small merchants can utilize Sellbrite, but we strongly advise them to take advantage of the free trial before committing to any packaged deals.
---
Sellbrite Pricing Plans
If you are thinking about using Sellbrite for your online store, or your free trial period is about to expire, take a look at the many pricing features available on the site.
Sellbrite has a handful of different packages and price points to select from to accommodate sellers of all shapes and sizes.
The most basic subscription option is labeled "Sellbrite."
This package is intended for sellers to utilize across all marketplaces where they sell, making it the more comprehensive of the two alternatives.
If you select this bundle, you will choose from several alternative pricing options.
If you're considering this plan, consider how many orders you typically complete every month.
These deals range from $29 to $179 per month – make sure you're not spending more than you need to on a more extensive package!
---
Sellbrite for Shopify
The second choice is "Sellbrite for Shopify."
This package is a little more specialized and is linked explicitly with Shopify vs. Amazon FBA.
For Shopify sellers, this solution may be more suited to you.
The cost of this option ranges from $19 to $99 every month, depending on how many orders you fulfill in that timeframe. It also has a lower monthly cost.
---
🌟 Sellbrite FAQ
🤔What does Sellbrite do?
Sellbrite helps you to reach new customers no matter where they shop by allowing you to create & manage listings, control inventory, & fulfill orders all from a single, easy-to-use interface.
🙄Does Sellbrite have an app?
Sellbrite is a powerfully simple multichannel solution that allows you to manage your Etsy efficiently and other channel listings, control, sync inventory, manage and fulfill orders, and generate the multichannel reporting you need to succeed.
🔎How do I link Shopify to Sellbrite?
Create the ASIN on Amazon and then import that listing back into your Sellbrite for Shopify account. It will automatically link to the corresponding Shopify product, and you will have access to all of the same price, inventory, and order syncing features.
💲How much does Sellbrite cost?
The Sellbrite pricing model begins at $19.00 per feature per month. There is no free version available. Sellbrite provides a free trial period.
🤔Does Sellbrite sync inventory?
Sellbrite's FBA inventory management allows you to sync your FBA quantities across all channels. Sellbrite and Amazon's automatic inventory adjustments keep your stock levels accurate without you having to lift a finger. As soon as Amazon receives inventory, it appears in Sellbrite.
🤑What forms of payment does Sellbrite accept?
---
Conclusion: Sellbrite Review 2023 | Should you really buy this tool?
Sellbrite is a tool that can help you take your online selling to the next level.
If you've been selling on various platforms, you've probably experienced the frustrations that Sellbrite alleviates; it's excellent for businesses who need to sell on multiple platforms but don't want to deal with managing a million accounts.
We examined how this program may function in the various online marketplaces and believe it performs admirably despite being tailored for larger retailers.
Sellbrite has earned its spot in the online selling world, in our opinion!
We believe that our easy-to-use program is ideal for any online seller wishing to become more organized and work more efficiently.
The site's features were created to assist merchants in making the most of their products and listings.🤞🤞