Are you looking to host your website on Cloud VPS to make it load 1100% times faster? Cloudways is a great solution which offers complete managed cloud hosting platform where you can host your website on your favorite cloud provider like vultr, DigitalOcean, AWS using their technology & optimizations.
Lets see how to install WordPress on Cloudways in 2 minutes and migrate your existing WordPress site automatically using their premium plugin for free.
Since WordPress is becoming popular for blogs, communities, business websites & even eCommerce stores, almost all hosting companies are offering specially tweaked Managed Wordpress Hosting but cloud VPS is 1000 times better than all as it gives you dedicated IP, enhanced performance, guaranteed CPU resources and easy, scalable options.
Lot of Cloud VPS providers like DigitalOcean, Vultr, etc offers one click WordPress installation but as they does not offer support & management, it becomes very difficult for a non technical person to use it.
Cloudways have done a great job by providing every managed service, great support over the call, live chat & tickets, free SSL, free trial, free website migration, various apps integration, File Manager & PHPMyAdmin, etc. in once control panel for everyone.
Let us see what Cloudways is and what features it offers followed by steps for installing WordPress on it…
What is Cloudways & Why you should use it:
The company offers managed cloud hosting for growing a business and promises to make your site minimum 100% fatter from traditional hosting plans.
Headquartered in Malta & found in 2011 with the aim to offer secure cloud platform for website & blog owners. They have partnered with dozens of cloud providers such as DigitalOcean, Amazon web services, Koken, Google cloud, Vultr, Kyup, Linode, etc. for better cloud websites performance.
Cloudways features at a glance:
Multiple Cloud Infrastructure:
The company lets you to choose your favorite cloud provider & deploy your managed servers in few seconds.
Numerous Data Centers
with more than 25+ state of art cloud data centers around the globe, The company promises that you never have to worry about latency again.
100's of Apps Supported
Cloudways have made their servers compatible for hosting PHP based web apps. They offer 10+ Apps in one click Install like WordPress, magneto, etc and more support with PHP7, WordPress multi-site, Free
Letsencrypt
SSL,
Rackspace email addon
, etc..
Dedicated Environment
Every service deployed on it comes with guaranteed dedicated CPU resources like SSD drives, better processor, dedicated RAM and IP. You have full control on your cloud server as you are not in a shared environment here
Cloudways Smart virtual Assistant:
Smart bot is your very own
AI powered smart assistant
which helps you to optimize your websites by using latest technology on the servers & enhance your application usage by offering real time performance insights.
One click cloning of Apps & servers.
one click backup & restore with automatic backups feature
Team collaboration and servers transfer between account.
One click scaling & domain mapping
Free SSL certificates by letsencrypt
Platform level firewalls with mealtime monitoring
Multiple addons and databases.
Steps to Install WordPress on Cloudways:
At first signup on Cloudways if you don't have account
1: On signup page enter your Email, password and promo code and click on "Start here".
2: Cloudways offers free 14 days trial & you can try it for 14 days without even adding a credit card, but if you want to redeem $15 coupon to your account, You need to complete billing info by adding credit/debit card or PayPal to upgrade your account and get free credits.
3: Now you need to click on create new server an then select your preferred Cloud service provider.
4: In my case. I prefer to go with DigitalOcean and Vultr.
5: DigitalOcean server deployment will cost $7 per month for 512 MB RAM sever, and vultr server will cost around $10-$10/Month with one gigs of RAM.
6: Once you selected your server, You can select locations (data center) you prefer most. If you have your website audience from U.S.A, then select any server in U.S.A or if you have the audience from Asia then select Asian data centers like Singapore or India.
7: Now select WordPress from the app drawer and click on deploy
8: This procedure completed in less than 2 minutes, And it took approx 5 minutes to get your server ready for WordPress installation and dedicated IP.
(Refer this image tutorial)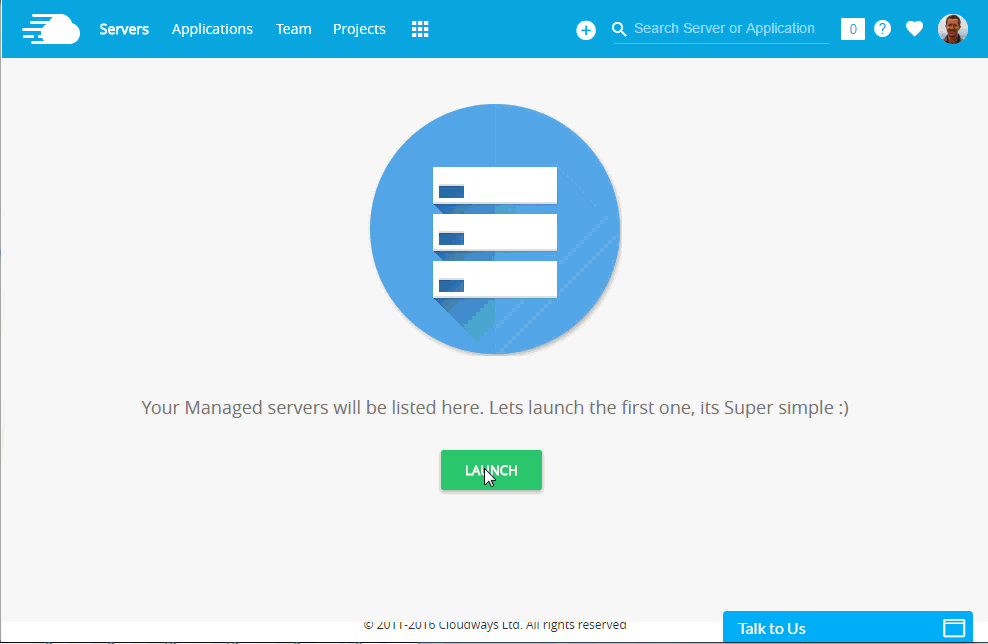 After completing this step your wordpress app will be launched on your created server and you can then Add domain to it and also migrate your existing wordpress site instantly using premium Cloudways migration plugin within seconds.
WordPress installed! What next?
Now you need to add your domain. Go to Application Settings > Add Domain . You need to point your cloudways public IP as "A record" in your domain DNS control panel.
It's easy, and cloudways have posted in-depth tutorials for it for different domain registrars in their knowledge-base. The link is in your control panel itself.
How to migrate your WordPress site on Cloudways:
There are two ways, One is to do it yourself, or you can also let Cloudways professional team do it without any extra cost. (One free website migration is included with every account)
Lets see how to do it it yourself..
Taking backups & restoring a WordPress blog or website is always a painful task when you don't have to technical knowledge. Chill down. You can easily migrate your site from your old hosting provider to cloudways in seconds using their premium plugin.
All you need to do is, Install "Cloudways migrator" plugin in your earlier WordPress website, enter the credentials of your current cloudways account like IP, temp. Website address, folder name, STP user & pass and its done 🙂
Website migration process will start and your will be totally migrated without any issues.
They have also created a detailed "step by step video" for it, Check it below
---
Cloudways Promo code: $15 Free credits
Who doesn't love saving money? Here is exclusive Cloudways coupon code for free credit of $15. Signup using below link and enter coupon "
BLOGGINECLIPSE
" on the registration page to get 15 bucks in your account when you complete you billing details.
It can be used instantly to power your WordPress site for minimum of 2 months (If you go with $7/Mo plan of DO)
---
Winding it up:
I have mentioned the exact steps to Install WordPress on cloudways & migrating your site to it. Cloud VPS hosting is always a better choice to make your site super fast. You are always safe on cloud VPS as there is dedicated resources, dedicated IP with complete management
Cloudways also power BloggingEclipse, and I am pleased with their services. Give it a try if you still haven't upgraded to the cloud. Also, share your experience with me on cloud VPS hosting & if you have questions or doubts, Ask me via the comments section below. Take care and Happy Blogging. 🙂