Reddit is the place where interactions start at a significant level. It is indeed the most prominent question and answer platform worldwide. It is an authoritative source of information to thousands of communities, encouraging never-ending conversations and dependable human bonds.
People from various backgrounds, be it sports, news, TV fans, an endless stream of internet' s beautiful places or cutest animals, there is a worldwide community on Reddit. Today, Reddit has become one of the dominant communities of millions of individuals sharing and talking about the essential things in their lives.
In this article, you will learn ✅ How To Launch Ads On Reddit in 2023, which helps you drive more traffic on your website.
If we look at the number, Reddit is trending at #5 in the US and #13 worldwide as per Alexa Internet. It has 430+ million average monthly active users with 130K active communities. If we look at the average number of monthly screen views, the number climbs to 21 billion.
---
A Brief about the Reddit Foundation
Reddit was found by two college friends, Steve Huffman and Alexis Ohanian, in the year 2005. It is an American-based social news collection, discussion, and web content rating website. All the registered members can submit the post anything related to their favorite things or piece of info via images, videos, content, and links.
The share posts can be commented on or upvoted or downvoted. All the Posts are prearranged subject wise into user-created panels or boards called "subreddits," covering diverse topics like broadcast, science, films, video games, music, books, health, food, and image-sharing.
There are strict rules and regulations on the prohibition of harassment, and for this, the administrators pay a significant amount of money on moderation. Reddit has over 55% of users coming from the United States, around 7.4% from the UK, and 5.8% from Canada. In February 2019, a $300 million capital directed by Tencent brought the company's estimate to $3 billion.
For those who are first-time readers, let me tell you how this platform is used.
Reddit is a vast multilingual community of people used for posting, commenting, and voting. The members of Reddit can share their posts through stories, videos, links, and images. As a Reddit member, you can also pass comments on the pots you like to make it interactive and, at times, humorous.
The like or dislike comments can be either upvoted or downvoted. The posts with more upvotes and exciting content will rise to the top section of the Reddit page. Overall, it is quite easy to connect with this platform fetching info on every possible topic in the world. You can join Reddit for free.
Now let's jump to our topic on how to launch ads on Reddit?
---
How to start with Reddit Advertising ?(High ROI on Ads)
You can launch ads on Reddit in two ways, one is through banners in the sidebar of the front page, and the other, promotion of publications. Banners ads are accessible only via the Sales Department. So, the members have to rely on a second option "promotion" for launching ads.
Now let's start stepwise and from the beginning.
Go to the Reddit website and click on the "Create an Ad" option to start with your advertising account.
You will be guided to the page, where you have to fill in all the details like company name, email, PIN, your personal information, and other essential business details. Now click on Sign Up to proceed further.
Now give details of your credit or debit card, and also remember that Reddit function on a postpaid basis. Once you are done with the payment processing, your account is ready to purchase ads.
You will find the various option of ads on Reddit like conversion ads, traffic generation ads, or brand awareness and reach ads. It depends on you which type of ads you want to launch as per your business model.
Now select the right one to start setting up your audience. You can further structure your ads through different kinds of targeting. Let's find out the type of ad targeting you can experiment with Reddit.
---
Types of targeting
You will find users with different interest levels on Reddit. If you have come across the users with specific categories of content, then start targeting them as per their interest.
The interest might be related to games, movies, news, education, business, finance, technology, health, lifestyle, traveling, family, relationships, etc. Gambling posts or ads are not restricted to Reddit, but those ads can be run only through the Sales Department.
If you want to target a specific country or state, then you can set up targeting options in that way. Otherwise, all your ads will be displayed on all geos. Targeted ads as per geography location will be more fruitful to those who want to bank on their advertisements.
By default, the Reddit interface allows ads to be served on all platforms. But still, if you think that your ad must be device-specific, then you can make amendments to make the ad work with either mobile users or desktop users.
Most of the advertisers prefer mobile ads as nowadays, most of the users access everything via mobile phone.
Subreddit is the category on the Reddit platform focused on particular topics. The advertisers can direct their ads on the users who have of late connected with individual subreddits or subscribed to a subreddit. This will be more specific targeting based on the users.
---
About Ad Budget, Creation, & Moderation
To carry on with the specific types of targets, every Reddit advertiser has first to lay down the budget they are set to spend on the promotion. Do remember that the budget for ads has to be fixed daily as Reddit functions on the CPM pricing model.
The least amount that can be set is $5, so if you do not make changes daily, the minimum cost for the whole validity period is established at the rate of $5 per day. Reddit can use up to 20% over your daily budget. The maximum CPM rate is $100, and the minimum is $0.5.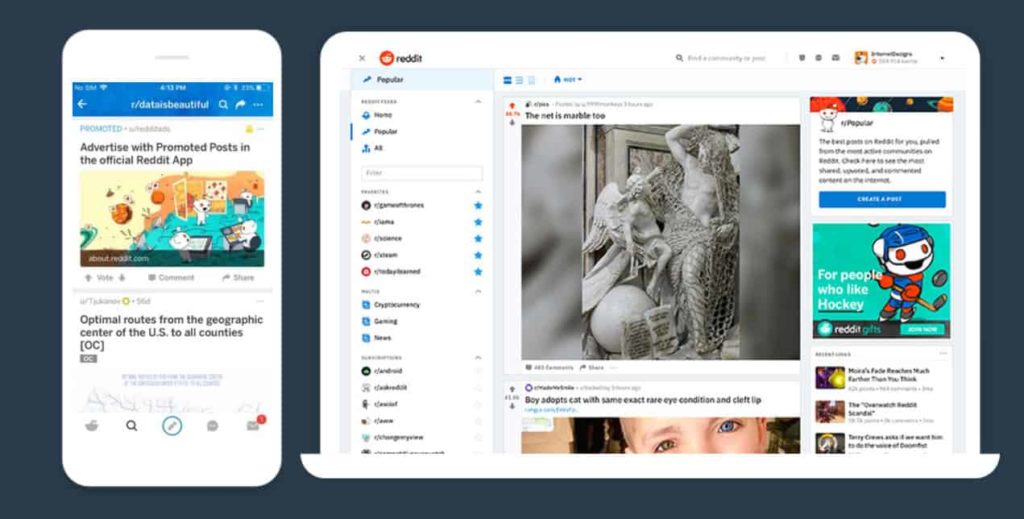 Now there are two kinds of promotions, first is going to the website, and the second is going to the specific post on Reddit. If you wish to go to the site, choose Link Post, and create your ad. The number of words is limited to 300 characters in the text ad, and the allowed image size is 1200*628.
You can deactivate the comments if you don't want bigots or rivals to comment negatively on your ad post. Some advertisers do that to avoid a negative impact on the minds of readers.
After that, the ad is sent for moderation. The moderation process is little time consuming as it is done manually and takes one day on an average. It is not that easy to moderate ads or post quickly as the moderators have to adhere to the strict rules and regulations and check every post severely.
---
Why Launch Ads on Reddit?
Reddit is a considerable platform where billions of people interact daily, hence developing a genuine human kinship. If you launch ads on Reddit, they are seen and talked about as the ads run on the official Reddit app as well as desktop sites simultaneously. You can:
Target the right audience in the right environment
Reddit makes it easy for you to reach potential and passionate audiences along with different communities arranged around thousands of miscellaneous subjects.
On Reddit, you will find many interested audiences to listen to your side of the story. You can effortlessly accomplish your campaign's objective, whether it is related to product selling or submerging in an enlightening or motivating conversation.
Reddit dashboard allows you to measure the success rate of your campaign in one place. You can evaluate your results by going through the analytics and then focus on optimizing performance.
Therefore, by launching your ads on Reddit, you can easily target the interested audience through your intuitive ads, hence measuring your success rate.
---
🌟 Reddit Advertising FAQ
What is Reddit?
Reddit is a source that is used by many people to search for what's new and popular on the web. On Reddit, the user needs to need to provide good content and then have to decide what's good and what's junk.
Can I submit a link?
Yes, if you have an account on Reddit, then you can easily submit a link on it. However, there is a cap that is used to prevent spamming. This restriction applies to both Reddit gold members and non-gold members.
Are Reddit ads worth it?
Yes, Reddit can work for you. It would be best if you had the right offer for the right subreddit. The primary role of your ads is to provide tons of value to Redditors.
Does anyone click on ads?
Does anyone click on ads?
Yes, many people like to click on the paid ads as it is a social news platform that many people used to discuss and vote on content, which is submitted by other members.
---
Final words
Reddit is one of the best ways to launch your ads as the platform is surrounded by a highly enthusiastic and involved group of audiences who are influential, trustworthy, and disciplined across the internet. At times you might find them to be little fussy about a few things, but overall, it's a large community attracting different mindsets.
To know it more, you have to be a member of this roller-coaster community. It will help you in understanding the type of ads being posted, reactions of the viewers, and how the comments are dealt with. Also remember, your ads must be insightful and beneficial so that audiences accept it in one-go.
Before launching ads on Reddit, you follow the trends of the country or state you are planning to target. It will help you envision the situation along with the viewers' reactions. The flimflam is all you have to bank on. Also, if you want the correct stats of your ads, then don't forget to align the pixels.
To get the best results, select those advertising offers that are centered on the US. You have to be careful about the company's guidelines to get your ads approved by the moderator. If your ads are about forged goods, weapons, or products and services that contradict the US trade policy, then under any circumstance, you won't be allowed to launch ads on Reddit.
The only disadvantage of Reddit is that you cannot access ads.reddit in all the countries. If you really want to use Reddit for promotions, then it will function only if you use a proxy or a VPN.
So, I can wrap up by saying that Reddit is the most user-friendly platform for the advertisers if used optimally and shrewdly.
Affiliate Disclosure: This post may contain some affiliate links, which means we may receive a commission if you purchase something that we recommend at no additional cost for you (none whatsoever!)