I know that many of you are looking for resources which will make your life and work more productive and at the same time easier.
Looking for the right material is always so exhausting. Moreover, you need to be sure that every item has a free license.
It is impolite to steal from somebody and you can have some problems after that of course. When I'm buying something, I want to be sure that this item or service is worth it. Also, for me, it is always important to use interesting material.
When I am writing something on my blog, photos should be amusing, unusual or just simple for me. I don't use the same twice. So, I am always in search mode. And I don't like it. I could have been doing it if I had spare time for searching and comparing.
I needed something universal but unique at the same time. So, I have found a solution – the ONE. Now, guys, I would like to share it with you.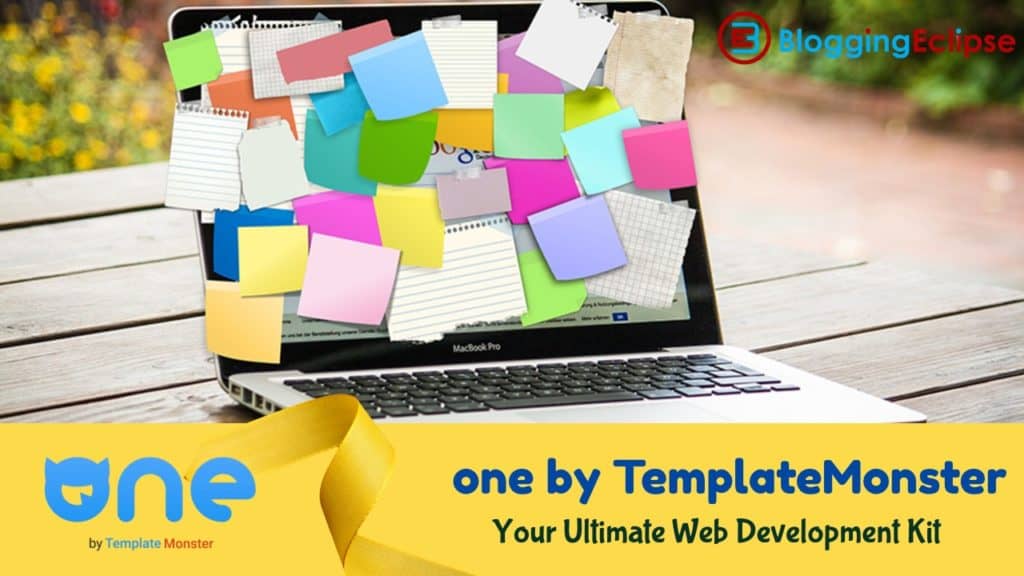 In this post you will learn:
---
What is the "ONE" ❓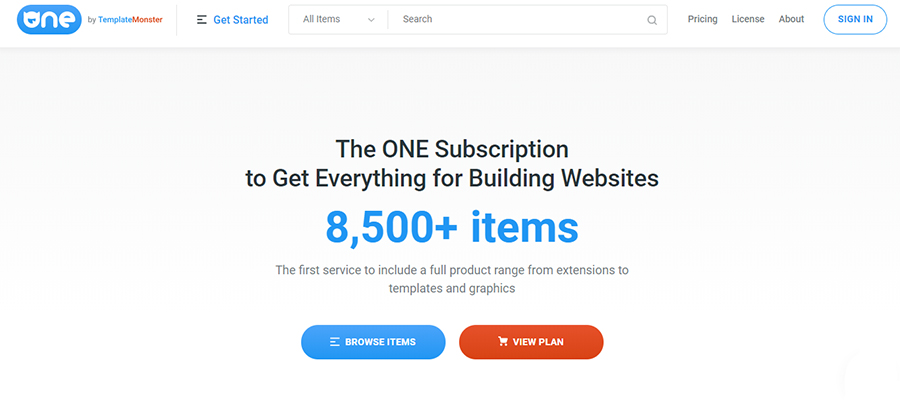 ONE subscription by TemplateMonster contains hundreds of popular templates and gives access to all of them. Which is a great opportunity to try to work with premium themes, if you haven't tried yet?
There are such best-sellers as the Monstroid2 WordPress Theme, Intense Website Template, StoreFlex OpenCart Template, Woostroid2 WooCommerce Theme, Flash Magento Theme, and many others. You can choose any theme you like and meets your requirements.
It is not difficult to find what you need and create a website thanks to a wide range of themes for different CMS.
Also, there are lots of popular plugins, which are necessary for a modern website nowadays. You don't need to buy all of them.
You can just choose what you need and download — no credits, no points and so on. Download as much as you need – it is very practical. In my opinion, it is easy to use and includes everything that you need for a website.
[su_button url="https://bloggingeclipse.com/go/onetemplatemonster" target="blank" style="flat" background="#e71e17″ color="#ffffff" size="10″ center="yes" radius="0″ icon="icon: arrow-right" icon_color="#ffffff" text_shadow="0px 0px 0px #ffffff" rel="lightbox"]Visit ONE by TemplateMonster[/su_button]
As a bonus, you will get lots of graphics too. For a one-year subscription, TemplateMonster promises unlimited access to all items, great efficient support to every item and regular updates.
---
Who can find this subscription system perfect?
This system is universal because you pay once and get unlimited access to all products. The benefits are obvious for both individual users and professionals – web studios or freelancers. Having made one purchase, you open an extensive base of templates for your work, which will reduce the time of project implementation and will save your money significantly.
The ONE can be interesting for you:
If you are a beginner. You can be creative and make your website by yourself without coding skills. Friendly support will help you with any question for every item. The most pleasant for me that they are available 24/7. If you are love working at night as me, or very early in the morning, you don't need to wait for an answer till afternoon.
If you are a web designer. You will get all the essential items to accomplish your work. A great solution to save your money and make even more high-quality websites for your customers.
If you are a business owner and you like ready-made websites, portfolios and so on for your business.
If you are a website owner, like blogger, and you want to improve your website, experiment with it in a creative way or add some necessary plugins.
If you are a graphic designer or you have a business of creating brochures, printing on T-shirts, business cards and so on.
I could continue this list, but I think I have proven you enough that this service is an original multitool with benefits and doesn't bite.
[su_youtube url="https://youtu.be/7dTve2Hsl_0″ width="560″ height="360″]
---
What kind of benefits does the ONE by TemplateMonster give?
Almost everybody has doubts before purchasing a particular template or any other web design item. It is necessary to weigh all the pros and cons, "draw" the structure of the future site in the head, think over the content, graphics, effects, etc.
Sometimes it happens that expectation and reality do not coincide, or priorities change in the process of work. But you never know what might happen. And the money has already been spent and time is running out.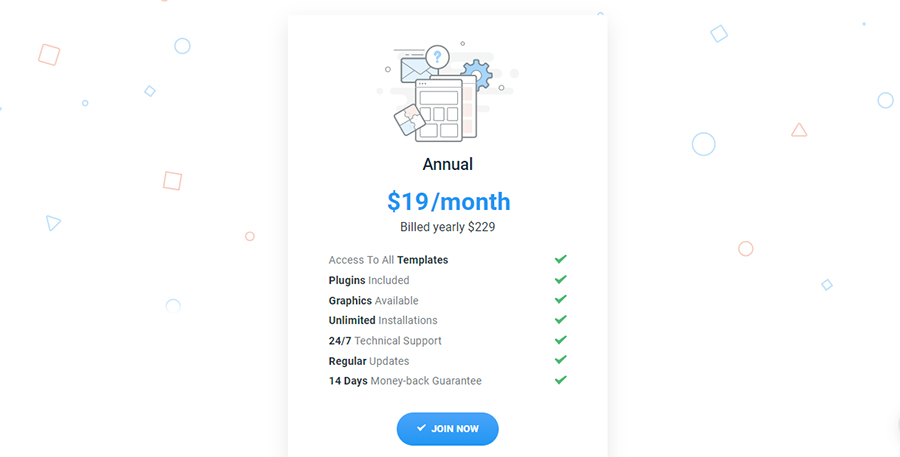 With ONE you will not have such problems. You are welcomed to experiment without regrets because you pay the same price every month.
This is perfect for beginners. You have 14 days from the time of purchase a subscription to test out the system and understand if it is the right thing for you. Who has created a website once, knows how much it can cost at the end. You don't even need to buy a premium theme. And it will be definitely much more than $19. No risks, only benefits.
After a year you can continue to use downloaded products. Moreover, the ONE by TemplateMonster subscription does not limit you to the number of servers on which you can host your sites. License transparency minimizes customer risks.
For example, the popular multifunctional theme for WordPress Monstroid2 with a one-time license will cost $75. If you want to have an extended one, it will cost $144. And this is only the cost of the theme. However, for the full operation of the site, you will have to invest in the purchase of various modules, extensions, widgets, and plugins. As a result, the creation of a single site takes a round sum.
---
Unique Support round the clock:
Why do I say unique support? Because nobody provides support for subscription services of this magnitude on the market. Usually, such services ignore support.

ONE by TemplateMonster package includes round-the-clock support. In case of a problem, just leave a message in the chat and a friendly team will come to rescue you at any time of the day or night. This applies to all included elements in the subscription. You can feel confident in any situation, relying on the support of professionals.
---
Only pleasant surprises
The service guarantees perfect transparency and security of purchase. You do not need to pay extra for any items, as the company provides you with an unlimited annual license for all ONE by TemplateMonster products that will also work on an unlimited number of domains. Do not forget about 14 Days Money-back Guarantee.

Nevertheless, every day the ONE team works on the replenishment and expansion of the range. All new products become available to subscribers immediately. Thus, you have the opportunity to follow all the latest trends and use them for your own purposes.
---
🚀SEO tools and Services FREE
Buying a premium theme and setting up a website is only half way. You need to make your website popular or just easy to find. I mean you need a search engine optimization or SEO.

Every modern website can't handle without quality promotion of the site and creating of a target audience. Package ONE by TemplateMonster offers you help in this matter.
[su_button url="https://bloggingeclipse.com/go/onetemplatemonster" target="blank" style="3d" background="#e71e17″ color="#ffffff" size="10″ center="yes" radius="0″ icon="icon: arrow-right" icon_color="#ffffff" text_shadow="0px 0px 0px #ffffff" rel="lightbox"]Visit One by TemplateMonster [/su_button]
In addition, assistance in such things as setting up and maintaining the server. Moreover, they will care about improving download speed, indexing, site performance, which will greatly facilitate your life.
---
Some More features to consider:
The ONE by TemplateMonster subscription includes not only WordPress templates but also templates created for engines like Joomla, Drupal, MotoCMS, as well as for e-commerce Shopify, Magento, OpenCart, and WooCommerce. At the same time, the base of products will be continuously updated. All themes are original in design and diverse in content, and their technological part meets the latest trends and standards.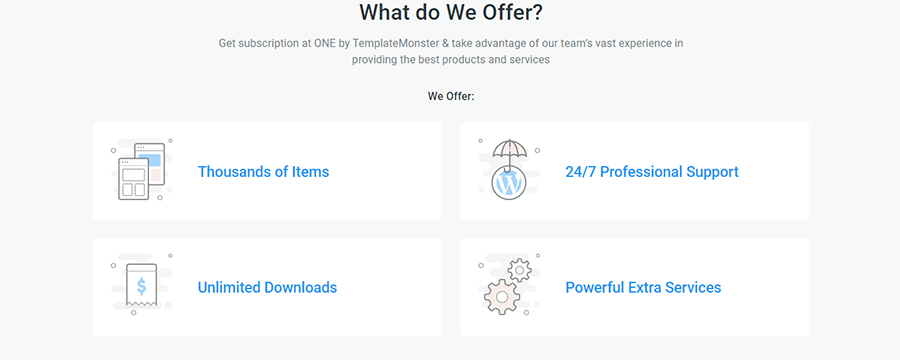 You can always get something new and get inspired. You will never be bored by working on improving your site.
This package includes:
Elementor – super handy page builder, as well as a set of themes under its control;
WordPress plugin package – Jetpack, which will help to introduce additional widgets into your website;
Lots of Prestashop modules;
Magento themes;
Opencart templates;
VirtueMart templates;
Joomla templates;
WooCommerce themes;
Graphic elements;
E-commerce and Presentation templates;
and a wide range of topics for different CMS themes.
[su_youtube url="https://youtu.be/zdFqR7ZRomQ" width="560″ height="360″]
Indeed, with the help of one purchase, you get a whole package in addition to the enormous amount of finished products. The number of essential tools will serve you for a minimal price. Though, their standalone price is rather high.
---
In conclusion:
The capabilities of ✅ ONE by TemplateMonster are astounding. This is a set of templates that satisfy a variety of requirements. Professional support and monthly updates. Many features that you can implement in your projects for absolutely free. As well as the annual license and the ability to be always in trend.
The ONE by TemplateMonster package is beneficial for companies, freelancers, and ordinary users who decide to create their own websites. In terms of the "price-received product", the ONE by TemplateMonster subscription option is undoubtedly leading compared to a single template purchase.
If you are looking for a universal tool without losing and whom you can trust without any pitfalls – is the ONE for you. Reduce your search and work with the best, reliable and profitable services. Allow yourself to focus on work.
Good luck!🤞