Are you looking for the best domain name generator to pick and register your desired domain idea? Well, if yes, then you are at the right place. Here, we will be going to do FlameDomain review, which is an AI based domain name research tool with other excellent features.
Read this complete ✅FlameDomain Review till last, that help you to know about its features, working process, pricing, etc.
---
Detailed FlameDomain Review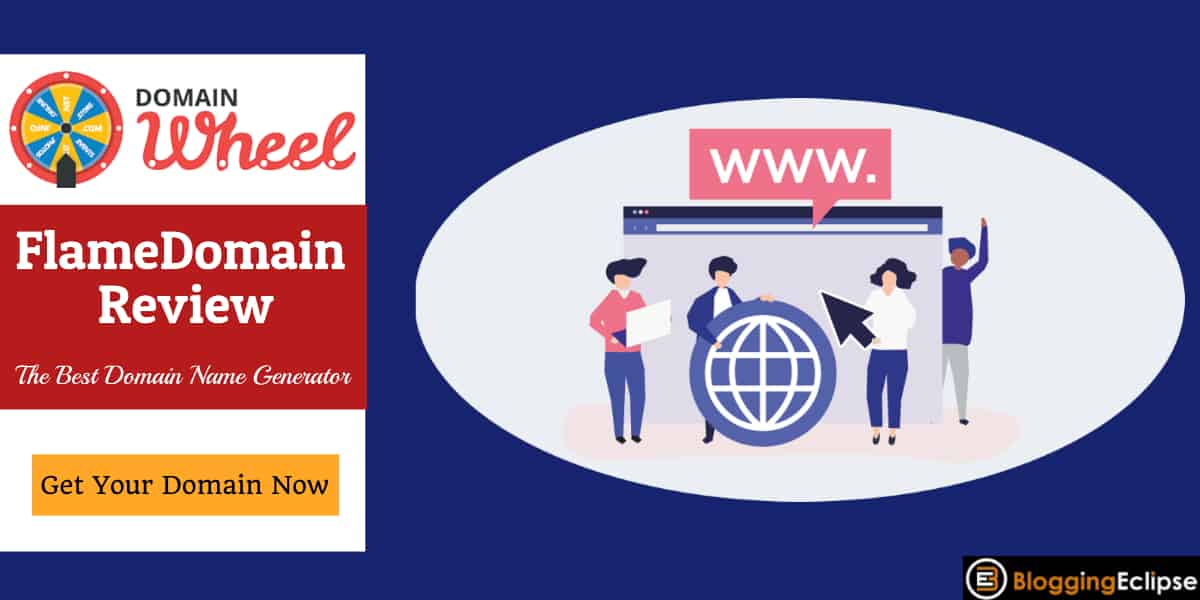 It is the best domain name research tool with super-cool features. With this tool's help, find domain names for your brands, businesses, and even your micro-niche sites. Their inbuilt tools let you save your favorite domain names, which you can buy it later. With this, add up to 10 domains in their FREE feature, get reminded of their expiry.
Today domain research is an important job for SEOs. Having lots of influential domain names in your possession helps a valuable SEO start building on as soon as possible. Google doesn't let anyone holding loads of domains, there are other ways to truncate this situation, but this could be time-consuming if you don't use tools like FlameDomain.
With FlameDomain, you can generate random domain names with pronounceable random words. With this, you can generate five letter domain names, six letter domain names, and so on, which are short & easy domain names worth Thousands of Dollars.
The tool lets you search for and register domains using different hosting accounts. You need to keep all of these separately if you plan to start a PBN, and FlameDomain makes that management a lot easier. But first, take a look at the prices.
Also read: Cloudways Review + Discount Coupon ($30 Free credits)
---
Key Features of FlameDomain

#1. The Random Tool
Random domain tools create pronounceable random words that don't include numbers. These types of domains are valuable and incredibly rare. People sell these short, easy-to-pronounce domains for thousands of dollars and label them as brandable company names.
#2. Brandable Tool
This tool is a great way to get a modern domain for your business or any business out there. The most popular keywords enterprises use in their names like a stack, digital, hoot, together create some brandable domain name. This great news is for those looking to start a business or branding or help a company start their business.
#3. Niche Tool
Niche domain tool allows you to create brandable domains related to a specific niche like blog names, fashion, etc. It is excellent for someone who wishes to start an e-commerce site or find something more specific than using brandable domain names. They add niches every once in a while and more keywords to create better niche-related domain names.
Also read: Top 10 Best Domain Registrars With Review
---
Input Tool of FlameDomain
Input Domain Tool is a common practice to mix and match alongside either general words, hack domains, and niche-specific keywords.
Maybe the random mixes of niches and such do not suit your needs, and you get an idea of what you want your domain name to have. Use the input tool to find an actual domain that fits your exact need.
#1. Premium Domains Tool
The domain this tool creates one that may have value and may be easy to flip. It is not for naming a company, but it establishes fields related to products and places. Many people have been able to buy these domains for the base price of $10 and sell them for much more on the same day. It is not for the average domain buyer but rather for those who make a living selling and buying domains. This tool is an excellent asset if you want to begin a career in domaining.
#2. Hack Tool
This unique domain is becoming very popular due to people realizing its value. Hack domains are domains where the word used has a few letters in place of a TLD.
#3. Location Tool
Cities have millions of people who are living in, what about country or states and provinces. The top 50-100 places on the planet mix them with city activities like biking, football, boxing and combining them to generate valuable location domains. These are very untrapped markets and show tremendous potential. These domains can also benefit people who want to start a business in a specific location. And the people might pay a premium to buy one of these domains off of you.
---
Single Word Tool of FlameDomain
Single-word domains are becoming super valuable as they are usually the first types of domains picked up on TLDs. We scan and find tons of single-word domains on other extensions and give a specific list.
To add new lists of single-word domains daily, find great domains you can buy for your new startup or flip for much more value in the future.
#1. Leet Tool
These domains show much value due to the immense number of not-taken domains yet. Hackers and other older internet users use leet language. It replaces E with 3, I with one, and O with 0 as it creates words like h3110.com, which is hello.com with numbers in the letter's place. Many great domains are still available, even four-letter ones, which are becoming extremely rare.
#2. Number Tool
Number domains are becoming some of the most valuable domains in the market. Due to their rarity, they are almost guaranteed a rising value as time goes on because of how few are left. The most common domains to buy are domains with 8's in them or shorter 7N.com domains which our tool can show you snatch up these number domains.
#3. Name Tool
The .me extension was created so that people could purchase personalized domains. Imagine your name was bob, buy bob.me, and place your blog/portfolio/link to social media. Many are being taken, and .me domains are snatched up at a solid pace. The name tool is made for quick flips back to people who have famous names.
These super-cool unique tools are available at FlameDomain. Use this tool today and find your favorite or money-making domain worth the money you would like to spend for the subscription to FlameDomain.
---
How does FlameDomain Work?
With the Input tool, you can generate domain names based on your input keywords, and with a special unique feature, you can have before input, random & after input. With niche tools, you can find your niche-related domains.
And the niches are general, food, fashion, tech, blogs, e-commerce, luxury, media, design, health & sports. If you could not find your desired niche, try the input tool feature. It's a fantastic feature in FlameDomain, where you can find the expired domains with the highest domain rating, highest Ahref ranks, and increased authority domains.
Also read: Domain Hunter Gatherer Review + 50% OFF Discount Coupon
Find the good parts and make few grand with them. This option is available only on Pro Plan & Pro Plus Plan.
---
FlameDomain Pricing Plans
The pricing of this tool is based on both Indian rupees and US dollars. They also provide a free version available in it, which lets you add three domains per day.
There is a pro and pro+ version available, which you can pay for either monthly or annually. Each package comes with a number of accounts that you can manage.
---
🌟 FlameDomain FAQ
✅What is a domain name?
It is the name of the website that you own. It is the address that helps the user to access your website on the web.
✅How can I create a new domain name?
In the domain name generator tool, you need to search the keywords that enable you to get some domain ideas. Choose the domain name that is suitable for your business. Once you have picked the domain name, then register that new domain to become the domain owner.
✅How does the domain name generator work?
A domain name generator is software that suggests a domain name to you based on your keyword. You need to enter your relevant keyword on the domain name generator tool, and it will give you an accurate match for your keyword with various domain name extensions.
✅How much does the domain name generator cost?
Well, most of the domain name generator tool is free of cost to every one. You can search as many suitable keywords as you want until you do not get your online business's desired domain name. You only need to pay at the time of registering that particular domain name.
---
Conclusion: FlameDomain Review 2023 | Should you go for it?
Even though there are plenty of SaaS products in the market & they have excellent features, some lack in the support section. FlameDomain has a live support section where users can solve their queries as soon as possible, adding more registrars and create a one-click landing page. It is compatible with the iPhone and android app. Transfer domain to FlameDomain to sell your domain in the marketplace.
Create a profile page with FlameDomain to show off your domain portfolio along with PayPal, Stripe, and RazorPay Integration. With this, you can integrate with CloudFlare and can manage with ease. Estibot integration and enter a domain.
Which will make it look like for EMD and show traffic off along with Domain Generation Feature. The FlameDomain can scrape fields like Forbes, Inc, Entrepreneur, etc. FlameDomain will make the process of handling all your domains a whole lot easier manner. Taking all your fields in one place but still having the advantage of multiple locations means you can quickly access all of your resources without the headache of looking for accounts and passwords to gain access to your domains.🚀🚀
Affiliate Disclosure: This post may contain some affiliate links, which means we may receive a commission if you purchase something that we recommend at no additional cost for you (none whatsoever!)