The Affiliate marketing place is flourishing, and to make space and become unique, you need to spend hours extra. It's highly essential to have a well-built marketing strategy before entering into this crowded place. Moreover, you should also know how to track your marketing campaigns effectively?
Tracking may sound fun and mockery, but there's a lot more to it, like planning, strategizing, executing, etc. But did you know that you can automate all this heftier work advanced affiliate tracker available in the market?
Why do you need a Tracking System?
Voluum and CPVLab are new affiliate tracking platform in the market and are among the popular ones with high demand between users. Through these affiliate trackers, you can easily optimize and monitor your internet marketing campaigns.
For example, if you are building a Facebook Ad campaign for your newest product release. A tracking system will help you get detailed information on who clicked your ad, detailed analysis on conversions or leads, their personal information like gender, location, social media account handle, and interests.
So, as the tracking system has provided detailed information about the user, you need to send them cold emails or personalized messages to convert them into customers. This strategy will make your income double or more than that within a quick time unless you choose the right tracking system.
Voluum and CPVLab are among the top tracking systems, but each of them has different features. Know your needs and budget before buying one, because it's an investment for your affiliate marketing business. Here is a detailed review of Voluum vs. CPVLab to help you decide better:
---
Voluum vs. CPVLab 2023: Overview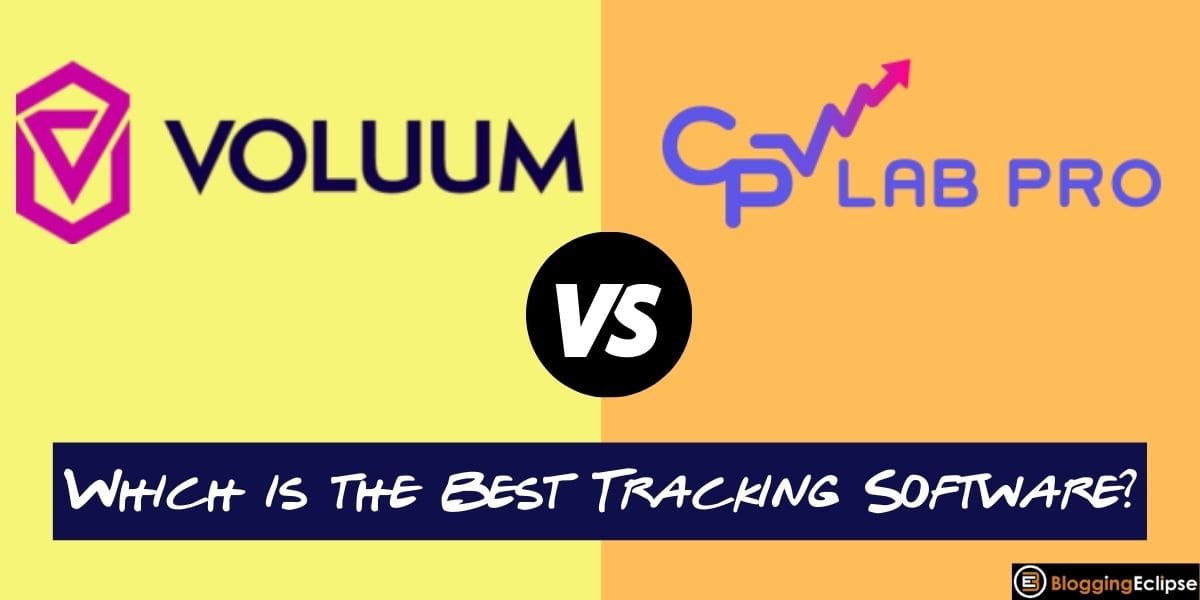 What is Voluum?
Voluum is a powerful ad tracker software in the market through which you can track, manage, and optimize several marketing campaigns all at once. You can not just track organic traffic and click and convert for better traffic flow through this tracker software.
Moreover, with Voluum, you can make quick decisions on data and optimize it accordingly for a more significant ROI.
Voluum is best for performance marketers, media buying teams, bloggers, and agencies as it provides end to end solution, including real-time data. As the tool is hosted in the cloud, there are least chances of slowing down despite the traffic.
Voluum also has a smartphone application for personalized alerts and tracking the performance of the ad campaign.
👉Read: Detailed Voluum Review
---
Benefits Offered by Voluum
There are lots of features by Voluum that can benefit you a lot while tracking.
You can easily follow the impressions of different ads to measure the impact of specific ads contact points. By combining all the statistics and impressions, you can build up the advertising campaign's complete progress.
You can easily track both paid and organic traffic quickly with Voluum without redirecting. Push unlimited ads and accelerate the visitors to your list even if your internet connection is slow.
The dashboard of Voluum is intuitive and clear to recognize the important campaign statistics. Discover all the campaign areas like clicks, visits, costs, and benefits for further improvements.
Custom conversion tracking
You can interpret multiple conversions types to track the users' actions and outcomes throughout the process.
The best feature of the Voluum is the autopilot mode for campaign optimization. The tool works on a machine learning algorithm and best landing pages, best offers, and complete routes.
Detailed reports and stats
Whatever the traffic, you can quickly get access to real-time data, as they have the right database to store reports. Moreover, the data points will give the best-detailed insights into the actions of the viewers.
Voluum allows the user to run an A/B test to determine which campaign route is doing well and can give the best conversion. You can build up specific conversion goals by improving the changes you have seen in the test for effective campaigns.
---
Pros & Cons of Voluum
Pros
Real-time routing API
Anti-fraud kit for bot traffic
Excellent infrastructure as it is hosted on nine data centers
Easy to use the software
The software may accompany its own data suite sooner.
Direct tracking pixel
A/B testing for flows
Custom conversion tracking
Manual conversion upload
Track domains with SSL quickly
Cloud-based ad tracker with built-in optimization
Cons
Time-consuming customer support team
Pricing may be expensive for some.
Intimidating ad format
New software in the market
---
Voluum Pricing plans
The pricing of Voluum is easier to understand and comes with the utmost flexibility and affordability. You can quickly start with the tool after paying for the subscription; no technical knowledge is required. In all, there are three different plans by Voluum according to the features.
If you want to track your affiliate campaign, choose the Discover program, which is just for $62 per month. The best plan by Voluum is the Profit because you can easily optimize your campaign and increase your profit margins at the lowest cost. The price of the profit plan is $138 per month.
Suppose you want dedicated support from Voluum for your business, and looking forward to growing your team exponentially. In that case, the Grow plan by Voluum is best, but it is highly expensive, as it is for $417 per month.
The basic plan includes 1 million events, pro support, 6 months data retention, 3 custom tracking domains, reporting API, etc. The advance plan includes 10 million events, pro support, 5 custom tracking domains, 2 additional users, and 1-year data retention.
With a premium plan, you will get 30 million events, 20 custom tracking domains, premium support, real-time reporting API, 2 years of data retention, 5 additional users, and many more.
---
What is CPVLab?
CPVLab is a self-hosted affiliate tracking system through which one can track and optimize their marketing campaign. You can quickly test and track the campaign across multiple traffic sources with the utmost flexibility and a full-on fly control system.
CPVLab is a web-based self-hosted platform that runs on your server itself; hence, there are no data leaking or breaching chances. The interface of CPVLab is intuitive and user-friendly with attractive graphics. Moreover, it offers customizable performance improvements to generate high traffic and super fast redirects.
---
Benefits Offered by CPVLab
There are several features of CPV labs through which you can take up your marketing campaign to a whole different level. It's easy to set up, and you won't require much technical knowledge.
Unlimited Ads and creatives
Through CPVLab, you can set up an unlimited number of ads. Finding stats of a single ad is also easier by a combination of page, keyword, etc.
Detailed reports and lab stats
This is an exciting feature by the tool; you can not just customize the stats view, but you will get a detailed analysis of pages, keywords, offers, revenue data to optimize profits and ROI.
Unlimited page and offer rotation
Editing pages and adding is easier with CPVLab because you won't require any coding skills and in-rotation. You can perform everything quickly by the campaign set-up page.
Segmenting and redirecting visitors to ads is easier through the tool. There are multiple conditions like ISP carrier and geography to help you get the best results.
As one can use CPVLab for landing page sequence, lead capture, email follows up, direct link, and landing pages. Hence, you can quickly view the information of the users regardless of the campaign by checking click, conversions, revenue data, and GEO referrers.
The multi-view stats page allows users to look for the relevant data and save the ones required or needed in the future.
Lead tracking and mobile audience overview
Through CPVLab, you can easily track opt-ins and the leads, just after they have tapped. By mobile audience overview, you can bring out the top-performing video support, screen resolutions, data rules, etc.
Merchants, affiliates, advertisers, and agencies can get lots of benefits through CPV labs. You can easily promote products and offers from different advertisers and optimize the campaign accordingly. Agencies can integrate the tracking platform for other businesses to boost their profit and get discounts on bulk licenses.
---
Pros & Cons of CPVLab
Pros
Unlimited ads and creatives
Unlimited page and offer rotation
Supports different types of campaigns
Self-hosted tracking system
Easy to use system with a simplified process
Rule and colors system
24/7 customer support system
Software updates after regular intervals
If and then click redirects
Detailed lab stats and reports
PHP 7.x support and PHP 5.x support
Third-party add on MVT (Multivariate testing)
Cons
Self-hosting is confusing for some
A secure server is a must for Auto-post conversions
A bit costlier
Confusing and boring dashboard
Sometimes, most users face problems with servers as it provides a high volume campaign leading to slow down. The automated conversion publication gets overworking for some, as CPV requires secure servers to automatically trigger the conversion pixels.
---
CPVLab Pricing plans
Features included in the pricing plans by CPVLab are:
Extensive customer support.
Access to the private Facebook group.
30-Day money-back guarantee.
1-year free software updates.
User guides and tutorials.
Constant database updates.
One full version license for a domain.
100 custom tracking domains included.
After 1 year, renewals at just $149 per year.
The pricing of CPVLab is not confusing because they are highly transparent with their features and packages to the users. For the first year, you need to pay $297, but later, after a year, you can renew your license at a discounted price of $149.
You can use CPVLab promo codes to get more discounts instantly. If your CPVLab license expires, you can run the current versions, although some software may not run smoothly as before, and you will have limited access.
CPVLab also offers a 30-Day money-back guarantee to their users; hence, if you are not satisfied with the product, you can end the subscription by contacting the customer support team. You will get a 100% refund instantly without many queries.
---
🌟 Voluum vs. CPVLab FAQ
🙄What are Voluum and CPVLab?
Voluum and CPVLab is a tracking tool designed for tracking and optimizing several market campaigns at once. This software is best suited for affiliates and agencies who want to monetize well with traffic generated.
🔎What can I track with CPVLab Pro?
CPVLab Pro enables you to track your traffic in one central platform that helps to grow your business. No matter the source, you can track both organic and paid traffic. CPVLab Pro supports PPC, organic traffic, email marketing, media buys, mobile ads, etc.
🤑Does CPVLab offer a free trial?
Yes, it provides a free 30 days trial that allows you to test all the features offered by the CPVLab.
🧐Which tool is better: Voluum vs. CPVLab?
We would suggest you go for Voluum as it is easier to use and has one of a kind tracking system. It is worth the price you pay. However, you can also go for CPVLab, depending on your needs and budget.
---
Conclusion: Voluum vs. CPVLab 2023 | Which tool should you pick?
As of now, we have provided detailed insights into the review of Voluum vs. CPVLab, including the pricing, features, benefits, functionality, and a lot more. Both tools are robust tracking systems. You can easily track and optimize marketing campaigns strategically.
Through Voluum, you won't require to pay more and put efforts into server maintenance and strategize things as it is built by the latest technologies and is highly intuitive. But on either part, CPVLab will help you host your server and buy a third party to differentiate the testing part.
The setup of CPVLab and Voluum is easier and comes with the best functionality and services. We hope this article finds your search's value and share your view to help us do better!😊