✅ SocialAdSpyder is a Research tool that can help you find ads and spy on competitors.
✅ The tool offers a vast library of over 150 million ads and is updated daily.
✅ SocialAdSpyder is easy to use, cheap, and has great 1-click features.
✅ You cannot download landing pages and some features are not fully functional.
✅ SocialAdSpyder offers a 2-day free trial on signup.
If you are a dropshipper you might have wondered if there is a way to peek into your competitor's strategy to see what they are doing, what works, and how you can do what they are doing but better. Well, it sounds like a spy or a spy tool to help you do just that. You can get a huge competitive advantage by using its massive database of ads.
The powerful tool provides basic and advanced search options with filters to find an edge over competitor ads. The comprehensive ad spy tool can be a real asset and act like a competitive intelligence tool to collect ad data on your competitors.
In this SocialAdSpyder Review article, we will take a look at the SocialAdSpyder tool and how you can use this tool to gain an edge over your competition, and also how useful it can be. So let's take a closer look at SocialAdSpyder.
What is SocialAdSpyder?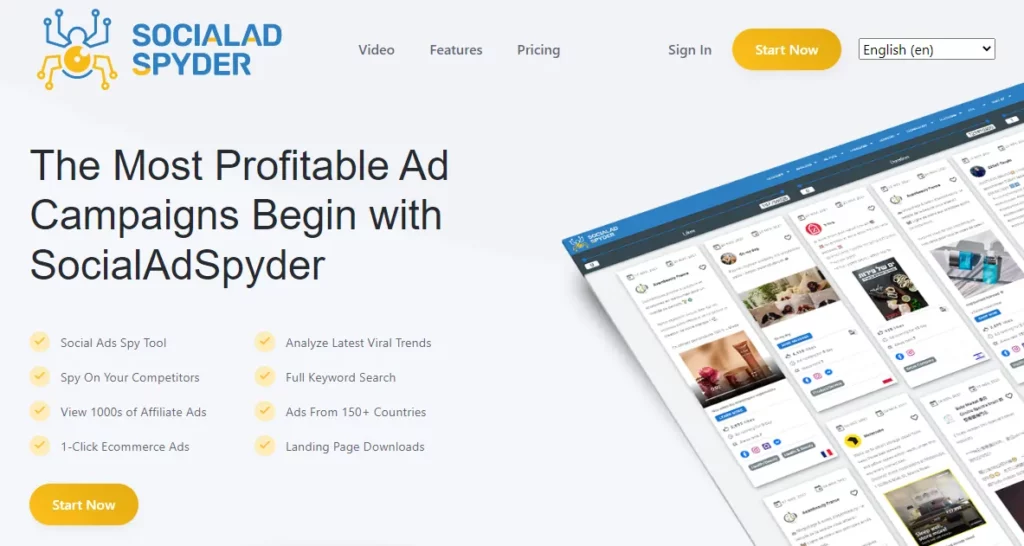 SocialAdSpyder is an Adspy tool that can help marketers and advertisers to search, analyze, and track ads among Meta's various social media platforms like Facebook, Instagram, Messenger, and the Meta Audience Network. The tool offers competitive intelligence for social ads that can help you to find what works and how you can use it along with other insights that are often overlooked by competitors. The tool offers access to 2.3 million ads across 150 countries.
This powerful tool can be an asset for marketers that are just starting or seasoned professionals that need an update on the latest trends in social media marketing. The tool is fairly new however it has been gathering data for the past couple of years and is now ready to make an impact.
SocialAdSpyder Coupon 2023: ✅ Verified Coupons
Take complete control over SocialAdSpyder's competitive Ad analysis for Free. Signup for the Free Trial.
Risk-free Sign up on SocialAdSpyder
Take complete control over SocialAdSpyde premium features. Include 1-click features, Advanced searching, and Daily Alerts.
Includes all the Premium Features (1-Click Included)
Who can use SocialAdSpyder?
SocialAdSpyder is an ad spy tool that is an essential tool for marketers and advertisers that want to create ads that are impactful as well as have an edge over their competitors by analyzing their data and finding key insights.
This intelligence platform can be used by e-commerce marketers, business owners, and affiliate marketers to spy on competitors and keep an eye on their niche for new and exciting marketing opportunities as well as find new trends and create their creative strategy. With this spying tool, you can sort ads, filter them, search by keyword, and find all the information about the stats from each ad.
This excellent tool can be used by affiliate marketing professionals that have to keep up with the trends and create ads and content accordingly. This tool can benefit sellers that rely on online advertisements and want to get to a specific target audience.
This powerful tool can help in designing marketing strategies and marketing campaigns that can compete with the giants in the industry. Another reason why it is a great tool for marketers is because of the price SocialAdSpyder is one of the cheapest ad spy tools available out there.
Features of SocialAdSpyder: What can it do?
Social Adspyder is an excellent tool that has many different features that can help you to conduct research and analysis of your competitors with ease. Here is what this Ads spy tool has to offer.
Explore Ads: As the name suggests, Explore Ads is a tool that can help you to explore new ads or from its vast library millions of archived ads.
Filter: You can filter ads based on their ad type, target geography, CTA, platform, engagement, and more.
Search by Keywords: You can search using keywords that are inside ads, landing pages, insights, and more.
Ad performance: A true mark of a spy is finding things no one can, this tool can do just that by finding how an ad is performing and other information about the ad.
1-Click filter: Filter ads from major e-commerce platforms like Shopify, Woocommerce, and Magento with a single click.
Analyze E-commerce Ads & Trends: This spying tool can help you to analyze ads and trends by discovering the best-performing ads.
Find Profitable Products: Find profitable products using SocialAdSpyder to generate a lot of interest that will lead to more user engagement and profitability.
What makes SocialAdSpyder Special?
SocialAdSpyder is a product research tool that can help marketers, business owners, and E-commerce stores to take a peek into their competitor's strategies The Spying tool is feature rich and can give its users real-time insights into their competitor's ads performance because of a huge database of ads. Along with that, it has some amazing special features as well like
1- Click affiliate ads: SocialAdSpyder has a vast database of affiliate ads, thanks to its ads scaping abilities. The product research tool can not only scrape the ads but also classify them based on categories such that you can find the best ads for you. The tool has more than 150 million daily affiliate ads that you can download and find the entire analysis of inbound and outbound URL chains for easy analysis.
1- Click e-commerce ads: This tool can help you to discover the best e-commerce ads and trends in the industry. This tool collects data from e-commerce sites like Shopify, WooCommerce, PrestaShop, ClickFunnel, BigCommerce, etc. You can analyze the success of their ads by monitoring engagement and duration metrics.
How to can you use SocialAdSpyder?
We have taken a look at the various features of SocialAdSpyder, and now it is time to take a look at how you can use this helpful tool. SocialAdSpyder has many filters that you can choose from to get the best results as per your needs.
Filters
You can filter data through Ad type, Category, language, affiliate, country, technology platform, CTA, and so on.
The most useful among these are category and affiliate filters that can help you find e-commerce ads and affiliate ads. To find ads based on platforms and advertisers you can use the technology filter. The 1-click e-commerce feature filters the data and further narrows your search based on platforms like WooCommerce, Magento, Shopify, and so on.
At the moment SocialAdSpyder has more than 2.3 million ads per type. The likes shown are not on the ad itself but on the advertiser's page.
With SocialAdSpyder you can choose to see the latest ads or you can see evergreen ads. You can set the duration slider at a higher count.
Basic and Advanced Search
The basic and advanced search feature is easy to use, it works like a normal search feature. With basic search, you can look for advertisers, ad titles, or even landing pages. A thing to note here is that the tool does exact matching so you must make sure to use the words in the right order while searching.
Checking Results
After choosing the filter you will be shown results in a grid format. Each result will have information like the ad title, image or video, CTA button, the advertiser's page, complete ad text, dates active, number of page likes, number of days active, favorites icon, technology, platform, category country, and more.
You can explore the details of the ads as well as other creatives from the advertiser. When you scroll on the popup page, you will be able to see a landing page preview and a map. You can download the preview, however, it is not the landing page, it is only a screenshot of the page.
View and Group Favourites
You can organize and access your saved campaigns easily using the Favorites option. You can add favorites and view them by clicking on your profile and selecting favorites in the dropdown. After this, you will be redirected to the Favourites Dashboard where you can organize your ads into folders for better access and management.
If you need guides to use these tools, you can find detailed guides on the Social Adspyder website.
SocialAdSpyder Pricing Plan: SocialAdSpyder Review
SocialAdSpyder offers 3 pricing plans which are tailored as per the different level of users and marketers, the SocialAdSpyder plans are as follow:
SocialAdSpyder Professional Plan
The professional plan comes for $49.99 per month and offers all the main features like Millions of Ads, Millions of AdsBasic Keyword Search, Millions of AdsCategory Filter, Millions of AdsAd Type Filter, Millions of AdsLanguage Filter, Millions of AdsCountry Filter, Millions of AdsPlatform Filter, Millions of AdsCTA Filter, Millions of AdsLikes Filter and Millions of AdsDate Range Filter. This plan does not offer any of the advanced or Enterprise features.
SocialAdSpyder Premium Plan
The premium plan comes for $59.99 and offers all the features of the professional plan and also includes advanced features like 1-click E-commerce, 1-click Affiliate Filter, Advanced Searching and Daily Alerts
SocialAdSpyder Enterprise Plan
The enterprise plan is a custom plan. You will have to contact the sales team to get a quote on this plan. This plan offers all the features of the premium plan and additional features like Team accounts, Single sign-on, Custom Integration, and a Dedicated Support Team.
If you want to try the tool for free, Social Adspyder offers a 2-day free trial for new users on sign-up.
FAQs on SocialAdSpyder Review 2023
Is SocialAdSypder worth it?
Yes, If you are a marketer, ecom seller, or dropshipper, you can use this tool to stay a step ahead of your competition.
Does SocialAdSpyder offer a free trial?
Yes, Social Adspyder does offer a 2-day free trial for new users and sign-ups.
What is the best feature of SocialAdSpyder?
SocialAdSpyder has many great tools as a part of its arsenal but the best is considered to be its ads library with over 150 million ads.
What are the platforms that SocialAdSpyder can collect data from?
SocialAdSpyder can collect ad data from e-commerce giants like Shopify, WooCommerce, PrestaShop, ClickFunnel, and BigCommerce, and also from social media sites under Meta like Facebook, Instagram, Messenger, and the Meta Audience Network.
Conclusion: Is Social Adspyder worth it?
In this Social Adspyder review article, we saw how you can use Social Adspyder and the different features it provides to gain an edge over your competitors. Social Adspyder has a vast library of new as well as archived ads that you can monitor for performance.
The Keyword research tool has a lot of great 1 click features that can help you to categorize ads for different platforms. The social intelligence tool can help marketers dropshippers, and FBA sellers spy on their competitor's strategies and find key insights to make their marketing strategies. It can also help in finding the latest trends.
However, the tool is not perfect, but you will have to decide for yourself by looking at the features, prices, and other factors. It is a great tool for sellers or marketers starting a business.
If you are interested in knowing about new AI tools and how they work, then BloggingEclipse is the right place for you! We have reviews of the latest and most premium tools, deals, offers, and a lot more. So check out BloggingEclipse before your next purchase for the latest deals and discounts on the tools you want.
Revolutionize Your Social Media Marketing with SocialAdSpyder
Unlock unparalleled advertising insights with SocialAdSpyder, the ultimate tool for spying on your competitors' ads. Discover the power of SocialAdSpyder, a social media marketing tool that unlocks invaluable insights and skyrocket your conversion rates. With its comprehensive analytics and competitive intelligence, you'll gain a strategic advantage and dominate your niche like never before.

SocialAdSpyder has some strengths and weaknesses. You can find them listed below:
Pros
Easy to use
Has many diverse filtering options
It scrapes to find the best affiliate ads
Provides comprehensive advertiser information (such as business page, technology, platform, creatives from the same advertiser, and so on)
Affordable in comparison to other tools
Offers a 2-day free trial
Cannot download the landing pages
Does not provide a direct link to the ad
Does not show the ad engagement count
Some functions are not fully operational