Acceptance of all the niches, weekly payments, along with CPM, CPA, and CPC offers for publishers is something that we as marketers always look forward to.
Well, HilltopAds is something that has made quite a name for itself, delivering over 73 billion ad impressions per month across Europe, Eastern Asia, Southern Asia, South Eastern Asia, and North America.
With a wide range of ad formats, comprehensive targeting options, and a robust self-service platform, HilltopAds has become a go-to solution for many businesses.
Multiple niches and all GEOs accepted make HilltopAds a go-to choice for marketers.
Let's start this HilltopAds Review!
What is HilltopAds?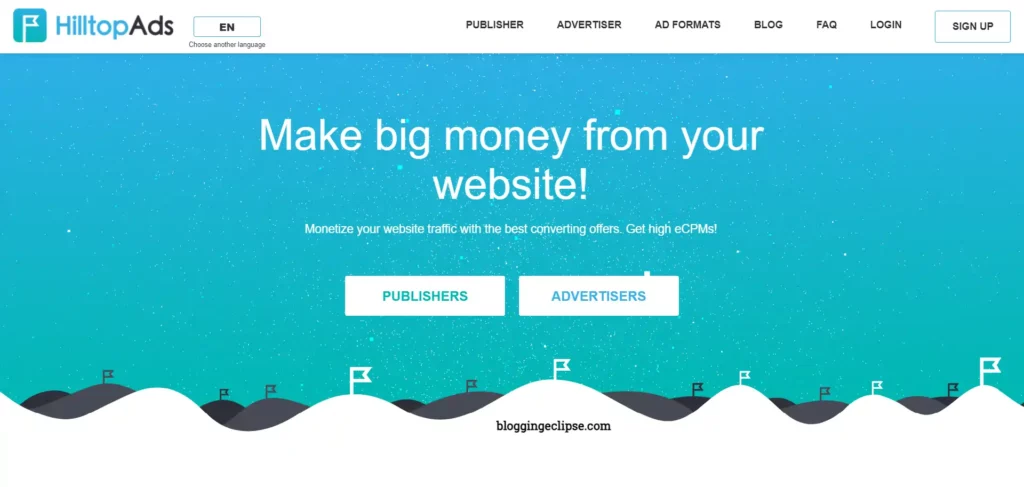 HilltopAds is a UK-based advertising network that was launched in 2013. It offers a variety of monetization opportunities to website owners and advertising agencies, while also providing advertisers access to millions of targeted customers.
One of the unique features offered is its traffic segmentation by quality and activity of users, which ensures that advertisers get the highest quality traffic for their campaigns. The network also offers a wide range of ad formats including POP's, Direct Link, Instream VAST/VPAID video, and In-page push.
What makes HilltopAds an excellent choice as compared to other ad networks are its overpowered features that are accessible to both advertisers and publishers.
Let's have a look at all the important aspects offered by HilltopAds!
20% BONUS HILLTOPADS COUPON CODE ✓
exclusive
Use Our Exclusive HilltopAds Coupon Code "BLOGGINGECLIPSE" To Get An Additional 20% Bonus On Your First Deposit Exceeding $100.
HilltopAds for Publishers
HilltopAds has been a reliable and effective ad network for publishers looking to monetize their websites. With a 100% fill rate, competitive CPM rates, and a variety of ad formats, this can help publishers generate significant revenue from their online content.
HilltopAds is a global advertising network that offers a variety of features and benefits for publishers. Some of the key features include:
How to Sign Up with HilltopAds as a Publisher?
To get started with HilltopAds as a publisher, follow these steps:
Sign up for an account: Visit the official website and sign up for a publisher account.
Add your website: Once your account is approved, go to the "Manage Site & Zones" section and click on the "Add Site" button. Enter your website's URL and choose a traffic category (mainstream or non-mainstream).
Create ad zones: After your website is approved, click on the "Add Zone" button in the "Manage Site & Zones" section. Select the desired ad format (e.g., Popunder, In-page Push, or VAST/VPAID) and provide a name for the ad zone.
Generate ad codes: Choose the preferred invocation code (e.g., Direct URL, Popunder script, or Popunder server-to-server anti-AdBlock) and copy or download the code.
Add ad codes to your website: Implement the generated ad code or link on your website. For example, if you choose the Popunder script, add the code just before the </body> tag on your website.
Once you've completed these steps, HilltopAds will automatically rotate the best-converting ads on your site, helping you maximize your earnings.
HilltopAds for Advertisers
Now looking forward to the Advertisers section, HilltopAds has been an emerging player in terms of advertisers. Basically, HilltopAds provides a platform for advertisers to reach their target audience effectively and efficiently. Here are some of the key features offered to advertisers:
How to Sign Up with HilltopAds as an Advertiser?
Signing up with HilltopAds as an advertiser is a straightforward process. Here's a step-by-step guide on how to do it:
Visit the Official Website: Navigate to the official website.
Choose Your Role: On the homepage, you'll find an option to sign up as either a publisher or an advertiser. Choose the "Advertiser" option.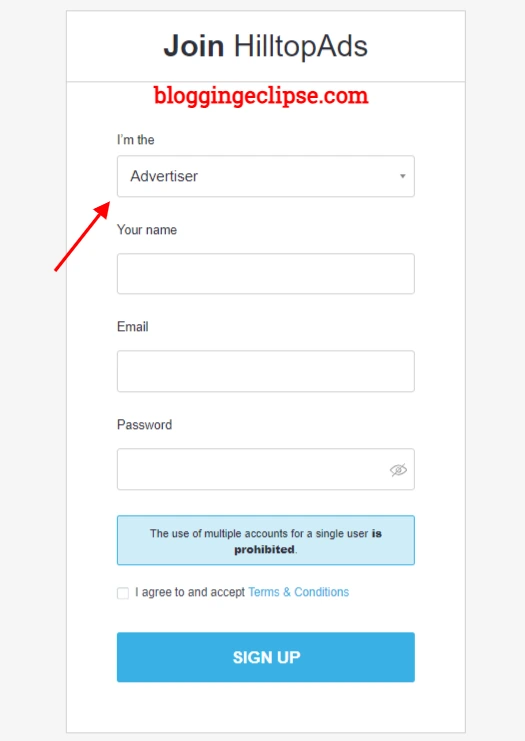 Click on "Sign Up Free": After selecting your role, click on the "Sign Up Free" button.
Fill Out the Registration Form: You'll be directed to a registration form. Fill out the necessary details, including your first name, a valid email address, and a password.
Complete the Invoice Information: This section requires information that will be useful for any future financial interactions with HilltopAds. This includes your status (whether you represent a company or you're an individual specialist), your preferred messenger (Skype, Google Hangouts, or Telegram), and your location information (country, city, postal code, and address).
Confirm Your Email: After filling out the form, you'll need to confirm your email address. Check your inbox for a confirmation email from HilltopAds and follow the instructions provided.
Access Your Dashboard: Once your email is confirmed, you can access your advertiser's dashboard. This is where you can start and manage campaigns, check statistics, and top up your account with any payment service.
Make a Deposit: To launch a campaign, you'll need at least $50 in your account. You can top up your account through various payment methods including PayPal, Credit Card, Wire Transfer, Paxum, Bitcoin, Tether (USDT), Webmoney, Union Pay, ePayService, and Capitalist.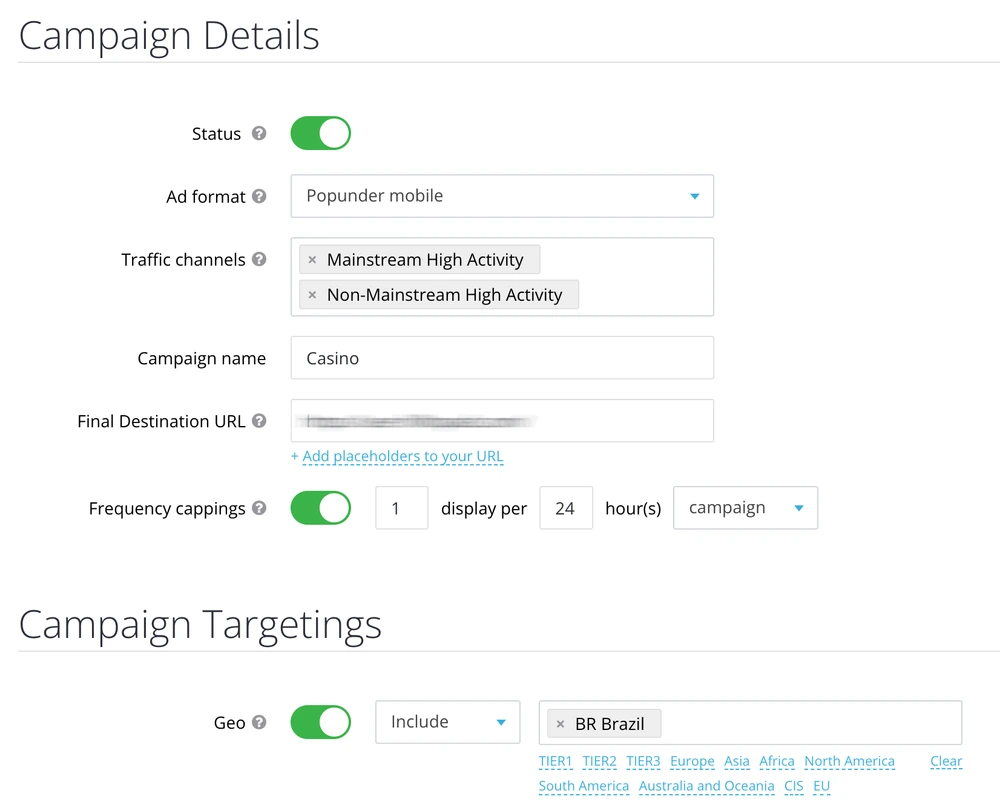 Launch Your Campaign: After making a deposit, you can launch, edit, and stop your campaigns in the "Manage Campaigns" section of your personal account. You can also use the "Estimation Tools" to predict your campaign success based on the ad format, content, and country.
Remember, after signing up, you'll have a personal optimization manager. You can ask any question or get advice on how to optimize campaigns to reach the best results possible. Your manager's contacts are on the left and upper panels of your dashboard.
Congratulations! You are now signed up as an advertiser with HilltopAds.
Ad Formats Available on HilltopAds
HilltopAds offers a variety of ad formats to cater to the diverse needs of advertisers. These formats are designed to match the latest industry and technology trends, ensuring optimal performance and engagement.
| | |
| --- | --- |
| PopUnderAds | Banners |
| Video (VAST/VPAID) | Direct Links |
| In-Page Push Ads | |
PopUnder Ads
This is a type of ad that appears in a new browser window behind the current window. It remains unnoticed until the main browser window is closed or minimized, ensuring that the user's attention is fully captured when they view the ad.
Video (VAST/VPAID)
These are video ads that can be easily set up and configured on various websites. VAST (Video Ad Serving Template) allows you to choose what kind of user data to collect and set the page they see upon clicking on the ad. VPAID (Video Player-Ad Interface Definition) format has the same features plus more interactive points.
In-Page Push Ads
These are notifications that appear directly on the webpage the user is browsing. They are designed to mimic the look and feel of traditional push notifications, but they do not require user consent to be displayed.
Direct Links
This format allows you to monetize any kind of traffic with Direct Links or buy traffic straight from the Direct Link. It's best to implement these into the website content and use them with Call to Action buttons.
Banners
HilltopAds supports various banner sizes for both desktop (160х600, 300х250, 728х90) and mobile (300×50, 300×250, 300×100) platforms. They also support the iFrames format for HTML banners.
Payout Methods Offered by HilltopAds
I've had the opportunity to explore the payout system of HilltopAds, and I must say, it's quite impressive. The Ad network offers a variety of payment options, including Paxum, Capitalist, ePayService, PayPal, USDT, Webmoney, and Bitcoin, catering to a wide range of user preferences.
The minimum payout for most of these options is just $20, making it accessible for smaller publishers or those just starting out.
For Bitcoin, the minimum payout is slightly higher at $50, and for Wire Transfer, it's $1,000.
This flexibility in payment options and thresholds is a testament to HilltopAds' commitment to accommodating its users' needs.
What's more, they operate on a Net7 scheme, meaning payouts are made every Tuesday, provided the minimum payout has been reached. This frequent payout schedule is a significant advantage, especially when compared to other platforms that often have monthly or even bi-monthly pay runs.
I appreciate this feature as it provides a steady income stream for publishers. Additionally, the network also offers a referral program, allowing users to earn an extra 5% of every new publisher's revenue. This is a fantastic way to boost your earnings and is a feature that sets HilltopAds apart from many other ad networks.
FAQs on HilltopAds
How can I launch and manage ad campaigns on HilltopAds?
HilltopAds provides a self-service platform where advertisers can easily launch and manage their ad campaigns. The platform offers comprehensive targeting options and supports various ad formats such as popunders, banners, in-page push ads, direct links, and video ads.
What are the payment options for funding my account?
HilltopAds supports a variety of payment methods including PayPal, Credit Card, Wire Transfer, Paxum, Bitcoin, Tether (USDT), Webmoney, Union Pay, and Capitalist. The minimum deposit to launch a campaign is $50.
What are the ad formats available on HilltopAds?
HilltopAds supports a wide range of ad formats including In-Page Push Ads, Video Ads, Direct Links, etc. This diversity allows advertisers to choose the most suitable format for their specific campaign needs.
What are the restrictions for ad campaigns on HilltopAds?
While HilltopAds does not explicitly state any restrictions, it is important to note that the quality of traffic can be unpredictable. Therefore, it is recommended to target High Activity users and avoid Low Activity traffic for optimal results.
How can I monetize my website with HilltopAds as a publisher?
As a publisher, you can sign up for an account in HilltopAds and start earning money by displaying ads on your website or blog. It accepts traffic from anywhere in the world and your website can have either mainstream or non-mainstream (adult) content.
Concluding the HilltopAds Review
My experience with HilltopAds has been overwhelmingly positive. The platform stands out with its user-friendly interface, diverse ad formats, and advanced targeting options. The global reach of the network is impressive, allowing advertisers to tap into a wide audience base.
As a publisher, I found the 100% fill rate and competitive CPM rates particularly beneficial. The weekly payouts, low minimum payout threshold, and multiple payment options make the platform accessible and convenient for publishers of all sizes.
The real-time statistics and personal account manager are valuable resources for optimizing campaigns and maximizing earnings. The platform's commitment to bypassing ad blockers ensures that ads reach as many users as possible.
Overall, I believe HilltopAds is a reliable and effective ad network for both publishers and advertisers. Whether you're looking to monetize your website or reach your target audience, HilltopAds is a platform worth considering.
You may also read:
Affiliate Disclosure: This post may contain some affiliate links, which means we may receive a commission if you purchase something that we recommend at no additional cost for you (none whatsoever!)