When it comes to withdrawing money earned form Blogging or freelancing then PayPal and payoneer are most used payment processors to send money globally with an ease. All companies are using these  payment processing systems to send funds or payments to their publishers/employees globally.
Payoneer Global Bank Transfer India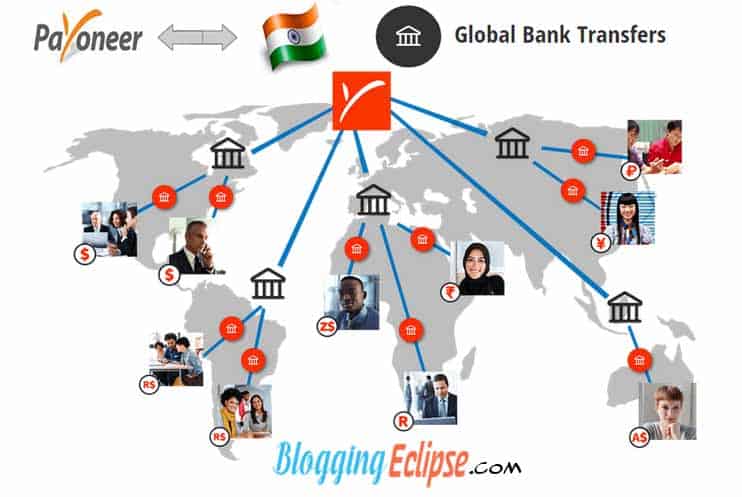 Indian bloggers and freelancers use Paypal as it is most command and widely spread. Earlier in 2011 Payoneer master card was also being used in India to withdraw freelancing payments but RBI (Reserve bank of India) stopped Payoneer from continuing its services in India and later on in 2013 Payoneer again resumed its services by allowing Global Bank transfer (GBT) legally in India with better innovative Idea.
Now coming to the point, Indian publishers, Bloggers,
Affiliate marketers
, Freelancers earn online and to withdraw paymets they use Paypal as Wire transfer is costly and checks need a lot of time to reach. However many companies have also enabled Direct Bank transfer service for Indian users which is an ease and better than all the payment processing systems.
Getting Paid through PayPal
PayPal is the most used way to get your hard earned money into your bank account.As per the RBI guidelines , Indian users can not shop online with Paypal balance, they can only withdraw it. Here are some of the Pros and Cons of Paypal for Indian Publishers.
Pros of Paypal for Indian Users
Easy to manage without any limitations
User's can shop online using their credit card with Paypal
No Fees on mass payments received
Email invoicing and web front system to collect payment.
Telephonic Support + superior email support
Stronger Security .
Cons:
Dollar to INR convert rates are lower as compared to the actual rate going on.
Paypal takes 3-5 working days to get funds transfers in bank account
You will get a low convert rate but  no fees would be detected.
Paypal account can get limited anytime if even one Un-ethical practice found by their automatic system.
Now coming on the conclusion, Paypal is one of the best but only disadvantages are that convert rates are not good as compared to Payoneer. So you will receive a slightly less funds in Paypal as compared to Payoneer GBT Service and now lets see benefits of using Payoneer in India
Use Payoneer GBT in India
To make you understand more easily, Almost companies which are paying with Paypal also have Payoneer as their payment method. For Example a freelancer can et paid through Elance or odesk using Payoneer in India or a Blogger can get paid by Infolinks or CPALEAD or etc.. through Payoneer instead of Paypal.
For other Countries where Payoneer prepaid MasterCard is allowed, One can directly withdraw from Payoneer prepaid debit card but Payoner also has its own Global Bank Transfer service which enables you to receive funds directly in your bank account in local currency easily.
How does the Payoneer Global Bank Transfer Works?
You need to sign up on Payoneer Global Bank transfer India service through any of Payoneer Partners. So visit the advertising, Affiliate network or freelancing portal from where you are getting paid,
It takes 2-3 Days inisiallt to get your account activated. Once you have your funding sources in paytoneer, It will get auitomaticlly withdrawan to your account same day.
Pros of Payoneer GBT in India
Better convert Rates then Paypal (The best)
Automatically funds gets withdraw to your bank account instantly when they are received.
Money gets refletced in bank account same day or next. (Paypal takes 3-5 days)
Much more easier to manage and hassle free.
Superb Support over Phone, Email and Community.
3$ Fees so small payment like 10$ would not be a good option to withdraw form Payoneer but payments like 50$ would be best as you would get more amount in INR as compared to PaypPal because of best covert rates.
Bank account can not be changed directly, you will need to contact support for editing Bank account.
Exclusive Offer: You will Get free $25 ion your payoneer acount once you starts receiving payments.
Your Turn
I am also a blogger and Affiliate marker, since two years i was using Paypal and i am still using it as without PayPal blogging is incomplete But i have opted Payoneer in some companies over Paypal as they are fast and rates are good, money matters always and who don't want to get more money :p. Try Payoneer for Withdrawing Funds as it deposits (NEFT)the money in same day so you receive till evening or next business days.
I am excited to hear your views on PayPal and Payoneer and what experience you have with bot. Share with us in the comments section below. Happy Monetizing!!