Security of your WordPress website is for sure one of the most important parameters that you might wanna consider. Well, iThemes is one such essential WordPress plugin that helps in managing and working on the security of your business. In addition to all this, in this iThemes review, we'll be covering all the important aspects that you might wanna consider.
Basically, the iThemes have got 3 different plugins that work around different parameters, these include the iThemes Security Pro, Backup Buddy, and iThemes Sync. As the name suggests, you might have got an idea of what these plugins can help you with; but we'll be getting a more in-depth analysis of these tools and understanding do they really fulfill everything that is needed.
It is worth mentioning that iThemes not only offers 3 plugins in its bundle but also offers several resources and free webinars that can help you upscale your game overall. I guess, let's not stretch things up and get ahead with the things on how iThemes will be helpful for your WordPress website.
Security, Backup, and Sync: One-stop destination by iTheme
iThemes offers 3 different plugins that work across different parameters which basically include Security, Website and data backup, and syncing. The plugins offered by iThemes are as follows:
1. iThemes Security Pro Review
The iThemes Security Pro is based on delivering the best features to its users in terms of security for website owners. If you are among one of those WordPress website owners that want to work around multiple aspects of such as WordPress vulnerability reports, and much more.
iThemes Security Pro Features
iThemes Security offers several features that make it a good-to-go choice for many WordPress website owners, this includes security tracking, prevention of automated attacks, security tracking, reducing spam and bots, etc. Here are some of the key features offered by iThemes that are worth mentioning:
Prevent Automated Attacks: Brute force attacks refer to a technique where automated software is used to guess usernames and passwords in order to gain access to a website. Unfortunately, WordPress does not offer much protection from such attacks, making it easy for hackers to exploit. iThemes Security Pro, however, helps to secure the WordPress login, which is the most vulnerable part of a website, by blocking these automated attempts.
Security Tracking & Suspicious Monitoring: iThemes Security Pro keeps track of significant security events that occur on your website. By being able to spot malicious activity early, you are able to take quick action to prevent further damage, investigate any unwanted changes on the site, and determine and fix the point of entry of a successful attack. so you are able to prevent future problems. A powerful tool for security professionals, iThemes Security pro will make it easy for you to identify the places on your website that need the most protection.
User Credential Strengthening: The iThemes Security Pro plugin provides various levels of user protection, including robust password requirements, two-factor authentication, and passwordless logins. These essential user security mechanisms reduce the chance of a privileged account being misused to gain access to a website.
Vulnerable plugins and theme scanning: The iThemes Security Pro Site Scanner informs you about any weak plugins and themes installed on your website. It surveys your website for potential security risks and will automatically apply a patch to any vulnerable plugins and themes if one is available.
Reduce Spam and Bad Bots: iThemes Security Pro's reCAPTCHA feature guards your website from nefarious bots. These bots can range from being troublesome to downright malicious, making attempts to infiltrate your site by using compromised passwords, publishing spam, or even harvesting your information. reCAPTCHA takes advantage of sophisticated risk analysis methods to distinguish between humans and bots.
Automatic Actions for Site Security: The most advantageous aspect of the iThemes Security plugin is the automated measures it takes to safeguard your website. These include locking out users, banning user agents and IP addresses, applying version updates, and more, all without requiring any input from you.
iThemes Security Pro Pricing Plans
iThemes Security Pro offers 3 different pricing plans which are categorized as basic, plus, and agency plan:
iThemes Basic Plan: The basic plan costs $99 per year and is set to be used for only one site, this basically gives access to all the pro features, private ticketed email support, and plugin updates.
iThemes Plus Plan: The iThemes security pro plan costs around $199 per year and gives access to all the features including the pro features, and plugin updates while giving access to the plugin to be used on 5 sites.
iThemes Agency Plan: The iThemes Security pro agency plan costs around $299 per year and gives access to all the features while getting access to be used on 10 websites.
iThemes Security with Passkeys
Say goodbye to complicated passwords and two-factor authentication apps! iThemes Security Pro now offers the easiest and most secure way to log-in to your WordPress site – with biometric logins such as Face ID, Touch ID, and Windows Hello, as well as passkey technology supported by all major browsers, including Chrome, Firefox, and Safari. Uncomplicate your login process and enjoy the added security of biometric and passkey technology today.
What are Passkeys?
Passkeys are a revolutionary, password-free way of logging into sites and applications. iThemes Security Pro is the initial WordPress security plugin to make this the leading method of logging in. WebAuthn, the technology powering passkeys, supports biometric identification (such as Apple's Face ID, Touch ID, or Windows Hello) and is recognized by the major browsers including Chrome, Firefox, and Safari. Notable tech players like Google, Apple, and Microsoft are firmly behind WebAuthn, making passkeys the safe way to login in the future.
Now that we have got around these new Passkeys features, it's time to have a deeper dive and understand why Passkeys is an excellent choice to move on with.
Passkeys provide an effective solution to the risk of stolen or leaked passwords, which are the cause of 81% of all hacking-related breaches. Passkeys make it almost impossible to have passwords stolen or leaked, as they are not stored on a server that could be breached.
Passkeys provide a strong defense against phishing scams since they have built-in authentication methods that make it nearly impossible to trick you into giving away your password. Hackers can be very devious and use sophisticated tactics to impersonate legitimate services in an attempt to get your details. However, with passkeys, you can be sure that your password is safe from these kinds of attacks.
Rather than having to deal with cumbersome passwords, extra emails, or two-factor codes, passkeys offer an easy way to quickly log in with the click of a button using your face or fingerprint. This eliminates the inconvenience of extra security measures, providing a frictionless experience.
Users can access their WordPress account quickly and securely with Face ID, Touch ID, or Windows Hello from their mobile device. These are the same technologies you are likely using for other applications and websites. With iThemes Security Pro, you can now enjoy the convenience of using these to log in to WordPress!
iThemes Ultimate Bundle: Save $1551 per year
The iThemes Ultimate Bundle gives access to all the plugins that are available in the iThemes Web designer toolkit. What's worth mentioning over here is that the iThemes ultimate bundle gives access to plugins and themes that makes it worth more than $2300 per year. But using the link mentioned below, you can get yourself this whole bundle at a discounted price of just $749 per year.
So, try this bundle yourself and get the best discount possible on the iThemes bundle using the link button mentioned here.
---
2. Backup Buddy Review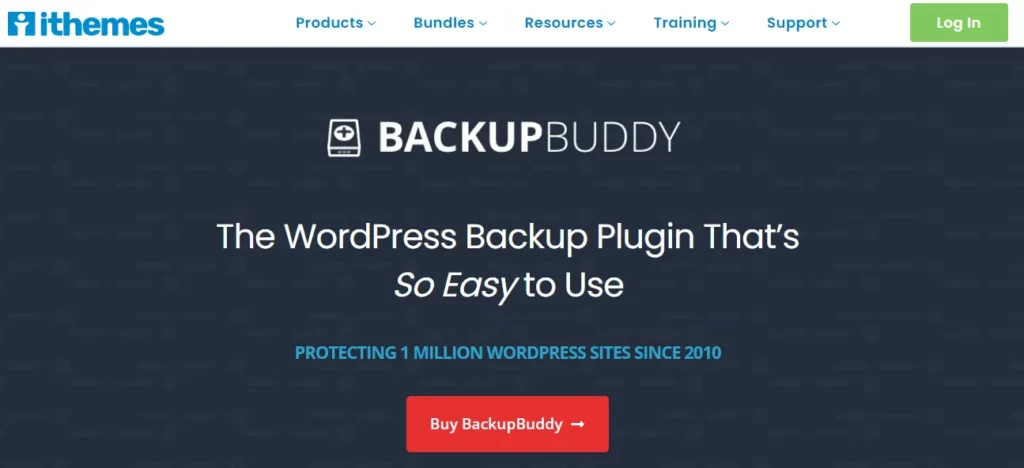 Backup Buddy as the name suggests is quite helpful in making your website and backup in the right way. Backup Buddy by iThemes has been delivering its services to users since 2010 and has protected more than 1 million websites. These stats in themselves are more than enough to show the trustworthiness and deliverance of services over such a long time span. If we look around some of the features offered by Backup Buddy, these include:
Backup Buddy Features
Complete Website Backup: Backup Buddy offers some excellent features when it comes to delivering its services for backing up the entire website. The complete WordPress website backup by Backup buddy basically covers all the data including the database and all of the WordPress files.
Scheduled and Automatic Backup: This feature can be of great use since users/website owners do not have to stick to the screen or perform manual backups for backing up. Since backup buddy offers this feature to schedule and perform an automatic backup, you can work accordingly on that basis without any hassle.
Store WordPress backups off-site: As we have already discussed earlier, keeping your data on your website might not be the best-to-go option overall. Since Backup Buddy offers this excellent feature to store WordPress backups off-site, the data is in a more secure place overall.
Downloadable Backup Zip Files: The backups that are collected/made using the Backup Buddy can be downloaded as a zip file for your whole WordPress Website.
Easy Restoration: You can easily restore your website since Backup Buddy offers this feature to easily restore the website in a few simple clicks. User can use import buddy in order to get the restoration done in a few simple steps. So, no more hassle on the website restoration part.
Email Notifications: Email notification can be considered as one of the other excellent features that can be helpful in terms of management.
Backup Buddy restores everything including
| | | |
| --- | --- | --- |
| Pages | Posts | Widgets |
| Comments | Theme Files | Theme & Plugin Settings |
| Plugin Files | WordPress Settings | WordPress Database |
| WordPress Core Files | Media Library uploads | Users |
| Custom post types | Images, Videos, etc. | Categories & Tags |
Backup Buddy Pricing Plans
Backup buddy offers 3 different pricing plans named Basic, Plus, and Agency plans.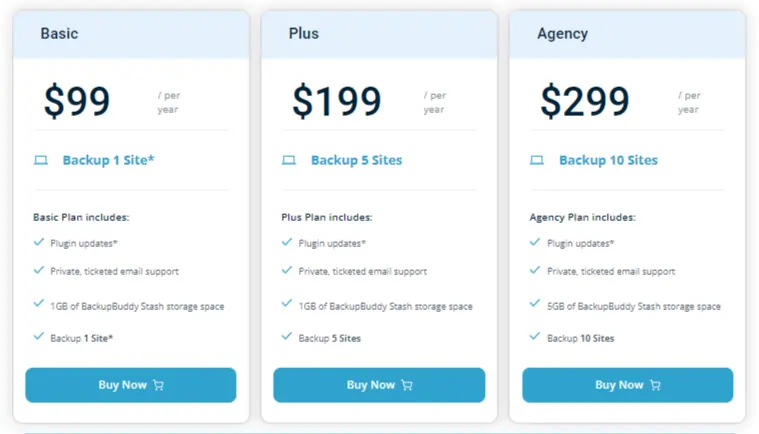 Backup Buddy Basic Plan: The basic plan costs $99 per year and is functional for a single website. The basic plan only offers features such as on-time plugin updates, private ticketed email support, and 1GB of Stash storage space.
Backup Buddy Plus Plan: The Backup buddy plus plan costs $199 per year and can work on up to 5 websites, the buddy plus plan offers all the features which were offered in the basic plan.
Backup Buddy Agency Plan: The Backup Buddy Agency plan costs $299 per year and can work on up to 10 sites, i.e. 10 backup sites. The agency plan offers all the features that were offered in the other Backup Buddy plans.
---
3. iThemes Sync Pro Review
iThemes Sync Pro is one of the star products offered by iThemes. Basically iTheme sync pro can help in managing everything on the go, i.e. managing multiple WordPress sites, updates, and other things much more easily. The iTheme Sync Pro can be helpful in multiple aspects such as:
One Click update: This feature can be considered one of the most useful features offered by iThemes Sync Pro. The One-click WordPress updates can help you around with checking out the list of all available updates with just one click, these updates include WordPress core, plugins, themes, etc.
WordPress Theme & Plugin Manager: With iThemes Sync Pro, you can remotely update, activate, deactivate, or delete WordPress themes and plugins with ease. Plus, you can bulk install themes and plugins from multiple sources, including the WordPress.org repository, zip upload, and your iThemes membership. Keep your WordPress sites up-to-date and secure with the ultimate convenience of iThemes Sync Pro.
SEO Checker + Google Analytics & Search Console Reports: Track and measure your SEO performance with Sync's SEO Checker and Google Analytics & Google Search Console integration. With Sync, you can get an overview of your SEO efforts and gain valuable insights into your web pages' performance. Plus, Sync integrates seamlessly with the Yoast SEO plugin, giving you a comprehensive view of the health of your SEO campaigns. Maximize the impact of your SEO efforts with Sync's comprehensive SEO tracking.
Multiple Integrations Offered: iThemes sync offers multiple integrations such as Wordpress.org, Google Analytics, Backup Buddy, Google Search Console, Backup Buddy Stash, Yoast SEO, Gravity forms, WP101 plugin, and more.
iThemes Sync Pro Pricing Plans
iThemes Sync Pro is available in 5 different structures which basically includes offering its services for 5 to 100 websites. In addition to all this, these plans can be further categorized into monthly and annual plans.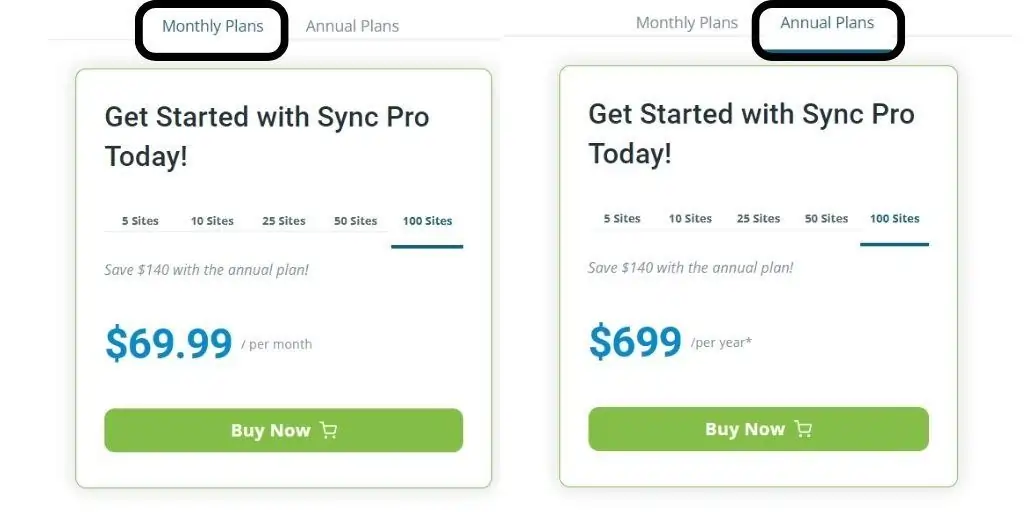 The iThemes Sync is available under 5 categories based on the number of websites, these basically include 5 sites, 10 sites, 25 sites, 50 sites, and 100 sites.
Top FAQs on iThemes Review 2023
What is iThemes and how does it work?
iThemes is a suite of WordPress plugins designed to enhance the security and management of WordPress sites. It works by installing the plugins on your WordPress site and using their various features to protect, manage, and back up your website.
What are the different iThemes plugins and what do they do?
There are three main iThemes plugins – iThemes Security, iThemes Sync, and BackupBuddy. iThemes Security is a plugin that provides a range of security features to protect your WordPress site. iThemes Sync is a plugin that allows you to manage multiple WordPress sites from a single dashboard, and BackupBuddy is a plugin that provides backup and restores functionality for your WordPress site.
Why is it important to secure a WordPress site and how can iThemes Security help?
Securing your WordPress site is important to protect it from hackers and malware attacks, as well as to maintain your website's reputation and credibility. iThemes Security can help by providing a range of security features such as malware scanning, two-factor authentication, and password management to help prevent unauthorized access.
How does iThemes Sync simplify WordPress site management?
iThemes Sync simplifies WordPress site management by allowing you to manage multiple WordPress sites from a single dashboard. You can update plugins and themes, run security checks, create backups, and monitor website performance all from one location.
What are the benefits of using BackupBuddy to create backups of your WordPress site?
Using BackupBuddy to create backups of your WordPress site provides peace of mind in case something goes wrong with your website. You can easily restore your website to a previous version if there is a problem, and it also allows you to migrate your site to a different server or domain with ease.
Can I use iThemes plugins with any WordPress theme?
Yes, iThemes plugins can be used with any WordPress theme. They are designed to be compatible with most WordPress themes and work alongside other plugins.
Conclusion on iThemes Review
In conclusion, iThemes is an essential WordPress plugin that provides valuable security and management features, as well as helpful resources. It is worth considering for any WordPress website, as its 3 plugins can greatly improve the security and performance of the site. With the help of iThemes, users can feel secure that their website is well protected and managed, allowing them to focus on the other aspects of their business.