Looking for the best WP Rocket alternatives to optimize your WordPress site's performance?
While WP Rocket is undoubtedly a popular and well-renowned caching plugin, there are several other options available that offer similar or even better premium features.
We have gathered a list of some of the Best WP Rocket alternatives that can assist you in boosting your website's speed and user experience.
Now we will examine each WP Rocket's Alternative thoroughly, analyzing the features they provide and guiding you in selecting the most suitable option.
But wait! Before we proceed with the list, let's take a moment to examine WP Rocket and its offerings.
WP Rocket Overview
WP Rocket is the #1 WordPress caching plugin that improves website performance and loading times.
It is an all-in-one web performance plugin that applies 80% of web performance best practices upon activation, making it easy for users to achieve incredible speed results and optimize their websites for Core Web Vitals.
Some of the Key Features of WP Rocket Include
WP Rocket Pricing
Single: $59 per year for 1 website
Plus: $119 per year for 3 websites
Infinite: $299 per year for unlimited websites
With all these facts and data, we can confidently say that WP Rocket is a leading WordPress caching and optimization plugin that is impressively trusted by over a million websites.
Its performance benefits are unmatched, offering an intuitive interface, seamless compatibility, and stellar support. These features make WP Rocket a preferred solution to enhance the speed of the WordPress site.
Reasons Why You Might Look for Alternatives to WP Rocket
WP Rocket is a renowned WordPress website optimization plugin, recognized for its extensive features like database cleanup, CDN support, and media optimization.
However, users may seek alternatives due to reasons such as cost, feature limitations, compatibility issues, and specific website needs.
WP Rocket is a premium plugin, starting at $47.20 per year, which may prompt users to explore lower-cost or free options with similar functionality.
Despite its comprehensive features, WP Rocket lacks some tools, such as image compression, adaptive resizing, and asset management, which users might expect from a plugin in its price range.
Compatibility issues with third-party plugins or code can also lead users to seek more compatible alternatives.
Depending on the unique requirements of a website, users might look for plugins with features that WP Rocket doesn't offer. For instance, some sites might need more reliable image optimization features or need to clean up their databases.
Finally, while WP Rocket is easy to use and provides immediate benefits to your website, it may not be the best fit for everyone.
Some users might prefer a 'set it and forget it' platform like NitroPack, which takes care of everything on its own. Others might prefer a more developer-friendly, web host agnostic, free web performance optimization plugin like W3 Total Cache.
List of 15 Best WP Rocket Alternatives in 2023
Now, let us take a deeper look at each WP Rocket Alternative;
NitroPack is an all-in-one site speed optimization solution designed for WordPress and can help you speed up your website in less than 5 minutes.
It aims to improve website performance by combining web performance best practices, standard optimization techniques, and advanced features implemented in unique ways.
NitroPack helps websites load faster with a 69% PageSpeed score boost among its users, which can lead to improved user experience, higher search engine rankings, reduced bounce rates, and increased conversions.
NitroPack Key Features
NitroPack Pricing
| Plan | Monthly Price | Yearly Price | Pageviews/month | CDN Bandwidth/month | Team Members |
| --- | --- | --- | --- | --- | --- |
| Free | – | – | Limited | Limited | – |
| Business | $17.50 | $210 | 50,000 | 25GB | 1 |
| Growth | $42.50 | $510 | 200,000 | 100GB | 3 |
| Scale | $146.67 | $1,760 | 1,000,000 | 500GB | 10 |
All paid plans come with a 14-day money-back guarantee.
NitroPack Vs. WP Rocket
WP Rocket doesn't guarantee specific Page Speed scores but improves overall performance and is compatible with a wide range of hostings, themes, and plugins. However, it lacks a CDN and image optimization features.
On the other hand, NitroPack, an all-in-one web performance optimization tool, guarantees a bump in your PageSpeed score with aggressive settings. It includes CDN and image optimization but has known compatibility issues with some page builders and a slower response time for support.
---
Hummingbird Pro is a top-tier page optimizer that optimizes website performance and speed.
Developed by the same team that created the popular Smush image optimization tool, Hummingbird Pro enhances website speed and performance with advanced file compression, deferred CSS and JavaScript, minify for CSS and JS, and top-notch caching.
This WordPress plugin is compatible with all major hosting platforms and works seamlessly with popular WordPress plugins like Elementor, WooCommerce, and WPBakery.
The software also offers a simple 5-step setup wizard, making it easy for users of all skill levels to get started.
Key Features of Hummingbird Pro
HummingBird Pro Pricing
| Plan | Price per Month | Sites License | CDN | Backup Storage | Support |
| --- | --- | --- | --- | --- | --- |
| Basic | $7.50 | 1 site | 5GB | 5GB | 24/7 |
| Standard | $12.50 | 3 sites | 10GB | 10GB | 24/7 |
| Freelancer | $32.50 | 10 sites | 20GB | 20GB | 24/7 |
| Agency | $82.50 | Unlimited sites | 50GB | 50GB | 24/7 |
HummingBird Pro Vs. WP Rocket
WP Rocket excels in ease of use, applying 80% of web performance best practices upon activation, and offers advanced features like font preloading and delay of JS execution. It also provides more frequent updates compared to Hummingbird Pro.
Whereas, Hummingbird Pro stands out with its detailed performance reports and the ability to schedule automated database cleanups in the Pro version. However, it may require more configuration as some features are not enabled automatically.
---
FlyingPress is another lightweight plugin for WordPress that boosts your website's Core Web Vitals with just a few clicks.
This WordPress plugin is designed to be easy to use, with a step-by-step user interface that makes website speed optimization simple for WordPress users.
It comes with a few settings to configure, making the process of speeding up sites straightforward and hassle-free.
Key Features of FlyingPress
FlyingPress Pricing
| Plan | Websites | Price (First Year) | Renewal Price |
| --- | --- | --- | --- |
| Personal | 1 | $60 | $42 |
| Developer | 5 | $150 | $105 |
| Professional | 50 | $250 | $175 |
| Agency | 500 | $500 | $350 |
All plans come with a 14-day refund policy.
FlyingPress Vs. WP Rocket
WP Rocket lacks innovative features like image optimization, local fonts, and bloat removal. It also lacks core media optimization features such as local YouTube placeholders and preloading critical images.
Whereas, FlyingPress, while having fewer features, is very effective with easy optimizations. It offers features like self-hosting Google fonts, preloading critical images, bypassing cookies, and removing bloat. It also provides complete JavaScript optimizations and allows preloading the cache without clearing the existing one. However, the renewal cost is cheaper with FlyingPress.
---
WP-Optimize is an all-in-one WordPress optimization plugin that cleans your database, compresses large images, and caches your site, providing everything you need to keep your WordPress website thoroughly optimized.
Trusted by over 1 million WordPress sites, WP-Optimize helps boost SEO and retain customers by reducing user bounce with fewer server resources.
WP-Optimize Key Features
WP-Optimize Pricing
| License | Price per Year |
| --- | --- |
| Starter (1 – 2 Site Licenses) | $49.00 |
| Business (5 Site Licenses) | $99.00 |
| Unlimited (∞ Site License) | $199.00 |
WP Optimize Vs. WP Rocket
WP Rocket shines with its user-friendly interface, advanced caching, and minification features, and is the only cache plugin allowed on WP Engine, Kinsta, and Pressable hostings. It also offers excellent support included in the yearly license.
Whereas, WP Optimize stands out with its robust free version and superior database optimization, but lacks advanced caching and minification options, and does not support third-party CDN integration.
---
WP Fastest Cache is a highly trusted and widely used WP Rocket alternative, with over 1.5 million websites across 100+ countries utilizing its services. This WordPress plugin is renowned for its simplicity and effectiveness in enhancing the PageSpeed Insights score.
When a page is rendered, PHP and MySQL are used, which require RAM and CPU. If a site receives many visitors, the system uses a lot of RAM and CPU, causing the page to render slowly. WP Fastest Cache addresses this issue by generating a static HTML file, which other users can access, thereby reducing the load on the system.
Moreover, the plugin is easy to set up, with no need to modify the .htaccess file as it will be automatically adjusted
WP Fastest Cache also positively impacts SEO ranking, as site speed is a factor in Google's search ranking algorithm. The setup of WP Fastest Cache is user-friendly, with automatic .htaccess file modification.
WP Fastest Cache Key Features
WP Fastest Cache Pricing
| Package | Price (Lifetime) | Number of Licenses | Image Credits per License | License Transfer Right | Money Back Guarantee |
| --- | --- | --- | --- | --- | --- |
| Bronze | $49 | 1 | 1,000 | 1 year | 30 Days |
| Silver | $125 | 3 | 1,000 | 1 year | 30 Days |
| Gold | $175 | 5 | 1,000 | 1 year | 30 Days |
| Platinum | $300 | 10 | 1,000 | 1 year | 30 Days |
WP Fastest Cache Vs. WP Rocket
WP Rocket provides immediate benefits upon activation, including browser caching and image optimization. It also offers options for database optimization and CDN integration.
Whereas, WP Fastest Cache supports GZIP compression, browser caching, and image optimization, including WebP conversion. However, it lacks mobile caching in its free version. Both plugins are powerful, but WP Rocket seems to offer a more comprehensive feature set right out of the box.
---
W3 Total Cache is a powerful WordPress performance plugin designed to speed up websites, improve user experience, and increase server performance.
Trusted by millions of websites and top brands like Sony Music, Mattress Firm, Boeing, and Gucci Equilibrium, W3 Total Cache offers a comprehensive suite of caching options to accelerate page load times and reduce server load.
By using various caching techniques, W3 Total Cache can unlock the full potential of your WordPress site, driving more revenue, and conversions, and improving your site's ranking on Google.
W3 Total Cache Key Features
W3 Total Cache Pricing
| License Type | Price |
| --- | --- |
| 1 Site License | $99 / year |
| 5 Site Licenses | $350 / year |
| 10 Site Licenses | $500 / year |
W3 Total Cache Vs. WP Rocket
WP Rocket offers superior performance with advanced caching methods like lazy loading and minification. It has broad compatibility with hosts and plugins. The premium plugin costs $59/year, while W3 Total Cache is free but lacks some optimization features. Overall, WP Rocket provides a faster, smoother user experience.
---
WebCraftic Clearfy understands the optimization process intimately and combines the most effective optimization functions into one convenient package.
It complements existing plugins like Yoast SEO, Autoptimize, and Wp super cache, enhancing their performance and boosting your productivity.
Clearfy is designed for both users and freelancers. For users, it simplifies site optimization with easy-to-follow tips and checkboxes. For freelancers, it accelerates work projects by allowing the transfer of optimal component configurations from one website to another in a minute.
Key Features of WebCraftic Clearfy
WebCraftic Clearfy Pricing
| Package | Price | Lifetime Price | Support and Updates Duration | Number of Websites |
| --- | --- | --- | --- | --- |
| Small Business | $39 | $99 | 1 year | 3 websites |
| Business | $65 | $189 | 1 year | 10 websites |
| Business Revolution | $125 | $369 | 1 year | 50 websites |
| Studio Business | $199 | $550 | 1 year | Unlimited websites |
WebCraftic Clearfy Vs. WP Rocket
Comparing both of these plugins, WP Rocket is easy to set up and use, with advanced configuration options available. WP Rocket costs $59/year for one site. WebCraftic Clearfy is a free multipurpose optimization plugin with basic caching. It has a simple interface but extensive options can be complex. Clearfy complements other plugins like caching tools. Overall WP Rocket offers more powerful performance benefits, while Clearfy provides free optimization features.
---
WP Super Cache is a Free, high-performance alternative to WP Rocket that significantly enhances website performance by creating static HTML files from your dynamic WordPress blog.
This WP plugin is designed to serve the majority of users, including those who are not logged in, and those who haven't commented or viewed a password-protected post.
By serving static HTML files to 99% of your visitors, WP Super Cache improves the efficiency and responsiveness of your website.
This WordPress plugin offers three distinct caching methods, each with different speeds, to cater to a variety of user needs and technical expertise.
Additionally, WP Super Cache supports CDN integration for faster content delivery, garbage collection for cleaning up outdated cache files, and preloading for generating cached files for your site's posts, categories, and tags.
Key Features of WP Super Cache
WP Super Cache Vs. WP Rocket
WP Rocket offers a user-friendly setup, better performance results, and unique features. It's also the only caching plugin allowed on WP Engine, Kinsta, and Pressable hostings. On the other hand, WP Super Cache is a free plugin that requires previous knowledge to fully utilize. It offers powerful and fast caching but doesn't work on certain hostings like WP Engine, Kinsta, and Pressable. Support is only available through the WordPress community.
---
Breeze, developed by Cloudways, is a completely Free, user-friendly WP Rocket alternative. It's designed to optimize WordPress performance, making it ideal for WordPress, WordPress with WooCommerce, and WordPress Multisite.
With over 300,000 active installations, Breeze is a trusted tool for enhancing website speed and resource optimization.
Breeze enhances WordPress site performance with a range of features. It supports Varnish Cache for efficient content delivery.
If Varnish isn't available, Breeze uses its internal cache mechanism to boost performance.
Key Features of Breeze
Breeze Vs. WP Rocket
WP Rocket excels in ease of use, with a well-designed dashboard and simple installation process, and it also offers advanced features like delaying JavaScript execution and removal of unused CSS. However, it lacks some tools like image compression or asset management.
Whereas, Breeze, while also user-friendly, doesn't perform as well as WP Rocket in terms of load time and Largest Contentful Paint (LCP), but it's completely free and offers built-in support for Varnish server-level caching if you're a Cloudways customer. Both plugins provide GZIP compression, browser caching, and database optimization.
---
Autoptimize WordPress plugin enhances website performance by aggregating, minifying, and caching scripts and styles.
It injects CSS into the page head, inlines critical CSS, and defers the full CSS, preventing render-blocking and improving First Contentful Paint and Largest Contentful Paint.
Autoptimize offers an extensive API for customization to specific site needs. Autoptimize Pro, the premium version, adds image optimization, CDN, automatic critical CSS rules generation, page caching, and extra "booster" options in a single subscription.
Key Features of Autoptimize
Autoptimize Pricing
| Plan | Features | Price |
| --- | --- | --- |
| Single Site | Image optimization, CDN, Page Caching, Automatic Critical CSS rules, Autoptimize Boosters, Great support | $ 11.99 per month |
| 5 Sites | Same Features as Single Site Plan | $ 31.99 per month |
Autoptimize Vs. WP Rocket
WP Rocket offers superior performance with full-page caching and advanced optimizations. Autoptimize focuses solely on file optimization. WP Rocket has broader compatibility with themes and plugins. Both are easy to use, but WP Rocket provides more options to customize and fine-tune performance.
---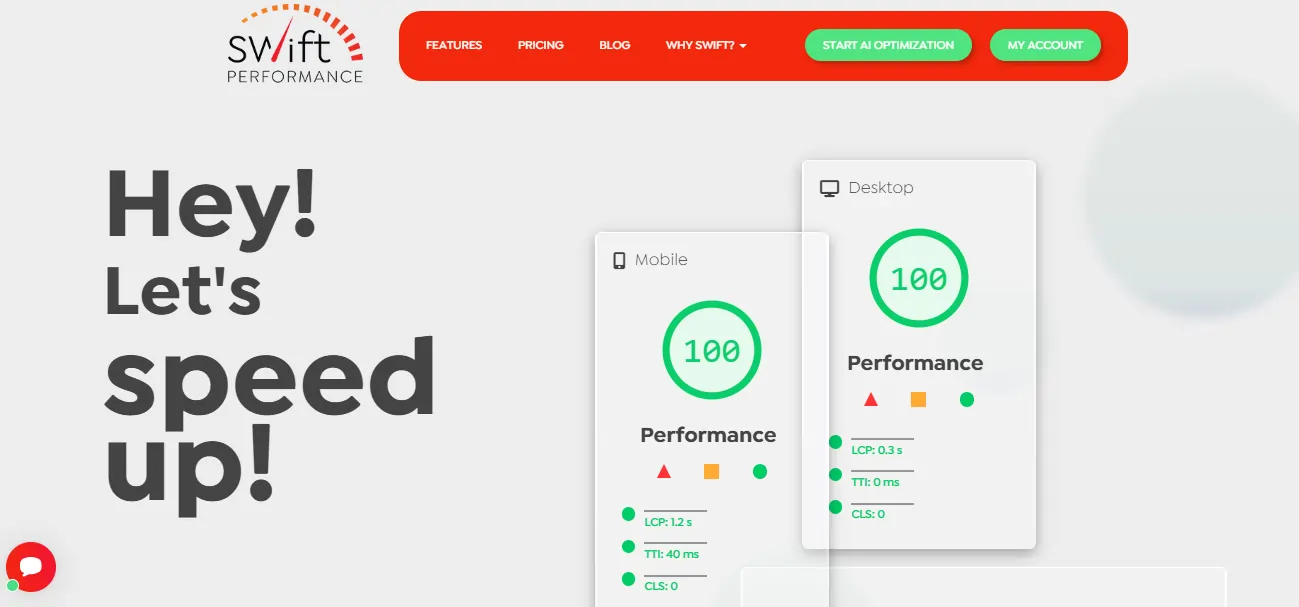 Swift Performance Lite is a Free and feature-rich WP Rocket alternative that optimizes your website's performance and speed.
As the lite version of the acclaimed Swift Performance AI, this plugin offers a range of key features that make it a standout choice in the market.
It's more than just a cache plugin; it's a comprehensive solution for WordPress performance optimization. It aims to improve SEO scores and user experience, making it a vital tool for WordPress website owners.
Key Features of Swift Performance Lite
Swift Performance Lite Vs. WP Rocket
WP Rocket is beginner-friendly and offers a more intuitive setup, with a slight edge in software compatibility, making it a safer choice for those who want to avoid potential plugin conflicts. On the other hand, Swift Performance Lite provides more advanced options and includes an image optimizer in its pro version, which WP Rocket lacks. However, Swift Performance Lite may require more time for thorough website testing.
---
LiteSpeed Cache, also known as LSCache, is another 100% Free alternative for WP Rocket that dramatically reduces page load times and enhances the overall user experience of your website.
It is an all-in-one WordPress site acceleration solution that communicates with your installation of LiteSpeed Web Server and LSWS's built-in page cache.
LiteSpeed Cache also supports WordPress Multisite and is compatible with the most popular plugins, including WooCommerce, bbPress, and Yoast SEO. It is also compatible with ClassicPress, a business-focused CMS that was forked from WordPress 4.9.x.
LiteSpeed Cache Key Features
LiteSpeed Cache Vs. WP Rocket
Both plugins offer full-page caching and optimization features to improve website performance. However, LiteSpeed Cache has an edge in terms of server-level caching, which can result in faster load times and better performance under heavy traffic. LiteSpeed Cache also offers a free version with essential caching capabilities, while WP Rocket prices start at $59/year for one website.
---
Cloudflare's Automatic Platform Optimization (APO) is specifically built to enhance the performance of WordPress websites.
It achieves this by serving the entire website from Cloudflare's edge network, which spans over 250 data centers worldwide. This ensures fast and reliable performance for visitors, regardless of their geographical location.
APO stands out from traditional page caching and CDN solutions due to its ability to directly cache static HTML at Cloudflare's edge.
While other plugins and CDNs cache static assets like images, JavaScript, and CSS, none help cache the actual content on your site (the HTML) using a massive edge network like Cloudflare's.
This unique feature allows APO to deliver consistent, fast performance for visitors no matter where they are.
Key Features of Cloudflare APO
Cloudflare APO Pricing
APO is a $5 add-on with Cloudflare's free plan and comes with an unlimited amount of subdomains. APO is free for all paid plan users so if you have Cloudflare Pro or Business already you can just turn it on.
Cloudflare APO Vs. WP Rocket
WP Rocket excels in cache synchronization and compatibility with Cloudflare, providing seamless integration. However, it lacks full-page caching and mobile image resizing. On the other hand, Cloudflare's APO, a $5 add-on with Cloudflare's free plan, offers the unique ability to cache static HTML at Cloudflare's edge, ensuring fast and reliable performance for visitors worldwide. It also includes free DNS, SSL Certificates, and DDoS Mitigation.
---
SiteGround Optimizer is a highly-rated Free WordPress optimization plugin that can significantly enhance the performance of WordPress websites on any hosting platform.
The plugin is not a monolithic system but a multi-layered one, comprising distinct caching options and other performance-boosting features.
It is designed to be easy to use, the plugin is actively used and trusted by more than 2 million website owners, demonstrating its reliability and effectiveness.
It can improve user experience, increase conversion rates, and drive more traffic, leading to improved SEO rankings and enhanced Core Web Vitals and Google Page Speed Insights.
Key Features of SiteGround Optimizer
SiteGround Optimizer Vs. WP Rocket
WP Rocket and SiteGround Optimizer both excel in different areas. WP Rocket provides superior control over preloading, allowing you to preload only important sitemap URLs, which can help reduce CPU usage. It also supports adding missing image dimensions, replacing YouTube iframes with preview images, and serving images from a CDN. However, it lacks image optimization features.
Whereas SiteGround Optimizer is praised for its caching capabilities, particularly when used with Nginx-based delivery and Memcached. It also supports image compression, WebP format, and serving images from a CDN. However, it falls short in handling core web vitals and lacks the ability to customize preloading parameters.
---
Cache Enabler is a Free and Open-source WordPress caching plugin that is easy to use, requires minimal configuration, and significantly improves site performance for faster load times.
Developed by KeyCDN, this lightweight plugin creates static HTML files of frontend pages and stores them on the server's disk.
By delivering static HTML files instead of generating pages on the fly, Cache Enabler bypasses resource-intensive backend processes from the WordPress core, plugins, and database. This results in quicker page loads and an enhanced user experience.
Key Features of Cache Enabler
Cache Enabler Vs. WP Rocket
WP Rocket offers a comprehensive suite of features, including page and browser caching, lazy loading, and database optimization. On the other hand, Cache Enabler is a free, open-source plugin known for its simplicity and minimal configuration. It generates static HTML files for faster load times and supports features like cache expiry and WebP support. However, it may lack some of the advanced features found in WP Rocket.
---
Our Best Practices for Using WordPress Caching Plugins
Using WordPress caching plugins effectively can significantly enhance our website's performance and user experience.
Here are some practical tips and guidelines that we follow to make the most of caching plugins:
Tip #1. Choose the Right Caching Plugin: We select a caching plugin that suits our needs and has a good reputation. Some popular options we consider include WP Rocket, W3 Total Cache, and WP Super Cache.
Tip #2. Use Only One Caching Plugin: We never use more than one caching plugin simultaneously, as it can lead to conflicts and slow down our website instead of speeding it up.
Tip #3. Configure the Plugin Properly: After installing a caching plugin, we ensure to configure it correctly. This may involve setting expiry headers, enabling caching for specific user groups, and adjusting cache-clearing settings.
Tip #4. Test Our Website's Performance: Before and after activating the caching plugin, we measure our website's performance using tools like Google Lighthouse or GTmetrix.
Tip #5. Keep the Plugin Updated: We regularly update our caching plugin to ensure we're using the latest features and improvements. Outdated plugins can cause compatibility issues.
Tip #6. Monitor for Conflicts: We stay aware of potential conflicts between caching plugins and other plugins or themes on our website. If we notice any issues, we try disabling the conflicting plugin or theme and see if the problem is resolved.
Tip #7. Clear Cache When Necessary: When we make significant changes to our website, such as updating content or changing themes, we remember to clear the cache to ensure that the latest version of our site is displayed to visitors.
By following these best practices, the Blogging Eclipse team effectively uses WordPress caching plugins to improve our website's performance and provide a better user experience for our visitors.
Final Thoughts
When looking for alternatives to WP Rocket, we can understand that it's very confusing to consider the best.
But the choice ultimately boils down to your preferences.
While there may not be a one-size-fits-all replacement for WP Rocket, we've outlined some top contenders that meet different scenarios.
For those like us with a bit more room in our budget, NitroPack emerges as the standout alternative. Its seamless setup and comprehensive approach make it a compelling choice for an efficient caching plugin without the hassle of extensive configuration.
However, if you are looking to bootstrap and are willing to invest some time in setup, WP-Optimize steps up as a commendable alternative. It is packed with a cost-effective nature that makes it a strong contender.
In the end, every plugin listed here serves its unique purpose, but for those of us looking to maximize value on a budget, the Blogging Eclipse research team confidently assert that NitroPack and WP-Optimize stand out as the best alternative to WP Rocket.
We suggest you learn more about these WordPress caching plugins by giving a visit to their respective official websites so that you can choose the best WP Rocket alternative for your website's needs.
Affiliate Disclosure: This post may contain some affiliate links, which means we may receive a commission if you purchase something that we recommend at no additional cost for you (none whatsoever!)