Imagine being able to send emails without worrying about your personal information being exposed or your messages being intercepted.
With the rise of cyber-attacks and data breaches, protecting your personal information, especially when it comes to email communication, is crucial; the anonymous email account providers come in, offering a secure and private way to communicate without revealing your identity.
Anonymous email account providers offer a solution that allows you to communicate securely, keeping your identity hidden and your sensitive information safe from prying eyes. Whether you're a journalist, an activist, or simply someone who values their privacy, anonymous email accounts can provide the peace of mind you need in an increasingly connected world.
Simplifying Anonymous Email Account Provider
An anonymous email account is a service that allows users to send and receive emails without disclosing their identity, providing an extra layer of privacy and security. These accounts do not contain any personal information, such as your name or location, making it difficult for anyone to trace your email back to you.
Some of the benefits of using an anonymous email account provider include privacy, security, and protection from tracking. In simple words, anonymous email accounts offer a secure and private way to communicate, making them an ideal choice for individuals who value their privacy and want to protect their sensitive information from prying eyes.
12 Best Anonymous Email Account Providers in 2023
Proton Mail is a secure, private, and encrypted email service that prioritizes user privacy and data protection. Incorporated and headquartered in Switzerland, Proton Mail operates under strict Swiss privacy laws and Swiss neutrality, ensuring that user data is safeguarded by some of the world's most stringent regulations. Proton Mail's zero-access architecture prevents even the service provider from accessing users' emails, as messages are instantly encrypted on their servers using public keys. This level of security and privacy makes Proton Mail a trusted choice for tens of millions of people worldwide.
Proton Mail offers a seamless email experience across various platforms, including web, Android, and iOS apps, allowing users to manage their inboxes with ease. Users can set up addresses with their own domain names or opt for a @proton.me address, and the service supports integration with popular desktop email clients like Microsoft Outlook, Apple Mail, and Mozilla Thunderbird through Proton Mail Bridge. Proton Mail is committed to making privacy accessible to everyone, offering both free and paid plans to cater to different user needs.
Key Features of Proton Mail
The end-to-end email encryption and zero-access architecture ensure that only the intended recipients can access the contents of the emails, while address verification and key pinning protect against man-in-the-middle attacks.
Proton Mail's Swiss-based data protection guarantees that user data is safeguarded by some of the world's strictest privacy laws. The service's compatibility with popular email clients, custom domain name support, mobile apps, and keyboard shortcuts make it a user-friendly and efficient choice for managing email communications securely.
Proton Mail Pricing
Proton Mail offers a free plan with 1 GB of storage, 1 email address, and 150 messages per day, as well as paid plans starting at $3.99/month for 15 GB of storage, 10 email addresses, and unlimited messages.
---
Hushmail is a premier end-to-end encrypted email service provider, founded in 1998, with headquarters and operations located in Vancouver, Canada. The company focuses on providing simple, easy-to-use encrypted email solutions for individuals and businesses across various industries, including healthcare, finance, non-profit, and law.
Over the years, Hushmail has expanded its services to include encrypted email, secure web forms, and electronic signatures, catering to tens of thousands of customers worldwide. Hushmail's priority is to make security simple, offering an encrypted email service that is easy to use on all platforms, with dedicated customer support to assist users. The service requires no installation of software or hardware, as it is a fully hosted web-based service.
Key Features of Hushmail
Hushmail offers a range of features designed to enhance the security and privacy of email communication. These features include encrypted email, signable web forms, electronic signatures, and a private message center for secure communication with clients. Hushmail also provides automatic encryption between its users, ensuring that sensitive information remains protected during transmission.
Additionally, the service offers dedicated customer support, allowing users to receive assistance from real people via phone or email, and the ability to create and manage unlimited email aliases.
Hushmail Pricing
Hushmail pricing starts at $11.99 per month for the Hushmail for Healthcare plan, and other different plans categorized for different user groups.
---
Mailfence is a secure and private email service that offers end-to-end encryption and digital signing to protect users' online privacy. Launched in response to the 2013 global mass surveillance revelations by Edward Snowden, Mailfence is dedicated to providing a highly secure email and collaboration service that respects users' privacy.
The service is browser-based, requiring no plug-ins or add-ons, and is completely free from ads. Mailfence does not commercialize its databases or share user data with any third party for targeted advertising or any other purpose. The SSL/TLS certificate used by Mailfence does not include any US certification authority in the certification chain, further ensuring the privacy of its users.
Key Features of Mailfence
In addition to end-to-end encryption and digital signing, the service provides secure file sharing through Mailfence Documents, allowing users to store, share, and collaborate on files in a secure environment. By integrating these key features, Mailfence ensures that users can communicate and collaborate with confidence, knowing that their data is protected from potential threats.
Mailfence Pricing
Mailfence offers a range of pricing plans starting off from a free plan along with the entry plan starting from €3.50 per month.
---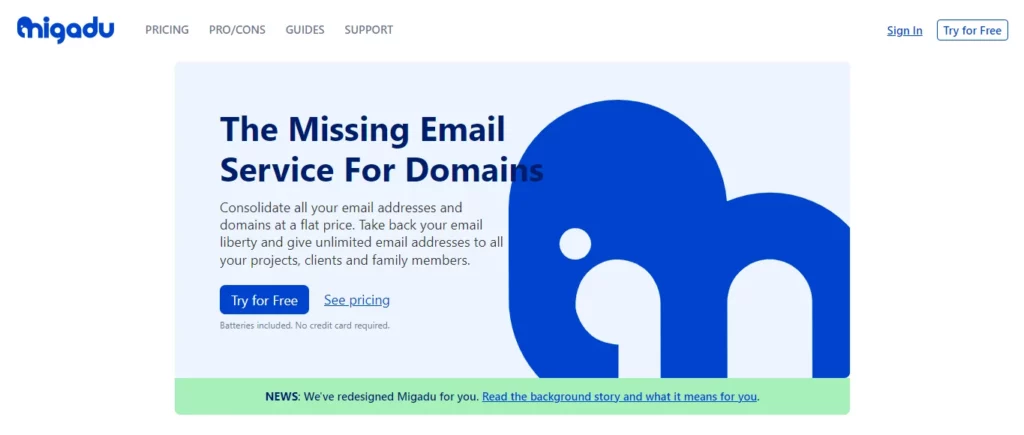 Migadu is a Swiss-based email hosting provider that offers a reliable and secure alternative to mainstream email services. Founded in 2014, the company is driven by a mission to give email power and freedom back to users by providing a service that is independent of the few big providers dominating the market.
Migadu's base offer includes standards-oriented email hosting with full support for SMTP, IMAP4, POP3, and webmail, ensuring compatibility with any standard email client that uses non-obsolete secure communication protocols. The company is committed to transparency and focuses on providing a high-quality service to its users, with continuous improvements in stability, robustness, and security.
Key Features of Migadu
Migadu offers a range of features designed to provide users with a seamless and secure email experience. With unlimited mailboxes and addresses, users can enjoy the flexibility of managing their email accounts without worrying about limitations.
The service supports standard email protocols and webmail, ensuring compatibility with a wide range of email clients. Additionally, Migadu offers built-in DNS, auto-responders, automatic forwarding, catchall support, and API integration to cater to various user needs and preferences.
Migadu Pricing
Migadu offers 4 different pricing plans starting from $19/year (Micro plan) and other plans such as Maxi ($99/month), Standard ($29/month), and Mini ($9/month).
---
Guerrilla Mail is a disposable email service that allows users to create temporary email addresses without the need to register or provide any personal information. The service is designed to protect users' privacy and help them avoid spam, phishing, and other unwanted emails. By using Guerrilla Mail, users can receive emails at a randomly generated address or choose their own custom address.
The emails are stored for a short period of time (usually one hour) before being automatically deleted, ensuring that users' inboxes remain clean and clutter-free.
Guerrilla Mail has been featured in various publications, including Reader's Digest, Life Hacker, eHow.com, PC Magazine, and PC World. The service is built on a combination of web server (Nginx), database server (MySQL), and mail server (Go Guerrilla) technologies, which are designed to handle large volumes of email efficiently.
Key Features of Guerrilla Mail
Guerrilla Mail offers a simple and effective solution for users who want to protect their privacy and avoid spam. By providing disposable email addresses without the need for registration, users can quickly and easily create temporary email accounts for various purposes.
The automatic deletion of emails after one hour ensures that users' inboxes remain clean and clutter-free, while the support for multiple languages makes the service accessible to a wide range of users.
Guerrilla Mail Pricing
Guerrilla Mail offers domain integration for $9.99 USD per year, allowing users to use their own domain with the service.
---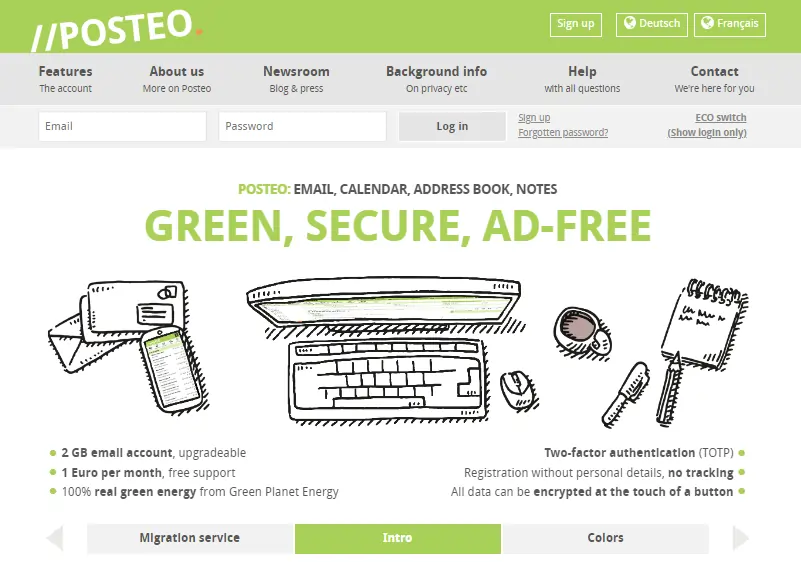 Posteo is a Berlin-based email service provider that focuses on offering a secure, private, and ad-free email experience. Established in 2009, Posteo has gained a reputation for its commitment to user privacy, data protection, and environmental sustainability. The company operates on a subscription-based model, charging a monthly fee for its services, which include email, address book, calendar, and notes.
Posteo's infrastructure is built on open-source software, and its servers are located in a highly secure German data center. The company does not use tracking tools, and its website does not save IP addresses. Posteo is dedicated to providing maximum privacy and security for its users, offering a comprehensive encryption system and two-factor authentication (TOTP).
Key Features of Posteo
Posteo's key features revolve around its commitment to privacy, security, and user experience. The service offers a comprehensive encryption system that protects user data and communication, ensuring maximum privacy. Additionally, Posteo provides two-factor authentication (TOTP) to further secure user accounts. The company's dedication to an ad-free experience and its use of open-source software demonstrates its focus on user satisfaction and transparency.
Posteo Pricing
Posteo's services are available for €1 per month.
---
Addy.io, formerly known as AnonAddy, is a free and open-source anonymous email forwarding service that focuses on privacy and anonymity. The platform underwent a rebranding to adopt a shorter, more recognizable name while maintaining its commitment to user privacy. Addy.io allows users to create aliases for their email addresses, which can help protect their personal information and reduce spam. The service offers various features, including API endpoints for accessing information on aliases, recipients, and domains.
Addy.io also provides DNSSEC security, ensuring the authenticity and integrity of DNS data. The platform has been in open beta, during which it introduced GPG/OpenPGP encryption for enhanced email security. Users can also self-host Addy.io if they prefer to manage their own server.
Key Features of Addy.io
Addy.io offers a comprehensive set of features that cater to users who prioritize privacy and security in their email communications. The platform's browser extension simplifies the process of generating new aliases, while GPG/OpenPGP encryption ensures that forwarded emails remain secure.
Custom domains and additional usernames allow for personalization and compartmentalization of aliases, making it easier to manage multiple email addresses. With API access and DNSSEC security, Addy.io provides a robust and reliable solution for users seeking an anonymous email forwarding service.
Addy.io Pricing
Addy.io offers 3 different pricing plans including the Lite plan ($1/month), the Pro plan ($3/month), and the Free plan.
---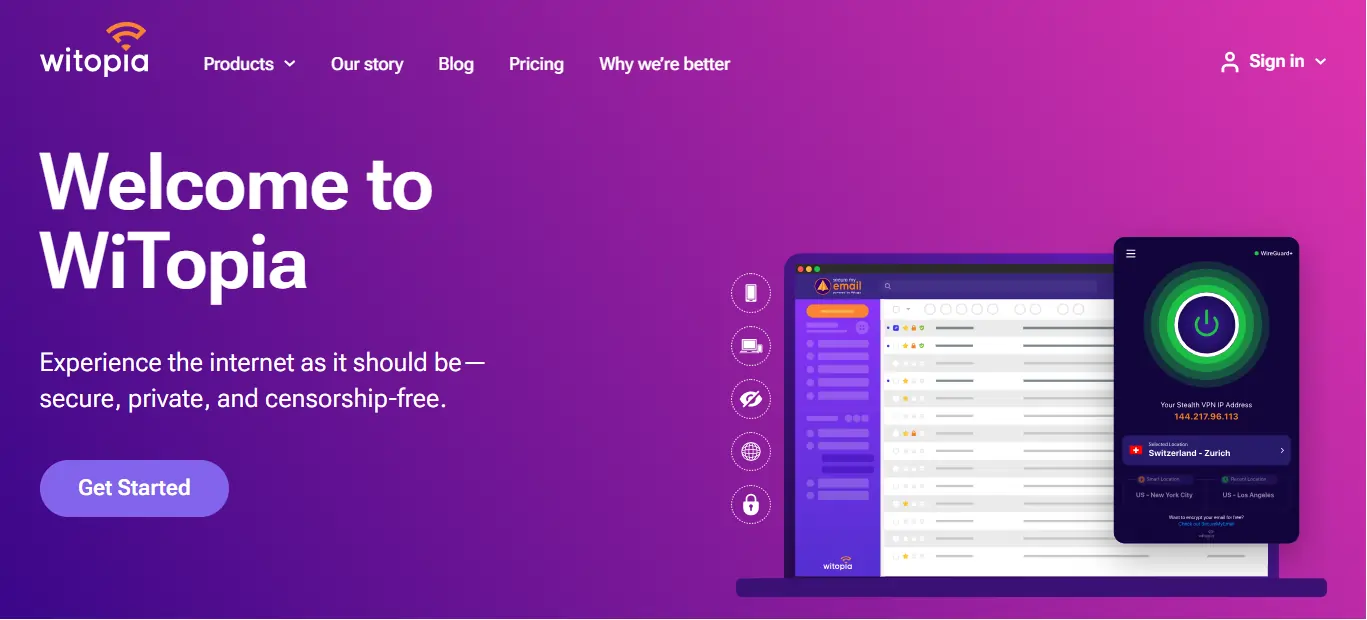 WiTopia is a company that specializes in providing powerful encryption services to ensure the security and privacy of your online activities. Their services include personal VPN and SecureMyEmail, which are designed to protect your internet access and email communications from potential threats such as hackers, governments, and corporations.
WiTopia is a US-based company with a global presence, offering its services to individuals and organizations in over 190 countries. Their commitment to customer support is evident in their non-outsourced, expert support team, which consists of actual WiTopia employees.
Key Features of WiTopia
WiTopia offers a comprehensive suite of security solutions, including fast and easy-to-use VPN services and end-to-end email encryption for any email address, regardless of the provider. Their services are designed to be compliant with both HIPAA and GDPR regulations, ensuring that your data is protected according to industry standards.
WiTopia's military-grade encryption technology further enhances the security of your online activities. Additionally, their friendly and knowledgeable support team is available 24/7/365 to assist you with any issues or concerns.
WiTopia Pricing
WiTopia offers a 1-month subscription for $12.99/month, billed at purchase and then monthly, whereas the 12-month subscription plan costs around $4.99/month if opted for the annual billing.
---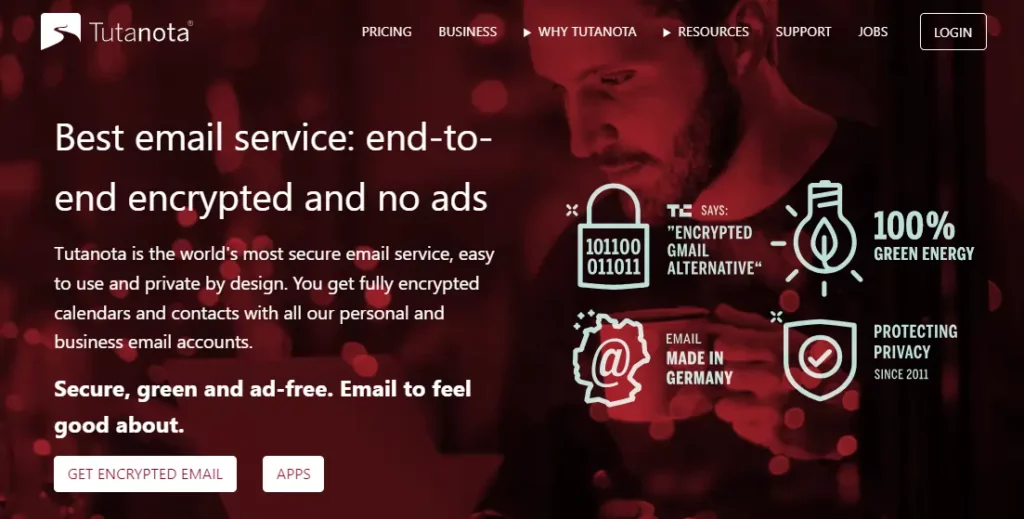 Tutanota is a secure and private email service founded in 2011, with a clear vision of bringing privacy to the world. Based in Hanover, Germany, Tutanota offers end-to-end encrypted email, calendar, and contact services, ensuring maximum data protection. The company is committed to providing a private alternative to traditional online services, making it the world's most secure email and calendar service.
Tutanota is built on open-source principles, which allows users to verify the code and ensure there are no hidden vulnerabilities. The service is designed for both private users and businesses, with a focus on usability and convenience. Tutanota's encryption technology ensures that only the user has access to their private key, and the company does not store any unencrypted data on its servers. By offering a secure, user-friendly, and environmentally friendly email service, Tutanota aims to protect both user data and the environment.
Key Features of Tutanota
Tutanota's key features make it a comprehensive and secure email service for both private users and businesses. The end-to-end encryption ensures that all data, including emails, calendars, and contacts, remains secure and private. The open-source nature of the email clients allows users to verify the code and trust the service.
Tutanota also offers custom domain support and white-label customization for businesses, making it a versatile solution for various use cases. Additionally, the Secure Connect feature allows users to add an encrypted contact form to their websites, ensuring confidential communication with clients.
Tutanota Pricing
Tutanota offers a freemium model with both free and paid plans, starting at €3 per month for the personal plan and business plans starting from €6 per month.
---
Fastmail is a privacy-focused email service provider based in Melbourne, Australia, offering a secure and reliable alternative to other popular email services like Gmail and iCloud. Founded in 1999, Fastmail has been committed to providing a user-centric experience, prioritizing privacy and security while offering a feature-rich platform for email, calendars, and contacts.
As an independent company, Fastmail is not influenced by the interests of large corporations, ensuring that its users' data remains private and secure. With servers located in Bridgewater, New Jersey, and Seattle, Washington, Fastmail offers a fast and efficient email experience for its users.
Key Features of Fastmail
Fastmail offers a range of features designed to enhance productivity and user experience. These include end-to-end encryption for secure communication, a fast and precise search function, pinned messages for easy access to important emails, and seamless integration of calendars and contacts for efficient organization. Additionally, Fastmail provides notes and file storage capabilities, making it a comprehensive solution for managing various aspects of personal and professional life.
Fastmail Pricing
Fastmail's pricing starts at $3 per month for the Basic plan and goes up to $9 per month for the professional pricing plan.
---
Mailvelope is a browser extension that enables users to send and receive encrypted emails using their existing webmail providers, such as Gmail, Outlook, and Yahoo, without having to change their email address or provider. It supports the OpenPGP encryption standard, ensuring secure and private communication between users.
Mailvelope integrates directly into the webmail user interface, making it easy to use and unintrusive in your normal workflow. The extension is available for popular browsers like Chrome, Firefox, and Edge. Encryption and decryption are handled locally on your device, ensuring that your private data remains secure and your private key never leaves your computer.
Key Features of Mailvelope
Mailvelope offers a seamless and secure way to encrypt and decrypt emails within your existing webmail provider. By supporting the OpenPGP encryption standard, it ensures compatibility with other PGP applications and provides a high level of security for your email communications.
With features like GnuPG integration and USB Token support, Mailvelope enhances the security of your email communication without compromising the convenience of using your favorite webmail provider.
Mailvelope Pricing
Mailvelope offers 3 pricing plans including the Business plan (€3 per month), and the Enterprise plan with custom pricing plans available.
---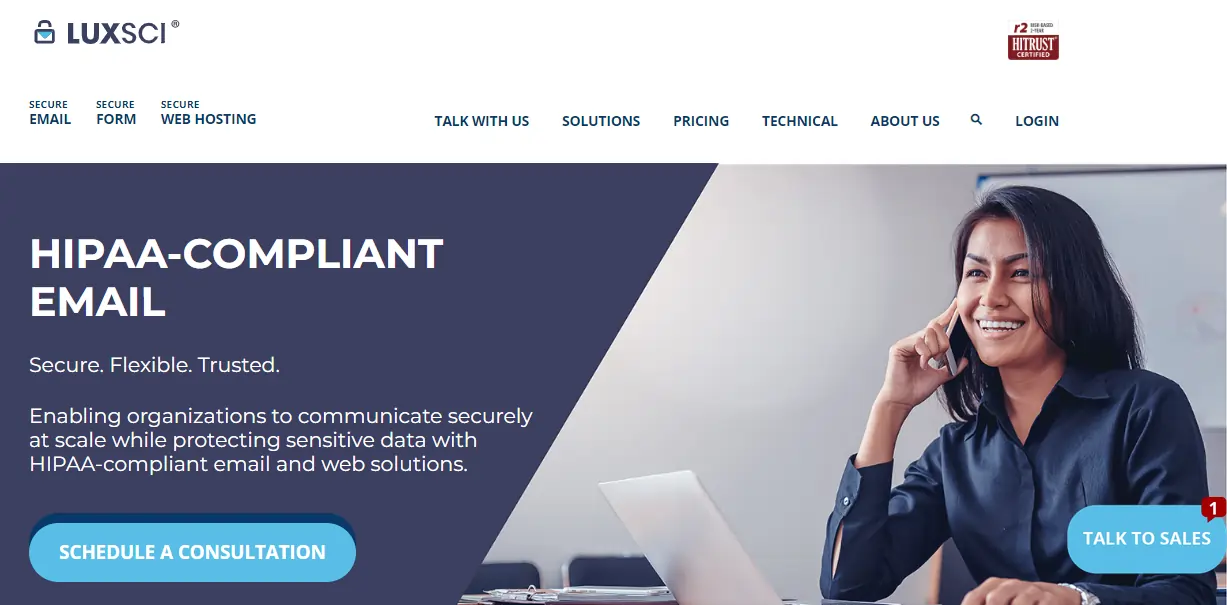 LuxSci is a leading internet services company that specializes in providing secure and HIPAA-compliant email, encryption, and data protection solutions since 1999. The company's name, derived from the Latin phrase "Lux Scientiae," meaning "The Light of Knowledge," reflects its commitment to developing innovative products and services that bring clarity to resolving electronic communications problems.
LuxSci's solutions are designed to meet the stringent requirements of HIPAA and other compliance regulations while providing a high level of security and flexibility. The company isolates customer data on dedicated server clusters and encrypts all emails automatically to protect sensitive data from unintentional exposure. With a focus on delivering top-notch customer support, LuxSci continually strives to offer the most innovative products and services to its clients.
Key Features of LuxSci
LuxSci's key features revolve around providing secure and compliant email solutions for various industries. The company offers HIPAA-compliant email hosting, encryption, and secure email gateways for popular platforms like Google Workspace and Microsoft 365. LuxSci's dedicated servers ensure improved security and flexibility, while its scalable architecture design allows businesses to grow seamlessly.
The platform also includes advanced security features such as two-factor authentication and customizable settings. In addition to email hosting, LuxSci offers secure email marketing solutions, web hosting, and dedicated server options to cater to various business needs.
LuxSci Pricing
LuxSci's pricing for email hosting users starts at $4 per month. For more detailed pricing information, it is recommended to visit the official LuxSci website or contact their sales team.
---
What does an Untraceable email mean?
Untraceable emails refer to email messages that cannot be traced back to the sender, ensuring the sender's privacy and anonymity. While no email service can guarantee 100% untraceability, using anonymous email providers can significantly improve your privacy by keeping your email address anonymous, encrypting your connections, and allowing you to use aliases to protect your identity.
What measures can be taken to have a secure emailing environment?
To enhance your email privacy, consider the following measures:
---
Final Verdict on Anonymous Email Account Providers
After going through some of the top anonymous email account providers, choosing the right anonymous email account provider is quite an important factor for maintaining privacy and security in your online communications.
👉 When selecting a provider, it's important to consider several key parameters, such as encryption, privacy policy, anonymity, and ease of use.
Encryption ensures that your messages are protected from unauthorized access, while a strong privacy policy guarantees that the provider will not collect or share your personal information. Anonymity is crucial for keeping your identity hidden, and ease of use ensures that the service is user-friendly and accessible.
By carefully evaluating these factors and comparing different providers, you can find the best anonymous email account provider that meets your needs and helps you maintain a secure and private online presence.