Are you looking to transform your online WooCommerce store into a money-making power station? If yes, then Advanced Coupon is the right tool for you!
Today, in this Advanced Coupons Review, I will be trying to help you understand how to increase your conversions and maximize your revenue for your eCommerce stores.
Imagine if you can create eye-popping coupons and different kinds of deals for your WooCommerce online store. Shocked? Advanced coupons is a flexible WooCommerce plugin that offers advanced marketing and WooCommerce coupon features and offers store credit that helps your customers have a better online shopping experience!!
The Advanced Coupon is one of the best WooCommerce coupon plugins that will help store owners grow their stores to a new height. The amazing part is, that it is a free WooCommerce coupon plugin that can make your store more appealing that your customers will love.
Now you can easily manage your WooCommerce store with advanced features, which include BOGO deals, loyalty programs, shipping discounts, URL coupon codes, store credit, and many more to make your store marketing a BOOM!
So, let's get started with Advanced Coupons Review, where we will cover their features, pricing, discounted deals, and pros and cons to make you understand whether Advanced Coupon is the right plugin to create WooCommerce coupons for your online store.
What is Advanced Coupons?
Advanced Coupons is one of the best WooCommerce coupons that help you to create smart coupons for your online eCommerce sites. You can automatically apply for an Advanced Coupons extension on your WooCommerce store as well! Advanced Coupons is the right tool with unique coupon features and automated customer deals which is crucial for most online shop owners.
Let's say for normal coupon deals that are available there are limitations on usage, discount percentage as well as the capacity to use. But with the use of this WooCommerce coupon, you can have better engagement with your visitors, as well as you will get more loyal customers to your store.
Using Advanced Coupons, there is sudden growth to your online business which will boost your revenue with the best coupon features that can retain your old customers. This is a high-rated premium WooCommerce plugin that offers a free version as well as a paid plan with an extensive range of features such as "Buy One Get One deal" WooCommerce coupon URL, cart conditions, maintaining store credit balance, order preview pop-up and more amazing tools that can make your marketing store more profitable like never before!
Now you can send coupon deals automatically to your customers and also create and promote coupons using Facebook ads, Instagram ads, and more. Moreover, you can create a unique store with discounted coupon deals for your customers for smooth workflows at your store.
Why Should You Use Advanced Coupons?
Advanced Coupons is a WooCommerce plugin that offers you everything that can make your customers enjoy great deals. Using this unique plugin you can easily create smart coupons such as pop-ups, and notice bars and schedule the coupons for various holidays which includes Black Friday, New Year's Eve, Christmas, and many more. In this way, you can save precious time and also reduce the manual work to promote eye-popping deals for your products. Here is the reason for getting Advanced Coupons today:
You can easily categorize and organize your WooCommerce coupons in various categories.
Allows you to create BOGO deals for product categories.
Helps you to check out cart conditions for your recently ordered items.
Create store credit and gift cards for your customers.
Allows your customers to apply URL coupon codes.
Get special shipping discounts and deals.
Provides restrictions and limits as per usage.
Automates the procedure to add coupon codes without any issues.
Reward your customers with loyalty points that they can redeem in the future.
Allows you to schedule your coupons with specific dates and times.
Helps you to run and promote specific coupons for various customer segments.
Advanced Coupons Coupon & Discounted Deals 2023

Get the highest discount on your favorite WooCommerce coupon plugin. Redeem 50% Advanced Coupons Coupon and get savings like never before.
Best value offer on Advanced Coupons

Redeem verified Advanced Coupons to save $149.50 upfront along with complete access to unlimited sites. Get the highest discount on Advanced coupons. Redeem now.
Business plan with Unlimited Sites

Redeem the highest discount on the Advanced Coupons bundle plan. Limited Period Offer. Bundle including the Advanced Coupon premium, Loyalty program, and Advanced Gift Cards.
Complete Advanced Plugins Bundle at discounted price
Advanced Coupons Features
Advanced Coupons comes with an extensive range of features for your WooCommerce coupons that help you to build your business and grow your revenue to the next level!
So, let's see what advanced features & options you can get with this Advanced Coupon plugin for WooCommerce:
BOGO Deal
This is an amazing feature you can use to attract more customers to your online store! WooCommerce BOGO coupon deals (Buy One Get One Deal) offer your customers BOGO deal coupons where they can buy a product and get one free product! It offers 3 different types of BOGO deals which include specific products, a combination of products, and different product categories. This means if you get 50% off on a product then for the next purchase you can allow your customers to enjoy the BOGO deal.
Add Products
With this feature, there is an automatic option where you can add products to the cart and get free giveaway items for your next purchase. You just have to apply the coupon code and it will add products for free or with a special discount that can boost your customer purchasing power and you can get more returning old customers to your store.
Loyalty Program

The loyalty program feature is an excellent feature, which encourages your customers to return back to your store. Well, let's take an example of big eCommerce stores like eBay which will reward you with loyalty points on your purchase. You can use these loyalty program points to get discounts on your future purchases.
Cart Conditions
Using this cart conditions feature, you can create custom rules and conditions to enjoy the discounts on their purchase. This means your customer must fulfill the given cart requirements which include cart subtotal, specific product category, whether the cart quantity matches, items ordered before, shipping area that fits your requirements, and many more. In this way, you can have full control over your coupons and it also helps you to engage your old customers with exciting deals.
Gift Cards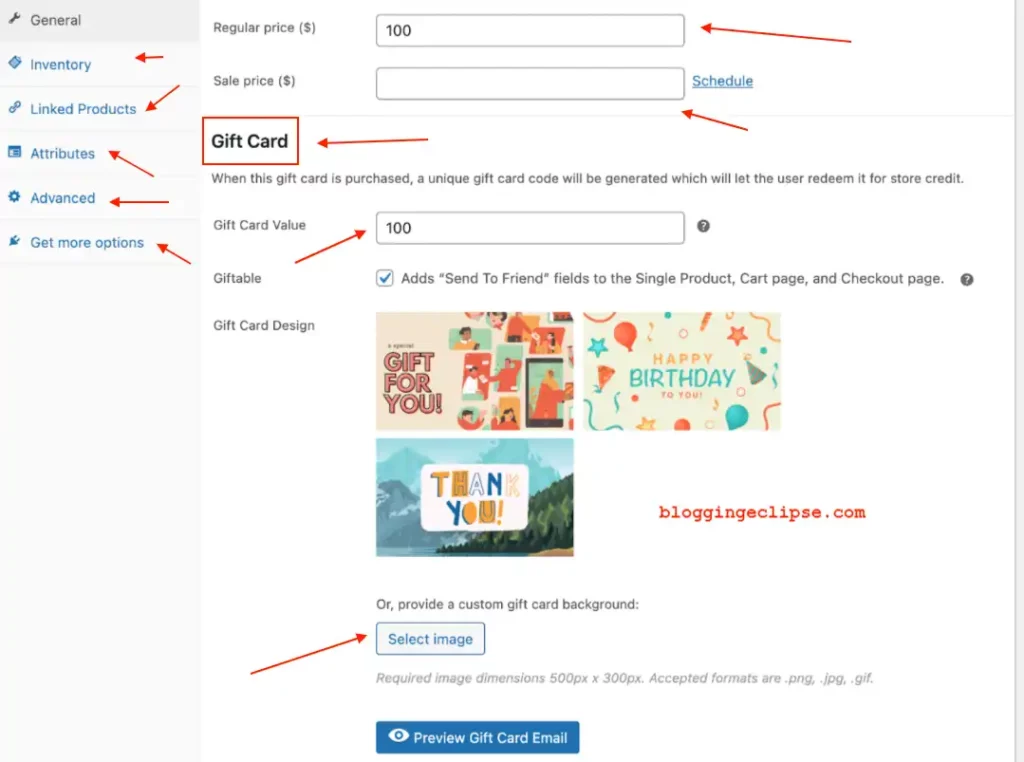 With the use of store credit, customers can get gift card products at the time of checkout. You can keep your customers happy and retain old customers as they can use the store credit option for their future purchases as well. Let your customers redeem gift cards at the time of checkout using this WooCommerce plugin.
Auto Apply
The auto-apply feature is very simple for customers where the coupons are applied automatically once the cart requirements and conditions match. You just have to make sure to enable the settings option where the coupon will be automatically applied to your customer's purchase order.
URL Coupon Codes
URL coupon code feature helps customers to apply WooCommerce coupons by simply applying a coupon link. This means, that once they click on the coupon URL, the coupon will automatically apply. You can easily use these URL coupons on images, email marketing campaigns, and social media blog posts where you just have to put a URL coupon link.
Shipping Discounts
With the shipping discount feature, you can create better shipping deals and offers rather than giving free shipping offers. For better results, you can provide special discounts on every shipping method your customers are using.
Generate Coupons
With the use of the virtual coupons feature, now it is really easy to create one parent coupon and get 100's or even 1000's child coupons. In this way, you can provide your customers with various coupon offers to make their shopping experience more exciting than ever before!
Usage Restrictions
The usage restrictions are an amazing feature where you can easily manage the role of users and also lets you handle the enable/disable coupons for your customers who are logged in or logged out. Moreover, you can also create a display error message for your users that will limit the usage and the active coupon can be used for users who fit your cart requirements.
Coupon Reports
With the use of coupon reports, you will get a detailed report for coupons, and also a view of your store's efforts. You can also have a view of your store credits, gift cards, and more. In this way, you can see how your customers are using your code, and get a better idea of how to increase the customer engagement rate!
Usage Limit
With Advanced coupons, you can get 3 different ways to add restrictions such as usage restrictions, role restrictions, and payment restrictions. So, here you can control usage limits of coupons where you can set timers. Moreover, you can also limit the validity of the coupons for specific users.
Global Settings
The global settings feature helps you to control the general settings of the Advanced Coupons plugin. It allows you to set the global settings for your coupon which includes BOGO deals, URL coupon links, usage limits, and restrictions. In this way, you can change the global settings as per your needs.
Advanced Coupons Pricing Plans
Now the most important part is, how much does Advanced Coupons cost? Well, Advanced Coupons is the most popular WooCommerce coupon plugin that offers the most powerful coupon features for WooCommerce.
Advanced Coupons offers 3 subscription plans which include Growth Plan, Plus Plan, and Business Plan. It also offers a Plugin Bundle Plan which costs $119/year.
Want to know the exciting deal? If you purchase Advanced Coupons today, you will get a flat 50% special discounted deal at the time of checkout!! Hurry up, the offer is for a limited period only!!
So, let's see what features are you getting with each pricing plan:
Growth Plan
For those just starting off their eCommerce journey, the Growth Plan which costs around $59.50/year is quite a perfect fit to look forward to. This plan offers a single-site license complemented by premium coupon features. Users can enjoy BOGO (Buy One, Get One) coupons, add products via coupons, and benefit from store credits. Advanced coupon scheduling, cashback coupons, and automatic coupon applications enhance the shopping experience.
The Growth plan also supports bulk coupon code generation using virtual coupons. Management features include coupon sorting by priority, categorization, and viewing options from admin emails. The package ensures inclusivity with multi-lingual and currency support. It also introduces advanced user, shipping, and payment restrictions. Continuous premium support, automatic updates, and security fixes make this plan a comprehensive choice for eCommerce beginners.
Plus Plan
The Advanced Coupons Plus Plan, priced at $99.50/year, is designed for those seeking to harness robust coupon features across multiple WooCommerce stores. This plan is an excellent choice for businesses operating across several storefronts. With the provision to use up to 3 different site licenses complemented by the premium offerings of advanced coupons, it covers everything the Growth plan does and more.
Notably, it supports over 20 integrations, ensuring versatility and seamless operation. It emphasizes inclusivity, providing multi-lingual and currency support, making it user-friendly for a diverse customer base. Subscribers of the Plus Plan can count on premium support and expert coupon assistance, and to further streamline the user experience, it facilitates automatic updates and addresses security concerns promptly.
Business Plan
For businesses overseeing multiple WooCommerce stores, the Advanced Coupon Business Plan, priced at $149.50/year, stands out as the top-tier choice. Designed for large enterprises and agencies, it expands on the Plus plan's features. The plan offers unlimited usage and site licenses, compatibility with WordPress Multi-Site installs, and supports over 20 integrations.
The Business plan prioritizes global reach with multilingual and currency support. Premium support, automatic updates, and timely security fixes ensure a smooth operational experience. Additionally, its developer-friendly license and flexibility to use on client websites make it an optimal solution for expansive business needs.
Plugin Bundle Plan
The Plugin Bundle Plan, priced at $119/year, offers a comprehensive toolkit for diverse site needs. It provides access to single, 3, or unlimited site licenses along with advanced coupon premiums, loyalty programs, and advanced gift cards. Subscribers benefit from substantial savings with all premium plugin features, including advanced coupon capabilities.
Businesses can incentivize with loyalty points and boost revenue through gift card sales. The plan promises flexibility with customizable licenses, global accessibility through WPML multi-lingual & multi-currency support, and over 20 integrations. It's also multi-site compatible, ensuring adaptability. To top it off, premium support, automatic updates, and security measures are integral components of this powerful package.
Advanced Coupons Pros & Cons
Advanced Coupons plugin offers advanced premium features, that increase the revenue of your online store. But, before getting this plugin you should consider the Advanced Coupons pros and cons below:
Compatible with your existing WooCommerce coupons which makes it flexible to use

Helps you to increase buyer engagement with reward points

Provides advanced scheduling option for coupon deals

Offers free shipping coupons for all shipping methods

Helps you to create URL coupon links automatically

Provides a lot of flexible options such as BOGO deals, store credit, and discount coupons

Allows you to run specific coupons targeting different customer segments

14-day risk-free money-back guarantee
Free trial not available

Free shipping available only on selected items

A slight learning curve is needed
FAQs About Advanced Coupons Review
Who should use Advanced Coupons?
If you are a WooCommerce store owner, then Advanced Coupons is the best plugin for you. It allows you to run different coupons and promotions that are not offered by other WooCommerce coupons.
Does the Advanced Coupons plugin work with non-WooCommerce stores?
No, it is highly suited for WooCommerce store owners only. For now, they don't offer any plans for other stores.
Do Advanced Coupons offer a free trial?
Advanced Coupons don't offer a free trial option. But, they offer you the free version of the Advanced Coupons plugin for your WordPress site. Plus, there is a 100% risk-free refund policy available. No questions asked.
Will the Advanced Coupons plugin slow down my website?
No. Advanced Coupons has been built with all modern standards and is always updated with recent releases. It makes your store more profitable with premium features such as Loyalty Program, Auto Apply, Free Shipping, Store Credits, and many more.
Is there any Advanced Coupons money-back guarantee available?
Yes, absolutely! Advanced Coupons offers a 14-day money-back guarantee in case you are not satisfied using this plugin. The best part is, you can get a complete refund, no questions asked.
Who should use the Loyalty Program?
The Loyalty Program helps you to create an incentive points system for your customers which boosts your revenue and also encourages your new and existing customers to purchase. It is highly built for WooCommerce store owners.
Advanced Coupons Alternatives
Not sure, whether Advanced Coupons is going to be the right companion for your business operations? Here are some of the best Advanced Coupons alternatives that you might wanna check out and work in a similar manner. Let's see some of them below:
WooCommerce Extended Coupon Features (free-to-use plugin)
WP Coupons WordPress plugin (Specially designed for affiliate marketers)
Smart Coupons (WooCommerce coupon to boost your eCommerce platform)
Coupon Generator (Free to use WooCommerce plugin)
Affiliate Coupons (WordPress plugin highly suitable for bloggers and affiliate marketers)
Discount Rules for WooCommerce
Final Words On Advanced Coupons Review
Wrapping up with this Advanced Coupons review, there is no doubt that this WooCommerce plugin can be the best solution to make your customers happy and excited with their shopping experience!
Well, as we have discussed above this tool is extremely easy to use and beginner-friendly which can increase your profitability and also drive more traffic to your site. We will highly recommend you give Advanced Coupon a try as it is a really helpful plugin for coupon marketing deals.
The best part is it offers exciting features with helpful customer support. I personally, like the loyalty program, BOGO deals, and how it automatically adds a coupon!
Thanks for reading my experience in this Advanced Coupons Review. Hope, we have helped you to make your decision. If you have any questions, feel free to leave them in the comment box below! Don't forget to share your experience using Advanced Coupons!