Want to grow your business internationally and get the right amount of exposure that your company deserves?
If yes,
Then choose or switch from other marketing options to best email marketing tool. Email has become essential in every aspect of corporate or personal business as it enables you to capture a warm audience and send them automated emails about your product or any affiliate marketing product.
Choosing email marketing is the smartest way to grow your business on a global platform and stay connected with your customers by closing each and every important deal that takes you one step closer to your achievement.
The most important thing when choosing email marketing is its simplicity, performance, and ease of usage. Email marketing is vital for bloggers, internet marketers, eCommerce and business as it connects you with your audiences and customers round the clock.
How amazing it would be if you could get a kit that converts your traffic through email marketing?
ConvertKit is the best email marketing tool to stay ahead of your competitors and stay connected with your clients, so you don't miss a deal.
ConvertKit is far better than other top email marketing tools in the market. With unique features, clean & neat interface cost-effective pricing and tons of excellent features which other players in the market lack.
---
ConvertKit Review: Email marketing
for creators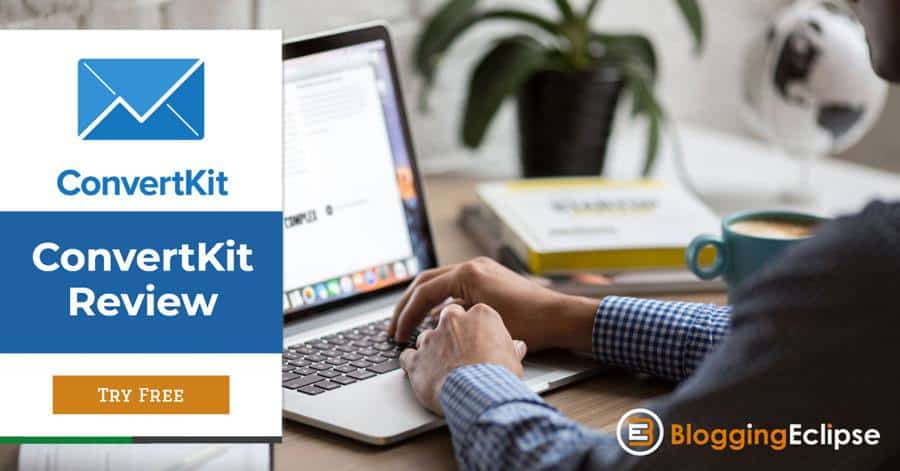 ConvertKit is an excellent email marketing tool striving to make email more straightforward and simple for bloggers and businesses across the globe. The online cloud-based software has been made with blood and sweat by an experienced team of 34 members spread across 26 cities around the world to serve you better and support your every email needs round the clock.
It aims at creating a living online for bloggers, authors, tutors or anyone works hard for life but uses the online platform and converting business online is a damn tricky thing if you don't have proper resources and tools for your online store.
About ConvertKit
ConvertKit has helped millions of users around the world earn billions by crafting their ideas online as every dollar counts for a living. It believes that the success of its software is worth only if its customers are successful and satisfied with their services. It is believed to have more than 250,000 online creators earning a living by working in their respective field of interest. Now that's huge!
ConvertKit is said to have its recurring annual revenue to be $100M that only a few companies are able to achieve. It is a milestone for them. It believes in teaching the creators whatever they know so the creators can benefit and even they would teach others for a better livelihood.
ConvertKit takes care of its existing customers by supporting and teaching them wherever required irrespective of focusing on the new customers as new customers would join only if the existing customers are satisfied and give positive feedback.
By focusing on only what matters the most even though it would small, chances of winning are more with excellence and confidence. When you talk to a real human for the support, you will feel at home as the team cares about your success and knows that you should be paid well for your hard work and dedication.
In this post, you can find all the features and reasons to choose ConvertKit as your email marketing tool to receive the best support and deliverability.
---
ConvertKit Coupon Codes: Upto 60% Discount [Updated 2023]
If you are looking for convertkit discount coupons to save extra money on best premium email marketing tool then here are some 100% working discount codes for convertKit which enables highest possible savings on all plans.
---
ConvertKit Features for Bloggers & growth Marketers:
The functions provided by ConvertKit are made by bloggers for bloggers, tailored for perfection and suiting the needs of every blogger who works day & night to earn their livelihood online.
You would be amazed to check out the features associated with the app that helps you grow your business online as a blogger. Let's check out the features one by one so you would know better why ConvertKit is the best email marketing tool for marketers.
1. Attract & grow your subscribers
The most significant asset to grow any kind of business through email is its email list which can be used with embed features like engaging forms, simple but effective automation and dashboard to track the data.
Customizable opt-in forms attract readers and convert new customers into existing ones. An intuitive panel gives you a complete report of your performance and your growth over the period. Also, it displays the total opt-in conversions and subscriber data to keep a track and knows the insights.
2. Automated emails to help increase the conversions
It is quite difficult for most to manage marketing automation and not everyone's job, but with ConvertKit, marketing automation is quite comfortable and not at all tedious. With simple yet powerful automation you can send timely content to your targeted audiences.
Just like the If and else loop of "C" language, the automation allows you to customize the rules and create your own ones. You can scale your business by using the drag-and-drop sequence builder to increase the list of emails, another easy automation.
3. Send the right Email to the right person
Save your time by using the tags and segments that help you send your targeted content to the right person depending on their interests, location, and other factors. Know about your subscribers and get well-versed with them to address only the right message to the right person that ultimately saves your time and effort.
4. Easy integrations always
ConvertKit is ranked #1 because of its easy integration feature with online services such as WordPress, Shopify, Zapier, Instapage, Optinmonster, etc..
If you are using lead capturing WordPress plugins or popups plugin, You can easily connect it using ConvertKit API to collect all subscribers list on your ConvertKit list. It also easily integrates with Shopify and other eCommerce tools to send emails to customers for billings and promotions. ConvertKit is supported by hundreds of WordPress plugins for email marketing.
5. 100% Emails automation
The ConvertKit automation works best than other tools. Just set the rules one time and let the app works on auto-pilot. With Automation feature, you can send series of time-based emails to your subscribers.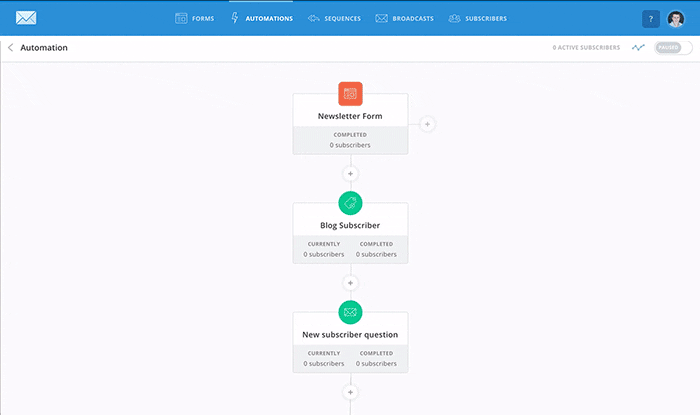 It lets you understand the behavior of your subscriber and know what's next for them. The dashboard allows you to set triggers and automation rules one time and when you get a subscriber, the automation starts. So you can sit back and relax while your emails are being delivered.
---
Reasons to Choose ConvertKit:
If at any time you need help for some reason you may contact the customer support team ready to listen to your issues and finding the best solution to resolve it in no time. You can migrate everything from your current tool into ConvertKit by taking help from the support team.
Not only does the support team pick up your call and answer your queries promptly, but they also organize online training, live sessions, workshops and more. Being a small team, they know the responsibility and hence are always focused on every customer's success.
Switching from the existing tool to ConvertKit might be a little tedious for you, but the migration team is ready to help you in migrating everything if you have more than 5000 subscribers. All the emails, forms, autoresponders, integrations, etc. will be relocated with ease.
Your email content is recognized only if it reaches the subscriber's inbox or else the material is of no use. ConvertKit ensures to deliver your email contents right where it belongs and to whom it belongs.
Email deliverability determines how efficiently your email content is provided from your ISP to your subscriber's inbox. But most importantly, the factor that determines email deliverability is your IP/domain which is responsible for your messages to be delivered to the mailbox and not spam.
Fancy email templates would sometimes ruin your business reputation, and most of the email marketing tools highlight this feature as a prominent one. ConvertKit sets itself apart by providing plain text email that saves your time. It is essential in email marketing to focus on better deliverability and explicit & rich content rather than wasting time on elegant templates.
ConvertKit Slack community
Slack helps you connect with your fellow members who use the same tool to grow their business online and build strong relationships and share the dos and don ts. You can discuss thoroughly on any topic with your fellow members on slack just by signing up and entering your details. Once you get the invite in your email inbox, you can start connecting with like-minded people and grow your business immensely.
---
ConvertKit Plans & Pricing:
ConvertKit is the best email marketing tool to invest in to improve your business at a considerable level. The pricing of each plan depends on the subscribers which can be more than 5000+ and more. Each pricing offers unlimited customizable forms, email sends prompt deliverability, the report with all the insights and data of your subscribers, 70+ direct integrations, API and free 24/7 email and live chat support.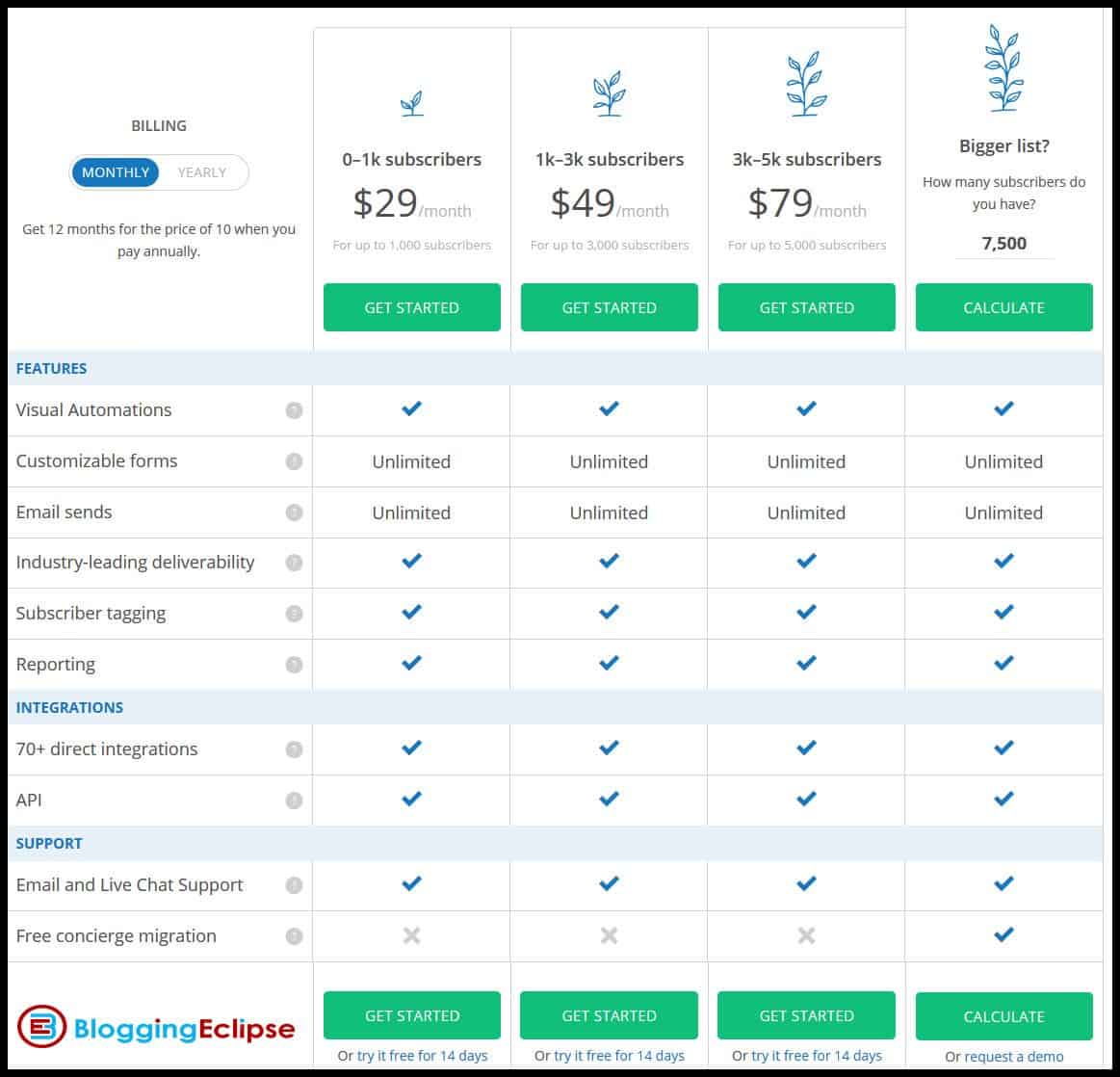 You can try any of the plans free for 14 days and then decide whether to buy the respective plan or continue with your existing email marketing tool.
When you pay annually for any plan, then you save your wallet by paying for 10 months for a plan of 12 months. That's quite a bit amount of savings.
Free concierge migration is provided only if the number of subscribers is more than 5000. Just sit back and relax with a cup of coffee while the migration team does the work for you.
---
Email marketing for Affiliates: does it work?
Affiliate marketing is incomplete without emails or collecting your subscribers. If you ever wanna send some kind of discounts or tell your subscribers about a new product or wanna promote a new affiliate Product or just want to start a webinar, You will require email marketing tools for it.
While there are so many top products on the market like Aweber, MailChimp, Getresponse, etc. ConvertKit is different among them all. It enables you to scale your affiliate earnings by creating automation rules, launch an email sequence and generate email funnels. With the help of ConvertKit other lead generation tools, you can create beautiful landing pages to boost Affiliate conversions.
If you are still striving hard to grow your email marketing list or create loyal subscribers who should stick to your blog then its time now to switch to a better Email marketing provider which can automate the process of sending emails.
---
Final Words:
Indeed! ConvertKit is the best email marketing tool with ease and simplicity focusing on email deliverability rather than fancy templates that hamper your business and drops your email into junk. If you want your precious email content to be delivered to the right person at the right time, then choose ConvertKit that would help you grow your business by connecting with other fellow members using the same tool with the same mindset.
I hope this ConvertKit Review +discount coupons was useful for all the online creators who work hard for their livelihood.
All the best creators!