If you are a blogger or an affiliate marketer, then the security of your work is the biggest concern. Using a trusted VPN service ensures that all your work is safe and secure, keeping the bad guys at bay.
CyberGhost VPN is the #1 reliable & trusted VPN solutions provider globally. In this post, we will bring you the CyberGhost VPN Review and some deals which will give substantial discounts and save a lot of money.
---
CyberGhost VPN Review: Stay Anonymous: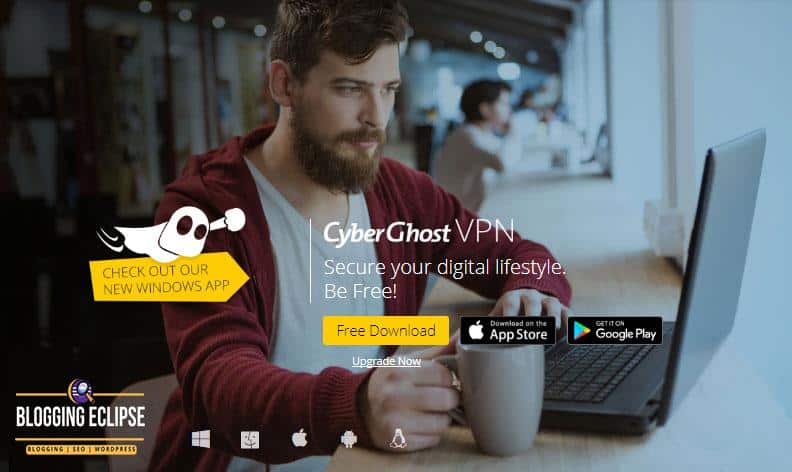 It provides a one-click solution to all your digital needs and is trusted by 10 million users worldwide. It gives a VPN tool that encrypts your information and lets you surf the internet with a different IP address.
It uses different servers worldwide to generate a new IP every time you go online. This way, your IP is hidden from others, and nobody can recognize your identity.
About CyberGhost:
The company currently offers server access to 27 countries and plans to extend the servers to more regions worldwide. It has 36,098+ users, 850 servers online with a total bandwidth of 49.16 GB/s.
The servers are located in Australia, Belgium, Canada, Germany, Spain, France, United Kingdom, Hong Kong, Israel, Italy, Japan, Singapore, the United States, and more than 27 countries.
---
Services offered by CyberGhost:
It provides a one-click solution for all your digital needs. It also offers innovative technologies and tools to be safe and secure online, apart from core VPN features. Let's see its key features.
#1. Surf anonymously
Select any country from around 27 locations to hide your online presence by encrypting your network and changing your IP.
It blocks Impulsive feedback for new IP, server location, ads, online tracking and blocked malware. It uses the strongest encryption algorithm to hide your IP, a 256-bit AES encryption algorithm.
Fully configured with rich in class features like ad-blocker, anti-tracking system, malware blocker, forced HTTPS redirect, DNS leak protection, IPV6 leak protection. They do not save any logs for your browsing history.
#2. Access to Streaming sites
Get access to all the blocked TV channels, movies and over 40 streaming services worldwide, including the BBC. You could access some blocked websites by adding them to your wish list. All the servers are regularly tested and ready to provide 100% performance guaranteed.
With 100% uptime guaranteed, you will never miss an opportunity to access your favorite streaming websites. Some features that come with it are Hidden IP, 256-bit AES encryption, DNS Protection & IP leak safety.
#3. Protect Wi-Fi Connection
Using the fastest CyberGhostVPN servers, you can select the wi-fi network that protects you. You just set it, and the app will automatically start functioning.
#4. Download Anonymously
You can download torrents by choosing servers from the country where it is ethical. That will keep you protected and anonymous. With unlimited bandwidth and an anti-fingerprint system, You can schedule downloads in the app, and it will start automatically.
#5. Choose your Locations
Choose from over 650 servers in 30 countries to change your IP location. Advance servers are available for gaming and torrents to gaming & torrents.
Some features like military-grade encryption, instant feedback, Auto kill internet if suddenly IP drops, and two-way protection is included in every plan.
#6. 30 Days full refund guarantee + Multiple payment options
CyberGhost is very confident o their services, and hence they offer 30 days full money-back guarantee. It also has a wide variety of payment options, including BitCoin, Credit/Debit cards, and PayPal. They also offer unlimited bandwidth & unlimited traffic on all their servers.
---
Why choose CyberGhost over other VPN providers?
On CyberGhost, you can start both the browser session and the VPN connection in a single click, while other VPN providers do not allow both the sessions to commence in one click resulting in improper feedback.
100% guaranteed on streaming restricted movies, TV shows and torrents at a single click. No more frustration, no more multiple attempts required, sit back and enjoy a cup of coffee.
There is no need to open the app every time you access a new Wi-Fi connection. Just set it once, and the app will start automatically, unlike other VPNs in which you have to remember to start VPN with every new Wi-Fi connection.
It is 100% free, even in countries affected by mass surveillance and censorship.
Customize your servers with best-in-class features suitable for you. Whichever server or country you connect to, you will get access to all the abundant features optimizing your demands.
---
Extra Features at a Glance:
AES 256-BIT Encryption collection with unlimited data transfer
Malware blocker to keep you safe from Internet Ad-wares
Auto internet kill switch if VPN drops to hide your Real IP.
No browsing or downloading logs at all
Runs on all platforms, Windows, Mac, iPhone, Android devices.
---
Cyberghost VPN plans & Pricing: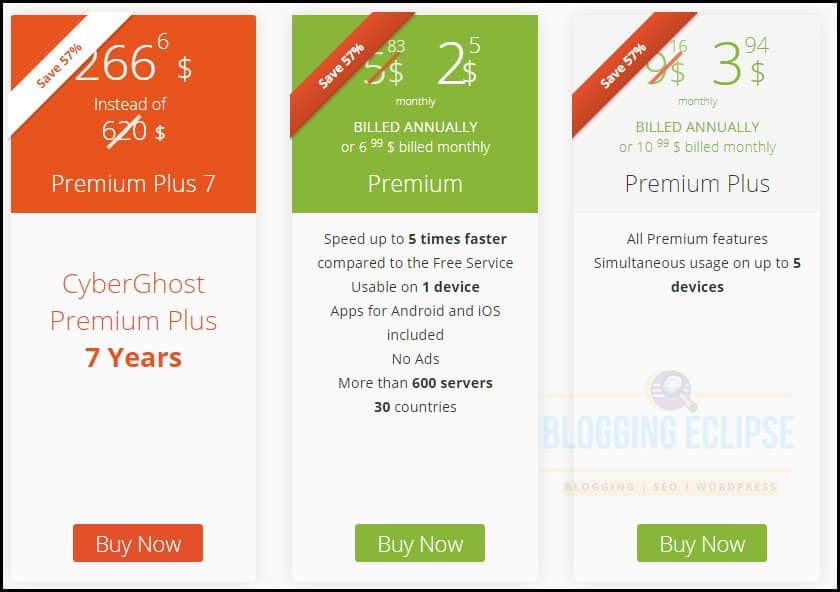 There are only two paid plans that CyberGhost offers to its customers. These are Premium and Premium Plus.
Premium Plan: It costs $2.5/mo with the current running promo offer. If billing annually and $6.99/mo for the monthly subscription. Premium plans include five times faster speed, a single platform using, include apps for Android & iOS with no ads and servers from over 600 locations in 30+ countries.
Premium Plus plan costs $3.94/mo if billed annually and $10.00/mo if billed monthly and includes all the premium features. It can be used for up to 5 devices simultaneously.
---
Cyberghost VPN Coupons & deals:
Special Offer: Flat 77% OFF + 6 Months Free
Cyberghost is running an exclusive offer right now which offers flat 77% discount on its premium plan. It also offers Freee 6 months on a 1-year plan which is again highest saving deal in whole VPN industry.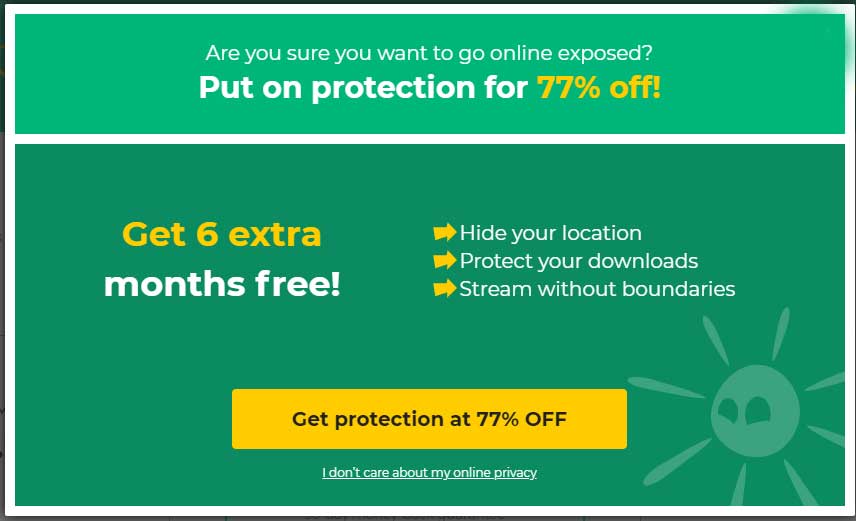 This is s alimitec time offer and hence act fast before you are too late. Click on below button to actiavte this offer
30% OFF on premium plan:
Upto 57% OFF on premium plus plan:
---
Why should you use a VPN service:
If you are a blogger, affiliate marketer, web developer, freelancer or even an internet freak, VPN is a must to be secure. It enables you to browse security and hides your identity from numerous apps and marketing companies. VPN servers also let you browse websites from other countries and virtually change your internet location. So you are always safe and spam-free.
There are dozens of trusted VPN providers like Air VPN, NordVPN, Hidemyass, Hotspot Shield VPN, etc. However, Cyberghost is cost-effective, powerful, and runs great promotions, which help you to save a lot of bucks.
---
Wrapping it up:
Considering the price of both the plans, CyberGhost is the cheapest, and with such a low price, you get high performance and faster speed. With cutting-edge technology, it offers hassle-free internet surfing and hides your IP even if you keep changing the Wi-Fi connections. The servers are 100% guaranteed, and you can select whichever you want to.
The rich in-class features ensure that you don't miss all the entertainment out of your reach due to censorship. CyberGhost is a trustworthy, pre-configured innovative VPN and is ready to serve whenever you want.
Try the Cyberghost free version today, which also comes with dozens of features, and you can always switch to premium for the enhanced experience.
Hope I have mentioned all the information about the Cyberghost review. Do share with us your experience in using VPN and how it can help us build a better secure digital world.
Affiliate Disclosure: This post may contain some affiliate links, which means we may receive a commission if you purchase something that we recommend at no additional cost for you (none whatsoever!)