In this Era of Internet business, Every blogger is becoming an affiliate marketer. This industry enables you to monetize 10x faster than what you get paid on traditional banner ads.
Affiliate marketers always care about the backbone of their affiliate website or blog: web Hosting. Most affiliate marketers use WordPress to manage their website, and hence it is always better to use the best WordPress optimized hosting, so their website loads at rocket speed and you get more sales or conversions.
So in this post, we have listed the best 5 companies & their award-winning managed WordPress hosting, which are suitable for affiliate marketers, and already thousands of Internet marketers are using it.
---
Top 5 WordPress hosting for Affiliate Marketers & Bloggers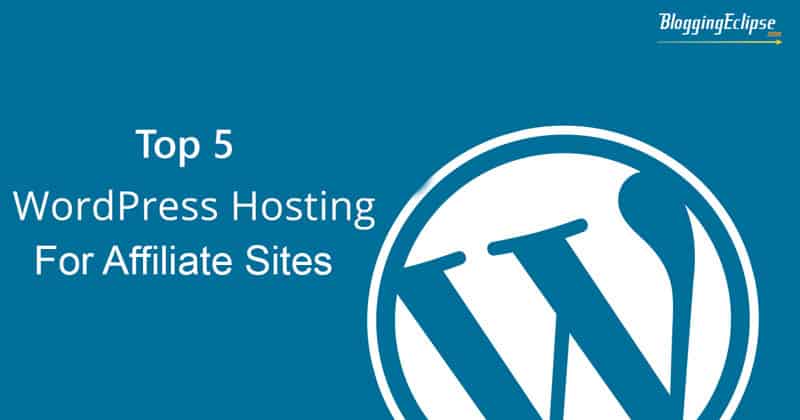 Affiliate marketing needs lots of tools, landing pages, attractive design, email marketing tools, and powerful web hosting, so all these tools & website runs smoothly. As 90% of Affiliate marketers use WordPress to power their website or blog, you require a special dedicated optimized hosting for WordPress that boosts your site speed, takes care of backups, security, and all.
Why should Affiliate Marketers use WordPress to power their affiliate site or landing page.
An Affiliate Website is like a blog, community, or special landing page aimed to convert the visitor into a customer. One needs to optimize their affiliate site in better ways by adding numerous plugins, buttons, graphics, and even email option forms.
These all are only possible with WordPress as you can create multiple pages, Use affiliate link cloaking plugins, show better offers, create stunning landing pages, and much more. Hence 97% OFF affiliate marketers use self-hosted WordPress platforms to power their internet business.
For running a powerful WordPress website that can handle tons of traffic, You will require better fast web hosting with dedicated resources to run your WP site efficiently. Here are the top five to ease your burdens by finding the best web hosting for your affiliate website.
Let's see the top 5 Managed WordPress hosting for affiliate marketers' updated list for 2021.
1: Godaddy Managed WordPress hosting
Godaddy ranks #1 for managed WordPress hosting in terms of price, service, quality, and performance. The best part is it is the cheapest & budget-friendly for newcomers in this industry.
Godaddy-managed WordPress hosting is one of the best products for WordPress blogs & websites. GoDaddy's innovative technology, in-house state-of-the-art servers, and best performance worldwide have made it the best among all.
This hosting is certainly not the cheapest, but when using Godaddy discount coupons & offers, you can grab in just $1 per month along with a free top-level domain with an annual plan. So basically, You can buy Godaddy managed word Press hosting for 1 year for just $12 along with a free domain (.COM, .NET, .CO, .ORG, .IN)
What do you get with GoDaddy managed WordPress hosting?
We have listed some key features of Basic plan which will cost "$1/month"
Free top level domain with every annual plan
25k Monthly visits allowed
Easy resource upgradation
Premium WordPress hosting platform
In-built caching with high load balancing servers
Daily automatic nightly backups & one click restore
PHPMyAdmin and sFTP access.
24/7 Server monitoring, best security tools and plugins
Automatic WordPress core updates & server tweaked for WP
Godaddy WP hosting is best for affiliate marketers. You can get multiple hosting for just $1 per month for your different affiliate websites or a deluxe plan for hosting multiple domains. The best thing I like about Godaddy is its performance and automatic daily backup on its WordPress plan. So at any time you want to restore, It can be done with a click! Try Godaddy risk-free.
---
2: DigitalOcean cloud VPS hosting for WordPress
Are you looking to use Cloud VPS hosting for your affiliate website? DigitalOcean is the #1 cloud VPS hosting provider that offers cost-effective and best cloud VPS hosting for your websites and WordPress blogs. The benefits of cloud VPS hosting are much higher as you get dedicated resources with super-fast loading via premium cloud servers.
DigitalOcean enables you to deploy a cloud VPS using a WordPress application in just 55 seconds so that you can launch your WordPress website in just 55 seconds with complete solutions.
DigitalOcean pricing starts from $5 per month, slightly higher than other managed WordPress hosting providers. Still, DigitalOcean offers cloud VPS which is far better than any traditional web hosting.
Even this website: BloggingEclipse.com, is hosted on the DigitalOcean server via cloudways. So if you are serious about your affiliate website and want it to load at lightning-fast speed, then believe that Digitalocean is the best choice as it comes with a salable control panel, which means you can upgrade your server resources anytime handle more visitors.
Features of DigitalOcean for WordPress Hosting
Complete cloud computing crafted for developers.
Deploy a server with WordPress app in 55 seconds.
Auto install WordPress app by default.
Total SSD performance for 2x speeds.
Highly available storage upto 16 TB per droplet.
Lightning fast network around the world
Pay as you use plans or monthly plans upon your requirements
Best for moderate traffic affiliate websites and blogs.
Read more: Trick to get $35 Free digitalOcean credits
To be honest, If you have good traffic and want your website to load at rocket speed, then cloud VPS hosting is a perfect solution for you. However, if you are starting a new affiliate blog or site, then Godaddy WP hosting ($1/Mo plan) will be best for you.
---
3: HostGator managed WordPress hosting
HostGator is the most trusted hosting brand by web developers and bloggers around the globe. Their normal shared hosting is fast enough and better than other top players in the market. Recently Hostgator launched its exclusive WordPress cloud hosting, which offers 2.5x speed, advanced security, and free WordPress migrations.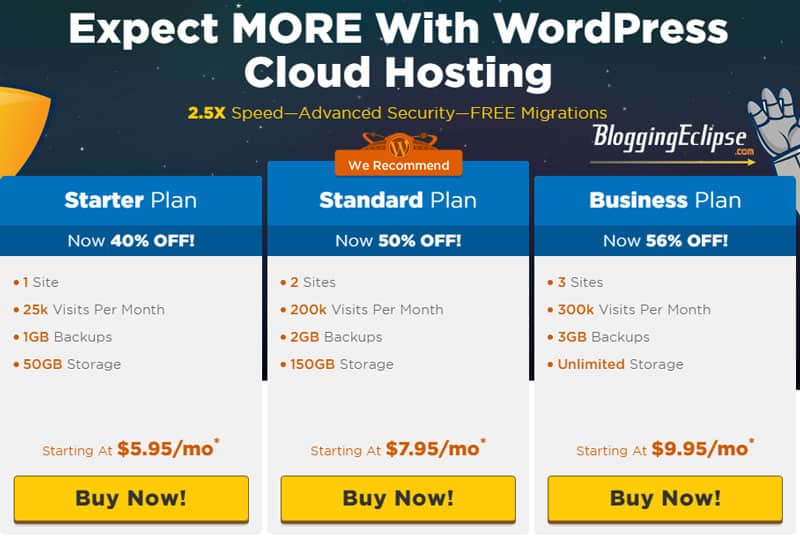 HostGator WordPress optimized hosting is best for all sizes of WordPress websites and data-hungry sites. It offers you a better control panel, fast site loading due to super charged cloud architecture, low-density servers, CDN, and multiple caching layers.
HostGator cloud WordPress hosting enables you to manage your website content more efficiently by using dynamic content requests processed lightning-fast.
HostGator Cloud WordPress hosting features:
Clean & easy control panel to mange your WordPress sites.Auto-backup with one-click restores; configurable for full or snapshot backups.
Free migration of your existing WordPress website by hostGator team.
Easy to access individual files, database, email accounts via single control panel.
Seamless scalibality to to deliver optimal features and maximum value.
Superior support via Call  live chat ans support tickets 24/7/365.
Straight forward pricing plans suits all websites.
60% OFF
60% OFF on all HostGator plans
Hostgator cloud wordpress hosting plans & Pricing:
Starter plan: Starter plan is sufficient for 1 wordpress website and it handles 25k visitors per month with 50 GB of storage and 1 GB of backup. This plan starts from $5.95/Mo, however you can get 35% discount using coupon code "BLOGGINGECLIPSE" at the time of checkout.
Standard plan: This plan is for two wordpress websites which allows you to handle over 200k monthly visitors. 150 gigs of storage and 2 GB of backup space. You can grab upto 50% discount on standard plan using this link for discount.
Business plan: This plan is for enterprises and allows you to host three WordPress websites with upto 300 k visits per month, unlimited storage and 3 GB of backup. This plan starts at $9.95/mo with upto 56% additional discount using this link.
All HG cloud WordPress hosting plan comes with cpanel, dedicated resources, 2.5x faster page load time, free CDN, automatic backups, free site lock security tools, and much more.
Hostgator WordPress hosting is indeed a perfect choice for your affiliate's websites. They're cost-effective. You can host multiple websites on one account. They are certainly not the cheapest, but after using Hostgator exclusive discount coupon, You will be saving a lot of bucks extra.
---
4: Fastcomet Managed WordPress hosting
Fastcomet offers stunning cloud hosting with 24/7 expert support for you. With features like free domain forever, SSD only cloud, flat renewal price, daily backups, a fixed price – no surprises, 45 days money-back guarantee, and safe hack-free hosting.
Daily, hundreds of Internet marketers and web developers are purchasing hosting from Fastcomet as it offers great prices, same renewal fees, fast support, and SSD-only cloud hosting at the best prices.
Fastcomet managed WordPress hosting is another exclusive product for WordPress blogs and websites. They offer a stunning premium hosting platform for WordPress with 24/7/365 support, Free CDN, and SSD with the fastest page loading time.
FastComet Managed WordPress hosting key features:
1-Click WordPress auto installer with free theme setup and backed by expert WP support team.
Free virus scan and malware removal to keep your wordpress websites safe & secure.
Unlimited email accounts with your WordPress websites.
Unlimited email accounts with your WordPress websites.
Free automatic wordpress update service which keep WordPress software upto date.
Free WordPress daily & weekly Backups
People powered wordpress transfer with no downtime.
FastComet WordPress hosting Pricing:
Fastcomet managed WordPress hosting pricing is cost-effective and simple. They offer complete SSD environment hosting with multiple data centers for cloud solutions. Unlike other hosting providers, Fastcomet does not charge higher renewal fees next year. You will have to pay the same pricing for next year too. So their ScaleRight plan is best for E entrepreneurs with multiple affiliate websites.
---
5: Siteground WordPress Hosting
Siteground is another great choice for managed WordPress hosting for affiliate blogs and websites. Their WordPress hosting comes with managed services on all plans. Siteground WP hosting is engineered for speed, built for performance & security. It comes with premium support, and plans start from $3.95/Mo (After discount)
Siteground offers simple WordPress hosting plans which are divided into three categories, "Startup," "GrowBig," and "GoGeek." They are running a special promo which enables you to get a 60% discount on all the plans.
Siteground promises to offer the best WordPress support, which you will love. Click on the below deal button to check the maximum discount on Siteground.
Siteground wordpress hosting key features:
People powered wordpress transfer with no downtime.
Tough security with experts monitoring WordPress related vulnerabilities 24X7.
Officially recommended by WordPress.org as best & bright hosting provider.
WP command line management tool enabled on all plans
Automatic WordPress updates on all plans and one click WordPress installer.
Siteground WP Hosting plans:
Overall, Siteground is also a good choice to host your WordPress website as they have some unique features, and you will never regret choosing site ground.
---
Lets Conclude:
We have listed the top 5 WordPress hosting providers for Affiliate marketers. They all have different pricing and unique features that are exclusive to each hosting company.
To be honest, Godaddy WordPress hosting is the best choice for affiliate marketers as you get 1 WordPress site hosting for just $1 per month and a free domain name. However, if you require unlimited domain WordPress hosting, I suggest you go with FastComet.
So my dear Affiliate marketers, Share your experience of WordPress hosting with us via the comments section below So we can make this article more useful. Share this post with your friends to spread the love, and at last check out our exclusive Deals section to the latest discount coupons & deals for webmasters and marketers.
Happy Marketing🙂