Are you one of those who want to grow their blog or website but do not know how to do it? Then, the GSA Search engine ranker could be the solution. It is an excellent tool that can help all those who want to improve the places of their websites in rankings and improve their traffic by attracting more new and regular visitors.
In this post, we have featured the GSA Search Engine Ranker review updated for 2023, the best SEO Software that really helps you to increase traffic on your blog or website. The only thing people will need to do before starting to use the GSA Search engine ranker is to create an excellent SEO strategy, and together with this awesome tool, the result will be a boost in their website position on rankings as well as the visits received by their page or pages.
However, of course, the webpage owner's creativity and original mind have a significant role for all of it to work. There will always be the need for the website to have a lot of varied, exciting, and original new content for all the visitors to stay interested and follow the blog or webpage regularly. Also, the excellent use of keywords will play an important role in the page's traffic.
What is GSA Search Engine Ranker?
GSA Search Engine Ranker is a tool that many SEO professionals are familiar with, especially the old-timers. It's not only famous for its ease of use but also its effectiveness. The software intelligently builds backlinks for your site and helps your web pages rank quickly.
Talking about Backlinks, they are perhaps the most important factor for ranking your page on search engines. Mostly, all the sites that rank and appear on the top of search engines are the ones that are rich in backlinks. But you don't have too many backlinks. Quantity is not important, but its quality is more important.
Your web pages should have a fair amount of backlinks from authoritative sites relevant to your field. This would help you to dominate search results for a more extended period. This is dicey, and that's where tools like GSA Search Engine Ranker software come into play.
Search engine optimization has been around for a long time, but it carries some risks. The algorithms used by search engines can penalize your site if you're caught using these techniques.
Considering these risks, We have brought in our GSA Search Engine Ranker review.
How GSA Search Engine Ranker Works? – GSA Search Engine Ranker Review
There must be some people who are wondering how this tool can generate such results. The answer is quite simple: GSA Search Engine Ranker takes care of the critical but tedious task of sending backlinks automatically and saves its users the time that they could spend going into every different page one by one to subscribe and pass all the validation steps before finally being able to send a link.
So when using it, it allows all its users to spend more time creating new and quality content and improving their SEO strategies instead of repeating the mentioned steps time after time. If you are new to this world and want to make use of all the possible tools that can help you, and you reached this post without extensive knowledge about the topic or how it works, you might be wondering what are those backlinks we are talking about in here and how do they help to improve the site's ranking and traffic?
Let me explain it to you. Backlinks are, as their name says, those links that are published in one or different external web pages and direct to your webpage. The quantity of backlinks that the page has on external sites is really important because it makes Google give you more attention. All of this is because by allowing the link to your page to be published in theirs, other sites are providing approval or a vote of trust to your page.
The best part is that because GSA Search Engine Ranker can make all the work automatically, you won't need to go check all the time if it is doing its job or if there is any need to look for new websites to send the backlinks because a tool such as GSA Search engine ranker can take care of all of those tasks by itself!
GSA search engine ranking proves to be an excellent option with this other characteristic of working in whatever language the website is made and managed in.
Even though this SEO tool's original language is English, the fact that the site it is working with, its content, keywords, and related pages are in other languages, be it Spanish, French, German or any other, it is not a hindrance thanks to its multiple language support.
Features of GSA Search Engine Ranker – How do You Use the GSA Search Engine?
GSA Search Engine Ranker is a premier backlink builder tool that offers the following features:
GSA backlinks work with a target URL (i.e., project), so you can send as many links at once as necessary without worrying about hitting the limit. When you create a new project, you need to take the time to think about where you want your links to be submitted. And the easiest way to do this is by selecting the platforms that are most relevant and entering in relevant information such as keyword description and anchor text.
Using the GSA Ranker, you get filters to leave backlinks on sites that give you more value. By using filters, you can define the countries where your links can be placed, the language they should have or what ranking it has to be for a link to be displayed. This filter would let you know which types of sites may come with a risk of harm, such as those notoriously infected by malware.
You will be able to access the most common APIs that range from CAPTCHA services, indexing or spinning services, to rank-checking APIs. In short, you can control everything that fits your need on a per-project level.
With this software, you can track your backlinks and keep an eye on the effectiveness of your strategy. You can go back in time and review your backlinks to see if anything needs to be tweaked. By using this, you can certainly improve your strategy and make it more accurate. On continuously using GSA Search Engine Ranker, you would adapt to its search engine algorithm updates quickly.
With this tool, you get many indexing services to choose from. By using GSA Search Engine software, you would not require an external indexer, as your links would get indexed naturally. With this built-in indexer, you'll be able to avoid the hassle of manually submitting your GSA links to search engines and ensure that they are found as quickly and efficiently as possible. You can also choose from a host of indexing services, but by default, options are GSA SEO Indexer and GSA URL Redirect PRO.
Content is king, and this is evident with the wide variety of content types managed and published through the article manager. It also enables you to define your content. You can tell the GSA Search Engine Ranker and inform it about the most crucial articles, and you can integrate it with another external tool as well to create new and fresh content on auto-pilot.
The next feature is an important one on our list. The Global Proxy Setup, which comes along with this GSA Search Engine Ranker, enables you to fine-tune your proxy setup and also define where you should use them and what type it should be. You can also scrape public proxies worldwide or even use the paid ones to do SEO anonymously.
A CAPTCHA is a type of image, typically with a word missing on it, that is used by websites to combat spam and can be required by registration pages. This tool has got 30+ native integrations by which you can use third-party services to solve image CAPTCHAs. You can also select a primary solver and also the backup one in case this service fails. For solving the TEXTCAPTCHAs, the GSA link-building software has a database of thousands of pre-filled text questions.
Spinner setup is an attractive feature to have where you can turn your content into multiple unique versions. With this software, you can either its internal spinner or a third-party service which would save your time. But a word of caution is that search engines can flag your spun content as suspicious if you don't use this feature properly.
Automatic Email Verification
With the GSA Search Engine Ranking tool, you can complete the email verification procedure many sites require by approving your submissions on autopilot. This feature works when you upload pre-made email messages to the GSA link-building program; it can create accounts, verify links on your behalf, and even post them. You can also set up a new account if you don't want to grant the tool access to your email.
One of the most important features you get with this software is the ease with which you can submit backlinks to dozens of platforms. You can submit backlinks of articles, blog comments, forums, image comments, indexers, pingback, RSS, Social networks, URL shortener, videos, directories and more. This tool gives you greater flexibility and choice as you are now not limited to counted platforms. You will have a lot of latitude in testing different backlinking strategies and finding that winning formula that works for you.
This desktop app is only compatible with Windows, meaning it will not work on macOS or Linux unless you use a hypervisor.
Last but not least, this tool produces detailed reports which keep you informed about your GSA backlinks and other important figures. The information you can get includes verified links, the number of solved CAPTCHAs, submissions per minute and total submitted links.
Taking Advantage of GSA Search Engine Ranking
To start using the GSA Search Engine Ranking, first of all, you will need to create a project. To do that, the first step is to select all the platforms you are interested in submitting your links to in a kind of list.
It will then ask for information that will be important for the project, such as keywords, a description, anchor text, and some other more in the same line.
With that information, this tool will start sending backlinks, first to those chosen platforms that had been included at the beginning, and later it will begin to send it to those websites it considers that fit with the needed characteristics within the project and SEO strategy. It also has the possibility of working with more than one project at the same time with their targets and characteristics.
GSA Search Engine Ranking counts with some quality filters that work alongside the SEO strategy to give the information needed for the software to send the backlinks only to those websites that can be useful and that use similar content to the user`s site or that match the requirements needed. The filter URLs option is essential for anyone who wants to build links to their own website. These settings are especially crucial for building links if you want to skip sites with more than several outgoing links on a single page.
That way, for example, it will decide which countries work as a target or the languages those sites are managed in as well as the position that the site has on rankings.
The best part here is that this tool can create accounts on different websites and verify them for you. Also, it can solve captchas without you moving a finger. Moreover, this can be funny because captchas are not another thing than those images with numbers or words that ask you to make an action to prove that you are human when registering into a website.
The thing is that although they are supposed to be solved manually by human users, this tool can use software capable of answering most captchas by itself.
There is also the possibility to look for statistics and analysis of the project's advances. These can be visualized in charts, diagrams, and graphics and can be downloaded in different formats to fit the user tastes while keeping track of their general strategy. This option helps keep track of the created backlinks, update the various created links, and remove previously created ones.
One important thing to consider when using this tool is that it can raise the alerts of Google for not looking like natural behavior because of its automatic actions. So it is important to consider this and choose those options which allow this process to look more human-like.
There are a lot of useful options that help to create a natural-looking website, for example, I can name as one of the most simple but effective ones, which consist in setting the project in a way that makes it pause after sending a certain amount of submissions or links on every certain period or every day. Another similar one would be to set a permanent schedule of submissions. Moreover, there are options like purposefully choosing to have typos or spelling mistakes to appear more human.
💡 Three Unique Ways to Use GSA Search Engine Ranker
Three ways can be used to generate quality backlinks by using GSA; two are considered black hats, and one is a gray hat.
1st Way: The Gray Hat Method combines both Black Hat and White Hat tools in a clever way to help you automate some of the steps for site growth and increase your backlinks.
2nd Way: Here, you got to use GSA in a confined manner and keep it running. Then you will find links that are continuously being built and updated. Please make the most of them before they turn into spam and penalize the site.
3rd Way: This is a black hat method. This would make your site turn on GSA to its total capacity and keep your options open. And most probably, your rank would get skyrocketed within a month, and within this tenure, you would also make a heavy amount of money with a legit monetization model. If your site gets penalized for this, then drop the site and start afresh.
The platform is 100% legitimate and up to you how you want to use it.
GSA Search Engine Ranker Pricing – Special Discount Offer
If you are someone who wants to test this tool, you can download the demo version. But it's only for five days and works with 300 submissions. It does not even include access to project duplication, Scheduler or restores.
You get the developer GSA at a one-time fee of $99. In our GSA Search Engine Ranker review, we certainly liked the fact that there are no hidden charges or recurring payments, but we don't like the fact that the company does not have a refund policy.
The company accepts 100+ currencies, which are lovely, but the cost of this site ranker will always be calculated based on the US dollar exchange rates. The company accepts major cards, including Discover, American Express, Mastercard, UnionPay, Visa logo, JCB and many more for payment options. You can also buy this link-building software through PayPal, Neteller, Skrill Wallet, WebMoney, purchase order, or wire transfer.
What is GSA SEO Indexer?
GSA SEO Indexer is a comprehensive software solution that allows you to quickly submit your webpage to major search engines. This helps your page get indexed and get more traffic in a faster amount of time. Google, Bing, and Yahoo search engines are all big sites people use daily to find information. The GSA SEO Indexer is a powerful tool that can help your web pages rank higher on these search engines. Using this software, you can have your site rank higher in a few minutes and save a lot of time.
Any of the SEO specialists will always advise you to submit your web pages to as many static websites as possible, along with the search engines, which will generally result in a large number of inbound links. Frequently, these created links are primarily dynamic and are usually not visible to someone browsing through the page. And will be visible to all types of log files and the database, which are mainly checked by search engines.
And with GSA SEO Indexer, you can easily submit enormous URLs along with the domains simultaneously if you don't have to put more than one index. Talking about the stats, there are 1440+ sites where your site can be quickly posted suitable with the help of the GSA SEO Indexer within no time.
Features of GSA SEO Indexer
It is crucial to make your submissions successful. The more your submissions are, the better your website will be. It mainly depends on your needs and target. And the GSA Indexer will allow you to choose between the "Full" index mode and the "Quick" or "Custom" indexing modes. Here in full mode, the applications submit to every website, and the quick mode here only considers 100 websites.
The best part about this software is that it has a very user-friendly interface. As we all know, indexing can be complex on some levels. With GSA SEO Indexer, you can make this process very easy. To post a website, we have to type its address and then we need to click one button. After this, you have to do some quick steps, and you are ready to go!
Some additional features include manually setting the number of websites you want to index. Also, you get features like submitting deep links as there are few websites that only accept the domains and root URLs.
However, there are a few limitations of the Unregistered version, which include:
If you are not able to use a few features, it means that you are not using the correct version of the GSA SEO Indexer software.
You are limited to only 50 submissions.
You don't get a proxy scanner/tester.
Nag Screen.
👉 How can you download the latest version of the GSA SEO Indexer?
There is a simple procedure by which you can download the latest and genuine version of the GSA SEO Indexer. To do so, you need to visit their official website to get the latest version of the GSA SEO Indexer from their official site.
We all know to get the desired results, we need to use a genuine version of any software. It is the same in the case of the GSA SEO Indexer. If somehow you get an unregistered version, then there are chances that you would not get the desired results, or you may get access to limited features. We would highly recommend you to use the latest and authentic version of the GSA SEO Indexer as its all about the search engine, and the slightest mistakes can ruin your rankings.
GSA SEO Indexer Pricing – Exclusive Discount Offer
At GSA, you can take guarantee that you will get affordable, quality products that are easy to use. You would only have to pay $20 to access this incredible software that would make your indexing process hassle-free and quick.
All you need to do is go and download GSA SEO Indexer and let it take care of all your indexing needs. It is a reliable tool that will help you automate the process so that you can concentrate on other important tasks. Plus, all the major search engines, like Google, Yahoo! and Bing, will list your website within minutes!
Refund and trial policy of GSA SEO Indexer
You generally get a DEMO VERSION when you first check GSA SEO Indexer. We would recommend you to first go for the free version in order to get yourself accustomed to this software. You should really go and get to know the basics of this software by using its free version first. Having done that, you should then decide if you are comfortable with the basics and if you are getting the promised results from the software.
With this tool, you don't get any sort of refund policy even after you buy the pro version. After trying the free version, why not try the pro-version of GSA SEO Indexer by visiting their official website and seeing what you think? You'll be able to rank your website higher as it provides various features that make it very easy for any user to use. Why are you waiting? Just go and try it!
Customer Reviews & Testimonials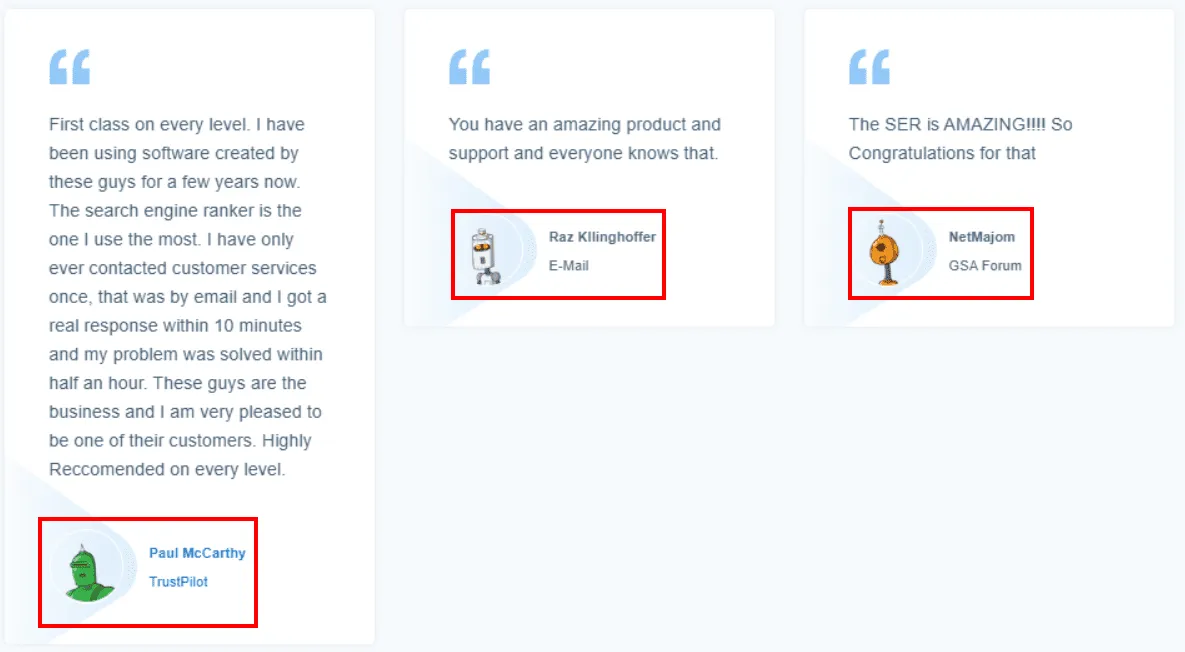 Top FAQ on GSA Search Engine Ranker
Will GSA Search Engine Ranker work on my PC?
It is very difficult to tell because every PC is different as we all know it is not possible to make the software work on every machine. But at the same time, GSA allows you to download a demo version for every software. If you find any trouble with it, you need to tell them that they will fix the problem.
Will GSA Search Engine Ranker work on MAC/Linux?
No, GSA software will not work on MAC/Linux as it was only built for Microsoft Windows.
What payment methods does the GSA Search Engine Ranker support?
GSA Search engine ranker supports several methods that are listed on the resulting web page. It supports the Credit card, phone, fax, wire transfer, PayPal, etc.
Will I get an invoice?
Yes, the GSA Search engine ranker provides an invoice with every order. If you do not get the invoice, then they will send you on your one request.
Conclusion: GSA Search Engine Ranker Review Updated 2023 | Should you go for it?
So as you can see, GSA Search Engine Ranker works as a lifesaver that allows its users to forget about having to send backlinks ever again to make its website grow, raise rankings, and have more visits. As it works 24/7 and is entirely automatic, it doesn't require constant supervision. Also, it does not need a list of the possible target websites as it is capable of finding them according to the created project.
I fully recommend it!😊
Highly Recommended
As we all know, backlinks are the key to ranking high in search engines. However, building them takes time and resources. If you are looking to rank higher in search engines, you need backlinks, but you can't build them by yourself or with a team of people; it's too time-consuming and expensive. GSA Search Engine Ranker is the ultimate solution for your SEO needs. It builds backlinks automatically, 24 hours a day, 7 days a week. GSA Search Engine Ranker takes care of all your search engine optimization needs.
Positive
It builds backlinks 24 hours a day, 7 days a week.
You can run multiple projects simultaneously.
Easily review your created backlinks.
Track your overall SEO strategy.
Negatives
Backlinks are a little spammy.
GSA Search Engine Ranker – Automatic Backlink SEO Software
Get started with GSA Search Engine Ranker today and build quality backlinks.
Also read: