"Marketing is like Sex, Everyone thinks they are good at it."
Are you a blogger or an Internet Marketer looking to grow your email list and need better website conversions?
If yes, then you need to switch from your existing email collecting tool to the best lead generation software that has monster features to increase your conversions and reduce cart abandonment.
OptinMonster is one of the best lead generation software that does all the complicated tricks for you automatically with super-intelligent features.
OptinMonster can be installed on any website platform like WordPress, Joomla, Shopify, Magento, BigCommerce, Weebly, woo-commerce, Blogger, and any kind of websites using HTML.
---
OptinMonster Review: PremiumConversion Optimization Toolkit to boost sales
There's no need to hire a web developer for customizing your forms. Without any coding knowledge, you can customize your lead capture forms using OptinMonster templates library & pre-made optin forms.
Optin forms are always the great way to boost sales, get quality leads, Collect emails, offer discounts, etc. So if you want to display a preferred discount on only some pages of your website, OptinMonster can do that very well. Or if you just want to collect emails in a better way by offering some free guides or eBooks to your visitor, OptinMonster have dozens of pre-built email collecting templates which are at par with other lead generation tools in the market.
The tools come with 14-day money back guarantee you can try the software risk-free.
By signing up for the agency plan, you can use OptinMonster for your client's website and get access to features such as Account Management, Sub-Accounts, Custom Branding, white label and much more for a high-level experience.
If you have an extensive website with massive traffic then by signing up for OptinMonster Enterprise plan you can get VIP support and onboarding.
People often are unable to collect emails and grow their customer base and revenue just because of the complexity of the tool and the price tag. OptinMonster helps you do both, i.e., increase your email list and save your money at a cost-effective price.
---
About OptinMonster (Company info):
OptinMonster was launched in 2013, and since then it has been providing great conversions from small businesses to Fortune 500 companies. Due to its impeccable services, it has grown to a billion customers viewing a website with OptinMonster on it, and they see the vast increase in their revenues and email subscribers.
Because of the innovations and use of latest technology consistently, OptinMonster is considered as the leader in generating leads no matter what the market conditions or trends might be.
If your visitors have abandoned, you then don't worry. Directly, download OptinMonster and turn your abandoned visitors into subscribers. Till now more than 21 billion visitors session have been optimized, over 600,000+ websites have used it for better conversions, and more than 217 million conversions have been achieved.
The team behind such a fantastic software includes some brilliant minds like Syed Balkhi- Co-founder and CEO who also founded WPBeginner and Thomas Griffin- Co-founder and CTO who also founded Soliloquy.
Working with such brilliant minds will never disappoint you and ensure you to get 100% conversions and increase your client base.
---
OptinMonster Massive Features for Bloggers/Marketers
OptinMonster is the #1 tool to convert your site's visitors into subscribers & customers. Their UI, performance, designs are simply best to convert even the toughest traffic. Its super awesome features and benefits make it to best lead generation and optimization tool in the world. Let's see it some unique features in details.
Proven to convert stunning Design Forms
There are hundreds of lead generation tools and WordPress plugins available in the market which have their own unique templates. However, OptinMonster beautiful design templates for numerous verticals are proven to convert visitors into subscribers.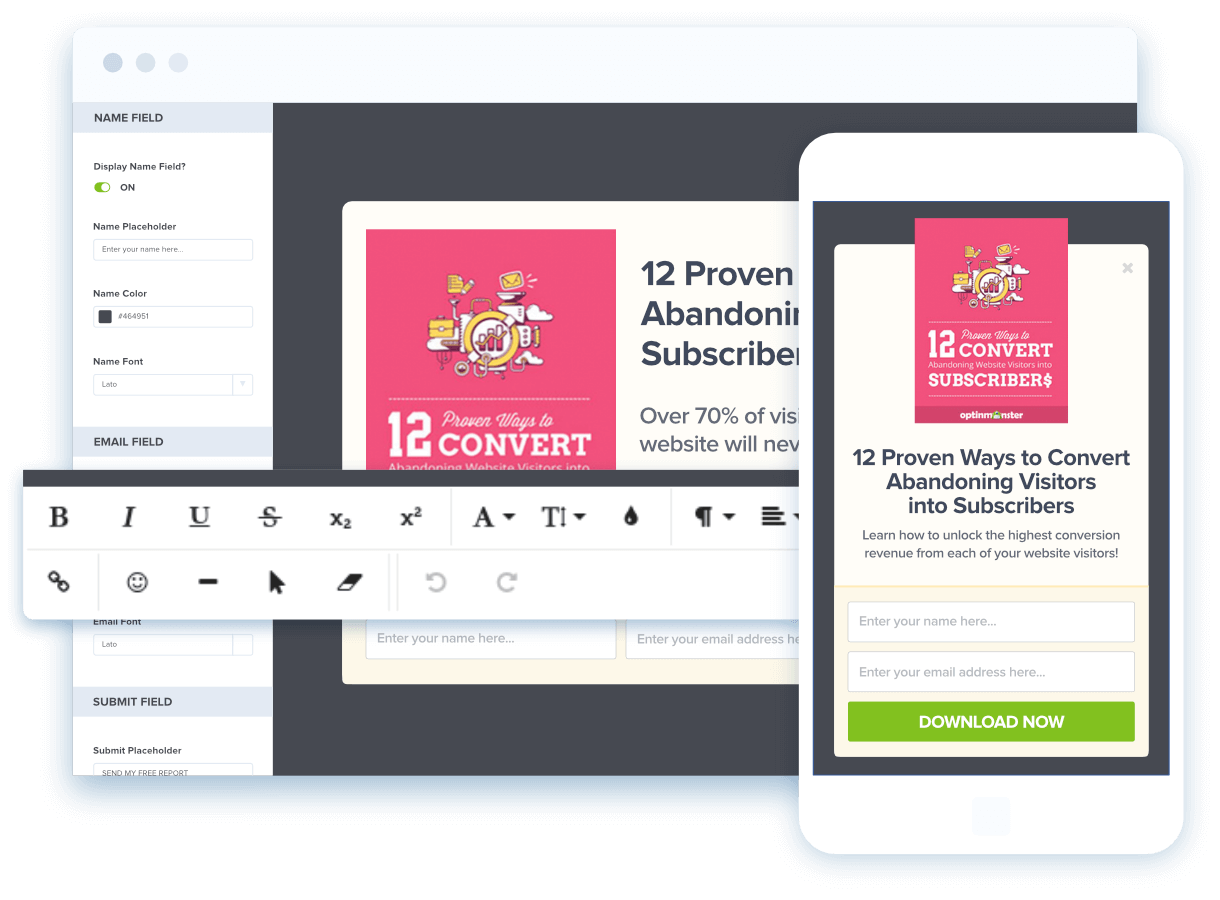 Their high performing templates are made and updated by their highly talented web team. Thier optin templates designed are released after thorough testing. It comes with over 65 pre-made templates, Responsive optin forms which are suitable for desktop, Tab or mobile display & multiple forms type like sidebar, full-screen popup, inline, header, widget and lot more.
MonsterLinks™ 2-Step Optins
Boost your conversions by 785% by converting any image or link into an optin form. MonsterLink™ allows you to create 2 step optin campaign from any link and grow your email list at rocket speed with proven conversions.
The exclusive technology by optinMonster enables you to turn your website into a lead generating machine. With ZERO coding, you can turn any of your images or links to a proven optin form with a nice popup for users asking them to subscribe or buy. This is a multi-step optin technology which makes your visitor into subscribers with Zeigarnik Effect.
Geo-Location Targeting Optins
Based on customers location campaigns could be personalized and this would improve conversions. This feature enables you to display locations specific campaigns to enhance your conversion and sales.
A per the reports, 61% of consumers wants to offer relevant to them to their region, and hence it is utmost essential to offer GEO redirect on optins for users country which actually increases the rate of conversions by double.
The GEO Location targeted by OptinMonster comes for eCommerce websites to enhances sales, it happens for publishers to focus affiliate campaigns in multiple languages for different GEO's as 72% of internet users prefer content in their native language.
The exclusive Exit Intent TechnologyDisplays targeted messages based on the behavior of user's behaviour while they are leaving the page. As per the statics 70% of the users who leaves the website or press back button never come back and hence it is essential to make them come back by collecting their leads, and this can only be done with an exit email subscription optin.
Let the optinmonster's exit-intent technology help you convert abandoning website visitors into subscribers and then revenue. There are stunning Exit-intent optin templates which helps you to customize your the optin and use it on your site, so you can even capture those visitors who try to leave your site, but with proven Exit optin from OptinMonster, they subscribe to your site or blog.
Drag n Drop optin Builder
Create powerful and stunning optin forms optimized for higher conversion rates. Use customized templates and make them yours by customizing it in your way. Multi-step campaigns could be created to improve conversions and increase overall sales.
Optimize mobile-friendly campaigns, engage your customers more by personalizing the Thank You message, if you are bored with pre-readymade templates then use black canvas to create your own, give monster effects to your campaigns by choosing over 26+ animation and sound effects.
Choose your Campaign Type:
Choose campaigns based on your visitors that engages them more towards your attacks and reduces the abandonment.
You can grow your email list with the most effective solution of Lightbox Popup, create a full-screen welcome mat that pops up in front of the visitor engaging them with a call to action, slide-in scroll box is the best alternative for popups that slide from the corner, a floating header or footer bar increases conversions as you scroll up & down, countdown timer and sidebar forms to boost your conversions and sales, add inline styles for blog posts and page content, content locker grows your email list.
By detecting the behavior of your visitor, you can display the right campaign to the right person.
Turn your abandoned visitors into subscribers and customers, scroll trigger feature shows campaigns only when a particular scroll percentage limit has exceeded, convert any image or link into an optin form, inactivity sensor senses inactive visitors and helps them transform into subscribers, proper timings of campaign display boosts conversions, on specific date and time time-sensitive campaigns could be run.
Create powerful and stunning optin forms optimized for higher conversion rates. Use customized templates and make them yours by customizing it in your way. Multi-step campaigns could be created to improve conversions and increase overall sales.
Optimize mobile-friendly campaigns, engage your customers more by personalizing the Thank You message, if you are bored with pre-readymade templates then use black canvas to create your own, give monster effects to your campaigns by choosing over 26+ animation and sound effects.
---
Some extra OptinMonster features & benefits:
Targeted Campaigns: With precision targeting, you are more likely to generate massive leads, convert existing customers into subscribers and make more profit.
Targeted messages are shown based on the location of the user, based on the page of your website your campaigns can be customized, OnSite retargeting helps you create unique offers for returning visitors, Geo-location targeting creates campaigns based on the visitor's location, unique campaigns for mobile, tablets and desktop can be built, AdBlock detection feature to recover revenue with targeted messages.
Also Read ConvertKit Review: premium Email Marketing with 100% Automation in your campaigns.
Multiple Integrations: OptinMonster comes with various integrations with over hundreds of platform, web apps, CMS, etc. It also connects directly with over hundreds of Email marketing providers to instantly share leads collected and build an email list.
If you want to personalize your conversions, then create campaigns that impact in real-time. For marketing automation group subscribers based on their interest, lead sharing with marketing partners is easy, detect user behaviour and personalize every parameter of your campaign, based on campaign interaction you can setup retargeting pixel to increase ROI.
Actionable Insights: Get access to the insights with the right set of tools and analyze the statistics to build a robust strategy for lead generation. Automated personalization provides better conversions, increase conversions by easy A/B testing of your ideas, existing customers already in your campaigns should be offered new exclusive offers.
---
How OptinMonster Works?
---
Why Choose OptinMonster o your blog or website?
Want to know why most of the marketers and bloggers love OptinMonster for great conversion optimization and lead generation? Check out these reasons that have led millions around the world choose OptinMonster as their lead generation software.
Grow your email list every day:
By using some innovative forms like Exit-Intent® popups, Fullscreen Welcome Mats, and Scroll boxes, your email subscribers, and conversions get a boost.
It uses behaviour detection rules with the combination of Yes/No feature that redirects engaged website visitors to the most popular pages, and thus your page views increase significantly.
Boost Sales with the reduction in cart abandonment:
More than 50% of the cart is abandoned, and this results in the massive loss, but OptinMonster uses time-sensitive behaviour based offers that reduce cart abandonment significantly and boosts overall sales.
Targeted website messages:
To ensure that your targeted website messages are displayed to your existing newsletter subscribers and customers, OptinMonster uses Onsite Follow Up Campaign solution.
Most of the abandoned visitors never return to your site, and other websites take advantage of this situation by swallowing your visitors. OptinMonster Onsite Retargeting solution converts your abandoned visitors into customers and subscribers using behaviour automation.
The boost in Sales Conversion:
It is essential to display relevant promotions to your existing traffic as uneven promotions may lead to diversion of traffic. OptinMonster smart targeting features help you in showing pertinent promotions that increase the overall sales conversion rate and generates more revenue.
---
OptinMonster Plans & Pricing (Updated)
OptinMonster offers low-cost plans so you could join 600,000+ websites and improve conversions. Choose any its pricing plan with a 14-day trial, and if you are not satisfied with the features and services, then OptinMonster guarantees to return 100% money.
There are total three plans crafted for user benefits from the OptinMonster team. Basic, Plus & Pro. Let us see some of the features in each plan,.
Basic plan: The is an entry-level plan costing just $9 per month with an additional discount using coupons, It lets you setup unlimited stunning opt-in forms, A/B testing for each form, page level targeting, user friendly reporting, analytics, high converting templates library, lightbox popups,, customizable success message and dozens of premium features.
Plus Plan: The 2nd advance plan titled with "plus" label enables all features in basic plan +Floating bar optin, Sidebar forms, After-post/in-line forms, content locking optins. This plan works for three website or WordPress blogs. It costs $19 per month when billed annually.
Pro Plan: the super popular plan as it supports unlimited websites, apps, stores, etc.. It offers all the features in plus plan and also comes with the Exit-intent popup, referral detection, mobile-specific forms, YES/NO Forms, Slide-in scroll trigger boxes, Smart canvas forms, full-screen takeover, Campaigns scheduling,
The most popular plan is pro as it comes with complete features and also huge savings as compared to other plans. All these prices are valid only when you bill annually. The monthly cost differs from the annual rates. Check below for OptinMonster discount coupon.
All plan comes with 100% risk free 14 days 100% money back guarantee. So if you ever feel to get you money back, just raise a ticket or chat l;ive with them and get your whole money returned wihtout any questions asked.
OptinMonster coupon codes: 100% verified
So if you are looking for some extra discount on cost-effective OptinMonster plans then here we are sharing some of official 100% working coupon codes which can enable you save some extra money.
20% Extra disocunt on all anual plans.
All annual plans are already 25% discount, and by using this special coupon, you get an additional 20% off, So total is like 45% savings when you choose annually. This is an official coupon which is 100% verified & working.
---
OptinMonster Affiliate/referral Program
If you are looking to earn extra by promoting OptinMonster on your website or blog or referring it to friends, then you can join OptinMonster Affiliate program on ShareASale and earn 20% recurring commissions from each paid referral.
The company have dozens of highly converting creatives/banners available on their affiliate panel which can be used by publishers on the blog/website to promote OptinMonster
Join OptinMonster Affiliate Program on ShareASale
---
Monster Words:
OptinMonster is a unique lead generation Tool that uses individual state of the art technology such as Exit Intent Technology that identifies user behaviour to display targeted messages, Mobile-specific forms, slide-in scroll trigger boxes; smart canvas forms make OptinMonster the #1 lead generation and conversion improvement Tool.
It is merely the best tool to collect emails and leads beautifully and send it to your Email provider for automation or saving it to your subscriber's list.
Try OptinMonster today and let the Monster increase your conversions and overall sales from your website or blog.