Are you tired of reloading some websites on your browsers again and again? Let us tell you a secret; it is not your internet connection that gives you a hard time; it is probably the browser you are using.
It is vital to check your browser compatibility to have a load-free work time. That is why, today, we bring you the ultimate review on one of the most prominent browser compatibility tools. Without further due, let us get started with our ✅LambdaTest Review.
This could probably be your first time hearing about a browser compatibility tool or already know the basics. But in this post, you will have an accurate idea about a browser extent. Is this compatibility tool LambdaTest is the one you are searching for? Is it the best of the rest? You can never know the answer to these questions until and unless you get into the real essence of it. But firstly, you need to know what is Lambdatest and how does it work. Before that, let us give you a quick introduction to browser compatibility.
How does Browser Compatibility work?
Browser compatibility is a mode in which web pages look different in every browser; the reason behind this is that every browser reads the website code differently. That means there is a possibility that every web page may look different to you while accessing it with other browsers.
The most regularly used browsers are Google Chrome, Mozilla Firefox, Internet Explorer, Opera Mini, and many mobile platforms. To desist from relying on browser-specific behavior, such as expecting it to detect a content type or encode it without specific instructions, some steps you can follow to prevent unexpected browser functions.
---
In-Depth LambdaTest Review
LambdaTest is a cloud-based cross-browser testing platform developed for both manual and automated browser compatibility testing. Right on your browser, you can conduct live web app or website interactive testing on over 2,000 diverse operating systems and browsers online. Additionally, the platform also allows you to check on Appium and Selenium scripts across various mobile browsers, on both iOS and Android, on a scalable online Selenium Grid.
LambdaTest also does automatic full-page screenshots across all over 2,000 environments. That gives you a quick view of how your website will look and test the layout with one click across 36 different devices. It also lets you deal with and compare the design and HTML images.
20% OFF
LambdaTest 20% Discount on all Annual Plans
Suppose you want to manage tasks and bugs efficiently. In that case, the platform ensures seamless collaboration with its one-click integrations with tools such as Asana, BitBucket, Jira, Github, Gitlab, Trello, and Visual Studio Team Services. The main element of any software is its features. How useful that can be for our use is why before going for any tool or platform, it is necessary to know about the elements to make a fair choice after reviewing them.
---
Unique LambdaTest Features | LambdaTest Review
Below given is the list of all the features which LambdaTest offers. Have a look at the following:
🏅 Latest Browsers Checking
With LambdaTest, you can perform cross-browser compatibility testing on a wide variety of browsers, including Chrome, Mozilla Firefox, Opera, Internet Explorer, Edge, Safari, and Yandex on supported Mac and Windows devices along with your desired resolution.
📱 Testing on Various Mobile Devices
First, you have to make sure that all your mobile devices are cross-over compatible with a web app or web application. After that, LamdaTest can perform an exhaustive list of iPhones, iPads on various iOS versions. Test on android phones like Samsung, Realme, Google, Sony, LG, One Plus, HTC, Amazon, Nokia, Motorola, Xiaomi, Huawei, Gionee, Oppo, and Vivo latest android versions and different browsers. After we are familiar with how this tool works, it is time to know the various issues that this platform can solve.
🌌 Test Responsiveness on all Browsers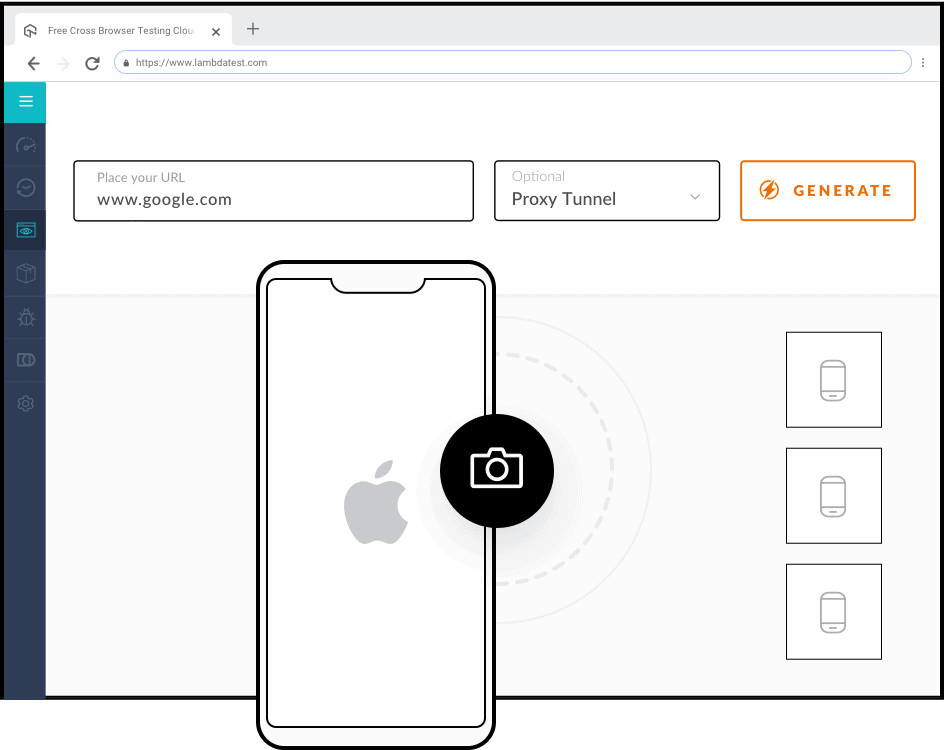 With LambdaTest, you can check the responsiveness on all of your browsers. You can perform this action with just a click across various screen sizes and see how your website responds, respectively. With our Secure Shell Tunnel, you can also check the responsiveness of your locally hosted websites.
💻 Testing Locally-Hosted Pages
Through LambdaTest, you can test your locally or privately hosted pages. You can build a secure shell tunnel with LambdaTest servers and test your locally hosted pages on the browser environment of your choice.
🎯 Resolution Display Setting
With Lambdatest, you can test your website on different screen resolutions using 800×600 to 2560×1440 for cross-browser compatibility. You do not need to worry about relaunching sessions; if you want to change your resolution in the middle of your task, you can do it by going to your setting and changing it to default.
---
LambaTest Issues Resolving
This section will let you know about all the problems you face and how LambdaTest can help you overcome them.
Automated Screenshot Tester
A tester has to test their pages on thousands of browser combinations to ensure that the layout of their web page or website is pixel perfect, which is a lofty task.
But, with LambdaTest, it takes a single click for users to take screenshots of their website/web app across multiple browser combinations. That automatically decreases cross-browser and cross-platform regression layout testing.
That is a convenient feature that allows users to test how their website or web app will interpret multiple device screen sizes. The striking feature is that the users get a realistic device appearance based on the user's viewport size. The users can check how exactly their customers will experience their page on a specific device.
Cross-Browser Compatibility Testing
Testing a web app or website for cross-browser compatibility is not an easy task. For final browser compatibility testing, a tester has to test the app across various browsers and browser versions, operating systems, and resolutions.
Which in result comes out to be more than 1400 combinations, and that also if we take only the most popular environment combinations. By LambdaTest in a single click, the users get virtual access to a pristine testing environment having desired browser, browser version, operating system, and resolutions.
Users can perform live Interactive testing of their website or web apps directly from their browser as if they are implementing it on their system. The conditions are running real browsers on natural operating systems. Now, we will have an overview of all the benefits associated with LambdaTest software.
---
Major Benefits of LambdaTest
Here are some of the benefits you get while accessing LambdaTest.
#1. Integrations
LambdaTest integrates with debugging and communication tools. The debugging synchronization enables developers to make their websites and web applications run smoothly, while the connection with communication apps enables teams to collaborate flawlessly.
#2. Accelerated Development Roadmap
With LambdaTest, developers have all the tools required to accelerate their development process. With these medians, they can push their websites and web applications to the cloud and toward their target audience faster.
#3. Scalable Solution
Be it for an individual, a small team, or a fast-growing group, LambdaTest works for everyone. The application scales as needed and can assist freelancers and entire sections of developers.
#4. Well-Equipped Application
LambdaTest equips developers with the tools they need to ensure that their websites and web applications are in excellent working condition. These include Firebug, a debugging application, which assists developers in identifying bugs in their codes and quickly resolve such problems.
#5. Customer Support
The LambdaTest customer support team is at hand 24/7 to help users. They can be reached through email, live chat, and phone calls. Users can file support tickets as well that the support team does their best to resolve instantly.
---
Languages & Framework Used by LambdaTest
Below given are some of the languages and frameworks supported by LambdaTest.
PYTHON
JAVA
JAVASCRIPT
Protractor
Nightwatch
WD
WebDriverIO
Cucumber
C-SHARP
RUBY
PHP
CI Tools
JENKINS
Buildbot
CIRCLE CI
CODESHIP
CONTINUA
CRUISE CONTROL
BAMBOO
GOCD
SOLANO CI
TeamCity
TRAVIS CI
---
LambdaTest Pricing Plans | LambdaTest Discount Coupon
Below given are the pricing plans of LambdaTest:
| | |
| --- | --- |
| Lite (Free) | 1 Concurrent Session (5 users) |
| Day Pass | $15 for 10 Days |
| Solo Pass | $15/month/annual billing |
| Pro | $33/month |
| Enterprise | By quote |
---
What is Browser used for?
A web browser takes you to any place on the internet. It relieves information from other parts of the web and displays it on your desktop or mobile device. The data is transferred using the Hypertext Transfer Protocol, which defines how text, images, and video are transmitted on the web.
Steps to Get Browser Compatibility
Step 1: Write a clean HTML
The EXCELLENT way to make sure that your page looks the same in all browsers is to write your page using valid HTML and CSS and then test it in as many browsers as possible. Neat, valid HTML is a good insurance policy, and using CSS separates presentation from content and can help pages render and load quicker.
Step 2: Test accessibility
Some technologies such as Flash and ActiveX may not perform well or at all in every browser. You can use flash or other rich media and test your site in a text-only browser such as Lynx. As a bonus, providing text-only alternatives to rich-media content will make it easier for search engines to crawl and index your site and make your site more accessible to users who use alternative technologies such as screen readers.
Step 3: Test your website in multiple browsers
The first and foremost job is to review your site's appearance and functionality on various browsers to ensure that all your visitors get the experience you worked so hard to design. Ideally, you should start testing as early in your site development process as possible.
Different browsers or even different versions of the same browsers can see your site differently. One such site is LambdaTest, where you can quickly check and compare your website in different browsers simultaneously, and along with living testing, it has many other cool features. It will indeed act as a boon for the website or webpage.
---
🌟 LambdaTest FAQ
✅What is LambdaTest?
It is the browser compatibility testing tool that helps you to test your web pages whether they are compatible with all mobile and desktop browsers or not. Around 42000+ users across the globe use LambdaTest.
✅Can I try LambdaTest for free?
LambdaTest includes the Lite plan in its four major pricing plans, which is free for a lifetime. If you are new and want to examine LambdaTest for free, you can start free testing at LambdaTest.
✅Can I get any active LambdaTest coupon code?
If you are looking for the verified LambdaTest discount coupon code that helps you save some bucks on your desired paid plans, use the above-mentioned LambdaTest coupon code that enables you to enjoy the maximum savings.
✅How much money can I save with your LambdaTest coupon code?
Using our exclusive LambdaTest discount coupon code, you can save a good amount as it allows you to get upto 25% off on your subscription.
---
Conclusion: LambdaTest Review 2023 + 25% OFF LambdaTest Coupon Code
For any particular website or web app, it is essential to check the compatibility of your web page with any browser. The reason behind this is that not every person needs to use the same browser. For example, if a person is visiting your page via the internet, explore, then there is a possibility that the specific browser might not decode your web page or web application. Therefore, before checking any web page or web application, you must cross-check its compatibility with all the browsers available out there in the market.
You should also check the compatibility of various mobile devices, which include IOS and Android. All the conditions, which we told about browser compatibility goes on with different mobile applications as well. Therefore, to avoid any confusion or loss in the future, it is also recommended to stay prepared.
With LambdaTest, you can perform all those actions hassle-free! If you want your website visitor not to get disappointed while visiting your website, you must use compatibility checker tools like LambdaTest. With this, we have come towards the end of this article. We hope that our LambdaTest review will be helpful for you. If you have any queries related to our article, do not forget to mention them in the comments sections below. We do not like to leave our favorite audience with any dilemma.
Until then, take care.🙂