With the advancement in Science and Technology, Life has undoubtedly become more sorted and easier. With all the new transformations happening now and then, we can communicate with people in the other part of the world by sitting on our couch.
Let's not get too far, talking about the education sector, and the process has been immensely revolutionized.
Want to learn something?
You're just one click away! Set up your PC. Choose your niche, and there you go! There are tonnes of tutorials and courses available on the web, that too, not only for academic improvement but for meditational purposes as well. These academies provide courses on lifestyle taught by Global Experts.
One such online organization whose aim is to provide enlightenment through expert mentoring for personal development is 'Mindvalley.'
In this article, we have featured the ✅Mindvalley Academy Review updated for 2023, which includes detailed insights about this platform. Let's get started!
---
Detailed Mindvalley Academy Review
Founded in 2002 by a Malaysian-Indian Entrepreneur Vishen Lakhiani, Mindvalley is an Online mentoring academy. It has its headquarters in Kuala Lumpur, Malaysia. It aims to bring out the full potential of your body, mind, and spirit.
Mindvalley has been a huge success since its establishment. It is a leading personal growth education company, and acclaim its major goal for its users is to become limitless.
Their tagline even says that they impart the transformational wisdom that our Educational System disregards.
The company finds its root cause is the belief that one must learn to grow outside the cliche Education System and live his life enthusiastically and joyfully with a purpose. They educate people through their courses about how to have worthwhile life experiences and not only be a sheep in the herd!
They present their idea to make personal growth education accessible to everyone to lead a happy and satisfactory life. According to present reports, They have about 10 million+ students worldwide, and 200+ authors, speakers, and activists associated with their organization and are operational in 80+ countries.
---
About the Founder: Vishen Lakhiani
Vishen Lakhiani founded the Mindvalley Academy in 2002 intending to spread total consciousness across the learners worldwide. He introduces himself as an entrepreneur, author, and an educational activist. He was born and raised in Malaysia and completed his schooling in Kuala Lumpur, Malaysia.

He is a Computer science graduate from the University of Michigan, United States. He also took up an internship after his graduation in Microsoft but quitted to follow his passion.
He has been the NY Times best-selling author for his book 'The Code of the Extraordinary Mind,' which is translated into 25+ languages. He established Mindvalley, attempting to advance the center frameworks that shape our lives – including training, work culture, legislative issues, and prosperity.
---
Mindvalley Courses at a glance
The learners describe the courses as addictive and interesting. The courses are taught by actual industry-experts, which kind of makes them unique and specialized. The content of the courses is reported to be knowledgeable and fresh.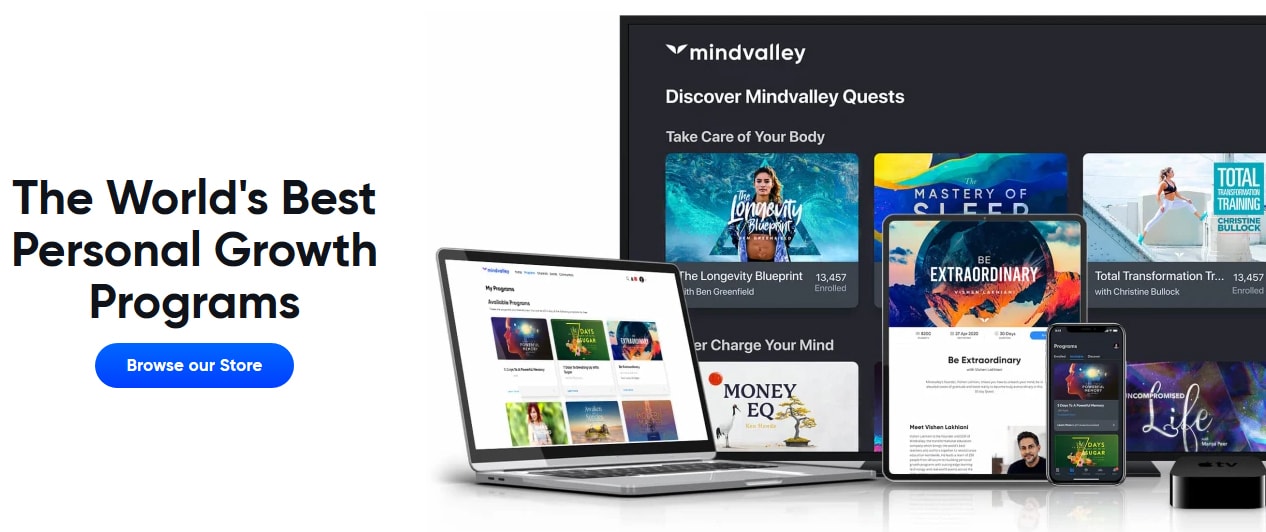 Students enjoy the content because of the uniqueness of subjects and experienced teachers. The review from the users generally indicates the courses to be very practical.
MindValley has self-awareness courses separated into a few classes:
Way of life and Productivity
Spiritual
Fitness and Well-being
Love and Relationships
Vocation and Influence
According to Mindvalley, the main focus of their course creation is to transform and remodel the learning process that an individual goes through in regular schooling. They define it as "Transformative Learning." They claim their course completion record to be quite better than the average.
To promote the Mindvalley learning platform, they have also introduced various strategies such as Mindvalley Quest All-access Pass and Mindvalley Masterclass.
---
What is the Mindvalley Quest All-Access Pass?
Like any other platform, you can pay for the individual courses you want to learn from Mindvalley or go to the 'all-access' way! Mindvalley Quest All-Access pass awards you boundless access to pretty much every content made by Mindvalley.
It also grants you the early access to all new quests and content that it creates. Going in numbers, with the Mindvalley Quest All-Access pass, you gain admittance to 30+ courses on Mindvalley for $599 per year.
In this, you also get:
Free access to all Online communities for all Mindvalley Quests.
Live Coaching calls with Mindvalley Authors.
Official Certification for your Quests.
When you join the Mindvalley Quest All-Access membership, you'll gain admittance to the Mindvalley Life Assessment, a 20-minute test uncovering which parts of your life you have to improve.
Cheap access to the courses compared to the individual course rate.
It provides a 10-day money-back guarantee, in case you find it to be incompetent. So, We feel that's a fair deal, and you can make a bid for this.
---
What is Mindvalley Masterclass?
Firstly a piece of great information. These Mindvalley Masterclasses are hosted by the founder, Vishen Lakhiani, himself. Plus, these are accessible free of cost. Mindvalley Masterclass happens in the form of a webinar for all.
So, you have to log in to your account and attend the Masterclass by Experts. In each session, you are introduced to a new concept by the experts in the field.
They describe the Masterclass as the personal growth content collection available for everyone. They cover fields like Meditation, Biohacking, healthy lifestyle hack, goal setting, etc. In this, you can learn from world-class mentors and authors and take away some valuable life experiences.
Pros and cons are associated with everything. The courses from Mindvalley are no different in this regard. There are positive and negative sides attached to them as well.
---
Pros & Cons
Pros
Expertise Content: No matter what people say, the fact favors the Academy that their courses are well-designed by the field experts. You get a chance to learn about life experiences from professionals. This is a big plus point for all the courses provided by the Mindvalley Academy.
All-access pass: if you're a big sucker for their content, then an all-access pass is the way to go. You get a premium membership for a year at a reasonable cost. This is quite beneficial as you get to choose your favorable quest and enjoy it year-long.
Masterclass: What we like most about Mindvalley Masterclass is the quality of information they pass to the crowd, which is remarkably excellent.
Free Courses: There are numerous free courses as well that can be accessed without "splashing the cash."
User-friendly: The courses are relatable and provide a new direction to your pre-existing knowledge. The software is easy to use. Overall, the experience is user-friendly.
Cons
Not everyone: Though the courses and the content are amazing, We do not feel everyone needs them. These courses will steer your mind to a new direction for sure but are effective when you are not in the right direction already. Otherwise, you are doing great without accessing them as well.
Cheaper Alternatives available: We agree that Mindvalley Academy is somewhat 'one of its kind.' But there are numerous options available that provide courses on personal development as well, e.g.:- udemy, Coursera, etc.
Price for individual courses is higher: If we compare the price for taking up the individual courses with the price of the all-access pass, only going for the latter makes absolute sense. So, talking up a single course on the platform may not sound like a good option to all.
Mental connect is essential: To get the most out of these quality courses, you need a mental connection, as these are solely designed to develop your body, mind, and soul. Thus, if you're only investing time in them without committing to them strongly, maybe you're just wasting your money, time, and energy.
---
🌟 Mindvalley Academy FAQ
❓What is Mindvalley Academy?
❓What is Mindvalley Quest?
It is the online learning platform that combines the power of daily microlearning and community to provide traditional education. If you are using Mindvalley All Access subscription, you can use their 30+ Mindvalley Quests.
❓Where is Mindvalley Academy located?
Mindvalley Academy is located in Kuala Lumpur, which is an exciting city in Malaysia.
❓How much is Mindvalley Mentoring?
For the first year, Mindvalley Mentoring Plus costs you $149, and after that, you need to pay $228 a year. If you do not want to renew your subscription, then you can also cancel it anytime. To test Mindvalley Mentoring, one can even start with their 7 days free training program.
---
Conclusion: Is Mindvalley Legit?
Talking about the initiative undertaken by them, it is remarkable. To provide modern education to all, It is necessary to raise the cliche education system's standards and impart wisdom with the purpose of one's growth and development in real sense.
In today's era, when things like depression extend their arms, it makes much more sense to unite the traditional teachings and the modernized learnings to raise human consciousness.
Secondly, when you learn from Mindvalley, you learn from the Global leaders, activists, and authors. You learn from their work and life experiences. Hands down, Mindvalley is a really good platform to access quality content. Their content is undoubtedly insightful and would create a great impact on you if you connect properly.
Now, without a doubt, the content is good. But if you are only listening and not converting it into actions, then it won't be much helpful to you. To get the complete advantages of the courses, you must be willing to bring about a change in your life.
Coming to the monetary side, the courses are much affordable when you go for the all-access membership than the individual courses. Thus, even if you're willing to take one course from the platform, your mind would deflect towards taking up a whole bunch as, eventually, that is their whole marketing strategy.
All in all, We would like to conclude that the Mindvalley is 'one of its kind' platform, and if you're lacking direction and are curious about 'transformative learning,' you can try your hands on their insightful courses.🏅