It is crucial to keep our online safety first as many cyber challenges can affect your security in today's time. Moreover, there are many software or applications to choose from on the internet. In today's article, we will show you both positive and negative aspects of the internet in our ✅Movavi Screen Recorder Review.
You cannot always keep track of your desktop activities. But keeping a proper track becomes mandatory, especially when you want to extract the data. Unfortunately, you cannot use your smartphone to record the screen, resulting in degrading the quality. But what else can you do? You can use a professional tool to record the screen and capture the vital images for you.
Movavi screen capture software lets you capture songs, video, webinars, and other sorts of multimedia. It is one of the most potent yet lightweight screen recording tools used for multiple purposes. You can stream online videos, grab your favorite music, or capture video calls to create interactive tutorials. In addition, you will surely enjoy its intuitive control and user-friendly database. So, let us get to know a little more about this Movavi Screen Recorder in our in-depth review.
---
Detailed Movavi Screen Recorder Review
Movavi Screen Recorder is a program built for Mac and Windows that enables users to capture precious moments. You can save the videos in any format such as MP4, MP3, JPG, AVI, MKV, MOV, BMP, and GIF.
With the help of Movavi, you can record whatever you want, from an online video to an intimate video chat. With this, you get to access high-quality videos at a speed of up to 60 frames per second.
---
✅Exclusive Movavi Discount Coupon Codes (💯 Verified)
30% OFF
Save 30% Discount on Movavi Video Editor Plus – Personal
30% OFF
Save 30% Discount on Video Editor Plus for Mac (Personal)
---
Key Features of Movavi Screen Recorder
Movavi Screen Recorder offers a plethora of features to access. Some of the features include
#1. Screen Recording
In Movavi, area selection is straightforward. You can record the whole screen, choose a specific program window, or manually choose any desktop part.
The Frame rate of recording videos is from 5 to 60 frames per second. You can record your videos in between this frame span. The highest frame rate results in the best quality. However, the higher the frame rate is, the more storage space it will take.
You can choose the audio recording mode and the frequency as per your requirement. For example, if you record both system and microphone audios, you can capture different sound streams.
Yes. You can record any private webcam call without letting the other person know. You can select the position, resolution, frame rate, and size.
To make your videos more effective, you can include cursor movements. You also can highlight the cursor and select various colors for the left and right mouse clicks. Further, you can show the keystrokes, too – all or just the hotkeys.
The proper hardware acceleration is what makes the screen recording tool effective. Depending on your video card, you can use the following types of acceleration:
All these modes are available in the hardware type and allow faster conversion of output videos.
The recording scheduler is an excellent feature for the person who cannot sit in front of the computer the entire time. In this, you can open your screen and set the scheduling time. The video will get automatically recorded, and later you can save it in any file you want.
#2. Screenshotting
While using Movavi, you get to capture the screenshots in a running video. Additionally, you can edit the image with various tools. That specific mode enables you to enter text, add arrows, lines, and shapes, and use color to highlight different areas.
#3. Export & Social Sharing
Once you are done with the recording, you need to save and export the file. You can save your video in various formats like MP4, AVI, MOV, or MKV, turn it into a GIF. You can even extract the audio and save it as MP3. As the screen images are concerned, you get to save the PNG, BMP, or JPG. You can also upload your videos on YouTube and Google Drive directly from the tool and export images via Telegram and Whatsapp.
#4. Technical & Physical Specifications
Operating System: Supports Windows 7/8/10; Mac OS X 10.10
Processor: 64-bit Intel processor, AMD, 1 GHz
Display: 1024 × 768 screen resolution, 32-bit color
RAM: 2 GB
Hard Drive: 280 MB hard disk space for installation and 2 GB for operations
System Permissions: Administrator permissions are required for the installation
Installation: 42.8 MB (Windows), 89.6 MB (Mac)
---
Steps to Get Started with Movavi Screen Recorder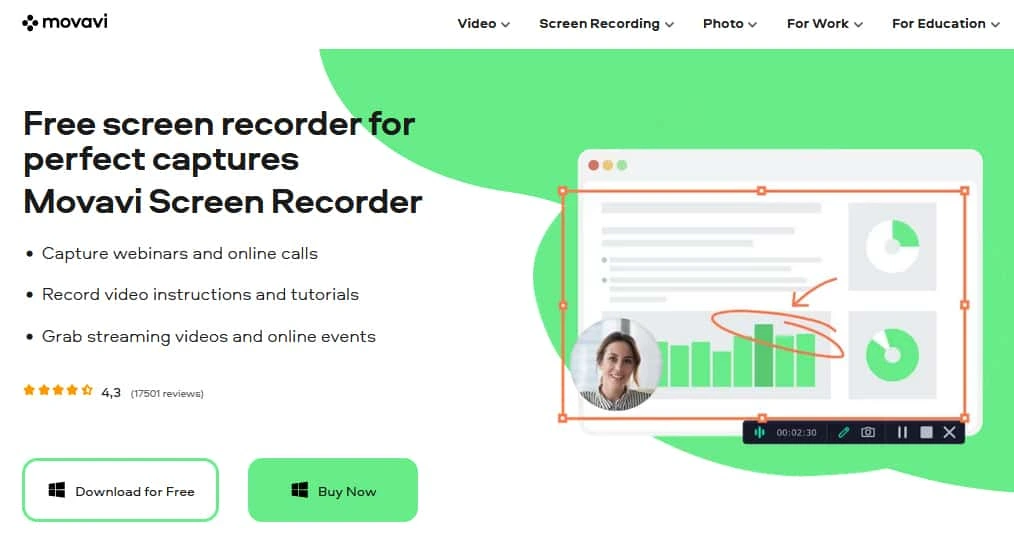 Download the platform from the official Movavi site. If you want to unlock all the features, you need to go for the paid version.
Start the program and click on the video camera panel on the desktop. After this, select the screen area you need to capture.
It lets you record audio of any video format. If you want to include audio in your recording, then click one of the bottom right buttons. If its highlighted by green, then it is ON.
To finish the recording, click on the stop button. The video will move to a separate window where you can edit, cut, and save it in any format.
If you want to take and edit a screenshot, choose the photo camera icon on the panel after starting the program. Next, select the area, add text, shapes, arrows, and then save the image.
---
Movavi Screen Recorder Pricing Plans
If you choose to go with the paid plans, you can select from the individual and business plans. The difference between these plans is that the business license has fewer options and is expensive than the individual plan.
Both functionalities of the plans are identical. But the business plan benefits you in the commercial environment.
Personal License @ $39.95 (Lifetime)
Cutting, trimming, joining
Effects and transitions
Automatic video creation
Default media pack
Business License @ $59.95 (Lifetime)
Cutting, trimming, joining
Effects and transitions
Automatic video creation
Extended media pack
Animation
and many more
---
Movavi Screen Recorder Customer Support
The customer support plan of Movavi is not up-to-date. However, they have headquarters in different countries, and you can contact the office with the given phone number.
Other than that, you get a ticket system. You can submit a ticket for your query. We tried submitting a ticket, but the customer support executive did not get back until 20 hours. So, that wasn't very pleasant. There is no other access to get in touch with them like live chat. Although, you can sign up for their newsletter.
You can Contact Movavi for the following reasons:
---
Movavi Screen Recorder Pros & Cons
Pros
It has an intuitive interface.
Movavi is integrated with several captures and editing tools.
It can capture and record streaming videos, skype calls, games, and applications.
Users can make screen selections according to their requirements. They can choose from the entire screen recording, customized portion, and specific application or single window on the screen.
The editing features comes with various tools.
It can record audio signals from the system and microphones.
It is a convenient recording tool for both home and office.
Movavi is cost-efficient in comparison to other screen recording software.
It supports instant editing of screenshots.
Cons
Customer support is not great.
This platform has crash issues.
Users are unable to upload their videos directly on YouTube.
It is not mobile-friendly. You cannot access the tool via Android, iPhone, or iPad
Most features are only available in the paid version.
Lacks many advanced tools for editing
The program and previously connected videos cannot be connected directly.
A little pricey
---
🌟 Movavi Screen Recorder FAQ
🙄 What is Movavi Screen Recorder?
Movavi Screen Recorder is the best free software for recording your computer screen. It's easy and fast, and it captures everything on your desktop with just a few clicks. You can use the program to create tutorials, capture streaming videos or webinars, or make video calls without worrying about audio quality.
🤔 Does Movavi Screen Recorder offer a free trial?
Yes, Movavi Screen Recorder offers 7 days free trial to all its new users. At the same time, you will not use Movavi software once your trial version is expired.
🔎 Is Movavi Screen Recorder good?
Movavi Screen Recorder is a free, easy-to-use tool that lets you capture anything on your screen. It records high-quality videos of anything that appears on your screen with just one click – no more fumbling around with complicated settings. Download Movavi Screen Recorder today and start making perfect recordings right away.
❓ Is Movavi Screen Recorder free?
Movavi Screen Recorder is a free video capture software that's easy and intuitive. It captures anything on your screen – videos, games, web pages, presentations, or other activities.
💻 Is it safe to install Movavi Screen Recorder on the computer?
It's a screen recording software that lets you record your computer screen and share it with friends or family. It's safe to use because there are no malware or hacking problems. And the best part is that it makes your life easier by not having to worry about any of those pesky things.
🔥 Are there any working Movavi Screen Recorder coupon codes?
Yes, if you are looking for the working Movavi Screen Recorder discount coupons that allow you to save maximum bucks, then check and use the above-mentioned Movavi Screen Recorder coupon code.
😎 How much can I save with the Movavi Screen Recorder discount coupon?
By using our latest Movavi Screen Recorder coupon code, you will be going to save upto a 30% discount.
🏅 What are the top alternatives to Movavi Screen Recorder?
---
Conclusion: Movavi Screen Recorder Review 2023 | Is Movavi Screen Recorder worth going for?
Without a doubt, Movavi is one of the excellent screen recording tools out there. With Movavi, you will not have to worry about getting anything important missed. From recording your friends' zoom meeting call to recording a song you lied on YouTube, everything is possible when you have Movavi with you.
If we talk about affordability, then the lifetime purchase option of Movavi is quite economical. But there is an issue with that. If a person needs to access Movavi for just a month, he will have to use the unpaid version because all the paid version comes with lifetime options.
And the unpaid options do not have anything store in it. Also, you do not get a great trial of the premium version. With this, we will end our Movavi Screen Recorder review. If you have any doubts or suggestions related to the article, please mention them in the comments section below.🙂