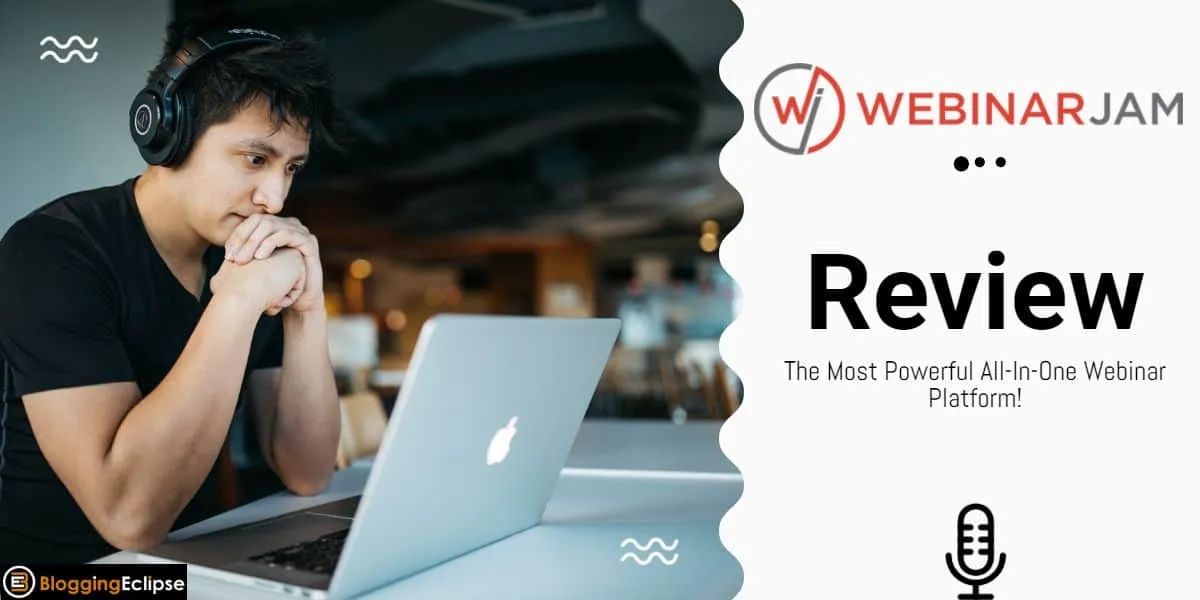 Looking for an honest WebinarJam review 2023? Are you someone who has been experiencing some downfall in your live or webinar session? Or are you someone who wants to make your way in creating an impact on the audience? I have got you covered with an excellent tool that can elevate your game in various aspects.
One of the main reasons behind this review is to get along with various parameters that can be used to make better connections with your audience while also getting known to things that can be done without getting stuck.
WebinarJam offers various features that can be used to get things done in an easy manner; in addition to this, WebinarJam also offers an easy-to-use interface that can help you get along with the tool pretty easily. But before diving deeper into the features and everything, let me give you a quick look at what WebinarJam is? And who can use it?
---
Detailed WebinarJam Review | Powerful All-In-One Webinar Platform
WebinarJam is a tool that enables you to get along with different tools that can be used to make things easier for your webinars, Live sessions; YouTube live casting and much more (We'll get to that in later sections). In addition to all this, it is worth mentioning that WebinarJam also enables you to get along with some excellent features like sending reminders using SMS, voice messages, email, etc.
Well, the list goes on and on. I'll be covering all the major features that are worth mentioning that you can use WebinarJam to create a better impact on the audience group. Now, if we take a deeper dive into the features and everything, you can access more and more, which will be covered later in this WebinarJam review. Since you have already got an idea of what is WebinarJam, let's understand who can use WebinarJam, following up with the features that can be used.
Use this special WebinarJam promo code that enables you to start your free trial for $1 only.
Access to all features
Who can use WebinarJam?
WebinarJam is best suitable for people who have an online course or are looking forward to gaining more audience by creating an impactful use of features and everything else offered by WebinarJam. In addition to all this, you can look after some excellent features like having a base of 5,000 attendees while having upto 6 presenters, which sounds like a mini-concert to me. One of the major factors that make WebinarJam an excellent choice is Automated Recordings, which enables you to get along with the automatic recording for the live video while getting along with the broadcast of it in a video file.
In simple words, if you are someone who has been into making your way around social media, or want to educate your audience, or maybe want to start your journey in this aspect with a kickstarter. Now, let's take a deeper dive into the features offered by WebinarJam, making it an excellent choice overall.
WebinarJam Features at a Glance | WebinarJam Reviews
Undoubtedly, WebinarJam offers some excellent features that can elevate your game in reaching more customers while using the Webinar's cloud-based broadcasting technology. So, let's dive into the features offered by WebinarJam.
Reach Thousands of Customers
One of the major reasons why I'm such a big fan of WebinarJam is its accessibility to reach more and more audiences within just a few clicks, and sometimes not even that, as you can get things done in an automated way. I was pretty amazed to know that WebinarJam's cloud-based broadcasting technology can get you to reach up to 5000 people in a single presentation without getting stuck anywhere. In addition to that, WebinarJam also enables you to get along with up to 6 presenters.
You can have up to 5,000 attendees
Have up to 6 Presenters
No More Hassles in Recording
Having high definition video and audio broadcasting might sound like an ordinary feature, but it is an important one. In addition to that, it is worth mentioning that WebinarJam offers this HD broadcasting feature with 30 FPS, which seems like an excellent deal to me. It offers all these features over desktop, laptop, tablet and even your mobile phone.
Well, having an HD recording option with a 30FPS frame rate while getting along with almost every device seems like an excellent feature to me. So you can get along with:
HD broadcasting- Get rid of pixelated video and choppy audio
It can be used on all the devices (Mobile, Laptop, Tablet, Desktop)
Having a good audience interaction can be considered as one of the major factors to getting better results overall. And this is where WebinarJam can be excellent in a number of terms, as it offers you to get along with different features like Live Chat, Private Chat, Q&As and much more. Having audience interaction with people using various ways can help make things better using these different ways. You can get along with different things like:
Live Chat
Question & Answer
Private Chat
Sticky Announcements
There are many people out there who actually pay to attend an excellent webinar or a live session for consulting, or a standard teaching class. These programs can be anything from a single-day event to something that spans the course of weeks. You can also charge for your webinars, and the audience will pay to attend your course. You can really utilize many such features of this excellent tool and make your webinars more awesome and stylish.
With a push of a click, you can share any type of file with your audience. For example, you can use the tool's instant upload feature to instantly share photos, PDFs, and PowerPoint presentations with your team. If you are a professor and you wish to designate certain tasks for your students, you can send them a handout or cheat sheets here using this tool. You just have to upload the files through the Studio Control Centre, and just when you wish to show that particular file to the audience, you active that download link. It does support all file types, which is fantastic. You can share Slide shows, Pools and surveys, Picture-in-picture, Inclusion of annotations and much more.
Automated Recording & Replica Replays
One of the features that make WebinarJam an excellent thing is its automated session recordings with perfect replica replays of live webinars. This can later be scheduled depending upon your need. While getting along with the scheduled system on when to post the video, the WebinarJam enables you to get along with almost everything, including chats, Q&As, etc. So you get access to:
Automated Session Recordings
Replica recording with Q&As, live chats, and everything as it was recorded.
👉 Click on this link to start your WebinarJam free trial for just $1 only.
Multiple Platforms to Work On
One of the main features that make WebinarJam an excellent choice is its availability on different platforms like Apple iOS and Android. This is a result that can help in making things better as you can get along with all the features, webinars and much more very easily. In addition to all this, it is worth mentioning that you can get along with the webinars on the go, whether you are a presenter or among webinar attendees.
So, it is pretty clear that you can get along with different features, everything, and webinars on the go while being away from the desk.
One of the major aspects of managing a webinar is communication; having strong communication and networking with your audience is pretty important in multiple aspects. WebinarJam offers some excellent features that can be beneficial for creating communication with the audience. With this feature, you'll be able to send an SMS to your pre-registered audience a few minutes before your scheduled webinar starts, and this message will show the exact time and date of your webinar. Plus, you can also send recorded voice messages which you can when you wish to designate any specific instructions about joining your webinar. The software of WebinarJam will call your registrants right before your webinar starts and then will play the voice message automatically. But to do this, you would have to integrate it with Twillio and get the feature of voice messaging.
Sending notifications to the audience group about the webinar using emails and SMS can turn out to be helpful as the attendees/registrants will not be missing your webinars or live sessions. So the WebinarJam can help you with:
Sending Emails (Email Automation)
SMS Text (Sending SMS can be great in terms of reminding for your event)
Customized Messaging (You can even customize your messages for creating a better impact on the audience and therefore connect better)
Multiple Language Capability
With WebinarJam, you can conduct a multi-lingual webinar for your global audience. You won't miss any opportunities because borders are no longer an issue! WebinarJam's multi-language capability has allowed us to break down barriers to reach more international customers. They can choose their preferred language and have every page automatically translated into it with just one click. Yes, WebinarJam makes it that easy!
Following are the languages which you can choose:
English
Danish
Finnish
German
Norwegian
Spanish
Turkish
Czech
Romanian
Slovenian
Slovak
Brazilian
Dutch
French
Italian
Portuguese
Swedish
Polish
Russian
Bulgarian
Hungarian
Lithuanian
Think of this as a scenario where you have limited seats available for the webinar and have hundreds of registrants waiting for it or maybe create one like this. WebinarJam enables you to get along with the offers that can help you create better ROI and cash flow.
You can, in fact, create an image like urgency or scarcity, or maybe get the audience group known to the active and clickable offers using pop-ups, or maybe using notifications, SMS to get a better audience conversion rate (that are enrolling for your audience) so WebinarJam enables you to get along with:
Creating better ROI using the Urgency and Scarcity
Clickable offers as people/audience might be interested in them and can be an excellent thing for marketing.
Panic Button by WebinarJam
This is something that is kind of a unique feature that you can use as a presenter. You might have encountered some of the issues while getting along with any issue, like you won't be audible to the audience, or maybe your webcam won't be working. This is where the Panic button can turn out to be an excellent thing overall, as you can help in making things pretty helpful as all you gotta do is click on the button. Within 10 to 15 seconds, everyone will be automatically transferred into a brand new room, and now you are all set to resume your webinar.
So basically, the Panic button in WebinarJam can help you by:
Insta-Boot, transferring your audience/presenters to a new live room
Auto-Redirection of the audience group
Similar to the feature of Q&A, live chat, etc. Polls and surveys can turn out to be an excellent thing for making a better connection with the audience. In addition to all that, it is worth mentioning that you can use this feature to get along with quizzes to test your skills and much more. The polls and surveys in real-time can be very helpful in making your audience better in terms of learning. So basically, WebinarJam's this feature can offer you:
Surveys and Polls
Real-time Results so that the audience can work on it as per the need
Drawing Board for Webinars
Another major aspect of using webinars is showing and representing things you intend to show. In addition to the use of presentations, which is pretty common in almost all similar tools, you might feel like showing, writing, or drawing to deliver better value to the audience/attendees. So WebinarJam basically helps you with a number of things, including:
Screen Annotations
Mindmaps and Shapes
🚀 Ready to launch your live webinar? If yes, Create your WebinarJam account and see how it can help you to boost your business.
Honestly speaking, this feature can turn out to be a time-saver in many aspects, as you can get along with this feature in order to plug in the video and use that video for a webinar, so basically, you won't be needed to be present for conducting the webinar. In addition to this, you can use this video for the webinar; I mean to say, use the video till the description and join the webinar when the Q&A comes into play; this way, you can save a lot of time and get along with better interaction at the same time. This, as a result, can help you with:
Multiple Video Queue for Webinars
Seamless Video Injection
Automated Integration
Well, where most people manage their Webinars using autoresponders or CRMs, WebinarJam offers an excellent feature in terms of integration. This, as a result, can help with
Better management
If/then rules are applied to get things done seamlessly
3rd Party Tracking
Seamless tagging
Control Panel by WebinarJam
Having an easy-to-use interface can be considered as one of the main features that can help you in multiple aspects. In addition to all this, it is worth mentioning that the WebinarJam offers real-time analytics, making things good to go for your webinar. In addition to all this, you can look after some of the features that can help in the management of:
Moderate chat and Q&A
Operating the room features
Controlling the attendees' management
What I Personally Liked about WebinarJam?
High Degree in Automation
WebinarJam is a powerful webinar hosting automation tool that provides features like automated registration, confirmation, and follow-up emails for your registrants. With WebinarJam's webinar hosting automation, you can now spend less time worrying about the nitty-gritty and make your entire webinar hosting process easy. Also, I like the fact that you can automatically record webinars. This tool also handles replay pages on its own, and it sends replays to the attendees automatically. So with this, you can entirely focus on your Webinar and deliver your content efficiently.
A lot of businesses have a tough time with their post-event communication. Once they've impressed the audience with the presentation, they need to be sure to follow up and keep in touch with them and encourage them to take the final action. But with WebinarJam, you simply don't have to worry about it as it is the best webinar software app that can manage post-event communications. For this, it uses Boolean logic to reach out to all the prospective leads after the webinar. It is simply cool to note that WebinarJam uses Boolean logic.
Campaign Control at Your Finger tips
WebinarJam, the leading platform for running live webinars, offers you the industry-leading in-built scheduling management tool. You can set schedules at whichever intervals you wish, whether it be daily, weekly, or monthly. So it gives you the feeling that you are the only BOSS of your campaign, which you should be. This tool also automatically adjusts according to the local time of your event according to the attendee, which offers a superior experience to all your leads.
Straightforward Admin Setup
With WebinarJam, you get one of the smoothest and fastest admin setups, which makes all its users easier to start with. It offers a quick and easy 'Express Configuration,' by which you can be up and running within 30 seconds.
Marketing is nothing without analytics to know how to best reach your customers, and WebinarJam has plenty of robust data analytics tools that are an integral part of any marketing strategy. It offers a detailed, sophisticated, state-of-the-art analytics toolkit that is inbuilt and advanced. With the data analytics of WebinarJam, you can analyze a wide range of parameters, including registrations, replay watched, how many people are there in the room, number of clicks, total visitors, and many more.
It also allows you to perform actionable insights right from data-driven results and also spend more energy and time on the leads who are most likely to make a deal and remove the ones who will not make a deal.
Simple One-click Registration
Your goal is to get prospective customers of your webinar to register without any significant obstacles. To accomplish this, you need to make sure that your registration process is as simple as possible and can be completed in just a few steps.
And to solve this problem, WebinarJam offers you one-click registration.
You just have to send a "Click to Register" to the entire email list. Anyone who clicks on that particular link gets automatically registered to your webinar. By doing so, you can more effectively convert your' Click Through Rate' (which is most important) to your webinar registration conversion rate with minimal effort. It is also a fantastic option to generate attendance for your webinars compared to the old idea of filling forms which is more time taking.
WebinarJam is a powerful webinar builder tool that has some pretty impressive features to deliver automation and ease of use. The comprehensive design features allow you to create a fully customized experience for your webinar attendees from scratch. However, WebinarJam integrates with a wide range of third-party tools, such as email marketing and CRMs, which is also a huge advantage for businesses. This allows more business-to-business and business-to-consumer interactions to be streamlined into one platform.
Now that we are all covered with all the features and everything let's take a quick glance around the pricing plans.
WebinarJam Pricing Plans | WebinarJam Discount Coupon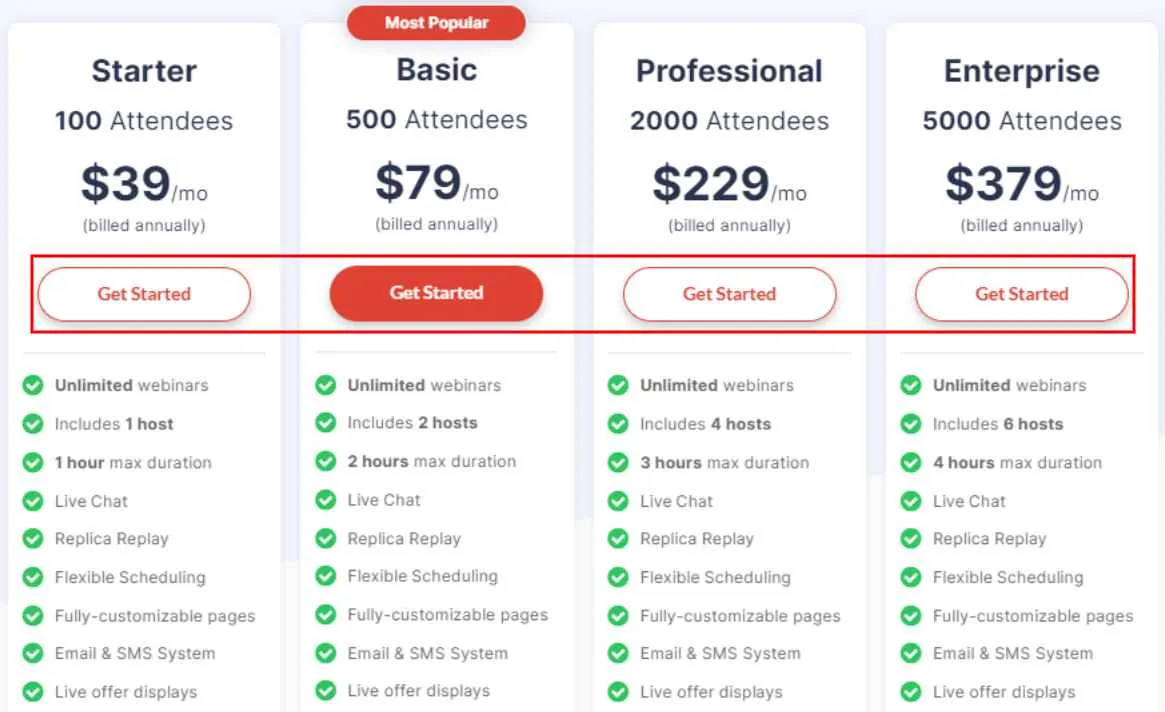 WebinarJam offers 4 different pricing plans depending upon different criteria; these plans include:
Starter Plan costs $39/ month with 100 Attendees
Basic Plan costs around $79/month with 500 Attendees
Professional Plan costs around $229/month with 2000 Attendees
Enterprise Plan costs around $379/month with 5000 Attendees
In addition to all this, it is worth mentioning that WebinarJam also offers a 30-day money-back guarantee. So, I guess you can give WebinarJam a try without any second thought, and just in case, if you feel that the features offered by WebinarJam are not up to your mark, just go with the money back.
How to Use WebinarJam? | WebinarJam Reviews
To use WebinarJam, you first need to go to their website and download the plugin that will allow you to go through the steps necessary in order to use it. The software best suits particular applications such as marketing, sales, or education. I recommend you use a computer for your presentation because with that, you can engage viewers better through your live chat easily, and the quality will also be better.
Well, to start with, you need to find the "Your Links" button on your webinar's page. After this:
Choose "Presenter Login Links."
Copy the link that is under "Live Room."
Paste it into your browser.
Before you start the live stream, you need to check a few aspects, like freeing up space on your computer's RAM and your internet connection. This can significantly impact your webinar broadcasting. So after you have checked them, you can click on "Start Event."
WebinarJam User Interface
At first, I found the user interface of WebinarJam excellent and the interaction smooth. You can start with your webinars as soon as you are done with the registration. But for a complete setup, you need to follow the entire configuration process.
I found the process easy and smooth. In the initial configuration phase, you need to choose a name for your webinar and also the title for your webinar. You also have to entire the description along with the language in which your webinar will take place.
Further, you can also schedule the webinars that you wish to broadcast. You can manage the date and time, and there is simply no restriction on that. You can also make a registration page for your webinar so that your audience can fill it in and get timely alerts about your webinars.
WebinarJam Customer Support
While doing this WebinarJam review, we did visit the official website of it and found support options from which we did get the answers to our queries instantly. They claim that they answer questions in the quickest manner. Right on the support, you can see a search box where you can insert any of your queries or keyword regarding, and it will automatically show you the best possible results of that particular keyword.
Also, there are various categories in which you can find frequently asked questions that can also answer some of your basic queries in one click. Plus, you can find answers to many questions instantly, but if you don't, you can create a ticket or live chat, and the support team will contact you as soon as possible. WebinarJam also offers a wide range of articles concerning various queries, which you can check out. To conclude, their customer support is a reliable and fast one which you can rely on.
For whom is WebinarJam best?
This software package is specifically designed for everyone, from business owners to managers to teachers. It contains many features and flexibility that make it easy for anyone to use the software without having to be an expert. Online entrepreneurs can use this software to grow their businesses and boost their revenue.
This tool is also ideal for small and medium companies, online e-commerce entrepreneurs who sell products and services, teachers, influencers, and coaches. Project managers, HR professionals and niche site builders. It enables them to provide quality content to their audience with minimal effort. While doing this WebinarJam review, I did use this tool for business meetings and found it to be great.
Alternatives of WebinarJam
EverWebinar was started in 2015 and is a powerful business automation-focused software tool and also a webinar platform. It is also ideal for making evergreen webinars and comes with a 30-day money-back guarantee. Also, EverWebinar comes with flat pricing of $597 per annum.
Some of the features that you get with EverWebinar are:
In-built advanced scheduling system.
In-built advanced simulation tools to increase your conversions.
Pre-designed landing pages by which you can have maximum registration.
In-built auto-responder capacity.
In-built live-chat simulator.
Seamless integration with GetResponse, MailChimp, and other marketing tools.
Advanced Data Analytics by which you can have better insights about customers.
But in comparison to WebinarJam, it does lack integration with Facebook Live and YouTube Live. Also, many users did find it challenging to create automated campaigns with EverWebinar.
Next is ClickMeeting, which does give tough competition to WebinarJam. It is also a browser-based webinar software platform that offers both video and audio-based webinars. It also provides some of the widest features that include a waiting room with an agenda, interface customization, automated webinars and more.
Some of the features that you get with ClickMeeting are:
Monetization of your webinars. 
User-friendly and intuitive user interface.
Access to whiteboards for creative ideas.
Integration of Facebook Live and YouTube live.
Integration of Polls and surveys.
You can use this platform for 30 days for free with up to 25 attendees. The second plan costs $25 per month when billed annually, and the third plan costs $40 per month when billed annually. Along with many more features, some users though have reported connectivity issues. Some say that screen sharing requires improvements. Also, the customer support provided is not as efficient as WebinarJam.
WebinarJam Reviews & Testimonials
🌟 Top FAQs on WebinarJam
Is WebinarJam any good?
If you want to run a webinar for your business, you will find so many complicated software available on the market. With WebinarJam, all your goals are within reach. WebinarJam allows its users to create more engaging webinars that turn into more sales. One can easily collaborate live with participants from all over the world. It's easy to use, and it's designed for your needs as a small business owner. With Webinarjam, you can easily customize your live webinar as it offers so many flexible options such as live chat, private comments, moderation capabilities, running Q&As in real-time, etc.
Is it simple to use WebinarJam?
Well, setting up a live webinar with WebinarJam is simple and straightforward as it just takes a few minutes. The user just needs to complete the signup process on WebinarJam.
Does WebinarJam integrate with other software?
Yes, WebinarJam can easily integrate with other software, including KARTRA, AWeber, ActiveCampaign, iContact, Infusionsoft, GetResponse, Ontraport, MailChimp, ConvertKit, Drip, etc.
Is the real-time chat feature included at no additional cost at WebinarJam?
Yes, in any ​WebinarJam account, you can find real-time chat features at no extra cost.
How much does WebinarJam cost?
WebinarJam is the best and most affordable webinar platform. It offers four pricing plans: Starter, Basic, Professional, and Enterprise. The Starter plan will cost you $39/mo. The Basic plan will cost you $79/mo. The Professional plan will cost you $229/mo. The Enterprise plan will cost you $379/mo.
Does WebinarJam offer any refund policy?
Yes, WebinarJam offers 30-day money-back guarantee to all its users. If you are not satisfied with any features and service, you can contact their support team for a refund.
What forms of payment does WebinarJam accept?​
If you want to buy any of the WebinarJam plans, then you can make payment through Visa, MasterCard, and American Express.
Is WebinarJam HIPAA compliant?
When I did this WebinarJam Review, it did not implement HIPAA measures. The company states that its product is browser-based, so all the information is sent directly from an attendee to their platform. They further clarify as well that none of the staff members interact with most of their private data saved on their platform.
What differentiates WebinarJam from EverWebinar?
WebinarJam is the perfect solution for live webinars. Once you have an engaging and high-converting presentation, you can use WebinarJam to convert it into an automated EverWebinar scheduled webinar that will give your viewers the chance to watch the content on their own timetable. Whereas EverWebinar is designed to simulate a live webinar. It looks and feels exactly like a live webinar running on autoplay, so your viewers will never know the difference.
Can WebinarJam be installed and run through your website?
Well, you can only add the WebinarJam registration button on your website, including Membership and WordPress sites. You can add WebinarJam registration to any site you can access, but you cannot install the actual WebinarJam live stream to your website.
What is the recommended setup to run WebinarJam smoothly?
Well, the basic requirements include:
1. A microphone and a webcam.
2. A dependable internet connection with a low 'ping.'
3. A dedicated internet connection. 
Also following are the recommended setup which is required:

1. A hardwired Ethernet connection
2. 8 GB of system RAM
3. A modern quad-core processor running at 2.3 GHz, or equivalent
4. At least 5 Mbps internet upstream under load
5. An upload speed that experiences less than 135 ms latency under load
Can you use WebinarJam without purchase?
Well, only if you are someone who is not sure of WebinarJam can avail of the 14-Day Free Trial for $1 and check if it fits your purpose or not.
Which is better; WebinarJam Vs. Zoom?
Well, both WebinarJam and Zoom are great webinar platforms in their own place. WebinarJam is a webinar software that is designed for marketing, while Zoom is designed for meetings. WebinarJam offers advanced marketing features like Live Chat, Automated Recordings, Flexible Scheduling, etc. Here we highly recommend going for WebinarJam if you really want to grow your audiences.
Can you do automated, hybrid, or evergreen webinars in WebinarJam?
While I did this WebinarJam Review, I found that you can absolutely do hybrid webinars which is also one of its features of it. You can play a pre-recorded video during your live webinar.
But as far as Evergreen webinars are concerned, you cannot run an automated webinar using WebinarJam alone. You have to take the help of EverWebinar to do so. It is a webinar service that can run as many automated webinars as you want.
Does WebinarJam offer Breakout rooms?
At this movement, when I am writing this review, they do not have breakout rooms for separate users so that they can segregate into smaller groups during webinar events.
Final Verdict: Is WebinarJam worth your money?
After my honest WebinarJam review, my answer is Yes, and an absolute yes. If you are someone who is looking after the features that can help you with the webinars and create something impactful for the audience, you can look after the WebinarJam for better management. WebinarJam is software that most people can use because it has many features. As a result, you can make your webinars more attractive and get more attendees with WebinarJam.
WebinarJam is a robust and scalable webinar platform that ensures that all audiences never have to miss out on any of the actions. Its easy-to-use interface is split into logical steps which can be undertaken one at a time. WebinarJam can be broadcast on an immense scale too. The price may seem high, but you won't be sorry that you shelled out the money for the plans because they offer a wealth of quality in one place.
Hopefully, this WebinarJam review has helped clear some of the questions and queries that you might have.
WebinarJam Review – Launch your live webinar today!
WebinarJam is the all-in-one solution that helps people to run live webinars. It is easy to integrate WebinarJam with other software such as AWeber, MailChimp, Ontraport, etc. WebinarJam is the ideal webinar platform for anyone who wants to connect with an audience, who wants to sell their products or a presentation to share. Reach more audience and convey your message with WebinarJa. You can run webinars effortlessly whenever and however you want. No more spending hours replicating past recordings.
Positive
 Live 24/7 customer support that also includes chat support at no extra cost
Automated recordings.
It offers professionally designed pages.
Full email & SMS system.
30-Day risk-free money-back guarantee.
It is a browser-based solution.
Compatible with a wide range of OS (Windows, Linux, Mac) as well as web browsers (Chrome, Firefox, Edge)
It provides highly customizable landing page templates for particular webinars
HD-Display
In-built auto-responder tool and scheduling management
Negatives
It does not offer a monthly subscription
No free trial is available.
Premium plan is highly priced.
Its Poll Data cannot tell you which attendee clicked on which option.
WebinarJam – All-In-One Webinar Platform
Get started with WebinarJam for just $39/mo only and see what it can do for your business.
Also read: