Are you also stuck amidst so many web hosting providers in South Africa? In the world of numerous options in the market, it has really become tough to decide which is the better one for your next online venture.
One has to search based on best speed, accuracy, security, global and robust data centers, uptime, and customer support. But there is significant confusion as all web hosting services claim to have the best of all these factors.
Now, one has to rely either on the genuine reviews present on the internet for all the web hosting services or by trying them themselves under the free trial plan. Finding the right web host is very much essential for your website as it is the first success determining factor.
We will help you out in making your online journey a successful one and highlight all the features of the top web hosts that are helpful and essential for your website. Before going deep into it, let's see the favorable internet conditions of South Africa.
Best Web Hosting Providers in South Africa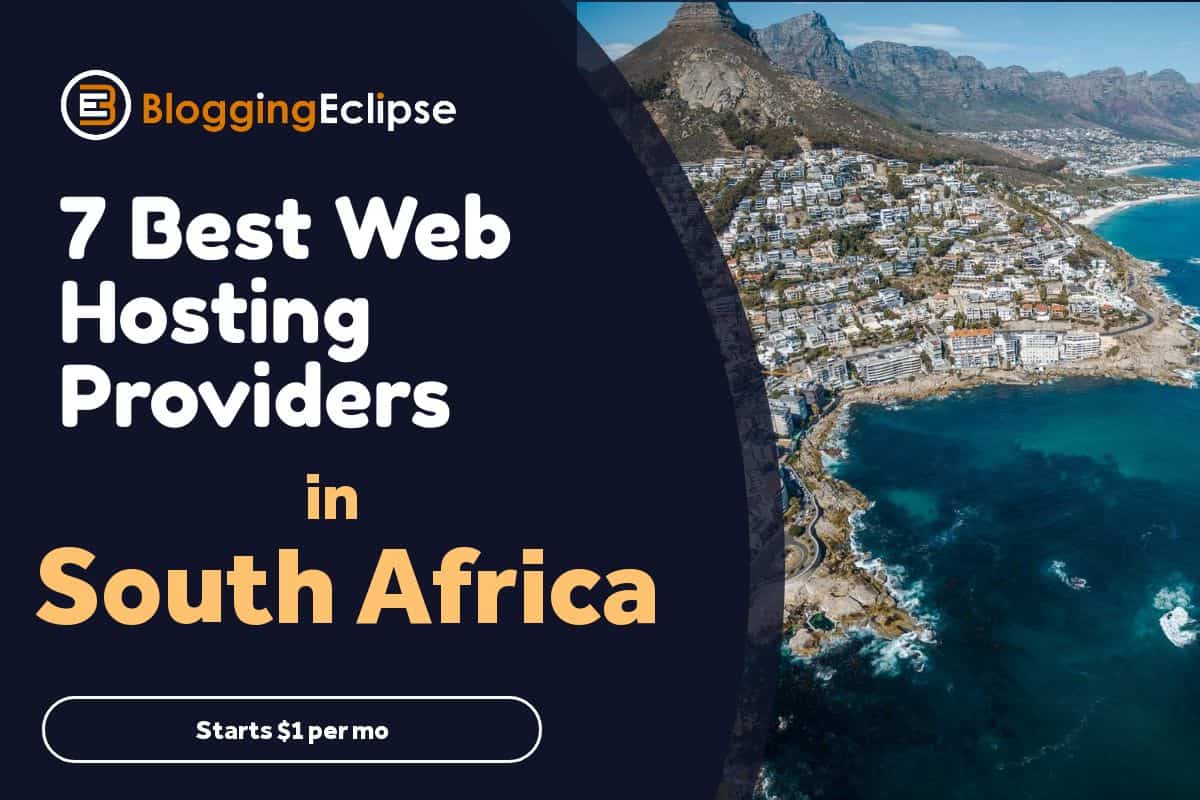 Here is a 100% verified list of the best web hosting in South Africa updated as of 2023. We have selected the top providers which offer a money-back guarantee, have the fastest servers and are rated top among general users. We have also partnered with some hosting providers in Africa to provide special money-saving coupons.
---
In 2002, HostPapa entered the market with hosted and dedicated apps. It started its web hosting services in 2006 and became a leader in green hosting. All subscriptions of HostPapa offer feature-rich plans, high performing servers, extensive learning resources, email, and 400 plus business apps, along with ideal website building tools.
HostPapa products and services are domain registration, website building, web site hosting (WordPress, VPS, Reseller), email, marketing, and website security. The top five reasons that make us put HostPapa on our list are that it offers constant customer support, trustworthy hosting, modern datacentres, leading-edge panel control, and fully-featured website builder.
HostPapa Starter plan is priced at $0.99/mo, the Business plan also at $0.99/mo, and Business Pro at $12.95. All the plans will offer essential features like:
Free website transfer, Free Cloudflare CDN.
Free personalized training sessions.
Free Let's Encrypt SSL.
Free cPanel Control Panel with Starter Website Builder.
Softaculous with 400 plus free apps.
CloudLinux servers.
30-day money-back guarantee and 99.9% uptime.
Click on the button above to get maximum discount on Hostpapa business hosting plans. The discount coupon is already enabled in the special link. Business and Business Pro have all essential and advanced features, along with performance and security enhancements.
---
If you are looking for up to 20x faster web hosting solution, then A2Hosting can be your online partner. A2Hosting excels in offerings you with Shared, Dedicated, Resellers, VPS, and WordPress Hosting along with domain registration. Its exclusive Turbo servers, developer-friendly software, and uptime commitment. They are also a proud partner of Carbonfund.org, a leading group in the battle against global climate change.
A2Hosting is known for its best support and information resources. In case of any issue, you can reach out to them via live chat, phone, call, email, ticket raising, and social media. For offering apt information, it has a substantial comparison guides, useful articles in a blog, knowledgebase, and updated newsletters sent via email. Its money back policy with no questions asked is another advantage you get with A2Hosting.
51% OFF
51% OFF : A2 Hosting Coupon
Its web hosting plans start at $2.96/mo for Lite plans and goes up to $7.03/mo for the Turbo plan. The key features included in all plans are:
99.9% uptime commitment.
Perpetual security.
24/7/365 days customers support by all means.
Choice of data center location.
Free website builder.
Website Staging.
Free Cloudflare CDN.
One-click software setup.
Optimized SSD storage.
FutureServe Green Web Hosting.
Anytime money back policy.
The Swift and Turbo plans will support additional growth and Turbo features to make the hosting more powerful.
---
Host Africa is a pioneer in hosting services in South Africa. Its established hosting business provides VPS and Cloud solutions with servers based in South Africa, as well as globally. With 15 years of extensive experience in hand, HostAfrica offers guarantees fast and consistent products with outstanding support. HOST AFRICA is named after an apparition to assist businesses and people throughout Africa.
HA offers domain, VPS and Cloud Servers, VPS Reseller, WordPress Hosting, cWatch Web Security, site builder, web hosting reseller, and online backups. They utilize the latest cloud technology for best-performing servers, 100% virtual uptime for web apps, with Acronis online backups to keep your data safe.
The web hosting plan starts at $4/mo and goes up to $20/mo.
Features of Hostafrica:
1 Free ".co.za" domain
2 GB disk storage, 5 GB web traffic*
25 email accounts
Five MySQL databases
1x Free SSL Certificate
1-Click install apps
PHP 4.4 5.1-5.6 7.0-7.3
Vulnerability detection & patching.
Backed up every second day.
cPanel control panel.
Monthly contracts and monthly billing bind all subscriptions. There is any time money back policy included in all plans.
---
Namecheap is the fastest developing American firm according to 2018 Inc. 5000 and established in the year 2000. It is an ICANN registered domain and web hosting firm with 10 million domains under management. It offers a full range of standard and exclusive domains, as well as feature-rich hosting packages, SSL security credentials, WhoisGuard confidentiality protection, and much more at the most affordable industry rates.
Namecheap deals in various products, namely domains, web hosting, WordPress hosting, apps, security, and migration services. The resource center is enormous and consists of a support center, status updates, knowledgebase, ticket raising, live chat, and active social media channels.
The shared hosting plans for beginners starts at $1.44/mo, for small businesses at $4.44/mo, and large businesses at $3/mo. These are the starting prices of the shared hosting plans, and for the more advanced version, one has to pay more.
Features included in all plans:
Unmetered bandwidth
Free website builder
Free .website domain name and privacy protection
50 Positive SSL certificates
30-day money-back guarantee
Hosting guarantee
Revolutionary Dell Server Technology
Free SSL certificates
Website Builder
24/7 support
Cloud Storage is only obtainable with Stellar Business plans with US datacenters. Namecheap will offer a free .website domain name (first year alone) with almost al hosting purchases. The best thing ios Namecheap p[rovides Free Whoisgaurd for a lifetime with every domain purchases.
---
Domains.ca.za is all about numerous domain names guarantee. It is yet another robust platform offering all-inclusive services for your seamless online presence. Established in 2001, this holding firm is the ISP, DiaMatrix. In February 2012, domains.co.za started a White Labelled Multi Registrar EPP Solution. This solution is directed at ISP's / concerns in South African aspiring to become Registrars on the new .co.za Registry / Registrar EPP platform.
Its products include domain registration and transfer, cloud server and web hosting, and security services like SSL, Whois Privacy, and anti-virus. With 17 years of experience, Domains.co.za delivers fast, dependable, and protected web hosting in South Africa. There are four web hosting packages, namely Budget, Value, Pro, and Expert, with starting Budget plan priced at $99/mo.
Features included in all plans are:
Free Domain Name with every hosting plan
*1-Click Easy Installs, Spam & Virus Protection
SuperFast SSD Storage with Weekly Backups
cPanel Control Panel with Malware Scanning
60 Day Money Back guarantee
Premium Support and 24/7 Monitoring
Premium domain names are not included in the plans. Free Domain Registration smears to the following extensions only -. co.za,.xyz,.org.za,.net.za,.web.za,.online
---
Everyone in the web hosting industry has once come across the name GoDaddy. The brand is known for helping entrepreneurs in making a powerful impact in the online world. GoDaddy is an all-inclusive platform offering domains, WordPress, hosting, website, marketing, security, email, and MS office services. GoDaddy's Online Starter Bundle offers you website, email, and domains at the most affordable price.+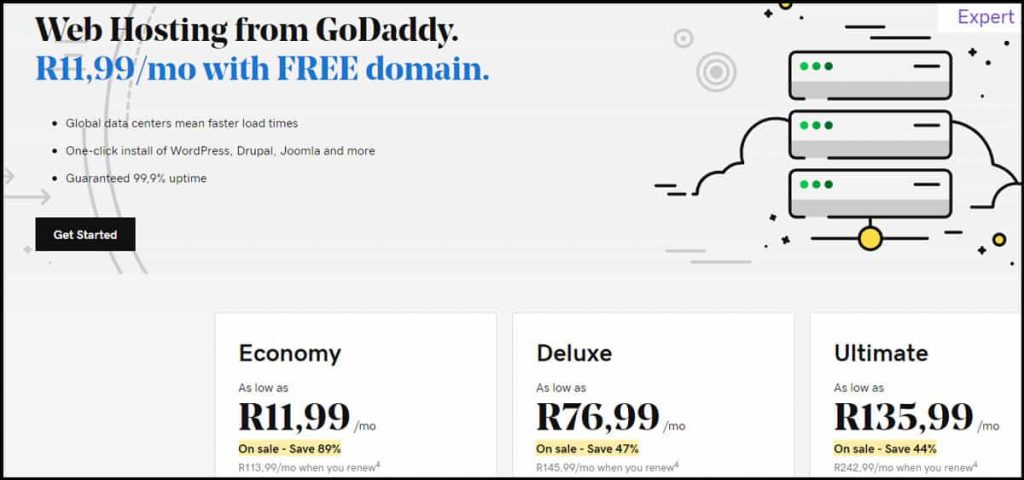 The Pro Program will offer free tools for designers and developers, helping them accomplish their goals. GoDaddy has 14 full-fledged offices worldwide from Seattle to Belgrade and has 78 million domains registered under them. The team helps its users through informative blog posts, inspiring videos, GoDaddy guides, community, phone calls, live chat, and newsletters.
GoDaddy domains start at $2.99/Yr emails at $1.99 per user, Managed WordPress for $2.99/mo, VPS at $18.99/mo, and Dedicated hosting at $69.99/mo. The standard web hosting plans start from $1.49/mo to $12.99/mo. All plans include the following features:
1-click 125+ free applications like WordPress, Joomla
1-click acquisition of extra resources like CPU, RAM, I/O, etc.
1 GB database storage with MySQL Linux
24/7 observing and DDoS protection
1-click installs for GoDaddy registered domains
Flexible, and simple control panel
Click on the above select button to activate the most potent Godaddy Hosting coupon offering 82% OFF on economy Linux web hosting + Free Domain. You can get full 1 year shared hosting with a free domain at a price equating to USD 12 for one year. It is the most cost-effective deal if you are looking to host your corporate business website or any blog.
---
Afrihost is an influential South African Internet Service Provider offering various services, together with ADSL broadband, fiber, static wireless, mobile services, and web hosting. The firm was founded in the year 2000 by CEO Gian Visser, Brendan Armstrong, and Peter Meintjes, and later joined by Greg Payne.
AfriHost's fabulous web and server hosting services include Linux and Windows web hosting, Cloud hosting, and specialized hosting like managed, dedicated, reseller, and rock hosting. The AfriHost customers get a 60-day double money-back guarantee if services are not delivered as promised. Your website will continuously be stored on state-of-the-art accessible web server technology, and now they use Quad-Core Intel Xeon based systems.
They offer support via WhatsApp, email, phone call, social media, ticket raising, and vast knowledge base with 200 plus articles. The hosting services offered are ranging from beginners to professionals at all levels.
AfriHost's Linux hosting is a powerful web hosting platform for novices utilizing the Website Control Panel to configure your hosting needs. They use Softculous to install WordPress (for FREE blogging or website creation) or Joomla (for advanced), with unlimited web traffic on your site. Web hosting packages start at $0.99.
Features included:
FREE .co.za or .site or .online for first year 1
Unrestricted traffic
Website control panel
Latest PHP version
Mellanox Switches
Spam filter included in all email addresses
Fastest hosting datacentre
Website Builder is offered only on Linux Shared Hosting Packages. The FREE domain registration is only valid if you opt for a .co.za, .site, or .online domain with this hosting package.
---
Internet in South Africa
The internet is one of the most technically resourced nations on the African land, is intensifying with time. South Africa's internet code highest domain (ccTLD) .za is accomplished and controlled by the .za Domain Name Authority (.ZADNA) and was given to South Africa by the ICANN in 1990. The internet users in South Africa have tremendously increased from the last stats recorded in 2016, which was 29.3 million.
With the increase in the use of the internet, there is also an increase in the web hosting market. Every small and big business running online needs a reliable host to operate their website quickly and efficiently. So, if you also want a solution related to the secure web host. Then have a look at our list of the top 7 web hosting providers in South Africa.
The list is compiled after rigorous research, testing and going through the honest reviews of the users. These below-listed top web hosting providers in South Africa are selected based on performance, power, worldwide datacentres, excellent customer support, the best uptime, speed, and security. Let's check them out.
Also Read: Best 5 VPN Providers in South Africa- 2023
---
Final Thoughts
The above top web hosting providers in South Africa offer up-to-the-mark services to users with the help of innovative technology. The redundant datacentres, the best uptime, speed, feature-rich subscriptions, and 24/7 customer support are the attributes that make them an ultimate choice for the newbies as well as experts.
We believe Godaddy, HostPapa, A2 Hosting are one of the perfect choices for your online business ion South Africa. These providers have nearby servers and global CDN which drastically reduce page load time and increases the website's performance.
I hope this post will help you in making the right decision for your next hosting partner in South Africa. If you want to know about any other hosting services in a particular region, then do drop a message in the comment section below.