Are you looking for ways to use PiPiADS effectively in 2023? Are you a drop shipper and struggling to find the winning products through PiPiADS? Worry not, as this article will guide you in the simplest way possible on how to use PiPiADS, the #1 Free TikTok Ad Spy Tool in 2023!
PiPiADS is a popular TikTok ad spy tool that allows businesses to optimize their ad campaigns and stay ahead of the competition. It provides a comprehensive analysis of competitors' ads, helping users to understand what is working for them and use that information to create more effective ad campaigns for their own products or services
Read this article till the end to become a pro user of PiPiADS and scale up your marketing efforts.
How Does PiPiADS Work?
PiPiAds is a powerful tool designed to help advertisers and e-commerce marketers find high-quality ads for inspiration and stay ahead of their competition. It offers a range of features that make it an invaluable resource for those looking to improve their ad strategies and find successful products for their dropshipping businesses. Here's a breakdown of how PiPiADS works and its key features:
exclusive
✔ #1 TikTok Ads Spy Tool
✔TikTok Shop Ad & TikTok Ad Targeting Audience
✔The biggest TikTok ads library & Most tiktok ads examples
Get 30% Off (Annual Billing) + 20% Off with PiPiADS Coupon Code
Step-by-Step Guide to Use PiPiADS for Product Research (For Dropshippers)
Follow the steps below to find winning dropshipping products and improve your product research process.
STEP 1: Sign up for PiPiADS
The first step is to sign in to your PiPiADS account by entering your email address and password.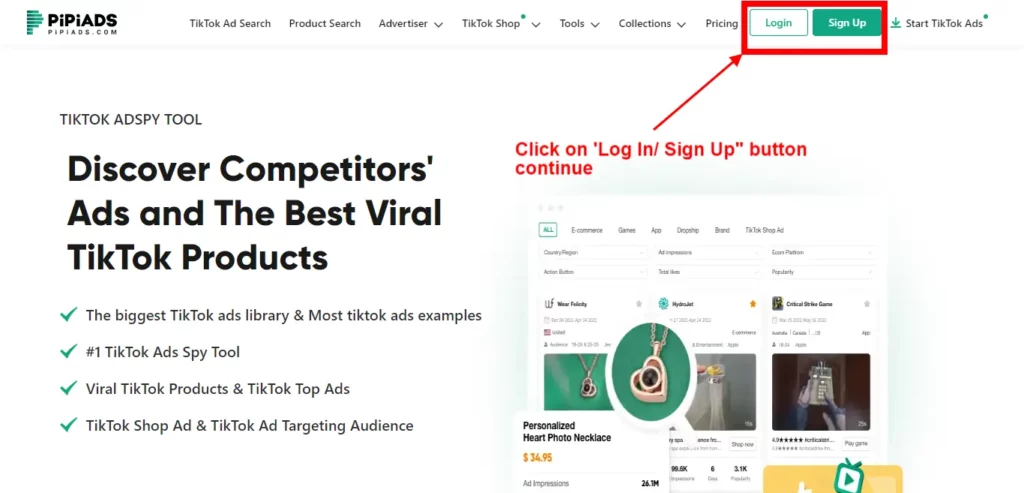 STEP 2: Navigate the PiPiADS interface
Once you have signed up, log in to your PiPiADS account and familiarize yourself with the interface. Click on "Product Search" tool to find the winning and trending products.
STEP 3: Conduct product searches
To find winning dropshipping products, use the search bar at the top of the dashboard. Enter relevant keywords related to your niche or the type of products you want to sell. PiPiADS will display a list of products and ads that match your search criteria.
STEP 4: Filter search results
You can further refine your search results by using the extensive filter options available on the left side of the page. Filter options include product categories, countries, ad duration, and more. This helps you narrow down your search and find the most relevant products for your business.

STEP 5: Analyze product trends
Click on a product to view more details, such as its price, profit margin, and sales volume. PiPiADS also provides information on the product's performance over time, allowing you to analyze trends and determine if the product is worth selling.
STEP 6: Spy on competitors' ads
PiPiADS allows you to view your competitors' ads on TikTok. This can help you understand what types of ads are working well in your niche and inspire your own ad creatives.
STEP 7: Save winning products
When you find a winning product, save it to your favorites by clicking the star icon. This allows you to easily access the product later and keep track of your top picks.
Detailed Steps to Use PiPiADS for Ad Research (For Marketers)
Marketers can effectively use PiPiADS for ad research by exploring its features, analyzing competitors' ads, filtering search results, and using the Advertiser Analysis tool. By doing so, they can gain valuable insights and optimize their advertising strategies for better results.
STEP 1: Explore PiPiADS features
Click on "Advertiser" button to proceed with the Ad Research. This can help online marketers find hot-selling items and trending ad campaigns.

STEP 2: Analyze competitors' ads
PiPiADS enables marketers to analyze competitors' ads and learn from their strategies. By examining ad creatives, messaging, and targeting, marketers can identify trends and best practices to apply to their own campaigns.
STEP 3: Filter search results
PiPiADS provides various filters and sorting options, making it easy for marketers to narrow down their search and find relevant ads. Filters include categories such as eCommerce, gaming, brand, or dropshipping, as well as keyword input.
STEP 4: Utilize the Advertiser Analysis tool
The Advertiser Analysis tool in PiPiADS allows marketers to gain insights into the performance of their competitors' ad campaigns. By on different parameters such as ad spend, targeting, and ad creative, marketers can make informed decisions about their own advertising strategies.
The Right Way to Use PiPiADS for Influencer Marketing
Influencers can use PiPiADS to enhance their marketing strategies and find the best TikTok ads and winning dropshipping products. By utilizing the platform's vast database and filters, influencers can search for ads that align with their target audience and niche. Here are the steps to follow:
STEP 1: Explore the PiPiADS platform
Sign up for an account on PiPiADS and explore its powerful features, such as the TikTok ads library, product search, and advertiser search.
STEP 2: Search for relevant ads
Use the platform's filters to search for ads that align with your target audience and niche. You can filter ads based on various criteria, such as engagement, views, and ad spend.

STEP 3: Analyze competitors' ad campaigns
Gain insights into competitors' ad campaigns by studying their top-performing ads, ad spend, and audience targeting strategies. This will help you stay ahead of the competition and identify new opportunities for growth.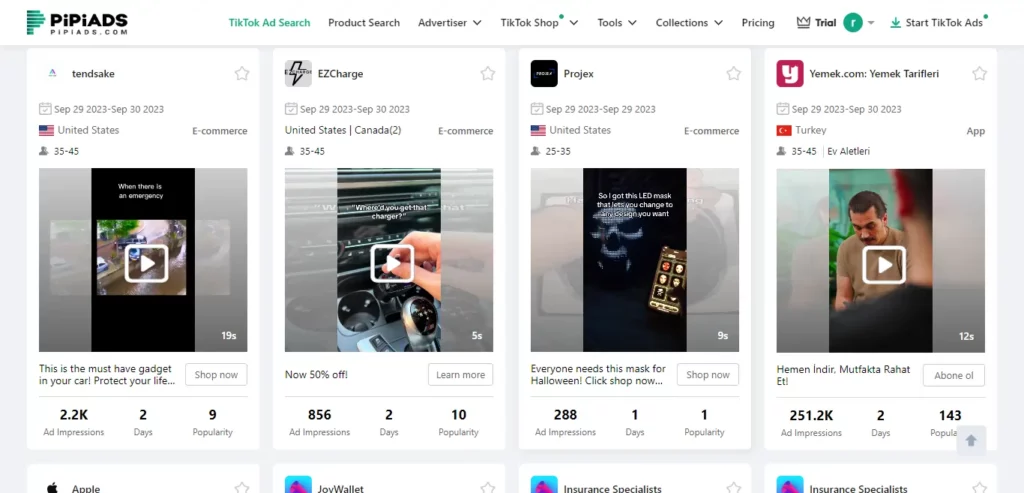 STEP 4: Find winning dropshipping products
Use PiPiADS to discover trending and best-selling products that you can promote to your audience. This will help you provide value to your followers and increase your chances of earning commissions from product sales.
STEP 5: Get insights for influencer marketing
Utilize the benefits of PiPiADS for influencer marketing, such as gaining insights into competitors' ad campaigns, staying ahead of the competition, and finding perfect products to promote.
By following these steps and incorporating the keywords influencers, PiPiADS, marketing strategies, TikTok ads, and dropshipping products, influencers can
Use PiPiADS for Free with the PiPiADS Free Forever Plan
PiPiADS is a popular TikTok ads spy tool that helps users find winning products and high-converting ad campaigns for their e-commerce businesses. The platform offers a free forever plan that provides access to some of PiPiADS' features, but with limitations on each feature. The free plan allows users to explore this product research tool and get a feel for its capabilities, but it may not be sufficient for users who require more advanced features and functionality.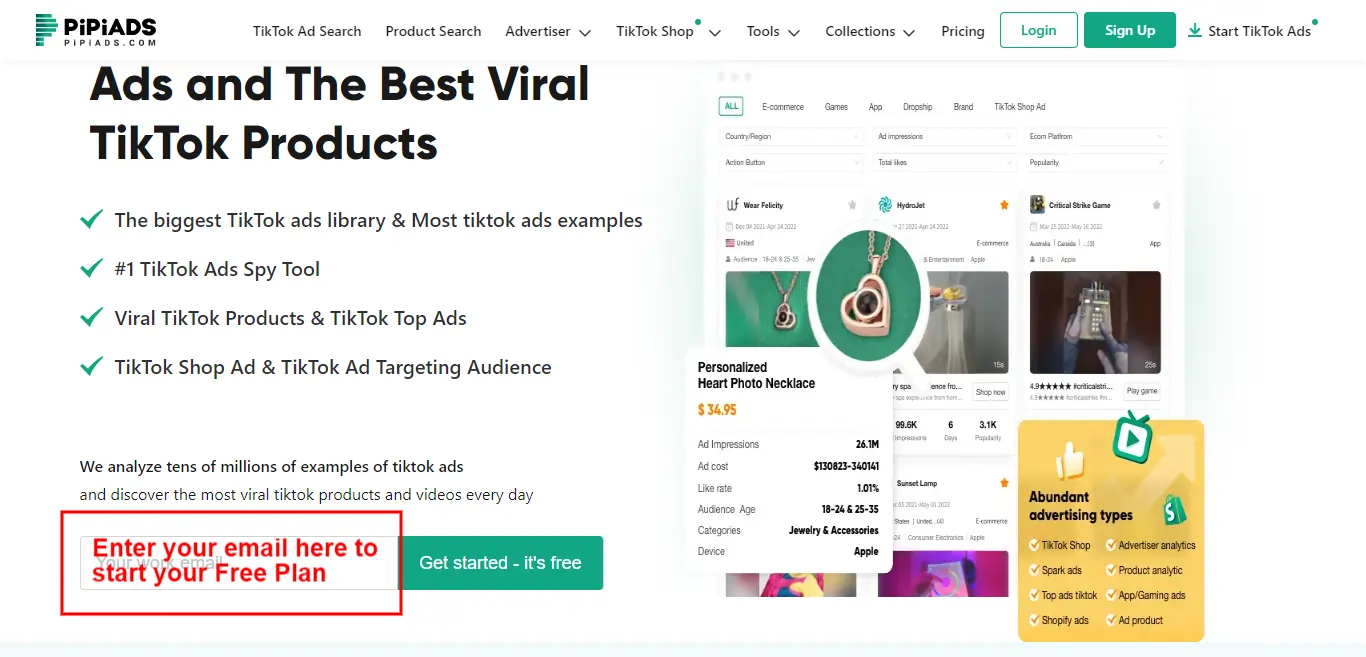 To sign up for the PiPiADS free plan, visit their website and enter your email address. However, the free plan comes with restrictions on the number of searches, product details, and other features, which may limit its usefulness for some users.
Pros and Cons of Using PiPiADS
Here are some of the pros and cons of using PiPiADS:
Top FAQs for using PiPiADS in 2023
Can I use PiPiADS to find winning products for my dropshipping business?
Yes, PiPiADS allows you to search for winning dropshipping products in minutes by providing access to a library of over 20 million TikTok ads.
Can I try PiPiADS before committing to a paid plan?
Yes, you can try PiPiADS for 3 days at $1, which gives you access to all features without limits.
How does PiPiADS help me spy on competitors' TikTok ads?
PiPiADS allows you to search for specific keywords and find the best-performing ads on TikTok. You can learn about great advertisers, their well-performing TikTok ads, products, and stores.
Is PiPiADS suitable for beginners in dropshipping and advertising?
Yes, PiPiADS is designed to be user-friendly and suitable for beginners in dropshipping and advertising. It provides an easy-to-use interface and comprehensive features to help you find popular products and ads on TikTok.
How often are new winning products added to PiPiADS?
PiPiADS updates its library with new hot-selling products every day, ensuring that you always have access to the latest trends and products on TikTok.
Can I use PiPiADS to find ads for other social media platforms besides TikTok?
Currently, PiPiADS focuses on providing TikTok ads and unlimited winning products. However, you can use the insights gained from PiPiADS to inform your advertising strategies on other platforms.
How can I get support or assistance while using PiPiADS?
You can visit the PiPiADS website and access their help resources or contact their support team. 
Find the best viral TikTok products with PiPiADS
This article is an ultimate guide for dropshippers, ecommerce business owners and influencers to use PiPiADS and enhance their marketing strategies. The key features and benefits of PiPiADS make it an essential tool for improving dropshipping ad campaigns on TikTok.
exclusive
Analyze tens of millions of examples of tiktok ads and discover the most viral tiktok products and videos every day with PiPiADS
Get started with PiPiADS 3 days trial for $1 only
By utilizing PiPiADS advance capabilities, users can access the massive database of amazing ad collections and best-selling products, ultimately boosting their marketing strategies. Also the available of PiPiADS Free Plan and 3-day Trial for $1 gives you an opportunity to try PiPiADS features before committing to a paid subscription.
In summary, PiPiADS offers a powerful solution for those looking to enhance their TikTok advertising efforts and stay ahead of the competition in the ever-growing world of dropshipping.
Affiliate Disclosure: This post may contain some affiliate links, which means we may receive a commission if you purchase something that we recommend at no additional cost for you (none whatsoever!)