Won't it be great if you could get a complete analysis of your ecom competitors? What are their top-selling products? Or even the apps and themes that they are using?
There are dozens of Shopify spy tools available in the market, but which one is entitled to get throned as #1 Shopify Spy tool? Well, PPSPY is one such Shopify research tool that has grown as a popular choice in the ecom industry and dropshippers are going nuts for it globally.
But still, what makes PPSPY the perfect Shopify spy tool for your dropshipping operations? If you are stuck around a few questions like these, then this PPSPY Review will clear all your doubts. So, buckle up till we clear some of the common doubts that you might be having in regard to the PPSPY, the #1 Shopify Spy tool for dropshippers.
Is it the #1 tool or not? Let's find out!!
PPSPY Review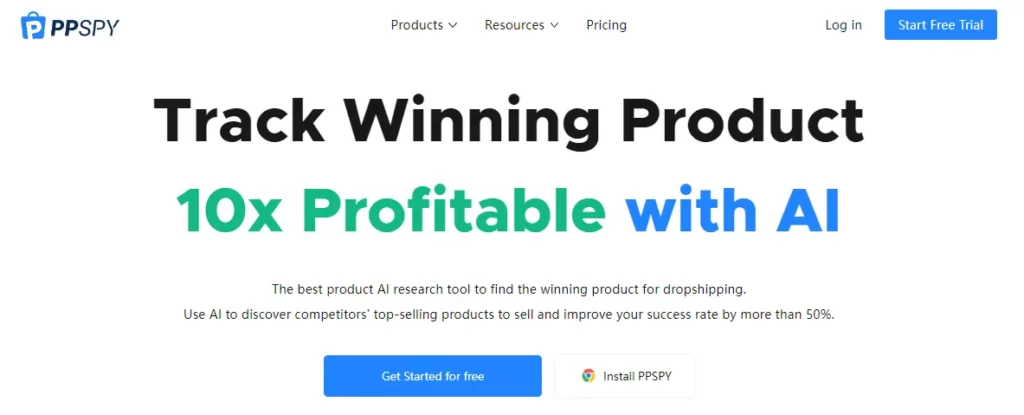 PPSPY offers a comprehensive solution for users to spy on their competitors, unlocking hidden analytics and insights including some of the exceptional features in terms of Shopify Store Analysis, One-Store Product Search, Sales Tracking, and much more. PPSPY provides users with the ability to track sales, view sales reports of competitors, and even download product images without limits. What really sets PPSPY apart from other similar tools is that it also offers a Chrome extension, which is a go-to solution for dropshipping-related Shopify spying and store analysis.
PPSPY assists users in discovering their competitors' top-performing stores and products. It provides features that include information about a store's name, theme, product times, location, language, currency, and more. Users can track live sales and access a hidden system that boosts sales for rivals' stores. The tool allows exporting and downloading of Shopify reviews.
PPSPY Key Features at a Glance
PPSPY is a Shopify store analysis and dropshipping tool designed to help you quickly learn about your competitors' stores and their best-selling products. There are several tools and features which include Sales tracking, Product research, Store research, Traffic research, One-store product, and much more. Let's have a deeper understanding at what are the key features that make PPSPY a choice worth considering:
Sales Tracking: You can monitor the sales performance of any Shopify store, including real-time sales and revenue tracking. Well, the number of stores available under this feature can vary depending upon the PPSPY plan chosen.
Product Research: PPSPY product research feature helps you discover winning products by identifying best-selling items in your competitors' stores. Some of the data insights which are available include price, monthly order, monthly revenue, created time, and the last sale time. The users can use advanced filter options like categories, sales, and ad channels, with some advanced filters.
Store Research: The store research on PPSPY includes getting along with some of the valuable insights for the Store name, monthly sales, monthly revenue, time, and newest products, and the actions that you want to take on those parameters. The insights that are shown for the traffic search are shown using SimilarWeb.
Traffic Research: Traffic research can help in running a complete analysis in terms of monthly sales, traffic, sources, as well as the desired action you wanna take on the shop analyzed. The data is analyzed using the SimilarWeb.
One Product Store: Run a complete analysis over thousands of one-product stores which are being listed, and get inspiration from their listings, research, and search for the most profitable products that are performing best.
Store theme: Search and know which dropshipping competitor is using which theme for their stores. Dropshippers can use this feature to get creative ideas on themes, product listings, and much more.
By using PPSPY, you can gain valuable insights into your competitors' stores, helping you make informed decisions to improve your own e-commerce store's performance. It is worth mentioning that the features vary depending on the use, i.e. whether you are using the PPSPY web-based platform or the PPSPY Chrome Extension.
The PPSPY Chrome Extension offers access to some of the key features like Shop Analysis, Products listed on that store, Live Sales, Reviews, etc. The credits and other things might vary as they are completely dependent on the PPSPY plan chosen.
PPSPY's Extensive Research
PPSPY offers quite extensive research where you can use tools and features to run a complete analysis across different parameters from the huge database that it offers. The primary objective of PPSPY is to equip users with a competitive advantage in the e-commerce domain. It helps users monitor any Shopify store to gather data and grow their own business. PPSPY provides access to over 1 million active Shopify stores, over 200 million Shopify products, over 800,000 Shopify themes, and insights into over 1 million Shopify traffic sources.
PPSPY is designed to aid with tracking e-commerce shops, products, promotions, and more. It is particularly beneficial for dropshipping store owners, helping them monitor competitors' actions and improve their own stores.
Is PPSPY an ideal choice for dropshippers?
PPSPY is ideal for e-commerce businesses, particularly those using Shopify. It's also beneficial for dropshippers and anyone looking to gain insights into their competition. PPSPY can provide valuable data to help you succeed irrespective of your level of expertise.
Let's Understand the Best Scenarios Where PPSPY is Most Useful
PPSPY proves most beneficial when businesses aim to gain a deeper understanding of their competition. This could be when launching a new product, entering a new market, or simply looking to improve current operations. By providing real-time data on competitor sales and products, PPSPY can help businesses make informed decisions.
How to Start Using PPSPY? A Step-by-Step Guide
Visit the PPSPY Website: Start by visiting the official PPSPY website.
Start a Free Trial or Log In: On the homepage, you'll see options to either start a free trial or log in if you already have an account. If you're new to PPSPY, click on the "Start Free Trial" button.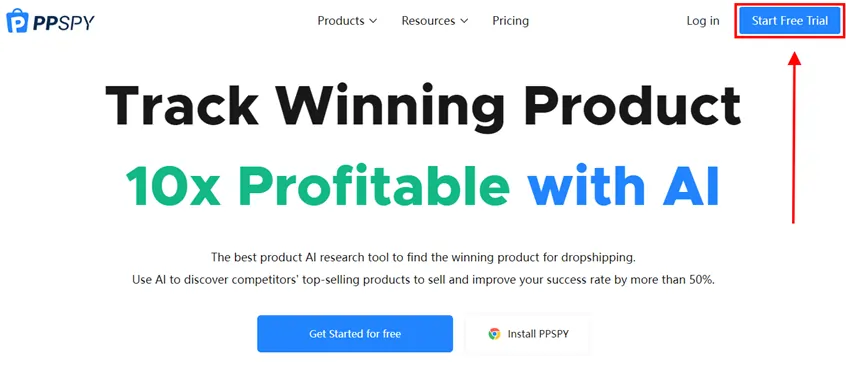 Fill in Your Details: You'll be taken to a registration page where you'll need to fill in your details, including your name, email address, and password. After filling in your details, click on the "Create my account" button.
Verify Your Email: Check your email for a verification message from PPSPY. Click on the link in the email to verify your account.
Log In to Your Account: After verifying your email, return to the PPSPY website and log in to your account using the email and password you used to register.
Once you have successfully logged into the PPSPY, you'll be getting free 200 credits that can be used on different stuff including Store analysis, research, live sales tracking, etc. You can also install the PPSPY Chrome extension for on-the-go analysis.
Install the PPSPY Extension: Once you're logged in, navigate to the Chrome Web Store and search for "PPSPY". Click on the "Add to Chrome" button to install the extension.
Set Up Your Preferences: After installing the extension, click on the PPSPY icon in your browser's toolbar and log in to your account. You can set up your preferences by clicking on the settings icon in the top right corner of the PPSPY dashboard. Here, you can choose your preferred language, currency, and other settings.
Start Using PPSPY and its Chrome Extension: Now that your account is set up, you can start using PPSPY. Simply visit any Shopify store, and the PPSPY widget will appear at the bottom of the page, providing you with a wealth of information about the store.
PPSPY Pricing Plans
PPSPY presents four distinct pricing plans to accommodate the diverse needs of businesses. These include the Basic, Advanced, Unlimited (most popular), and Enterprise plans. Each plan offers a unique set of features and capabilities, enabling you to select the one that aligns best with your business requirements.
Basic Plan: Priced at $19.9 per month, the Basic plan is ideal for businesses just starting. It includes sale tracking for 10 stores, 100 daily live sales and reviews via the extension, and 1,000 credits for Shopify analysis.
Advanced Plan: For businesses looking to expand, the Advanced plan is available at $39.9 per month. It offers sale tracking for 20 stores, 200 daily live sales and reviews via the extension, and 5,000 credits for Shopify analysis.
Unlimited Plan: The most popular plan, the Unlimited plan, is priced at $99 per month. It provides sale tracking for 100 stores, 1000 daily live sales and reviews via the extension, and 20,000 credits for Shopify analysis.
Enterprise Plan: For corporate teams, the Enterprise plan is available at $299 per month. It includes sale tracking for 350 stores, 10000 daily live sales and reviews via the extension, and 100,000 credits for Shopify analysis.
PPSPY also offers a free trial, allowing you to test out the tool before committing to a paid plan. This is a great feature that not all Shopify spy tools offer, making PPSPY stand out in the industry.
Pros & Cons of PPSPY
In this section, we will uncover the advantages and limitations of PPSPY, providing a balanced view of its advantages and potential limitations.
Comprehensive Analysis: PPSPY delivers a thorough analysis of Shopify stores, encapsulating product details, sales tracking, app usage, and customer reviews.
User-Friendly Interface: The tool is designed to be user-friendly, making it easy to navigate and understand the data presented.
Real-Time Sales Tracking: One of the standout features of PPSPY is its ability to track live sales.
Affordable Pricing: Compared to other Shopify spy tools, PPSPY offers competitive pricing.
Limited to Shopify: One of the main limitations of PPSPY is that it is limited to Shopify stores.
Dependent on Chrome: PPSPY operates as a Chrome extension, which means that it may not work as effectively on other browsers.
Limited Support: While PPSPY offers a range of features, it may not offer as much support or as many features as some other, more expensive tools.
FAQs on PPSPY Review
Here we have listed some of most asked queries regarding PPSPY Review, Before subscribing to this powerful Shopify Ads spying tool, do read the below FAQs.
Does PPSPY offer a free trial?
Yes, PPSPY offers a free trial. You can register an account with your email to enjoy the trial, and no card is required.
Does PPSPY have any Chrome extension available?
Yes, PPSPY has got a Chrome Extension that offers access to features like Shop analysis, Products, Live Sales, Apps used, and product reviews.
Can PPSPY be used on other platforms besides Shopify?
Currently, PPSPY is specifically designed for Shopify stores. This means it may not be as useful for analyzing stores on other platforms like Wix, WooCommerce, etc.
What are the primary features offered by PPSPY?
PPSPY offers extensive research to be performed on Store analysis, Sales tracking, traffic research, etc. Whereas PPSPY Chrome extension gives access to features like live sales, apps and theme used, with some additional features.
Is PPSPY free to use?
How does PPSPY get data from Shopify stores?
PPSPY Alternatives
While PPSPY is a powerful tool for spying on Shopify stores, there are other tools available that offer similar functionalities. Here are three notable alternatives:
Brief Comparison of Each Alternative to PPSPY
PiPiADS vs PPSPY: While both tools offer Shopify store spying, PiPiAds has a unique focus on TikTok ad spying. However, PPSPY provides a more comprehensive Shopify store analysis.
BigSpy vs PPSPY: BigSpy offers a broader range of ad spying across multiple social media platforms. However, PPSPY's focus on Shopify stores allows for a more detailed and specific analysis.
Dropispy vs PPSPY: Dropispy provides competitive intelligence across various social media platforms. PPSPY, on the other hand, offers a more detailed Shopify store analysis.
Conclusion
PPSPY is indeed an excellent choice for dropshippers, since it offers a user-friendly interface along with its ability to track live sales, analyze product details, app usage, and customer reviews making it a good-to-go tool for dropshippers looking to gain a competitive edge. Since there is a PPSPY free trial available, it is highly recommended to make your way across PPSPY and get 200 credits for free and make the decision whether PPSPY is the right choice for you or not?
While PPSPY does have its limitations, such as being specifically designed for Shopify, its benefits far outweigh these. The pricing plans are affordable and offer a range of features to suit different business needs.
In my opinion, PPSPY is a worthwhile investment for anyone in the e-commerce industry. It provides a whole lot of information that can help businesses make effective decisions and improve their strategies. A few additional features like traffic research, apps, and theme analysis can certainly turn out to be a great source of inspiration and much more.
So, are you ready to take your dropshipping business to greater heights with PPSPY!?