Blogging has come a long way since its inception in 1997, and it is now one of the most popular types of content on the internet.
The popularity of blogging has brought various platforms that allow bloggers to publish their content easily.
Choosing the best blogging platform can be a daunting task. It is not easy to decide which one suits your needs the best. You might have a personal preference for which blogging platform you like and which one you feel comfortable using.
If you're struggling to decide whether to use Webflow or WordPress for building your site, here's some advice from our experts. These two tools are popular options for building simple or complex web pages without requiring specialized skills.
They both create websites, but each offers a completely different approach. It's therefore important to know which one works better for you.
We'll take an in-depth look here at ✅WebFlow Vs. WordPress to see if one platform has advantages over another regarding ease of use, feature set, and overall performance.
If you've been searching for a platform to create your website, you're probably considering using WordPress because it has become the most popular CMS (Content Management System) worldwide.
If you've looked into alternatives, you might be interested in checking out another option called Webflow.
---
WebFlow Vs. WordPress 2023: Overview
What is WordPress?
It's a very popular open-source software for CMS. WordPress powers nearly half (42%) of all the sites online today.
You don't need any training to use WordPress.org and install its software on your computer so you can start creating websites for yourself.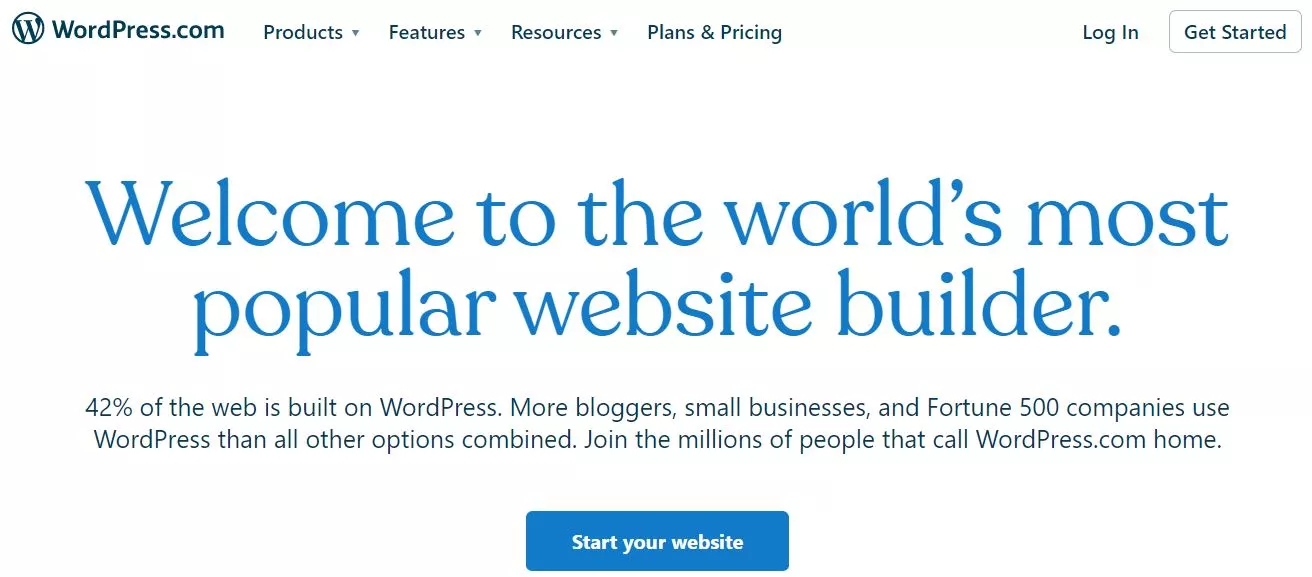 In this article, we're focusing on the open-source version available from WordPress.org. It's not like WordPress.com, which is just one way to use the WordPress.org platform.
Originally designed for blogs, WordPress has grown far beyond its original purpose. It now powers everything from small personal sites to large corporate portals. A strength of WordPress is its plugins. There are two main ways to extend WordPress so that it works for your site's unique requirements:
Template themes: These to control the look of your site.
Plugins: These provide additional functionality for your WordPress blog.
Every WordPress site uses a wide variety of plugins to add key features such as security, analytics, social media integration, etc.
There's one major philosophical difference between WordPress and Webflow. In WordPress, the core software is a foundation for adding custom functionality through plugins; in contrast, Webflow is an entirely self-contained web app that includes every feature necessary for building websites.
Key Features of WordPress
Huge community of developers
Over 54,000 WordPress plugin options
SEO friendly (search engines)
Powerful media management
---
What is Webflow?
Webflow is a SaaS platform that allows you to create websites visually by dragging elements from one page into another. It's primarily marketed towards designers who want to build sites without coding, but any user can use Webflow to design their site.
The main difference between Webflow and other SaaS website builders is that Webflow still gives you full control over your entire website's source code.
Basically, the visual builder gives you a way to visually create your web pages' HTML, CSS, and JS code.
If you're building a site for yourself or someone else who doesn't know anything about coding, Webflow has easy drag-and-drop functionality where you can just start creating pages right away.
In general, you'll be able to use the basic functionality provided by the Webflow platform without having to install any additional software.
After finishing building your site with WebFlow, you can choose from two options:
Export your finished website code and host it through a different hosting service.
Pay an extra amount and let Webflow host the platform for you.
Work directly with Webflow CMS data
Work with reusable CSS classes
Create scroll based animations
Publish to the web instantly
Drag and drop page builder functionality
From above, you can see that Webflow has a wide range of features to help create a fully customized site.
---
Webflow Vs. WordPress: Ease of Use
Both WordPress and WebFlow offer advantages over other solutions because they make building websites simple for people who may not know programming languages.
WordPress
WordPress, however, is easier to learn relatively, even more so if you have no knowledge of coding whatsoever, but both platforms can be used by newbies who don't know much about code. It's simple to use WordPress for creating and publishing content online.
You don't need to learn any coding skills to publish content using WordPress. It's intuitive and easy for anyone to use, with a navigation menu at the top, which allows them to easily access each page and section of their site. And you can manage everything through your WordPress dashboard.
Webflow
With Webflow, you get complete control of HTML5, CSS3, and Javascript, so you can design what you want. After creating the perfect website for yourself, you can either upload it directly to the internet or send it off to be coded by others.
---
Webflow Vs. WordPress: Themes & Templates
If you need high-level site design without spending a lot of time on it, both WordPress & Webflow have prebuilt designs and exhaustive design tools that you can apply to your site.
WordPress
Although there are many sites with a large variety of templates, WordPress has the most in this regard. If you want the most design flexibility & availability, then choose it.
There are many options for a website design, from themes that are completely free to those at a cost. There is also an additional option of purchasing them from sources such as Themeforest or Creativemarket, but you can also find your own themes by using WordPress' directory.
After choosing which theme you want to use, the next step is setting up your customizations. You can decide which colors, fonts, sizes & images suit you best and whether or not you'd like any additional features such as plugins to be included.
If you want a completely customized website, you will need to either develop it yourself or hire a web designer or developer. Web designers & developers have full access to the WordPress theme developer handbook, which will provide you with the resources you need to do so.
Webflow
Webflow uses a drag and drop interface, meaning you can start with a blank canvas and simply drag & drop any elements such as background videos, sliders, tabs, or images. You can access your website page structure in the navigator and adjust the page layout with just a few clicks.
Every page and element has a responsive design. If someone visits your web page from an iPad, iPhone, Android tablet, desktop computer, laptop, etc., then he/she will see exactly the same layout no matter what kind of device they use.
You can use the font you want and totally customize everything about it, from the line-height to the tracking.
Webflow also has a really convenient swatch system that allows everything on the site to match. It's an awesome feature if you want your whole website to be done in one particular color.
---
Webflow Vs. WordPress: Extensions Plugins
Both WordPress and Webflow provide everything you need to create a basic web page; however, if you want to add additional functionality, you may wish to look into extensions for each platform.
Most web page-building tools offer these features through their own extension systems. They're known by different names—they may be plugins, apps, or extensions.
WordPress
You'll find hundreds of plugins for every feature imaginable when using WordPress. The official WordPress plugin repository has close to 59,000 free plugins. You can also find many premium plugins from other markets or independent developers.
In addition, WordPress assumes that you'll be using its built-in features for things like adding social media buttons or creating pages.
Webflow
On the other hand, Webflow doesn't offer plugins directly as WordPress does, but that doesn't mean you can't add new features to your site. You can extend WebFlow by integrating code snippets from different services.
---
Webflow Vs. WordPress: Third-Party Integrations
In order for your website to function properly, you need to be able to connect with other software programs, including CRMs, email providers, etc., which means that they must be integrated into your site.
WordPress
When it comes to integrating with WordPress, there are plenty of great options available. Webflow isn't quite as strong as WordPress when it comes to integrations.
Webflow
You can integrate your Webflow sites with other tools, but they're not going to give you nearly as many native integrations, so you'll be forced to use code embeds and separate interface elements for most things.
---
Ecommerce with Webflow & WordPress
You can use either WordPress or Webflow to create an online shop.
WordPress
You can use plugins for adding full ecommerce functionality to your site with WordPress.
WooCommerce is the most popular WordPress ecommerce plugin so far. It's true that WooCommerce is by far the most common method for building an online store. You don't need prior coding experience to create an online shop; just use one of the available plugins for WordPress.
With WooCommerce, there are no limits to the design possibilities for an ecommerce site. If you want to create a template yourself, plenty of tools are available to help you out.
With hundreds of free and paid plugins available for WordPress, there's no shortage of functionality when building out your online store.
Webflow
To use the ecommerce features within Webflow, you need to purchase an additional eCommerce plan.
With Webflow, your checkout page can seamlessly match the rest of your website. This will help you provide a cohesive and engaging experience for your visiting customers.
You can also customize email templates for each order confirmation, transaction success notification, etc., so they match your branding perfectly. You can even use animation effects and interactive elements like buttons and links to enhance the user experience.
You can accept payments from any customer using one of several different payment processors, such as Stripe, Apple Pay (Apple), Google Pay, and PayPal. And you can define which countries you want to sell to and how you'll ship your product there.
You'll be able to manage your inventory from anywhere at any time, thanks to the intuitive interface of the Order Management Dashboard.
---
Webflow Vs. WordPress: Pricing Plans
As far as cost goes, WordPress could potentially be less expensive than Webflow.
When looking for a cheaper method of making websites, then WordPress beats out Webflow. But there's more to it:
WordPress Pricing Plans
The core WordPress open-source software is absolutely free. At a minimum, you'll want to get yourself some webspace so you can run WordPress for your site. It won't be cheap. You will need to pay for your web hosting if you want to run a WordPress blog.
Depending on your requirements specifically, you might need to spend some extra cash on premium themes and/or premium plugins if they're what you want.
Webflow Pricing Plans
With Webflow, you can create websites without having to pay upfront. But, to actually make your website available to people, you'll need to sign up for a paid plan.
Webflow has primarily two different pricing models for its services:
Site Plan: You need a site plan for every single site that you want to host on Webflow, especially if you're also hosting your own website on the same platform.
Account plans: If you want to have more than 2 projects on Webflow, you will need an account plan. The paid account plans also let you export code and transfer sites to other platforms.
Webflow also offers multi-user team plans.
---
WordPress Vs. Webflow: Pros & Cons
In order to complete our WordPress vs. WebFlow comparison, we'll take a look at some of their advantages and disadvantages.
WordPress Pros & Cons
If you've never used either platform before, then WordPress might be easier for you to learn than Webflow.

If you're looking for something cheap, then using WordPress might not be the best option for you.

With the huge plugin library, you can quickly add new functionality to your site by using plugins instead of writing custom code.

It integrates with more third-party applications and at a deeper level than any other CMS platform available today.

As WordPress powers more than 42 percent of all websites online, it's very easy to find WordPress tutorials.
Because WordPress relies heavily on plugins for its core functionality, it can often seem complicated to use.

You will have to host your website on your own, so that means you're responsible for maintaining and securing your own site, so if something goes wrong, you need to fix it yourself.

It doesn't offer customer support directly.
Webflow Pros & Cons
Webflow has built-in features for optimizing web pages' speed and load.

Webflow provides direct customer service for paid users.

In Webflow, you get everything you need to create a basic site without having to install any additional plugins.

It has a very powerful and easy-to-use visual editor.
You may find Webflow to be more expensive than WordPress.

While Webflow has fewer plugins than WordPress, this means its a little more limiting.

If you're new to web design, Webflow's editor may be intimidating at first, but once you get used to its quirks, you'll find yourself using it with ease.

Webflow doesn't offer any third-party integration options.
---
Webflow Vs. WordPress: Key Differences
There are several key differences between WebFlow vs. WordPress.
Here's an overview of some:
With WordPress, you'd need to install an additional plugin to get the functionality of a drag and drop page builder, but with WebFlow, this feature is inbuilt.
With WordPress, the only thing you have to pay for is hosting. Webflow is more expensive relatively.
In general, Webflow has better code quality than WordPress because they use fewer plugins.
While Webflow allows for total creative control, WordPress has limitations imposed upon it by its template system.
With Webflow, you can edit pages directly from within the editor itself. You don't need to go through the dashboard first, such as the case with WordPress.
Choosing which platform to use for your website isn't always an easy decision because you don't necessarily want to pick one that won't be able to grow with you if you decide to change platforms down the road.
---
🌟 Webflow Vs. WordPress FAQ
🙄Is Webflow better than WordPress?
– Webflow gives you complete design freedom, whereas WordPress limits you to templates or requires you to develop from scratch.
– Webflow features clear and high-quality code, whereas WordPress code can grow cluttered due to the extensive use of plugins.
🔎Is Webflow that good?
Webflow is a great tool that combines powerful CMS features with more traditional website builders to provide a wide range of options.
❓What is WordPress used for?
WordPress is a content management system (CMS) for hosting and developing websites.
🧐Is Webflow safe?
Webflow uses cutting-edge web application security measures, regularly conducting third-party audits of our hosting infrastructure and Webflow.com. While no internet service is entirely immune to attacks, Webflow has Advanced DDOS prevention to mitigate the most prevalent types of attacks.
🔥How do I host on Webflow?
– Get a free account & build your site. 
– Buy a custom domain.
– Buy the right site plan for you. 
– Connect your custom domain. 
– Rejoice in fully managed hosting.
🏅How to create a WordPress site without a domain?
You can create a free site on a subdomain rather than having your domain. To get to your site, readers will have to key in something like yourname.wordpress.com." You won't have to worry about a domain or hosting with this. Sign up and choose from various free themes to start developing your website.
---
Conclusion: Webflow Vs. WordPress 2023 | Which one to choose?
Both WordPress and WebFlow are great tools for building websites. It ultimately depends on which features you prefer over others.
Most people who want to create websites use WordPress for their sites. It's easy to set up and customize, and there are lots of plugins available to help add functionality. You might find it easier to operate if you don't know HTML and CSS well.
However, if you're a web designer or someone whose job involves building lots of client sites, then you may find yourself preferring Webflow because so many of its features are designed specifically to help designers create better-looking websites faster.
Both platforms are worth your time and money. In the end, it all boils down to your preferences and what features you put on priority.🙂