When it comes to website loading time, then only web hosting is not enough. A content delivery network is required to provide website content at super fast speed to users.
Here is the BunnyCDN Review with personal experiences. A CDN makes website speed almost double with caching all content on their high-speed server and delivers it across the world.
There are numerous of CDN companies from Amazon, BunnyCDN, StackpathCDN, Cloudflare and many more but pricing plays an important role everywhere. However, BunyCDN is super-fast and straightforward content delivery Network at a fraction of cost.
BunnyCDN: World's most cost-effective CDN
The best part of BunnyCDN is it has simple pricing and hence a user never gets confused by the plans or usage. They provide the best service at just $0.016 per GB. Isn't it cool? BunnyCDN optimizes your files and delivers it to users from their global servers.
What does Content Delivery Network (CDN) mean: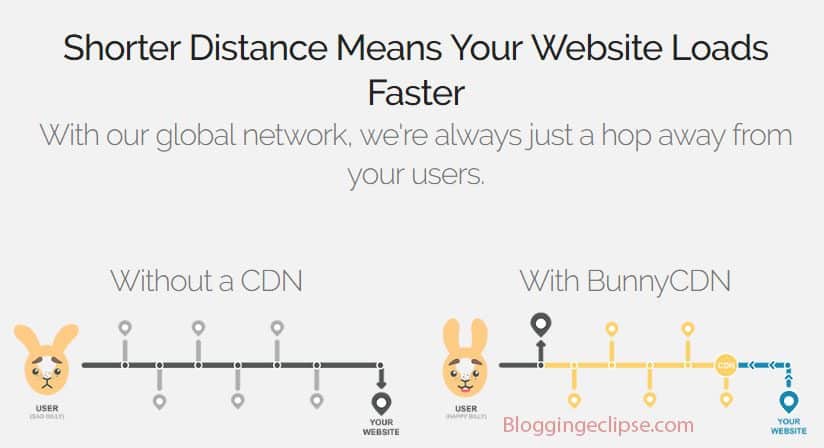 CDN was born just a few years ago with the primary motto of caching the website files and providing it to users from the nearest servers. The content Delivery network actually reduces the latency and make out website load faster.  A CDN network has their servers across the world, and it caches out website content files in real time and makes it deliver to the users from their nearest location. CDN also reduces Server load and bandwidth usage of web hosting.
Example: A website is hosted on the United States Server, and the maximum of website users are from India. Hence the site will load slower in India as compared to loading speed of United States because of latency.
But
If the Same Website is using a CDN service, then the CDN network will deliver the website content from the nearest location, maybe from India or any other servers in Asia. Making the website load faster by gradually reducing the latency.
How Does BunnyCDN Works?
BunnyCDN will take your files to optimize and will distribute across their network of servers across the globe. So when a users request the data, it will be loaded for the closest server to the user. BunnyCDN also reduces server load and bandwidth cost which enables more savings. BunnyCDN provides content delivery on a budget which anyone can afford with the help of our bunnies.
BunnyCDN Features at a glance:
Here are some of the exclusive BunnyCDN features listed with personal reviews and opinions.
BunnyCDN comes with dozens of powerful features which others CDN lack. It offers everything you require for efficient and straightforward content delivery. By implementing BunnyCDN on your site, you enhance your website performance, security and SEO. It supercharges merely your website and increases Security, Scalability, conversions, user experience, etc.
Let's see its beautiful features at a glance:
Global Servers Network:
When it comes to superfast content delivery across the globe then it is must of a CDN provider to have numerous of data center around the world for lowering the latency and offer high-speed data delivery.
BunnyCDN lightning fast data network has more than 7 premium data centres worldwide with each equipped with Gigabits of connectivity for optimized content delivery. It offers the best performance around the globe.
They have tier 1 Network with Nginx Powered on physically secured locations all over the world. Their data center supports 2 TBPS backbone with the multi-carrier interconnecting exchange, self-healing designs, etc. Download bunnycdn test file to check its performance.
Dual Stack Anycast:
Users are routed to bunnies server by a state of the dual art stack anycast DNS network with 41 servers located in countries around the world. This technology is optimized for maximum performance and minimal latency. 
SSD Accelerated:
All of the bunnies servers are powered by solid state drive (SSD) hard drive to provide super latency access to your files.
All bunnies server are equipped with 100% SSD hardware which enables intelligent routing, massive global presence, fine-tune networks settings to make your website load at rocket fast speed. 
Flexible Payments:
You may pay using credit card, PayPal and Bitcoin. IN a special offer they are giving free $10 credits to try.
No Overages:
You pay for what you use, BunyCDN will never place any giant overages on your account. Ever.
Round the clock friendly support:
Their staff is cute, friendly and always ready to have a chat… And we like bunnies too. The bunnies staff is cute friendly and ready to support all over the time via live chat, emails & tickets.
Their system is built friendly so, you won't require any expert support to configure a CDN on your website, However, for any issues, bunnycdn customer support is always available.
Simply CDN Cloud Storage:
This allows you to storage your content on premium cloud integrated with the CDN network. With virtually infinite capacity and easy to use, Bunnycdn cloud storage enables you to store 100 of terabytes of data on the cloud with the simple lowest pricing of $0.01/GB.
BunnyCDN cloud keeps your data secure with multi token authentication and simple FTP integration. The public or private cloud also offers virtually infinite scaling, free internal bandwidth, RAID 6 config and cache control headers.
Free Instant SSL:
Instantly get free HTTPS support on your CDN with free SSL certificate in just a click of button.
Boost your SEO with BunnyCDN:
Google loves fast & secured websites and hence page load time and SSL is one of the major ranking factor. BunnyCDN helps you to increase your SEO and decrease your bounce rate by 100% optimizing your website for better page loading & also offering instant free SSL for CDN to load data via secured
HTTPS://
servers. 
Cheapest Pricing:
BunnyCDN pricing structure is unbeatable and it is far more cheaper than other competitors in the market. Their rates starts from $0.01 per GB & also have pay as you go plan making it most cost efficient powerful CDN all over the globe.
Intuitive Control Panel:
It is designed simply with a powerful clan control panel for easy access of CDN tools and features.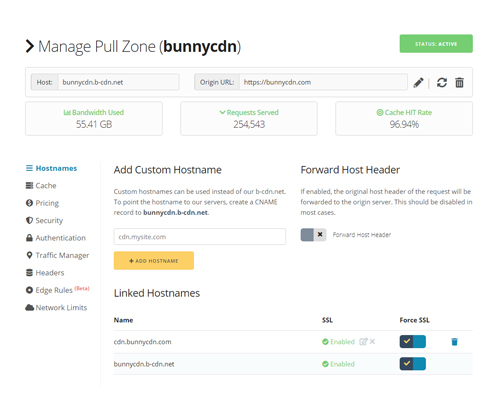 The intuitive control panel by BunnyCDN comes with powerful fea\ruers such as detailed usage statics, online file manager, raw log explorer, robust billing management, 2-factor authentications, one click SSL and traffic manager. It lets your manage pull and push zones more efficiently.
Video Acceleration:
Not only website, Deliver your videos or stream in blazing fast speed form BunnyCDN's server to worldwide location in cheapest pricing. With lightning-fast global servers, videos get delivers at a fraction of cost. It also features 2-way video delivery, large device and players support & 100% reliability.
Software Distribution:
Get high speed global software delivery on massive scale at very cost effective pricing. Take control of global software delivery with <30 MS global latency, easy security features with complete token authentication, integrated cloud storage easily upload your files.
Some exclusive benefits of BunnyCDN you will love
No monthly minimum recharge. Just a $10 recharge every year.
Easy Let'sEncrypt SSL installation at a click on CDN.
Toggles regional zones ON/OFF.
NO extra or hidden charges. You will only charged for the traffic served.
Overcharge protection by setting monthly bandwidth limits for your zones.
All updates and new features are included in every account.
BunnyCDN Pricing:
BunnySpeed CDN bandwidth pricing is based on paying only pricing. So you do not have to pay any storage, optimizations or yearly fees.  Here is the simple and cheapest pricing structure.
Europe: $0.016/GB
United States: $0.016/GB
Asia: $0.035/GB
For the latest pricing structure, visit here
BunnyCDN lets you calculate your monthly CDN expenses by their new innovative pricing calculator. Just visit their pricing page and estimate your monthly bill by selecting your requirements. No doubt BunnyCDN pricing is much cost effective as compared to other players in the industry.
BuunnyCDN supports multiple payments options like Credit/debit cards, Bitcoin payments, PayPal, etc..
---
Using BunnyCDN on WordPress
To SpeedUp WordPress blog, Almost all pro bloggers including me use CDN for their blog. You may use any caching plugin like WP-Rocket or WP-Total cache and just configure the CDN in a click. With CDN your WP blog loads 10 times faster as all the images, CSS files are being served by CDN Network and hence you save on your web hosting bandwidth usage and server load on your web host is reduced. I will strongly recommend using CDN as the more better speed, more visitors on your Blog.
You just need to install any caching plugin like WP-Rocket, W3 Total Cache or WP super cache, Go to the settings of the particular plugin and select on CDN. Then click on enable CDN and add the CDN address in the field. There is again extensive documentation for each plugin on their official website for configuring the content delivery network on WordPress.
At last, this is just a simple procedure of 5 minutes. Once you add pull zones in Bunnycdn and add that link on your WP dashboard, All is done. You can also use a manual domain for content delivery like CDN.yourdomain.com by updating its CNAME records. I will publish a different post soon with advance guides for speeding up a WordPress website via simple methods.
Update: BunnyCDN have launched their robust WordPress plugin which enables simple one click CDN installation top any WordPress website or blog. You can simply install the
BunnyCDN WordPress plugin
and enter your CDN URL from your BunnyCDN control panel to enable content delivery network on your site.
---
BunnyCDN vs Others (The comparison)
When you require a CDN on your website then there are hundreds of options available. From MaxCDN to Alibaba cloud CDN, etc. etc. However, all of them have a higher cost which is out of budgets for small business owners and mid bloggers. When it comes to affordable CDN then again there are many. WordPress Jetpack Photon also offer a free CDN for images and like more.
BunnyCDN is different from all other traditional CDN providers. The rates are as low as $3/TB with real-time monitoring and exciting features. Affiliate marketers, bloggers and internet entrepreneurs BunnyCDN is the greatest choice to enable CDN on your WordPress blog or website. Your page loading speed gets drastically improved as files are served from nearest data center of your user.
Google loves fastest page speed, and that is a ranking factor SERP's. So why shall we stay behind? BunnyCDN can be instantly configured in WordPress by using any caching plugin like WP Rocket or W3 Total Cache.
BunnyCDN performance VS Price Comparison:
Some web hosting companies like Bluehost nowadays offers free global CDN with their hosting plans. So honestly there is no need for an extra CDN service when you get a content delivery network pre-packed by your web hosting providers. However, even today the majority of web hosting companies does not offer CDN including their package. So you will require it for sue to make your website blazing fast.
Using WordPress? Use the Free JetPack CDN for Images (Photon)
If you are using WordPress and already on a good web hosting provider? Then you can simply activate JetPack Photon plugin which acts as an Image CDN and rendered all your website images via their secure, fastest servers to users. This reduces web loading on your server and images are delivered in blazing fast speed. You need to install Jetpack plugin and activate > Photon module form plugin settings to make the things work.
Over to you!
For online business and bloggers, it is always better to use the best web hosting and CDN to make your blog/website load fast across the globe. Page loading time is an essential factor in SEO and hence if the page loading time is slow your site will not rank higher in Search engines.  There are tons of CDN companies scattered over the web, but I will personally recommend bunny speed for bloggers because of its performance and affordable pricing. This BunnyCDN review is total on my personal experience. This is NOT any paid post, nor any affiliate links are enabled in this article.
Do you already use a Content Delivery Network to boost the performance of your site?
Or have any content delivery network experience to share?
We love to hear So shoot your suggestions or questions in the comment section below and spread the love by sharing this post with your friends. Take Care:)
Pros
Tier 1 Network Partners
< 40ms Global Latency
SSD Powered servers