Trying to choose between Zonbase and Jungle Scout for your Amazon business? Well, search no more because we have done the backbreaking task for you! Read out this Zonbase Vs. Jungle Scout review ahead to explore which tool will best suit your business, how different Zonbase is from Jungle Scout, and vice versa!
With millions and billions of users worldwide, Amazon marketplace is now a one-stop shop for everyone around us. But what makes Amazon such a brilliant space to shop? The sellers!
Sellers here on Amazon never blatantly sell a product. Instead, it takes hours and days of research for them to step into the marketplace and sell just a product. And since the competition here is a lot fierce, no Seller ever compromises on the quality. (Because obviously everyone here is there to stay)
But, as positive as the sentence may sound above, it's a bit scary too. Sellers are here to stay on Amazon, which means they are ready to do the legwork whenever things go wrong. On that note, if you are someone who has just stepped into the marketplace as a seller, you really have to do a lot – all in a shorter time period.
And it's possible!
All thanks to the Amazon automation tools/Amazon seller tools/Amazon growth tools available out there in the market, like Zonbase and Jungle Scout.
Both Zonbase and Jungle Scout are amazing Amazon seller tools, almost being used by thousands of Amazon sellers worldwide. But no Seller out there can stick to two tools for their Amazon research, and here's where our Zonbase Vs. Jungle Scout comparison review will come to your escape.
Read out the Jungle Scout Vs. Zonbase head-to-head comparison review till the end to explore which tool is best for whom; from data accuracy, feature availability, and pricing to a browser extension, we have got you covered with every important nitty-gritty; let's dive in!
Quick Summary on Zonbase Vs. Jungle Scout
Jungle Scout and Zonbase are two popular Amazon seller tools, each offering a 7-day free trial to all its users. The features of both tools are highly similar, but the major difference lies in – Jungle Scout is an old player, whereas Zonbase was launched very recently (2019). Additionally, the learning resources both tool offers are unique in their own ways, so picking up just one tool is a difficult choice indeed, but our Zonbase Vs. Jungle Scout comparison review will help you do that with much ease!
Zonbase Vs. Jungle Scout: What are these tools all about?
What is Zonbase? – Zonbase Review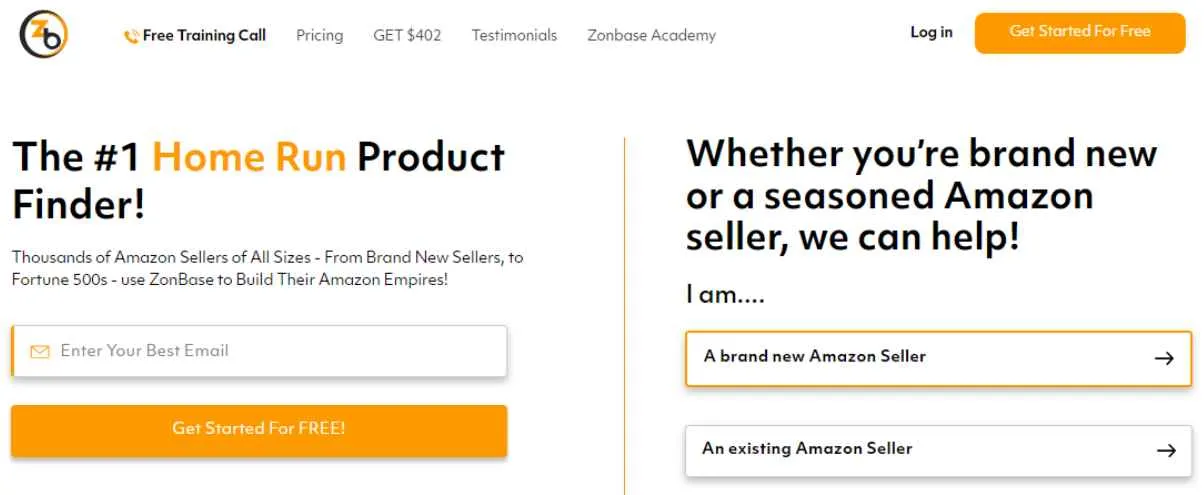 Launched back in 2019, Zonbase is a popular Amazon seller tool ranked as the #1 home product finder. The tool is not just popular among new sellers, but even Fortune 500s are vouching for Zonbase. The reason is, Zonbase offers exclusive features to all its users. And the team even offers done-for-you services, which is something we can't miss out on.
Not just this, if you are someone who has recently stepped into the Amazon marketplace and is on a search for a one-on-one membership, Zonbase plus is all that you will need. The team will offer a free training call and will even help you with product search and listing optimization. Read out this Jungle Scout Vs. Zonbase review till the end to explore what's in for you if you choose Zonbase for your Amazon journey!


What is Jungle Scout? – Jungle Scout Review
Launched back in 2015, Jungle Scout is a goldmine for Amazon sellers, and it's not us saying this, but the thousands of Amazon sellers out there who have trusted JS in their selling journey. From helping new sellers to step into Amazon to helping bigger enterprises with more brand and retailer solutions, Jungle Scout is literally a feature-rich tool one could not miss out on when they are selling some stuff on Amazon.
The educational resources available within the tool are simply so informative and easy to read that any individual out there can explore what's really going on inside Amazon. The latest features like Advertising analytics, product tracker, inventory manager, promotions, and rank tracker can be game changers in any seller's journey. Make sure to read out this Jungle Scout Vs. Zonbase review till the end to explore what's in for you if you choose Jungle Scout for your Amazon journey!

Try Jungle Scout risk-free for 7 days

Zonbase Vs. Jungle Scout: Features Breakdown!
Zonbase Features at a Glance
1. ZonResearch
ZonResearch is one of the features offered by Zonbase for product research. And believe us; the tool is super easy to use; any seller can discover potential home run products to sell on the marketplace within seconds. There are powerful filters available within the tool for users to customize their search. Be it price, monthly sales, monthly revenue, number of reviews, or any other criteria – sellers can literally sort the best product within seconds.
Zonbase knows what an ideal Amazon product looks like – sufficient demand, low competition, and good profit margin. Thus the result shared with you will cover all these important metrics so that you make a wiser, data-driven decision.
2. Product Validator
Now that you have explored the ideal Amazon product for selling, the Product Validator will give you some more detailed insights into which product exactly will perform well. Kevin, the founder of Zonbase himself, has launched thousands of products. Hence the tool knows which products won't be shipped as FBA and which products could be banned from sponsored ads.
Moreover, the tool will even answer specific questions like, could you even launch the product or is there sufficient demand for the product in the market? The report hence shared with you by the Zonbase launch managers covers 20 pain points.
3. Keywords
Keywords are one of the best Zonbase features that help users optimize their sales strategy in a professional way. And when we say optimize, we really mean it because the keywords shared by the tool can be used for SEO as well as PPC purposes. The tool generates thousands of relevant high-performing keywords so that your listing gets the best traffic.
In addition to this, there are several advanced filters available within the tool. Hence, sellers can pick up the best keywords according to specific criteria like monthly search, volume, smart score, and keywords. The Smart score given to every keyword is a unique score by the tool, which means – the demand for the keyword is more, whereas the supply is certainly a lot lesser.
4. ZonTracker
Zontracker is also one of the best Zonbase features offered to users for sales optimization. Through this tool, sellers can discover what keywords their products are ranking for. For example, if a seller is selling yoga pants, is the keyword yoga pants for women working the best for the seller or yoga pants combo pack?
Additionally, the tool gives users a quick sneak peek into the rank history of all the keywords. Hence, sellers can explore the estimated monthly search volume of specific keywords and check out the seasonality as well. And spying on competitor's keyword performance is also a lot easier with ZonTracker since the tool allows sellers to perform a reverse ASIN Lookup.
5. Sales Estimator
Are you worried about whether this specific product will bring you more sales in the recent future? Well, stress no more and let Zonbase's sales estimator do its job. The tool provides users an insight into the estimate of a product's average monthly sales. Sellers can even check how much product their competitor is selling and how much they will need more in their inventory to overtake them.
6. Listify
The research part is done by now; next comes the listing optimization step and Zonbase has got you covered with that as well with its Listify Listing optimization tool. Through Listify, sellers can create optimized listings with just the best keywords they have obtained above. They can even extract the specific keyword their competitors are using for their listing and can use it for themselves.
Not just this, sellers can even re-do their older listings with Listify and include more high-performing keywords for improved performance.
7. Inventory Forecasting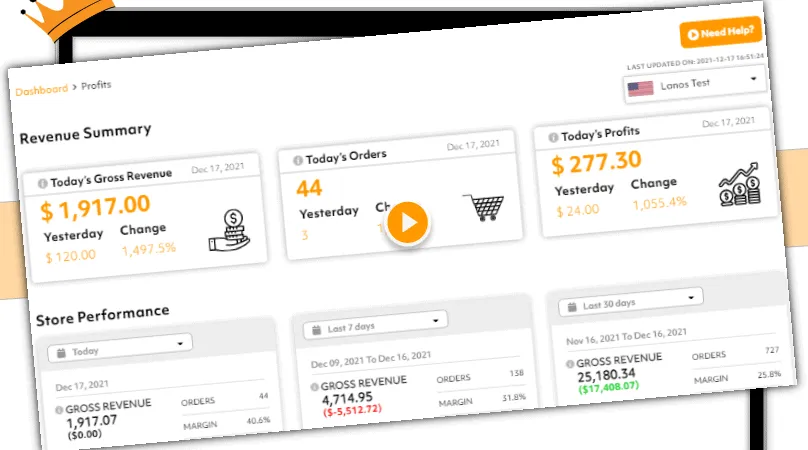 Digging business reports is quite a tedious task, and the Zonbase Inventory Forecasting feature is now available for your help. The tool will not read the reports for you. Instead, it will give you a clear picture of how your financial health really is. There is an Amazon sales tracker available within the tool for sellers to monitor their expenditures and profit margins.
Sellers with the Zonbase Inventory Forecasting tool can even check out their gross revenue, estimated profits, number of orders, ROI, profit margin, and refunds quickly.
8. ZonPPC
Tired of launching Amazon PPC campaigns all on your own? Confused about what the whole bidding process is? Worry no more because Zonbase has got you covered with ZonPPC. From dedicated PPC dashboard, Ads manager, and PPC reports to access to PPC Autopilot, you can never go wrong with PPC campaigns with ZonPPC.
9. Zon Repricer

Last comes the unique Zonbase feature offers – Zon Repricer. The tool will help you stay out of the price wars and will build a unique pricing strategy so that you can outrank your competitors quickly. From Repricer history to Repricer dashboard, with Zonbase, you can literally ace your repricing strategy like a pro.
Jungle Scout Features at a Glance
1. Product Tracker
Product tracking is quite a tedious task every Amazon seller does once or thrice a day. And trust us, tracking just a product a day from scratch can take long hours. But this won't be the case with the Jungle Scout Product Tracker feature. The tool allows sellers to track how a product/or a group of products have been performing over time. They can track sales to identify viable growth opportunities and create a strategy from scratch.
Not just this, sellers can even export all the resorts obtained in a CSV file for future reference, like – average sales, revenue, bestseller rankings, and more.
2. Keyword Scout
Just as the name suggests, Keyword Scout by Jungle Scout is a keyword research tool that gives sellers a detailed insight into what shoppers are really searching for on Amazon. Through this tool, sellers can quickly discover high-converting ranking keywords and check which keyword their competitors are using in their listing. Not just rankings, sellers can even check out the historical search volume of all the keywords – to uncover seasonality and popularity.
Additionally, for profitable PPC campaigns, the keyword scout tool by Jungle Scout even displays the cost per click for keywords in exact, broad, and headline search ads – quite a time savior!
3. Rank Tracker
Now that you have explored the best keywords for your listing, next comes the ranking part – because you can't really use hundreds of keywords in your listing!
Through the rank tracker feature by Jungle Scout, sellers can view the rank history of multiple keywords at the same time. The results here are displayed in a graph so that analyzing part gets simplified. Additionally, with the filters, available sellers can uncover keywords that have a good history of performing well.
Sellers can even enter their competitor's ASIN and identify high-traffic keywords the competitor is using in their listing.
4. Opportunity Finder
Opportunity finder is yet another exciting feature of Jungle Scout, which we feel rarely any Amazon seller tool would be offering.
Because over here, the tool is not just giving you information about any specific product or a keyword. It instead gives you detailed information about profitable product niches. So if you are someone who really wants to expand new horizons on Amazon and wants to sell multiple products of a single niche – Opportunity finder has got your back.
There are preset categories and filters available within the tool for sellers to perform advanced research. They can literally spot the seasonality of a niche/product/keyword within seconds.
5. Supplier Database
The one thing that makes Jungle Scout the best Amazon seller tool is the Supplier Database feature itself (even Helium 10 doesn't offer this).
If you don't have your own product to sell and are looking forward to finding suppliers who give you the best products at cheap pricing, you simply have to walk through Jungle Scout's supplier database. You can get a huge list of trusted global suppliers selling the world's best brands at a cheaper rate.
Additionally, if you did get three suppliers here matching all your preferences, you can manage and compare the quotes as well (all in one place).
6. Listing Builder
Building marketplace-optimized listings from Scratch is a tedious task, but not with Jungle Scout's listing builder. Simply add your listing here, and the tool will give you an instant rating. The rating is given by measuring important metrics like key features, keywords, images, and more of the listing.
7. Sales Analytics
Tired of checking out how your products are performing on the Amazon marketplace? Want to explore how much profit you would make in the future months by selling a specific product at present? Well, Sales Analytics by Jungle Scout is your very own financial command center.
Through this one tool alone, you can check out all your Amazon sales data in real-time very quickly. You can check the historical sales data of a product, dive into one specific product and explore its revenue details, PPC campaign, and shipping costs.
8. Advertising Analytics
This is one of the newest additions to the Jungle Scout features list, and it's giving tough competition to Helium 10's Adtomic tool. Through the advertising analytics tool, sellers can centralize their ad and financial metrics in one place. They can also evaluate their PPC success and analyze their advertising profitability.
In addition to all this, Jungle Scout even offers too many features, like a Product database, review automation, academy, inventory manager, alerts, promotions, and category trends.
Winner: Jungle Scout
Jungle Scout has been in the market for quite a long time, and the list of features it offers its users is a lot more than what Zonbase offers.
Zonbase Vs. Jungle Scout Pricing Plans: Which one is more affordable?
Zonbase Pricing Plans
Given so many features on the table, the pricing plans by Zonbase are on the cheaper side. To get started, the tool offers every new user a free training call. With Zonbase plus, Zonbase even offers a done-for-you service, but all of this depends on how much workload you have, and the team will come up with a customized plan. The paid plans by Zonbase are:
Zonbase Starter Plan: $30 per month, $353 if paid annually
Zonbase Legendary Plan: $67 per month, $804 if paid annually
Zonbase Diamond Plan: $200 per month, $2394 if paid annually
Note that, with the Zonbase starter plan, you won't be able to access the Zonbase chrome extension and Amazon FBA Masterclass Course. Even ZonPPC is not included here, but all the plans come with a 7-day money-back guarantee (free trial).
Jungle Scout Pricing Plans
Similar to Zonbase, even Jungle Scout offers both fixed and customized services to its users. There are standard plans available, followed by packages and enterprise solutions. Here's how much you will have to pay:
Jungle Scout Basic Plan: $29 per month, $349 if paid annually
Jungle Scout Suite Plan: $49 per month, $589 if paid annually
Jungle Scout Professional Plan: $84 per month, $999 if paid annually
For Jungle Scout packages, you will have to pay the following:
$189 for three months, best for startups
$349 for six months, best for enterprises
$999 for twelve months, best for Amazon FBA sellers
Winner: Zonbase
As compared to Jungle Scout, Zonbase is straightaway a cheaper option. If you are tight on budget, simply go with the Zonbase standard plan priced at $30, which comes with a 7-day money-back guarantee.
Zonbase Vs. Jungle Scout: Chrome Extension Comparison
Zonbase Chrome Extension Review
Zonebase, with its chrome extension, has made finding and validating Amazon FBA product ideas a lot easier. Sellers can use it all for free. They just have to hit the install now button available on the official dashboard or move to the Google web store to install the extension. After installing, sellers can quickly estimate a product's profitability by uncovering the last 12 months of sales history plus keyword rankings.
The extension offers live data from Amazon of specific products from the US, UK, Canada, Spain, Germany, and Italy marketplaces.
Jungle Scout Chrome Extension Review
Similar to Zonbase, even Jungle Scout offers a unique chrome extension to its users through which they can perform product research in real time. Sellers can validate their product ideas, evaluate new opportunities, and forecast product sales within a quick time period.
There's even an opportunity score available within the extension – the higher the score is, the more the chances of success. Sellers can even customize their view to see the data that's more important to them and clear of the unnecessary ones.
Zonbase Vs. Jungle Scout: Pros & Cons
Zonbase Pros & Cons
Jungle Scout Pros & Cons
Top FAQs on Zonbase Vs. Jungle Scout 2023
Is Jungle Scout better or Zonbase?
Jungle Scout is more feature rich than Zonbase. However, if you are tight on budget, you can give Zonbase a try since it offers more features at a lower price.
Who created Zonbase? 
Zonbase was created by Kevin David in 2019. Kevin himself is a leading Amazon seller and an eCommerce sales expert.
Is Helium 10 better or Zonbase?
Helium 10 is better than Zonbase since it does not just offers expensive learning resources for free but even is power-packed with the best Amazon features.
Is Jungle Scout accurate?
Yes, Jungle Scout is highly accurate (85% – 90%) as compared to other Amazon seller tools available out there.
Is Jungle Scout owned by Amazon?
No, Jungle Scout is nowhere owned by Amazon; instead, the founder of JS, Greg Mercer himself, has been a successful e-commerce entrepreneur selling products on Amazon for years now.
Is Jungle Scout free?
No, Jungle Scout doesn't offer any free forever plan; it instead offers a risk-free 7-day free trial to all its users with all its paid plans.
Is Zonbase free?
No, Zonbase is not free at all; instead, it offers users a 7-day free trial with all its paid plans so that they can test the software out before using it.
Comparison: Zonbase Vs. Jungle Scout – Which one is best to choose in 2023?
Picking up the right Amazon seller tool is like picking up a co-founder for your business. One best tool can either make or break your business, and when it comes to Zonbase and Jungle Scout, both tools are amazing on their own. But since you can't buy both, here are the questions you must ask yourself before picking one tool:
How easy is the tool to use?
How much is the learning curve?
Is the data offered by the tool reliable?
Is the customer support team responsive enough?
What are the customer reviews? Positive or negative?
Will you get good returns on investment?
We have assessed both tools for you; now simply answer the above questions and make a decision for yourself. If you are still confused, know that:
Jungle Scout can help you with supplier search, while Zonbase won't do that
Jungle Scout is a bit pricey, but Zonbase is super affordable
The learning curve of Zonbase is a lot lesser as compared to Jungle Scout
Jungle Scout has been in the market since 2015, while Zonbase is a fairly new addition (but they do have a good customer base).
That's it; we have done Zonbase Vs. Jungle Scout head-to-head comparison, now it's on you; pick the best one!
Affiliate Disclosure: This post may contain some affiliate links, which means we may receive a commission if you purchase something that we recommend at no additional cost for you (none whatsoever!)