Ad spy tools are everywhere! But how to know if we are choosing the right one? There are so many renowned ad spy tools that you must have already tried as an entrepreneur in the market. But, there is buzz about a newly launched ad spy tool called Minea. At this moment, you will not find many reviews about this specific platform, fore we are here to give you an extensive Minea review.
It is new, it is fresh, and who knows we might end up with the best? But for our newbie audience, let us give a quick introduction to ad spy tools and how they work. So, what are we waiting for? Let us get started with our updated Minea ad spy tool review.
What is an Ad Spy Tool?
Ad spy tools are software that makes users view what goes on behind successful advertisement campaigns. They can give you a view of the metric used in the campaigns that worked best. That lets you apply the same strategy to your ad campaigns for some guaranteed results. It also enables you to get a background look at the market and understand some of the intricacies of a continually changing landscape where proper targeting can make a lot of difference.
Here is a list of some of the best social ad spy tools available to get you an insider's look at successful ad campaigns across various social media platforms. First, come, let us get to know first what we can get from Minea as an Ad spy tool.
What can Minea Ad spy tool be used for?
Let us see Minea supports social media tools.
🏅 Facebook & Instagram Ads
10000 New ads every day
18 Million ads listed since 2017
An inexhaustible source of winners
🚀 Influencer Product Placements
+100,000 Influencer stories analyzed every day
+78000 Campaigns and brands listed
+20,000 Snapchat and Instagram influencers across 30 markets
There is a buzz with these two platforms; Minea is also going to spread their hand across many other pieces of stuff, which includes:
💥 Placements & Snapchat Ads
Finally, a full AdSpy for Snapchat
Thousands of ads added
+10,000 Influencers analyzed
They are also working on other networking channels like YouTube and Pinterest; let us see how it will be in the future. Are you excited to know what does Minea ad spy tool holds in its features? Let us begin with an overview of its extensive features.
Minea Features at a Glance | Minea Review
Minea offers the same as every ad spy tool, but every feature is unique in its performance. Want to know how? Here is a detailed overview of its features.
1. AdSpy tool for TikTok and Pinterest
With Minea, you can now analyze your competitor's TikTok ads and find the winning products. You get instant access to the current winning products list with Minea and its Adspy tool.
The Pinterest Spy, the first Pinterest adspy tool, is officially available on Minea. You can easily spy millions of Pinterest ads with Minea and get search filters by which you can accurately target Pinterest ads. You can filter by first seen date, last seen date, creation date and also seen date. Other filters are also there, like filtering by social interactions, e-commerce, media type, ad language and audience type.
2. An efficient filter system
You can search for your relevant niches, which are available in thousands of criteria. With Minea, you get every detail in a precise manner to not have to look for anything manually. For e,g, You can search for the most liked Shopify ads from the last 2 weeks, and it will give you results in seconds!
3. A fast & intuitive tool
Everyone's time is precious! So Minea is designed so that it is fast and intuitive and can support all the devices.
With everything is given in Minea, the engineer and developer team will always keep you updated. Even if you request some updates, that can be fulfilled by Minea in a considerably lesser time.
4. Searching influencers for your products
Social media is buzzing with influencers, and they now make a part of a great marketing strategy. And Minea has very well understood this fact, and that is why it provides you access to influencers on its platform.
After you have your hands on the winning products, you now require an influencer who will promote your products via product placement. So what is the information you get about an influencer in Minea? Well, you get first-hand information like the Name of the influencer, Country, Number of followers and Number of placements in the last few days. In the influencer's latest placements, you can see the product stories, and also go directly to the influencer's Instagram page, and then find out the country of origin, engagement rate and also their number of followers on the influencer's page.
5. Spying on placement of influencers
After selecting the right influencer, under the placement tab, you can track the influencer's growth/activity per day. Plus, you can also see the number of product placements per day. It is a good point for you if the influencer has a relatively stable and not too high curve. In contrast, if you see very high peaks of placements, you can check the consistency and stability of the placements of that particular influencer. Also, we recommend you not to get involved in a partnership where you don't really belong or are not valued much.
6. More than 10 million ads
In Minea, you can find more than 10 million ads! That too of every niche and quality. So your search for your series ad ends right over here because after getting Minea, you won't look for any other ad spy tool.
7. Global coverage
Advertisement knows no boundaries! Therefore, with Minea, you can have ads and products which they thoroughly analyze. Minea is an all-in-one tool for you. Want to know how? Read the below section carefully!
With Minea you get,
All Facebook ads
All influencer product placements
An endless source of winning products
Snapchat, Pinterest, TikTok ads
If you are getting this much in only one ad spy tool, why would you go with different Ad spy tools for every social media platform? That does not make sense at all.
Different Advertising Channels which Minea Monitors
Currently, Minea analyzes Facebook ads and Instagram and Snapchat influencer placements. Snapchat and Pinterest analytics are being tested and released very soon, as we mentioned in the above part.
They want each of their tools to be the best in their niche. We only offer a new advertising network when it is 100% up and running and covers enough ads.
Minea Pricing Plans – Does Minea Offer Free Plan?
Minea has a very transparent pricing plan.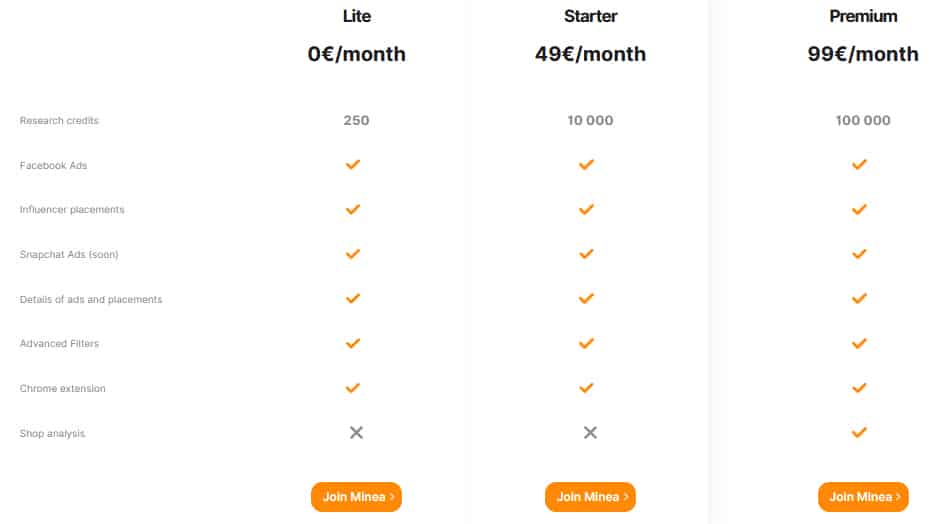 Free Plan [Research credits- 250]
Influencer placements
Snapchat Ads (soon)
Details of ads and placements
Advanced filters
Chrome extension
Starter Plan (49€/month) [Research credits- 10 000]
All the elements of the free plan
Premium Plan (99€/month) [Research credits- 100 000]
All the elements of the free plan
Shop analysis
Minea Refund Policy: Unfortunately, Minea does not offer any refund policy. But, if a newbie wants to check their programming first before paying, they can always start with the free basic plan Minea offers. If the client does not like the performance, he can cancel the subscription at any time.
Top FAQ on Minea Review
What is Minea?
Minea is the powerful product research tool that helps you spy winning Facebook, Instagram, and Snapchat ads and products. With the help of Minea, you are not going to miss any winning products.
Does Minea offer a refund policy?
No, Minea does not offer a refund because you can test Minea for free. Minea offers a Lite plan, which is a free plan where one can get 250 research credits. Use our special Minea discount coupon that helps to save some bucks on its paid plans.
Does Minea allow me to share my subscription?
Minea does not allow you to share your subscription with others. They will suspend and cancel your subscription if they detect unusual connections on the same account.
Are there any Minea coupons and discounts?
Check the above-mentioned Minea coupon code that helps you to enjoy a flat 15% off on your first month.
What are the advertising channels monitored by Minea?
So while doing this Minea Review, we did find that it analyzes Pinterest Ads, Facebook Ads, Instagram and Snapchat influencer placements. The Snapchat analysis is currently being tested and will be released very soon.
Conclusion: Minea Review 2023 | Should you really buy this tool?
Yes, Minea is a new AD Spy tool. But have you observed the number of features they offer along with various platforms? There are hundreds of ad spy tools out there, which you will get even at a lower price, but they will only support one social media platform like Facebook or Instagram. But with Minea, you get all the social media platform benefits like Facebook, Instagram, Snapchat, and now they are also going to launch on other platforms like Pinterest and YouTube!
So, what can you possibly get at the price of one ad spy tool? This is a win-win situation for every e-Commerce marketer. With this new kind of ad spy tool, you can achieve more than ever! That is it with our Minea ad spy tool review. As this is a recent launch, you will not get anything about this platform online. But, you can always refer to our article. We highly recommend Minea to everyone in the field and wants to try their hands with something new!
So, what are you waiting for? Get your free Minea plan today! If there are any doubts or suggestions related to this article, let us know in the comment section below.
Till then, keep spying, keep upgrading❗❗
Minea Review – Find your first winning product!
Run out of ideas to find new products to launch? Minea will help you find the winning and best products in your niche with the best marketing angles. Minea helps you launch a successful product by analyzing all advertising channels in your niche, showing you what's working now and, more importantly, which are the best products to launch. Get access to the latest and best marketing ideas, and find out what campaigns are working in your niche.
Positive
It offers a free plan to start.
It is very easy to find winning products.
You will stay up to date with the latest marketing strategies.
Easy to use dashboard that saves your time.
Spy strategies of the top marketers.
Negative
Poor customer support.
It only gives access to one user.
Minea – The Best Adspy Tool for Product Research
Get started with Minea with €0/month to discover winning products. (No commitment)
Also read: