Do you know what your competitors are doing? What strategies are they implementing to make their ads stand out? You can replicate their success using YouTube adspying tools.
By spying on your competition, you know exactly what they're up to and how to beat them at their own game by creating stunning ads of your own.
Creators can take advantage of ad spy tools to find videos being watched by their target audience. These tools are so effective that the creators can find out about the performance of their ads and track those who are watching their ads.
We are going to review such an ad spy tool that is specifically made for YouTube ads. We will see in detail all its features, benefits and pricing plans and also see if it really is worth the hype.
Why spying on YouTube ads is crucial?
YouTube Ads are one of the most popular advertising methods on the internet today. They're easy to set up, and they can be extremely effective if used correctly.
However, there are some drawbacks too. If your video is not targeted properly, then your efforts could go in vain. You may have spent hours creating a unique video, perfecting every aspect of its production, only to see your hard work disappear because you placed the wrong type of ad next to your video.
This isn't usually something you want to happen. So how do you avoid these kinds of problems? You use a video ad spying tool like the ones we will discuss below.
Ad spy tools allow you to access your competitor's ads. This way, you get the information you need to know which keywords are bringing your competitor traffic, where they're targeting their ads, and whether or not they're getting the results that they expect.
You will have full control over everything of their campaign (including when they run them), so you can learn from their mistakes and copy their success. There are even ad spy tools that will help you create your own custom campaigns with their amazing features.
Video Ad Vault is a YouTube ad spy tool brought to you by TubeSift, So without further ado, let's get into this Video Ad Vault review!
---
Detailed Video Ad Vault Review
TubeSift began with a simple idea. Justin Sardi, who is co-founder of TubeSift, started off as a video marketing expert and consultant in 2013 and was helping his clients advertise on YouTube by running many successful YouTube advertising campaigns.
In 2015, Justin teamed up with his friend Ted to create TubeSift, an innovative new platform designed specifically to help advertisers target their ads on YouTube videos by using advanced video analytics technology.
After its launch, TubeSift grew rapidly and added new features that helped users create better video ads faster than ever before.
Use this special Video Ad Vault coupon code that helps you to get started with a Monthly Plan for just $97/mo. [100% Tested Video Ad Vault Discount Coupon]
Full access to all features.
This Special Video Ad Vault discount code allows you to get started with an Annual Plan for just $97/mo.
Full access to all features.
Today, TubeSifter is trusted by thousands of small businesses, marketers, and media outlets to help them reach new audiences through online videos. TubeSift was recently featured and recommended by Traffic & Conversion Summit 2019, which is one of the biggest marketing events and conferences in North America.
TubeSift created Video Ad Vault so online advertisers could dominate their competition with a special advantage.
---
Key Features of Video Ad Vault
Here are some of Video Ad Vault's features:
Advanced Search Options let you filter by
keywords
, categories, location, device type, time period, ad format, and more!
Use their built-in geo-targeting feature to find videos viewed anywhere in the world or within a specific country.
Add specific channels to your "Watch Channels" list so you can easily monitor them from here.
Access and see what top channels are doing. You can see the biggest in any country or by volume of ads as well.
Easily save ads to lists, so they're easy to find later. You'll be able to access your saved lists from anywhere at any time.
Use the "browse" mode to see which ads were viewed last, which ones got published first, and more.
VA Vault is always being updated with new ads every hour, so you'll never miss out on any great opportunities!
VA Vault is completely cloud-based and requires no installations whatsoever. It runs right off your PC or Mac.
With access from any device, including tablets and smartphones, you'll be able to view and edit documents at home or on the go.
---
Benefits of Video Ad Vault
Here are some benefits of using this YouTube ad spy tool:
With its powerful search feature, Video Ad Vault lets you find hundreds of thousands of videos across YouTube. Use keywords from videos' titles, descriptions, domains or landing page URLs when searching for them.
With its browse mode, you can easily sift through recent ads, most viewed ads, ads that were recently viewed, and more. In addition to that, use the geo-targeting feature and an array of advanced exclusion filters to narrow down your results, so you get just what you want.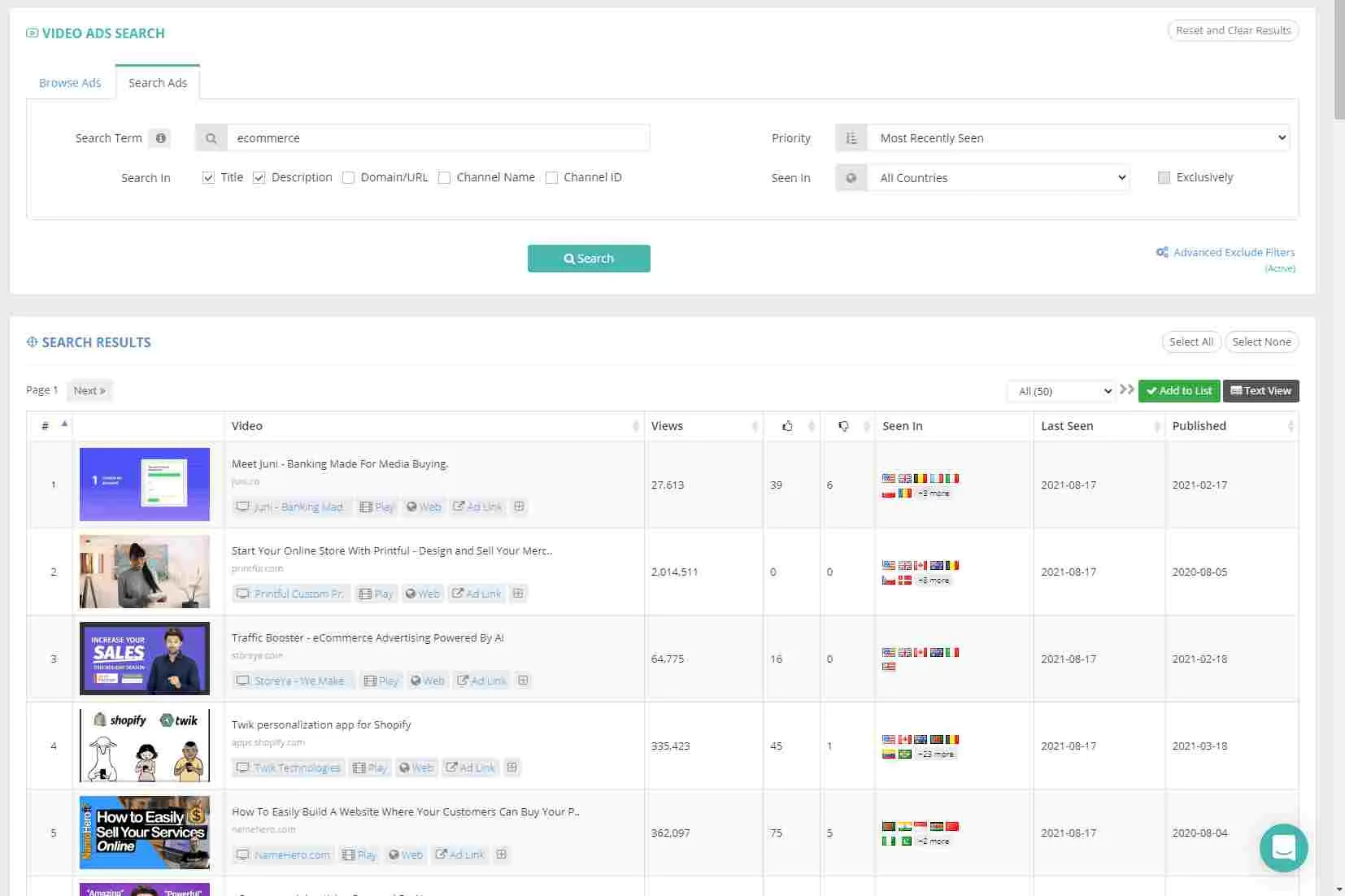 If you want to see which videos your competitors are creating, add them to your "watched" list, so you don't miss out on any new ones they create.
To get an idea for which channels your competitor's audience might be watching, check out their YouTube channel and see if there are any videos where people discuss similar topics as yours. If so, then follow them! You may find some interesting insights into your own target market.
You'll be able to see which channels are making the most revenue from advertising. Find top advertisers in any country. With one simple click, you'll be able to find all the videos from an advertiser. In addition, they've added a bonus mode to help you find new advertisers who just started advertising online for the first time anywhere in the world.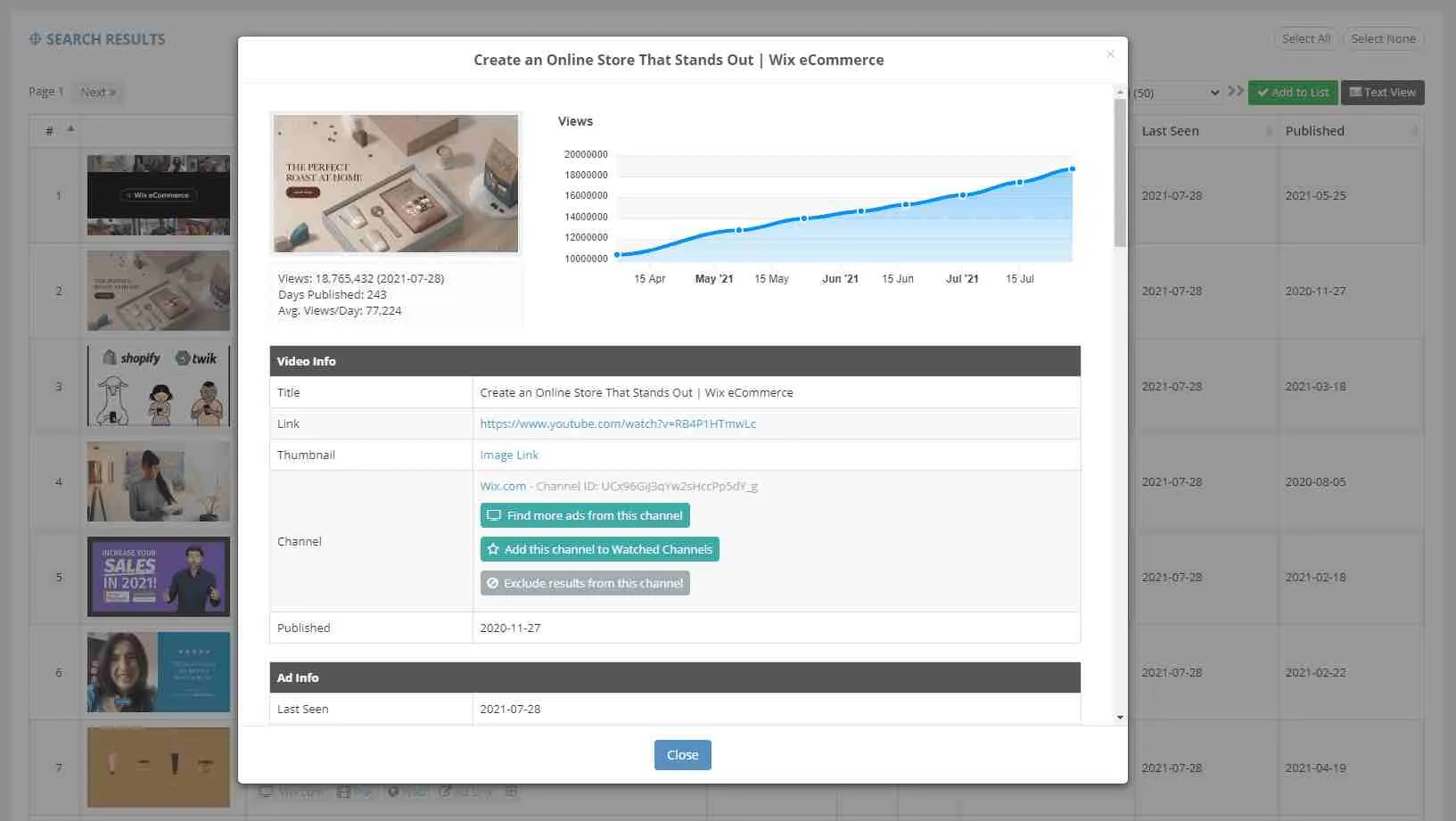 Get detailed insights into individual ads by viewing their view counts. With an interactive timeline showing trends and trajectories for each view, the details pane provides useful insights into a video ad's performance, such as where viewers came from, which videos they watched before clicking through to watch yours, and so forth.
Get extra access to TubeSift office hours for free! These weekly coaching sessions are worth $97 per month, but you can get them for free with a plan.
Get personalized help for your campaign videos – video ads reviews, targeting tips, landing pages tips, video ad scripts review and more! Elevate your video ad campaigns to the next level with office hours.
---
The Video Ad Vault Advantages
You'll be able to get an unprecedented advantage over other online advertisers with Video Ad Vault.
Find winning ads for YouTube.
Discover which ad campaigns and strategies worked best for YouTube videos
Watch out for their videos and keep up with them!
Increase your return on investment (ROI).
Discover new ways to optimize your videos, so they get better results from YouTube.
Discover opportunities for improvement.
Find under-the-radars and high-profit potential products you can sell.
---
Video Ad Vault Pros & Cons
Here are a few of Video Ad Vault's pros and cons:
Easy Accessibility

Accurate analytics

Everything is organized and in one place.

Has a huge database and efficient search filters
It is a little pricey.

Only focuses on a particular type of ad in one specific platform
---
Video Ad Vault Pricing Plans
It is a completely cloud-based software that works on any device that has a web browser, including iOS and Windows. You'll get access to the software right away after signing up for an account. Sign-up takes less than 60 seconds!
Video Ad Vault offers a single plan with all unlimited access to all its features. There are no extra fees, no contracts, and cancellations are available at any time.
The plan can be either billed monthly or annually. You pay $97 per month and save $167 by getting the annual plan priced at $997 per year.
---
What to look for while getting a video ad spy tool?
Video advertising is the most effective and efficient way of promoting your business. It has been used by many businesses across various industries, including retail stores, restaurants, hospitals, banks, schools, and e-commerce websites. Video advertisements are available on YouTube, Google Ads, Facebook, LinkedIn, Twitter, Instagram, and so on.
So what makes a good video advertisement for a website? The answer is quite simple – it should grab the viewer's attention within the first five seconds of seeing it. But how do we know if our video ads are doing well?
How does our video ad performance stand against those of others who are using the same type of ads? And why aren't our video ads performing better when they're actually supposed to?
There have always been people who wanted to know how good their own videos were. That was the reason behind the invention of video recording devices.
Nowadays, there are hundreds of other ways to find this information without having to buy special equipment or hire someone to review your content. One such method is through the use of video ad spy tools.
Not only can these services tell us about the quality of our videos, but they also help us improve upon them. In fact, some even allow us to record our competitors' videos as well. This allows us to learn more things about our competitor's marketing strategy and then use that knowledge to make our own videos better.
There are a lot of factors to consider before choosing a video ad spy tool. Amongst the considerations include:
Do you want something that is going to provide accurate results? Or would you prefer something that provides very basic insights into your videos? What kind of errors did the tool detect during its analysis of your videos?
The first thing to look out for in a video ad spying tool is its accuracy. After all, nothing can replace human eyes. So how do you ensure that your chosen tool is accurate enough to meet your needs?
We are talking specifically about measuring whether your videos are of high quality or not. There are different types of video ad spy tools out there that measure other things like speed, duration, etc. While these are definitely useful to have, they won't be able to determine your videos' overall quality.
Having said that, we recommend you choose one that is highly accurate at determining the quality of your videos. You don't have to spend money on getting an expensive tool. Our recommendation would be to get a tool that is reasonably priced yet still provides good results.
Will your chosen tool work with all platforms? If not, which ones will it support? Are there any limitations to the number of videos you can analyze?
When choosing a video ad spying tool, it is imperative that you take into consideration what platforms it supports.
For example, if you plan on using the tool with YouTube channels, you should select one that works with both YouTube and Facebook channels. Since most advertisers are currently focusing on either YouTube or Facebook, it makes sense that a tool that works with both would be ideal.
However, if you plan on analyzing your videos across multiple platforms, you'll want to consider a multi-platform tool that caters to all these platforms. Of course, you may end up wanting to expand your reach later on and thus require a tool that is capable of supporting additional platforms.
Do you want a service that gives you a free trial? Do you need to pay upfront for the license? Can you cancel your subscription anytime?
One of the key elements to keep in mind when considering a video ad spying tool comes down to cost. Some tools are more expensive than others, and this is especially true when compared with their competitors. With this in mind, it is important to make sure that the price you're paying for each tool is justified.
What additional features does the tool offer? Does it display statistics on your viewers' demographics? What metrics does it collect? Does it provide analytics for the uploaded videos?
Of course, as mentioned earlier, there are many key factors to consider when looking at various video ad spying tools. Here is where the real differences start to appear. Some tools only focus on a few key features, while others cover every single aspect of your business.
So before selecting a particular tool, try and find out exactly which features it offers. This way, you'll know right away which tool best suits your requirements.
Depending on the type of video ad spying tool you decide to buy, some will be easier to use than others. If you choose one that is simple to use, then you won't have any problems figuring out how to work with the tool.
However, if you select a tool that has complex functions, then you'll need to invest time learning how to operate it effectively.
Finally, it is also essential that you are aware of the kind of customer support provided by the tool. Do you receive emails whenever there's an update regarding your account?
Are you notified immediately once you upload new content? How long does the company usually provide support for users?
These are just some of the questions you must ask yourself when deciding which tool to purchase.
Ease of Use and Interface
You cant use a platform effectively if you cant understand how it works. A video ad spy tool must be easy to use while having an easy-to-understand interface.
You don't want to spend hours trying to figure out how to use a tool that is difficult to navigate.
The last thing you want to do is give hackers access to your data. So it is crucial that you ensure that the security measures implemented by the tool are sufficient enough to protect your information from being stolen.
Lastly, you should look into whether or not the tool allows you to customize its appearance according to your preferences.
For example, you can change the colors used throughout the platform so that they match your brand identity.
---
🌟 FAQs Related to Video Ad Vault
🙄What is Video Ad Vault?
Video Ad Vault is the leading YouTube ads spy tool that helps you spy on your competitors' winning ads and landing pages. With the help of Video Ad Vault, one can find new strategies and can increase their ROI to the next level.
🔎Why should I go for Video Ad Vault?
Video Ad Vault is the popular & leading YouTube ads spy tool that helps online advertisers dominate their competitors by providing unfair advantages. The user is not only able to find the winning ads but also able to discover profitable products to sell.
💻Do I need to install any software to use Video Ad Vault?
No, Video Ad Vault is 100% cloud-based software that does not require its user to install anything. One can directly use Video Ad Vault on their PC or Mac.
🧐Does Video Ad Vault offer a free trial?
No, Video Ad Vault does not offer any free trial to its users. If you are looking to use this amazing tool, you can use our special Video Ad Vault coupon to get started with its paid plans.
🔥Can I get a discount on Video Ad Vault?
Yes, if you want to enjoy a massive discount on its pricing plans, then grab our exclusive Video Ad Vault coupon code mentioned above.
---
Conclusion: Video Ad Vault Review 2023 | Should you really buy this tool?
With the world of advertising expanding by the minute. There are many different types of video ad spying tools available today. Each one has its own unique set of pros and cons. Therefore, you must carefully evaluate all these aspects in order to determine which one is most suitable for your needs.
All in all, we think that Video Ad Vault is a great choice for those who want an extra leg up from their competitors. This platform is also a good way to analyze the workings of your own campaigns and optimize them further.
Therefore, we hope this article has helped you make a decision about choosing to use Video Ad Vault for getting inspired by your competitors and making ads that make money. Good luck!
Highly Recommended
Video Ad Vault is the only YouTube ads intelligence tool that allows users to spy on winning ads, lading pages, profitable products, and many more. This tool comes with powerful filters so that one can able to discover top YouTube advertisers globally. Get started with this 100% cloud-based software that uncovers the winning YouTube ads.🚀
Video Ad Vault – The Ultimate YouTube Ads Spy Tool
Sign up on Video Ad Vault and discover thousands of video ads.