Did you know that the rapid advancements in AI technology have led to a surge in AI-generated content, making it increasingly difficult to detect plagiarism and maintain content integrity?
As a result, the demand for reliable AI content detectors has skyrocketed. This article will explore the best AI content detectors on the market, designed to help you identify plagiarized content and ensure the originality of your work.
We'll dive into their features, capabilities, and limitations, providing you with the information you need to make an informed decision when choosing the right tool for your needs. So, are you ready to safeguard your content and maintain its authenticity?
🔎 11 Best AI Content Detectors 2023 ✓ Check Plagiarism
After coming across of hundreds of AI Content Detectors, check out the list of 11 hand-picked, best AI Content detectors to check plagiarism. Here is a tabular representation to make it easier for you to choose the best one.
1. Originality.ai
Originality.AI is a plagiarism checker and AI identifier specifically designed for web publishers, content agencies, and writers.
This tool was developed by a team of content marketing and AI experts to address the specific needs of web publishers. It ensures that the content they create is original, free from plagiarism, and does not come from AI-generated sources.
By offering a reliable solution to discern AI-generated content and track team activities, Originality.AI helps protect websites from potential penalties due to AI-generated content and ensures the true originality of published content.
With its advanced features and user-friendly interface, Originality.AI has become a trusted choice among industry leaders for maintaining content quality and integrity.
Key Features of Originality.ai
Originality.ai Pricing
Originality.AI offers a flexible pricing plan, with a base subscription of $14.95 per month, which includes 2000 credits, and a pay-as-you-go option for $30 one-time with 3000 credits. Additional credits can be purchased at $0.01 per credit.

---
2. Copyleaks
Copyleaks is an AI-powered plagiarism detection tool that assists users in ensuring content originality and authenticity.
The platform is designed to serve content creators, educational institutions, and businesses by offering a comprehensive solution for identifying plagiarized content, and AI-generated text, and verifying content ownership.
Copyleaks is able to accommodate a wide range of user needs due to its support for various file formats and languages.
Copyleaks offers API integration, allowing developers to incorporate plagiarism detection capabilities into their own applications.
Key Features of Copyleaks
Copyleaks Pricing
Copyleaks offers pricing plans starting at $9.16 per month for 1,200 pages, billed annually.
---
3. Content at Scale
Content at Scale is a powerful AI content platform that offers an AI content detector and plagiarism checker, enabling users to determine if text is human-written or machine-generated, as well as check for content uniqueness.
This ingenious platform is built to help marketers, agencies, publishers, and content freelancers adapt to AI content without losing the human touch, empowering them to become more profitable and productive in their SEO content efforts.
With a proprietary content platform that uses a mix of 3 AI engines, NLP, and semantic analysis algorithms, Content at Scale crawls Google and parses top-ranking content to put together research-backed, long-form, SEO-driven blog posts.
This is not just an AI assistant; it's a human-level, long-form, blog post-producing machine!
Key Features of Content at Scale
Content at Scale Pricing
Content at Scale pricing starts at $250 a month for 8 blog posts. However, its AI content detection feature is completely free to use.
---
4. AI Detector Pro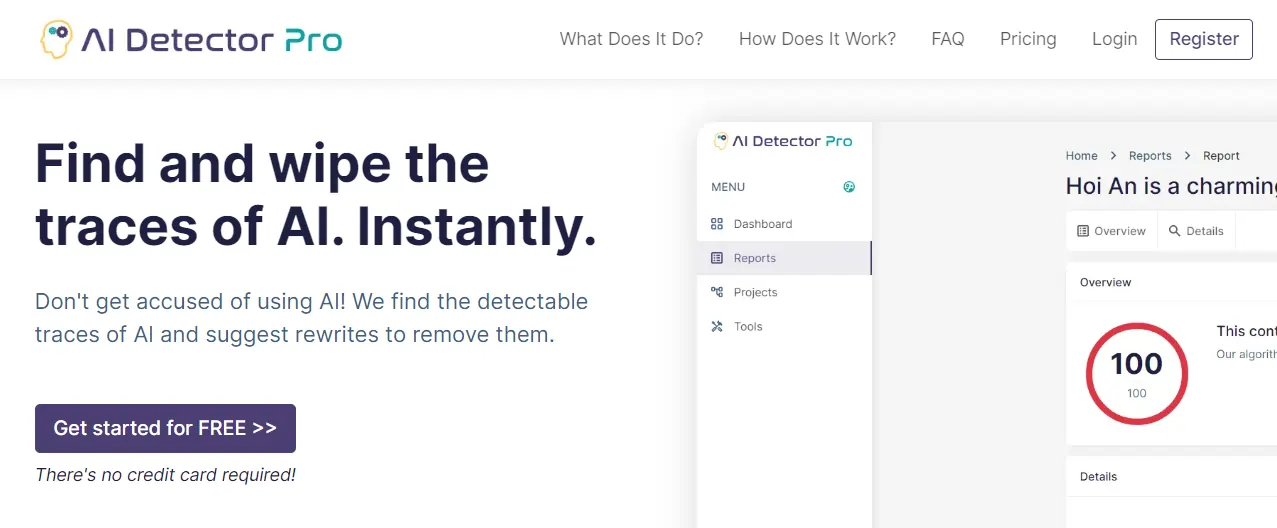 AI Detector Pro is a comprehensive platform that analyzes and detects AI-generated content with exceptional accuracy. The platform is specifically engineered to identify content produced by leading AI content generation tools, including ChatGPT, GPT-3, GPT-4, and BARD.
The platform provides detailed reports that highlight which parts of the content were clearly AI-produced and which are suspicious, giving users confidence levels for each piece of text.
By constantly updating its recognition algorithm, AI Detector Pro ensures that it stays up-to-date with the latest outputs from these AI tools, making it a reliable solution for individuals and businesses looking to maintain the authenticity of their content.
Key Features of AI Detector Pro
AI Detector Pro Pricing
AI Detector Pro offers a free plan with 3 reports per month, a Basic plan at $27.98 per month, and an Unlimited plan at $49.98 per month
---
5. Grammarly
Grammarly is an AI-driven content detector that detects plagiarism and enhances writing, aiming to assist users in effective and confident communication. As a comprehensive writing assistant, Grammarly offers advanced feedback on grammar, spelling, punctuation, word choice, conciseness, tone, and more.
With millions of users trusting Grammarly's AI writing assistance, it has become an essential tool for students, educators, and professional writers alike.
Grammarly offers a premium subscription that includes a plagiarism detection tool, allowing users to enter text or upload files for a free scan on their website. This feature is not available in the free version, but the premium subscription is reasonably priced and comes with other useful features.
Grammarly's AI-driven content detector ensures the originality, reliability, and error-free nature of your writing, whether it be an academic paper, a blog post, or a business document.
Key Features of Grammarly
Grammarly Pricing
Grammarly Premium for individuals costs $12 per month when billed annually, while Grammarly Business for teams costs $15 per month per user when billed annually.
---
6. AI Plagiarism Checker
ContentDetector.AI is a free AI Content Detector designed to detect AI-generated content with high accuracy. This powerful tool provides a probability score based on the likelihood that the text content was generated by AI tools or chatbots, helping users maintain originality and avoid plagiarism in their work.
Since its launch, ContentDetector.AI has been embraced by over a million bloggers and academics who rely on it to identify AI-generated text and ensure the quality of their content.
With its user-friendly interface and extensive functionality, ContentDetector.AI is an invaluable resource for detecting plagiarism in AI-generated content and maintaining the integrity of your work.
Key Features of ContentDetector.AI
---
7. CrossPlag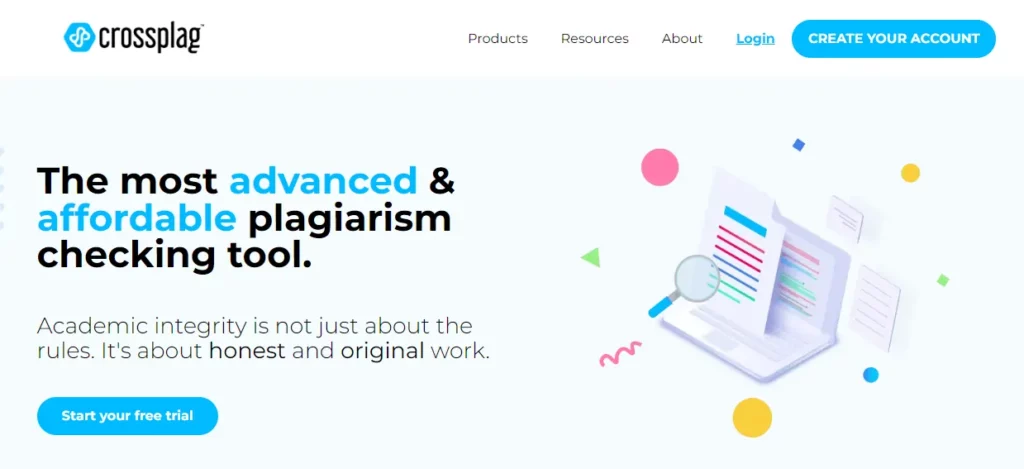 CrossPlag is an AI content detector specializing in detecting and preventing plagiarism from professional and academic writing. Its purpose is to maintain academic integrity by ensuring honest and original work.
CrossPlag leverages natural language processing (NLP) and machine learning algorithms to compare each piece of writing with more than 100 billion texts worldwide, offering both single-language and translation plagiarism checking in over 100 languages.
The platform also generates detailed similarity reports and provides content optimization features, making it a comprehensive solution for maintaining academic integrity and promoting original work.
Key Features of CrossPlag
CrossPlag Pricing
Individuals: Starting at $9.99 (Pay-as-you-go).
Educational Institutions: From $1 per user/year.
Businesses (API/white-labeling): Custom pricing, contact CrossPlag.
---
8. Copyscape
Copyscape is a renowned online plagiarism detection tool that helps professionals, educators, and content creators ensure the originality of their work by scanning the web and comparing their text against billions of web pages.
Copyscape, which was launched in 2004 by Indigo Stream Technologies, has become a trusted solution for detecting online plagiarism and is used by millions of users worldwide. The tool utilizes Google as its search provider and conducts post-processing of search results to deliver accurate and reliable detection of copied content.
It offers a free plagiarism checker, as well as two more powerful professional solutions: Copyscape Premium and Copysentry. These solutions provide advanced features such as batch search, offline content checking, and automatic monitoring of web content for plagiarism.
Copyscape's high accuracy rate, comprehensive results, and popularity among professionals and educators make it an essential tool for maintaining content integrity and originality.
Key Features of Copyscape
Copyscape Pricing
Copyscape Premium pricing starts at $0.03 per search (up to 200 words), plus $0.01 per extra 100 words.
---
9. Quetext
Quetext is a reliable and effective plagiarism checker that is meticulously built to help students, teachers, and professionals identify potential plagiarism in their work.
With its advanced DeepSearch™ technology, Quetext analyzes text against billions of internet sources to provide a comprehensive plagiarism score.
The platform not only detects plagiarism but also resolves other writing issues and assists in building citations with ease. Quetext is trusted by more than 5 million users worldwide, making it a go-to tool for ensuring originality and maintaining academic integrity.
Key Features of Quetext
Quetext Pricing
Quetext offers both free and paid plans, with the paid plan starting at $8.25 per month.
---
10. Undetectable AI
Undetectable AI is an essential rewriting tool for humanizing AI text from ChatGPT, Jasper, Copy.AI, and similar AI tools into completely human-like content that avoids AI detectors.
Undetectable AI uses advanced algorithms and paraphrasing techniques to create unique and search-engine-optimized content that can allow users unrestricted content creation.
It creates human-like keyword-rich content that ranks high on search engines, ensures emails and SEO content won't be flagged as spam, and expresses originality and creativity without the constraints of AI detection.
This advanced tool is ideal for writers, bloggers, researchers, and content creators seeking to generate undetectable content without raising flags from AI detectors.
Key Features
Undetectable AI Pricing
Undetectable AI offers a flexible monthly plan for individuals at $9.99 per month with access to 10,000 words per month and a limited-time 50% off yearly plan at $5.00 per month, charged annually at $60.00.
---
11. Winston AI
Winston AI is the industry-leading AI content detection tool built to aid users in verifying the authenticity of content generated by AI models such as ChatGPT, GPT-4, Bard, Bing Chat, Claude, and many more Large Language Models.
With a remarkable 99.6% accuracy rate, Winston AI is committed to staying up-to-date with the rapid evolution of artificial intelligence and ensuring that its model is updated to keep up with every notable LLM update.
This powerful tool matches the needs of writers, educators, and web publishers, helping them ensure that their content is original, human-made, and adheres to guidelines and standards.
Key Features of Winston AI
Winston AI Pricing
Winston AI offers a free plan with up to 2,000-word scans, and paid plans start at $12/month for the Essential plan.
---
Final Note on Best AI Content Detectors 2023
The importance of AI content detection tools in maintaining the quality, relevance, and authenticity of content cannot be overstated. As AI-generated content becomes more prevalent, these tools play a crucial role in differentiating between human and AI-generated text.
Our research has highlighted the trends in the field of AI content detection, emphasizing the need for vigilance in ensuring originality and human touch in content creation. While no tool can guarantee 100% accuracy, the best AI content detection tools are constantly evolving to keep up with the advancements in AI-generated content.
As a result, they are becoming increasingly essential for content marketers, educators, and businesses alike.
By using the tools mentioned in the article, you can safeguard your reputation, uphold your website's SEO ranks, and ensure that your content remains unique and valuable to your audience.
Don't let plagiarism hinder your success. Try out these top AI content detectors today and ensure the originality of your work.
If you found this blog post helpful, don't forget to share it with your network and invite them to explore the world of AI content detectors as well.
Affiliate Disclosure: This post may contain some affiliate links, which means we may receive a commission if you purchase something that we recommend at no additional cost for you (none whatsoever!)