Have you ever thought a computer could write content just like a Human? Robotics in the field of artificial intelligence and machine learning has made it possible.
AI is dominating content writing
Do you run an online business? Your business's niche could be anything! As long as it is connected with sales and marketing, you know your hands are full of tons of responsibilities. There are tons of responsibilities for content marketing of an entrepreneur already; he cannot afford to waste any of his time.
So, today we bring you our exclusive ✅Jarvis.ai Review. When it comes to content writing, Gone are the days when we need to hire a copywriter for even small types of content.
We don't know which content will rank well or which Ad title will make the most conversions. Here comes content writing with artificial intelligence. 2022 is the year when there are a ton of tools available for AI content writing that not just rephrase or spin any content but write a complete set of content like a human but with machine learning technologies. It's called Neural.
The primary essentiality in running a successful business is marketing. Even if the product or service you offer is good and you lack promotion, you may miss your set of the desired audience.
What to do in this kind of situation?
For this, you hire writers. But then also, you lack behind in your business because of their inadequacy. You do not want to get indulged in that kind of worry all the time? Do you? This is the time you trust AI software. In this case, it is Jarvis.ai. With this, you will not have to worry about anything at all! Be it copywriting, blogs, sales pages, Jarvis.ai will do it all!
But how much could you trust a machine learning technology?
Well, this article is all about that! You will be learning what is Jarvis.ai, what are its features, and how it could help you with the most crucial part of your business? So, what are we doing here! Let us just get started already!
---
Detailed Jarvis.ai Review [Formerly Conversion.ai]
Jarvis.ai is web-based quality software that aids marketers and copywriters in confirming their audience converts after being exposed to the content on their website. In simple words, it's software that uses artificial intelligence to build content for your business. With Jarvis.ai, you can create deep, engaging copy for your ad campaigns: Facebook, Email, YouTube, or Natives Ads.
Not just that, it also can create excellent sales copy for your sales page, landing page, or squeeze pages. With tools like this, you do not have to waste money on any pricey copywriter for your business. And if you do it for yourself, you need not think about writer's block again. With software like this, you can sporadically enhance your content production while converting your audience simultaneously.
The company was discovered in 2016 and has already been used by top brands all over the internet. We believe in Jarvis.ai's framework.
You can solve the following issues for your business:
Get rid of writer's block
Rewrite old content
Generate unique email content for newsletters
Create eye-catching content titles
Write long-form data for your blog
Build scripts for your contents
Preserve time and cost at the same time
And much more
The Face Behind Jarvis.ai
With Austin Distel as the CEO, Jarvis.ai is the identical product from the same creator of UseProof company for close to a decade. The company is supported by a group of friends living in Austin, Texas, with the vision to help break content creator writer's block through the help of AI. So far, they've supported marketers, entrepreneurs, and agencies through their products (Payfunnel and UseProof) and other popular online courses.
---
Exclusive Jarvis.ai Discount Coupon Codes & Offers (🔥🔥 Updated 2022)
Following are the exclusive Jarvis.ai coupon codes and offers that you can use to avail of the maximum discount for Jarvis.ai. One can even go for Jarvis's free trial and start exploring this copywriting tool that assists you with your content needs.
Before purchasing any Jarvis.ai plans, use our special Jarvis.ai promo codes and offers that help you to save money. Do not pay extra bucks for your favorite copywriting tool!! Jarvis.ai also offers a 7-day money-back guarantee on all its major plans. If, for some reason, you do not want to continue using Jarvis.ai, it will refund your money within 7 days.
FREE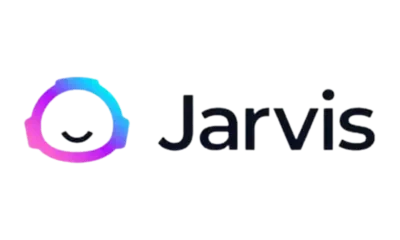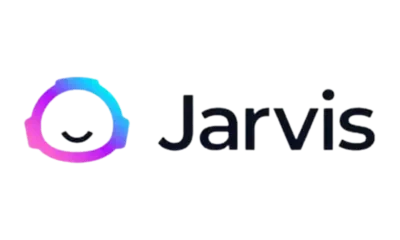 Get Starter Monthly Plan at $29/mo @ Jarvis.ai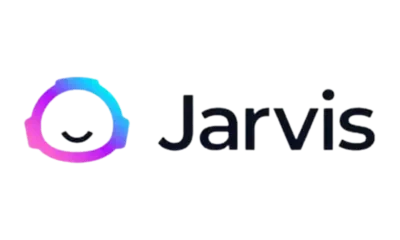 Get Boss Mode Monthly Plan at $59/mo @ Jarvis.ai
---
Jarvis.ai Lifetime Deals 2022
Are you looking for the Jarvis lifetime deal that helps you to access Jarvis.ai for a lifetime? I am sorry to say that Jarvis.ai does not provide any lifetime deal in 2022. But if you buy Jarvis's annual plan, then you will get 2 months free, which is an excellent deal. This Jarvis deal can't beat it with other Jarvis offers. So we highly recommend you go for Jarvis's annual plan and enjoy 2 months for free.
So, currently, Jarvis.ai does not offer any lifetime deals. But no need to worry about this as you can start with Jarvis 5 days free trial offer.
---
🚀How to Apply Jarvis.ai Coupon Code?
Your search stops here if you are looking for the verified Jarvis.ai discount coupon. Do not waste your time searching for the latest Jarvis.ai offer, as we have already listed above the active Jarvis.ai coupons.
Following are the crucial steps that you need to use to avail our exclusive Jarvis.ai discount offer.
👉 Step 1. Visit Official Site
Click on this link that takes you to the official website of Jarvis.ai, the best copywriting tool that creates 1000% more high-quality content in half the time.
👉 Step 2. Choose Plan
Click on the Pricing option, which is available at the top. Pick your desired pricing plan from Starter and Boss Mode.
👉 Step 3. Complete Registration
After choosing the desired plan, click on the signup button and fill the form with all the important details like username, email, password, etc.
👉 Step 4. Start Using Jarvis.ai
After completing the registration process, you will take to the dashboard, where you can access all the templates offered by Jarvis.ai.
---
How to use Jarvis.ai?🤖
If you are using Jarvis.ai, then you don't require to hire a copywriter anymore. Jarvis.ai is the next-generation marketing assistant to write great, original marketing copy for your blog post, email, social media posts, and more.
It's so easy to get started with Jarvis.ai. Simply type in your topic or product idea, and wait for Jarvis.ai to provide you with a quality copy in minutes.
Jarvis.ai copywriting tool uses GPT-3 technology to write high-quality content. Using Jarvis.ai is very simple and easy as it only requires you to know below three steps.
Step 1. Choose from 50+ Jarvis Templates
Jarvis has covered all the templates for all your content requirements. Depending on what type of content or copies you want, you need to select a template. Currently, Jarvis.ai offers 50+ templates or skills AIDA, PAS, Creative Story, Quora, etc.
Step 2. Input your product data
After choosing the Jarvis.ai template that matches your content need, you need to follow the next step that is to fill in the product information. In this step, you need to put all the information about your product or brand in the template data. This step gives you actual power over what quality of content you generate. To generate quality content or output from Jarvis, the user need to provide quality information or input. The information includes product/brand name, a short description of your product/brand, tone of voice.
Step 3. Wait & Get AI Content from Jarvis.ai
After giving your product data, you need to click on the "Generate AI content" button. Now its time to see the real magic that Jarvis.ai created for you. Jarvis will take few seconds to generate highly converting content for you. At the same time, you will not need to worry about losing your great content, as every generated content is saved in your "History" tab.
---
Key Features of Jarvis.ai | Jarvis.ai Review
The most critical aspect to look into while going for any tool is its features part. You cannot deny this fact, that good features will bring out a wrong tool.
So keep in mind, read this section very carefully because this part will decide whether you want to or do not want to go for this tool.
#1. Templates
The best part about Coversion.ai is that it comes with plenty of templates. You can start using any of them. There are around 39 ready-made templates to choose from.
Let us have a look at all the templates that they offer:
Attention, Interest, Desire, Action (AIDA) Framework
Problem-Agitate-Solution (PAS) Framework
Product descriptions for websites, emails, and social media channels
Content improver to rewrite content
Stories
Blog post topic ideas
Blog post outline
Blog post introduction
Sentence expander
Facebook ad headline
Facebook ad primary text
Google ads headline
Google ads description
Amazon product description (bullets & paragraphs)
General headlines
Sub headlines (H2 Tags) for websites
General bullet points
Video topic ideas
Video scripts outline
Video titles
Video introduction
YouTube video description
Response to reviews
Email subject lines
Blog post titles
Blog post meta description
Website homepage title
Website homepage meta description
Product page title
Product page meta description
Company & personal bio
Services page title
Services page meta description
Features & benefits
Unique value propositions
Residential real estate listing
Every template asks you to input a description of what you want to write about. This is limited to 600 characters. Writing the description is the sole basis for how Jarvis will generate ways to write or expand your content. It also helps you brainstorm and structure ideas for an article or campaign.
This is going to take a while, so have your coffee ready.
#2. Long-form Assistant
This is for lengthy articles, emails, scripts, and stories. It's also recommended for writing books. It has two modes, a blank document where you can start typing freely and an assistant workflow. The blank form also lets you connect the rest of the other writing templates vertically. Also, the long-form assistant workflow is where the app asks you to describe the content you want to make.
Consider this part carefully. The finer you can articulate your topic, the higher quality content Jarvis can help generate.
#3. Video Topics
At times of video posting, it is challenging to come up with unique ideas. Even though you keep a picture of a video in mind, you do not know how many people have seen your video. You are also unaware of how much engagement rate you are going to get with AI. In this situation, Jarvis AI will help you by providing a list of relevant videos list, which could benefit you in your business.
#4. Facebook Ad Title
While posting a Facebook ad, you need to make sure the title is catchy. Any viewer will not see your video if they do not find the headline attractive.
So, Jarvis.ai will also help you create engaging headlines for all your videos so that your viewer will feel compelled to look at what is inside them.
#5. Email Subjects
If your emails are not getting opened, and that means you're losing sales. If you want a successful business, you have to make sure your emails are getting opened. The first thing you need to do when creating the perfect email subject line is to stand out from your competitors and make it personal.
This way, no matter who opens your emails, they will feel like someone, in particular, is singling them out. This ensures curiosity while also making them feel good about opening up your emails because of how eager and interested you seem.
#6. Website
These templates are contents you can create a newly created website or exiting one that needs optimizing for you. Here you don't need to think night and day to generate content, you need to state and explain your website, and Jarvis (Jarvis.ai BOT) will cause high converting content for your website.
#7. Perfect Headline
This content template was built with formulas from the world's greatest copywriters.
It will support you generate better content targeted at growing your business faster than ever before!
#8. Website Sub-Headline
Create enticing headlines that captivate your viewers. Headlines are the most critical factor in getting people to read a post. With this template, Jarvis (Jarvis.ai BOT) makes sure you have impactful and attention-grabbing headlines to informative sub-headlines (H2) and beyond.
#9. Company Bio
Your story is what makes your company stand out. With the support of this template, Jarvis will help write a captivating bio that will make people want to know more about your company, and equally!
---
Jarvis Recipes
Jarvis recipes is the new feature offered by Jarvis. This feature is only available in the Jarvis AI Boss Mode plan.
Jarvis recipes are nothing but the prebuilt workflows that include the collections of commands. Jarvis recipes are used to create high-quality content or copy by using a repeatable process. You can even create your own recipes and even save recipes, which are shared by the community.
Let's see how you can create your own Jarvis recipes?
On the official site of Jarvis, open the "Recipes page".
Click on the "New Recipe" button, which is at the top right corner.
Type your information, including Title, Description.
Provide Jarvis commands.
One can even add a YouTube link explaining how the recipe works so that others can understand it easily.
Click save
If you want to share the recipe, go to sharing options at the bottom of the page. Two options are showing Private & Public Link. Private URL is only visible to those who are in your account. Public URL is visible to anyone on the web.
Save time and money by using the Jarvis recipes feature to create content faster by using some pre-defined commands. You'll have a brand new, perfect post in just a few clicks.
---
Who is Jarvis.ai a perfect fit for?
The software is for anyone who wants to produce content that will get them leads. That could be a blogger, an affiliate marketer, or even in-house marketers and copywriters – everyone can use it!
Jarvis.ai is an excellent tool for marketers that offers many features to help increase engagement with readers, leads, or customers! Let us have an in-depth look at the perfect audience fit for Jarvis.ai.
Jarvis.ai for Marketers
Suppose you are an inmternet marketer or professional copywriter. In that case, you're going to love the fact that Jarvis.ai already includes the most popular and valuable sales copy frameworks like the AIDA framework as well as the problem – agitate – solution framework.
Jarvis.ai for E-commerce Store Owners
If you are in the e-commerce space, Jarvis.ai has you covered as well. E-commerce shop owners and funnel builders will love the product descriptions that Jarvis can spit out. And if you sell anything on Amazon, they have specific skills set up to help you write your Amazon product features and bullets. In this way, they stand out on the page and attract excellent SEO benefits as well.
Jarvis.ai for Email Marketers
Writing catchy emails is an absolute need of a successful long-term online business. And Jarvis has you covered here with three frameworks designed for email copywriting. As we all are aware, if nobody opens your email, it doesn't matter what's inside of it, so Jarvis has skills built for writing better email subject lines that create curiosity, Drive clicks, and convert to sales.
Jarvis.ai for a Website Owners
If you're reading this, you may already have a website, whether it's a blog on WordPress or a sales funnel built on one of the many funnel-building platforms. And if so, Jarvis has something cool for you and the perfect headline framework and the website sub-headline framework. These enable you to maximize your landing pages' conversion by creating effective calls to action, curiosity-inspiring headlines, and persuasive bullet points to convert your visitors into leads in your sales funnel.
Jarvis.ai for Bloggers
Coversion.ai gets into the actual recipes of how bloggers can use the step-by-step in a second. Once you have that blog post topic idea in mind, Jarvis can then help you outline the entire post, write your introduction paragraph, and optimize it for SEO with title and meta descriptions detailed. Jarvis.ai's mission is to help writes break through the writer's blog to finally get the content is done. 
Jarvis.ai for Video Marketing in YouTube
Video marketers will celebrate with getting video topic ideas hand-fed to you. They will provide optimized titles for search engines and curious clickers, video script hook, and introduction skills.
This will help you work on your audience in the first 20 seconds of your video and even write an excellent video description to drive more SEO juice and clicks on your links in your video description.
Jarvis.ai for Search Engine Optimization (SEO)
Getting found on Google is one of the most potent ways to build a long-standing online business, but it can be incredibly dull, tedious, and overwhelming to crank out my blog post every single day for years on end. Jarvis has four skills built to help you with your search engine optimization efforts, and they can be used on tons of different applications.
The bloggers will love the SEO for blog posts, which help you develop SEO-optimized titles and meta descriptions. To get your homepage to rank on the first page of Google, they have a specific home page SEO skill. For your eCommerce stores to find your products on the front page of Google, they have the SEO product page skill. And for the agencies out there, they even have a Services page skill to help you craft high converting and SEO optimized service pages for agencies, consultancies, or any other service-based business.
---
Jarvis.ai Pricing Plans
Jarvis.ai Plans are most competative and cost effective. Jarvis do provide a free trial featuring a word generation limit of 20,000. Its pricing initiates at $29/month, which gives one 20000 credits.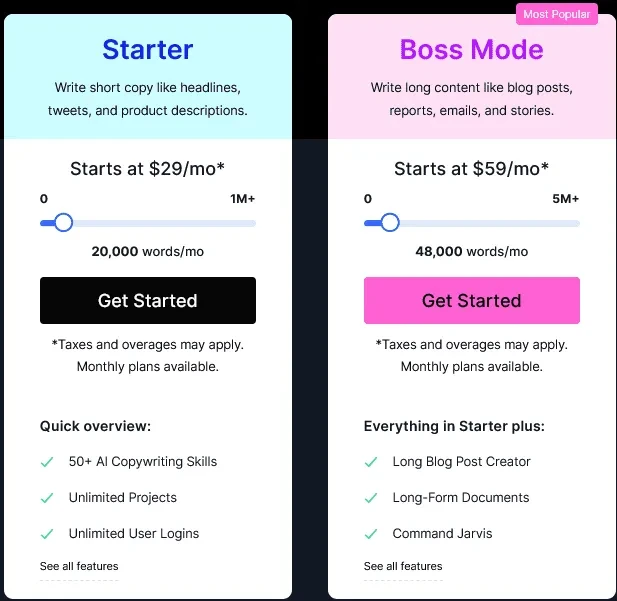 If you wish for more words, you can pay $10 extra to get a 5000-word count.
Other Pay as you go plans are:
$29/month for 20,000 words/mo
$49/month for 48,000 words/mo
$89/month for 86,000 words/mo
$119/month for 118,000 words/mo
Also, we should inform you that all plans come with a 7-day money-back guarantee. If you do not like the service, the company will give you a refund if you apply for a refund within seven days of your purchase date.
---
Jarvis.ai Customer Support
There is live chat support on the app dashboard. The response time was pretty quick, and we clarified with the support team well what we had asked. In addition to it, there is a very active Facebook community where users share details on how they use Jarvis.ai on their content pieces. It indeed gives many ideas and inspiration on how to use the tool to its maximum potential.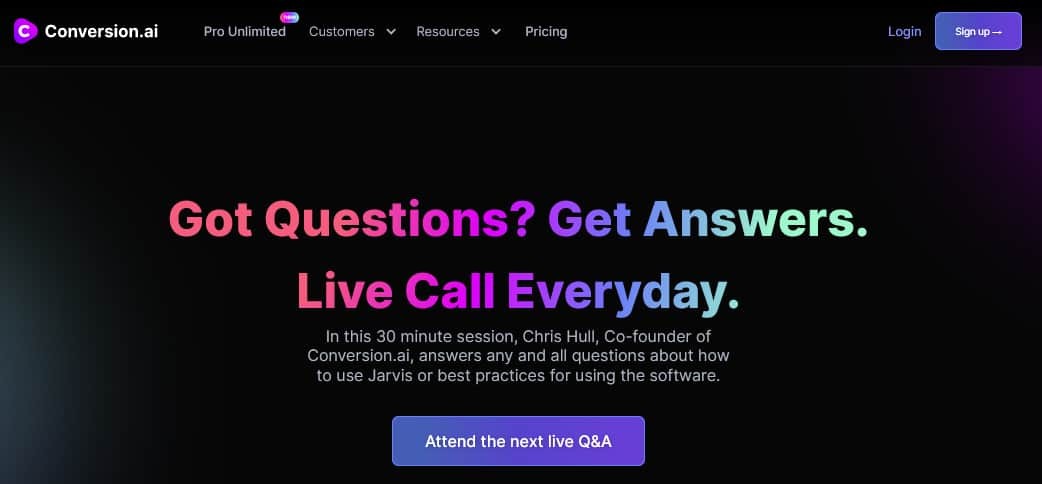 The founders and the support team are also very active in answering any critical questions and providing product updates. They also conduct webinars at regular intervals showing a product demo and how you can use it for your business. The webinars are recorded as well so that anyone who can't attend can access them later.
There is also a complete training academy with many short video tutorials covering all the features and how to use them when it comes to documentation. Text documentation is also quite good with many short knowledgebase articles, tips & tricks, FAQs, etc. Overall, it is pretty evident that the team has invested their time to provide fantastic customer support. Quite impressive.
---
Pros & Cons of Jarvis.ai
As we proceed towards the end of the article, it is vital to get an overview of the tool. In short, if you do not have time, you can read the pros and cons. And decide whether this tool is the right choice for you or not!
Pros
Easy To Use
High Converting Copywriting
Write more content in hours
Advanced AI Copywriting
Translate your content to 11+ languages
Perfect grammar and vocabulary
Generate dozens of relevant headlines
Save your effort
1-Click Content creation
Boost Conversion
40+ copywriting templates available
AIDA Framework
PAS Framework
Create compelling product descriptions
Content improver
Cons
Honestly! No Cons Found yet.
---
Artificial intelligence content writing for Affiliate marketers
Affiliate marketers and internet marketers always have to work hard on content, Either it's a blog post, review content, amazon product description, or paid ads, Content marketing is the key to make money online.
It's always a labor job to manage content writers for small stuff. Indeed there is still no alternative to human content writing but for faster writing of ad copies, Youtube video descriptions, product info, lading page CTA, and many more, An AI tool can be most effective.
I have personally been using Jarvis.ai to write product info, Ad titles and copies, youtube description, and even long-form content for my micro niche blogs and amazon affiliate marketing blogs. Not only it saves time, but a huge cost too. However, there is still a need for a human touch to each article generated from AI. If though Artificial intelligence is very advanced and smarter but in the end it's made by HUMANS.
---
🌟 Jarvis.ai FAQ
🙄 What is Jarvis.ai?
Jarvis.ai is an AI based software that uses a machine-learning algorithm to generate highly optimized and converting copy for your websites, ads, landing pages, emails, etc. Jarvis.ai is the best tool for anyone who wants to save their time and efforts in writing content. Start Jarvis.ai free trial that offers upto 10,000 words creation limit.
🔎 How Jarvis.ai works?
Jarvis.aiis an AI-based software that works on user input, which means that its takes information or raw data from users & converts it into fresh and high-quality content.
🧐 Does the Jarvis.ai tool generate plagiarised content?
It is a great tool that does not offer plagiarism content to its users. If you use the Jarvis.ai tool, you do not need to worry much about the plagiarism problem.
🌐 Does the Jarvis.ai tool work in other languages?
Currently, Jarvis.ai software works in 11 languages: English, German, Russian, Spanish, Italian, French, Dutch, Portuguese, Polish, and Japanese. But the user needs to subscribe to its Pro Unlimited plan that gives you access to all languages.
😎 Does Jarvis.ai offer a lifetime deal?
No, Jarvis.ai does not provide a lifetime deal to its customers. But if you are looking for the active Jarvis.ai discount coupon, use the above-mentioned Jarvis.ai coupon code that helps you save bucks on its paid plans.
🔥 Is there any Jarvis.ai coupon code?
Check the above-mentioned Jarvis.ai coupon code that you can use to enjoy attractive discounts on its pricing plans.
🤔 Are there any best Jarvis.ai alternatives available in the market?
---
Is Jarvis.ai worth It?
Jarvis (The AI Robot behind Jarvis.ai) uses GPT 3 and openAI machine learning technologies that write content with the highest human tone. From emails to a blog post or ad copies, Get all content written within seconds with Jarvis.ai.
Indeed it is the best Known AI copywriting Assistant among all other competitors,. There are dozens of other Jarvis.ai alternatives available in the market and most of them come with a lifetime deal, But are they worth it? I do not think so, as Jarvis.ai uses premium AI technologies, API's and data from multiple open AI technologies to make up high converting content.
If you are a blogger, internet marketer, or Affiliate Marketer, Get started with Jarvis.ai now, It will save a lot of time and cost on content writing for sure.
---
Conclusion: Jarvis.ai Review 2022 | Should you really buy this software?
With this, we come towards the end of the article. In short, we can conclude that Jarvis.ai is the perfect choice for you! There are hardly any issues you will find while using this tool. The AI content copywriting assistant is affordable yet very effective! Whether you run a big or small company, you can trust the artificial intelligence of Jarvis.ai blindly.
We hope we have covered all the necessary details for you in our take on Jarvis.ai. In case of any doubt, feel free to comment down in the section below. We always welcome our audience.
Until then, Sayonara🖐🖐